No firefighting crew would think of responding to a car accident today without a kit of extraction tools, nearly always including the so-called Jaws of Life. The hydraulic Jaws are a pinch and cutting tool that can snip through the strongest parts of a car frame in seconds and peel open roofs and doors like a can opener.
But the man who invented the Jaws of Life was not a firefighter, first responder, or even a safety engineer. In fact, in the 1950s and early 1960s, George Hurst helped make cars more dangerous by making them faster. He built a thriving business around motor racing, building floor-mounted gear shifts for race cars. That business took him to the famous Indianapolis Motor Speedway in 1961, where he saw something that shifted his priorities.
When a racer crashed, he watched rescue crews try to extract him from the wreckage of his car. It took over an hour. Hurst thought to himself that there must be a better way.
When he looked into the tools that rescue crews use, he found that traditional circular saws just weren't, well, cutting it. The saws created sparks, increasing the risk of fire or explosion, and were extremely loud, which caused distress for the trapped victim. And, of course, they took too long to get the job done.
In 1961, Hurst patented the first hydraulic rescue tool and hired Mike Brick to market the device nationwide. The initial design was a 350-pound hunk of metal, far too large for even a team of rescuers to handle. In the span of a decade of tinkering and refining their rescue device, Hurst and Brick downsized the prototype to only 65 pounds, calling it the Hurst Power Tool.
In 1971, they took the tool to the SEMA trade show for specialty equipment marketers in California. The spotlight propelled their device into stardom, and soon, fire departments were carrying it on their firetrucks. The Hurst Power Tool adopted the nickname the "Jaws of Life" for its role in snatching victims from the "jaws of death."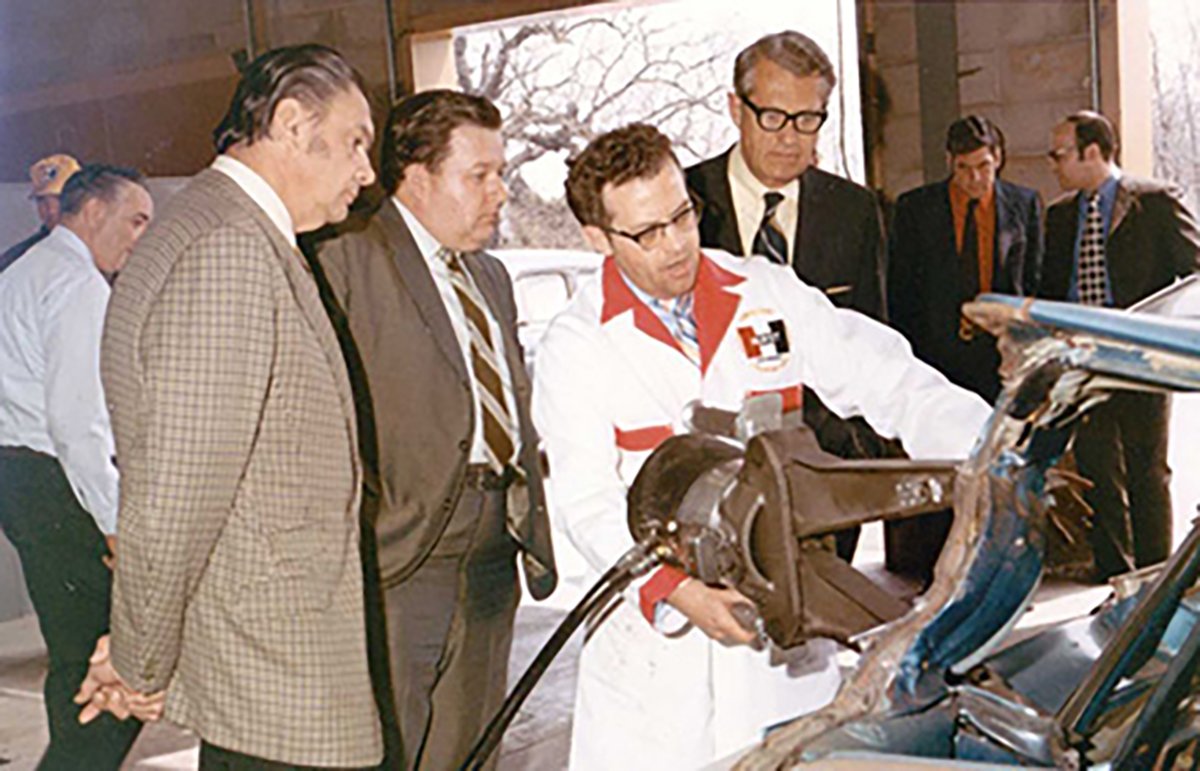 As the Hurst website notes, "In three minutes, the average person can listen to a song, make their bed or brush their teeth. In three minutes, first responders can save a life with HURST Jaws of Life tools."
Firefighters can elect to carry a combination tool that is the Swiss Army knife of the Jaws of Life, with cutting and spreading functions that increase the speed of extrication. Some departments also carry individual-function Jaws of Life machines that spread, cut, and ram. The StrongArm was adapted to meet the standards of law enforcement and military communities, adding a capable tool to their breaching arsenals.
Hurst died in 1986 at 59. Thanks to Hurst's innovative thinking, victims of car accidents across the globe have been able to escape serious injury and even death.
Read Next: Most Florida First Responders Will Get $1,000 COVID Bonus, but 911 Dispatchers Won't