Presidents of the past had some interesting hobbies. Abe Lincoln could kick your ass if he wanted to — and that's exactly what he did wrestling in more than 300 matches. He only lost once. Calvin Coolidge installed an electric horse at the White House because he missed the joy of riding. And Dwight D. Eisenhower was a prolific painter, often giving his latest magnum opus to his closest friends. But before that, the OG President George Washington put them all to shame with his thriving whiskey empire in the final years of his life.
As was the norm during the 18th century, Washington was known to sip low-alcohol "Small Beer" for hydration — including while leading the Virginia militia in the French and Indian War. He wrote his own recipe upside down on the last page of one of his notebooks. He also famously ran up an epic bar tab in celebration of writing the Constitution. So when James Anderson, Washington's Scottish farm manager, approached him with an offer he couldn't refuse, it was only natural for Washington to transform Mount Vernon into the epicenter of whiskey making in the United States.
Anderson leveraged his expertise distilling grain in Scotland and told Washington that Mount Vernon's crops and copious water supply could produce a profitable whiskey business. The construction began over the winter of 1797 to 1798, and the distillery was built with large river rocks taken from the Falls of the Potomac and sandstone cut from Mount Vernon. Inside the 75-by-30-foot walls were five copper pot stills, a boiler, and 50 tubs for cooking the mash. It had a second floor for storing extra equipment needed for a sophisticated whiskey production and had sleeping rooms for the workers.
Under Anderson were six enslaved men named Daniel, Hanson, James, Nat, Peter, and Timothy, who brought Washington's whiskey into being. They were all trained specifically for this operation, and it wasn't out of the norm for other slaves to be skilled in the trades. On Washington's gristmill-distillery complex, more than 50 enslaved men and women worked as coopers mending metal, carpenters building and repairing tools, blacksmiths for locks and horseshoes, grooms for the horses, textile workers for clothing, dairy maids to care for the estate's cows, and gardeners for Mount Vernon's gardens and orchards.
The average distillery of the era had only one or two stills and stilled for a month — Washington's operation produced whiskey year-round. Washington was able to do this by favoring the innovation of Oliver Evans' automated gristmill system, which mechanically milled grain and flour without the need of manual labor. This enabled the gristmill to produce 5,000 to 8,000 pounds of flour and cornmeal per day. And nothing went to waste. Even the slop from the distillery was given to Washington's hogs in a pigpen located just outside.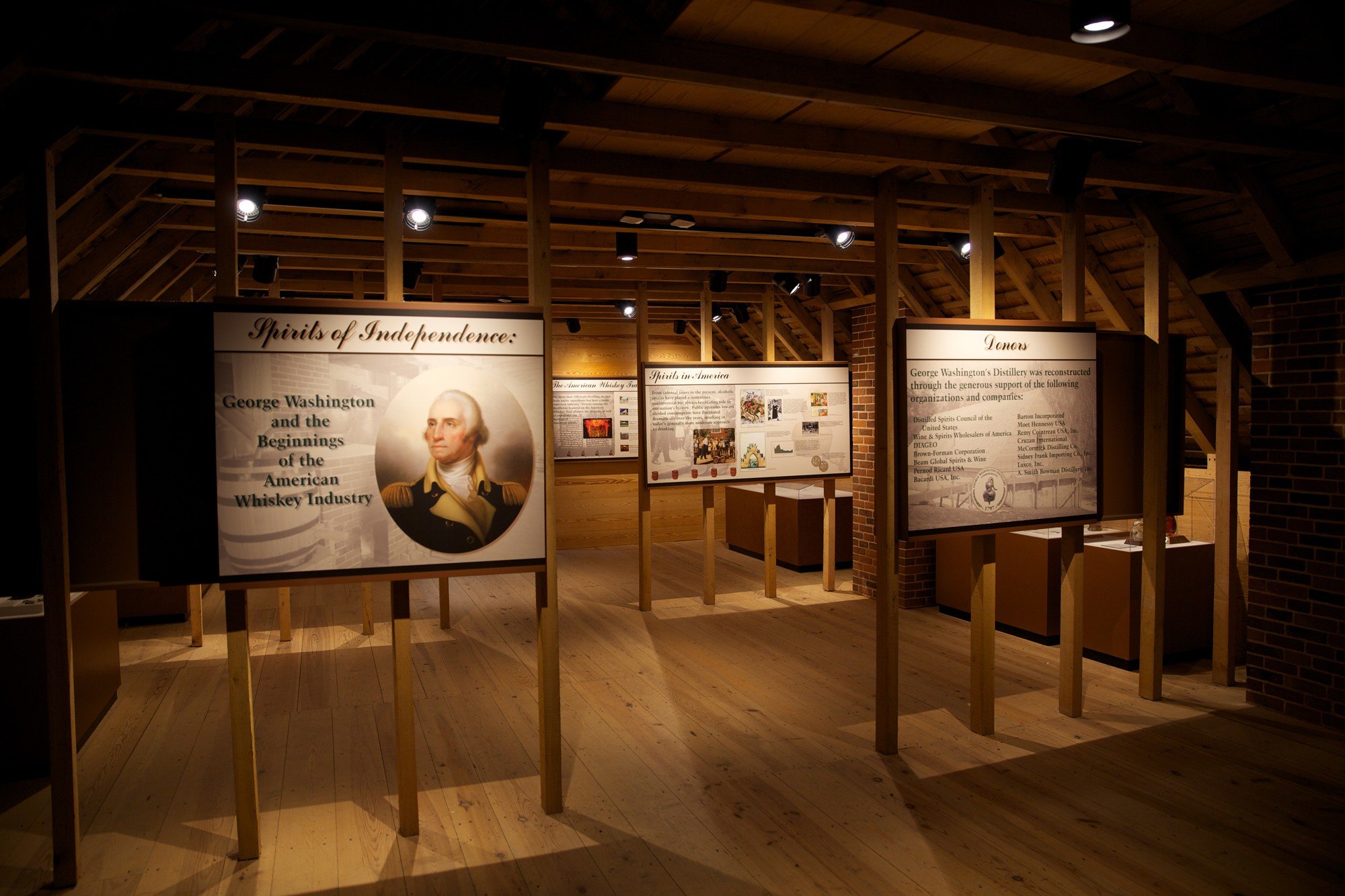 The recipe for Washington's most common whiskey was 60% rye, 35% corn, and 5% malted barley. Rather than being aged, bottled, and branded like the spirits of today, it was poured into wooden whiskey barrels and distributed to merchants at their request. By 1799, the same year of Washington's death, his side hustle was producing 11,000 gallons of whiskey and pulling in a $7,500 profit.
Washington's distillery was re-created in 2007 thanks to the Mount Vernon Ladies Association, and it's become an iconic tourist attraction where visitors get the chance to taste George Washington's Rye Whiskey in person. It took a silver medal in the 2019 American Craft Spirits Association Awards and is recognized as the official spirit of the commonwealth of Virginia. If whiskey isn't your thing, they also offer brandy and rum, suitable options for anybody looking to toast one of America's founding fathers. At the very least, treat yourself to some of Washington's pancakes.
Read Next: George Washington Ran Up an Epic Bar Tab Celebrating the Writing of the Constitution