As Ukrainian forces defended their nation against a Russian invasion launched the morning of Thursday, Feb. 24, a meme purporting to show a Ukrainian MiG-29 in the skies above Kyiv spread across the internet, becoming a potent rallying cry for anyone invested in Ukraine's fight to expel the Russian invaders.
Text above the blurry image of a silhouetted jet in the cloudy sky stated, "Apparently there's a Ukrainian Fulcrum pilot who's already chalked off six air to air kills today against Russian forces. 2x SU-35, 1x SU-27, 1x MiG 29, 2x SU-25. He is being called the 'Ghost of Kyiv.'"
If the claims made are actually true, the so-called Ghost of Kyiv would be the first fighter ace of the 21st century. Coffee or Die Magazine spoke with a US Marine F/A-18 pilot and an Army psychological operations specialist to assess the credibility of the claims made in the meme.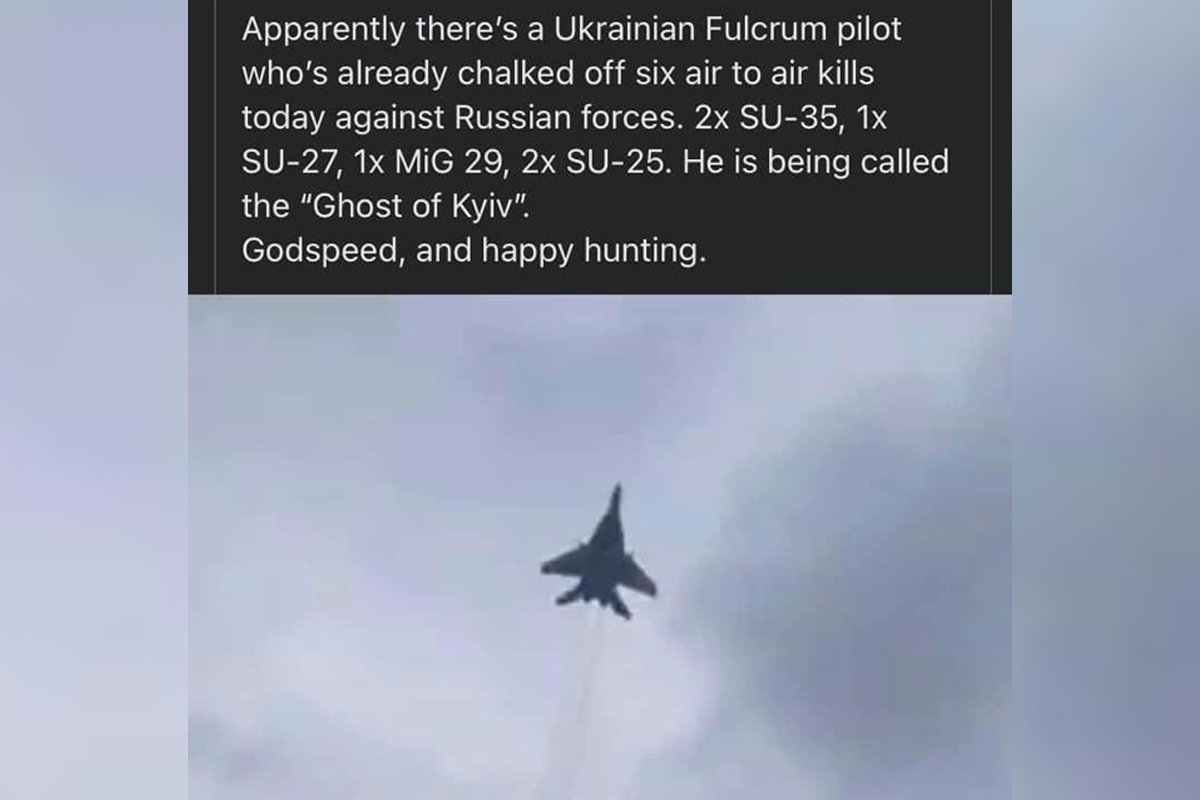 Preston Wallace, a former Marine F/A-18 pilot who flew dozens of combat missions in Iraq and Syria, said the claims made in the meme were "highly unlikely."
"One of the things that struck me the most is the rumor that he shot down two Su-35s, which are basically the preeminent Russian fighter," Wallace said. "I've seen one up close, and they're very powerful and very capable. The [MiG-29] Fulcrum carries six [infrared] seeking missiles. So that guy had six rounds, and each one of them was a kill shot? You've got a real freaking good day."
The MiG-29 "Fulcrum" is a Soviet-designed fighter jet outfitted for air-to-air combat. It officially entered service in 1983. The Su-35, which is an improved version of the older Su-27, is Russia's most advanced jet currently in service. Aside from its lack of stealth capabilities, the Su-35 is comparable to the United States' F-22 Raptor.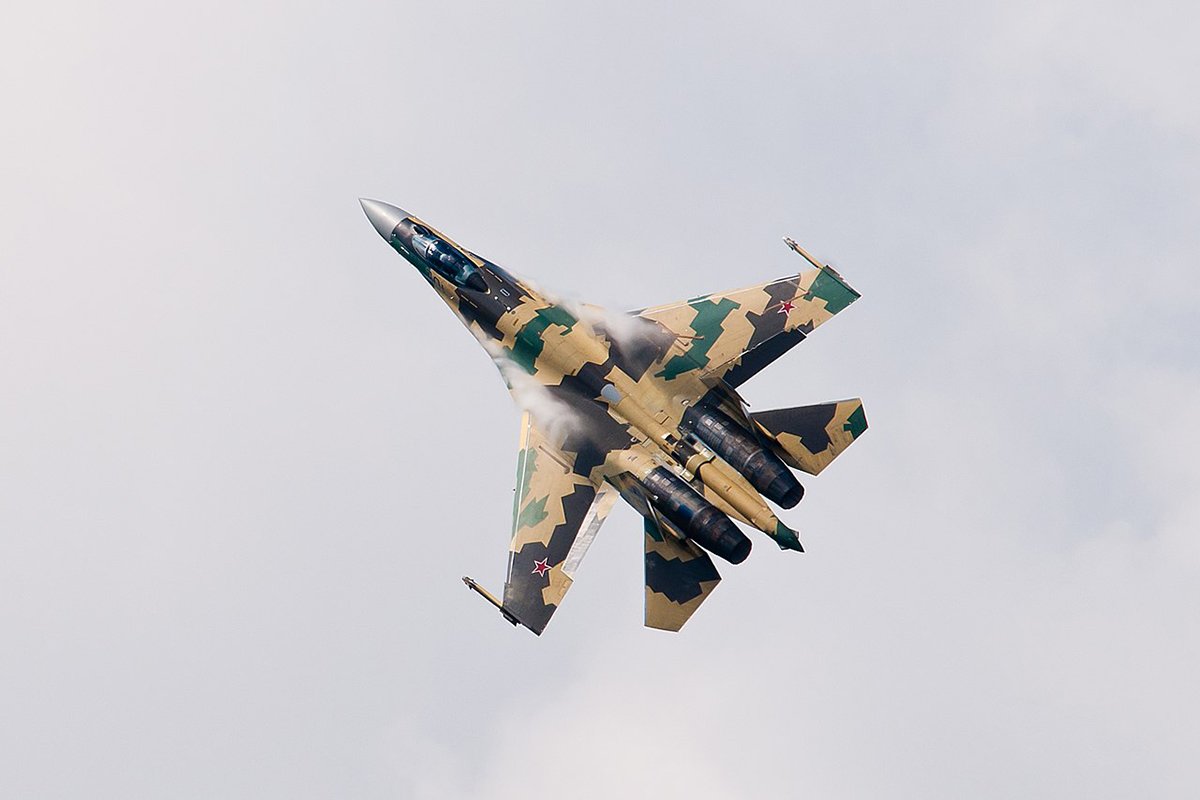 Ukraine's Ministry of Defense did not respond to Coffee or Die's query regarding the claim made in the meme, but Lt. Gen. Valery Zaluzhnyi, commander in chief of Ukraine's armed forces, posted on Facebook Thursday that at least six Russian planes and two helicopters were destroyed in the first day of the invasion. The post said nothing about a single pilot being responsible for taking out the six downed planes.
"Looking at this particular meme — the 'Ghost of Kyiv' — that moniker is very quickly gaining ground, and it just doesn't seem credible," said Rick Schumacher, who served as an Army psychological operations specialist for more than a decade and oversaw a counterpropaganda team in Iraq. "You don't come up with a legend in a day. It doesn't happen that way. You're talking, like, Red Baron numbers, and that guy didn't get his name until long after the events."
While the "Ghost of Kyiv" is likely nothing more than internet propaganda, the narrative has served as a rallying cry for Ukrainians and others around the world hoping that Ukraine can repel Russia's forces and prevent the toppling of the national government, which is based in Kyiv.
"It's our assessment that they have every intention of decapitating the government and installing their own method of governance, which would explain these early moves towards Kyiv," a US defense official told Time magazine Thursday.
Russian special operations soldiers entered Ukraine's capital city Friday and clashed with Ukrainian forces in a northern district of Kyiv called Obolon, which is about 6 miles north of the city center, and explosions and gunfire were heard in the city throughout the day.
Ukrainian forces repelled the attack but are now bracing for a larger assault from armored Russian units advancing toward Kyiv from multiple directions. Ukrainian Territorial Defense Force units, composed of civilian volunteers, have been activated and armed to defend key infrastructure sites around the city. Ukraine's Ministry of Defense has asked the capital city's residents to shelter at home, prepare Molotov cocktails, and "neutralize the enemy."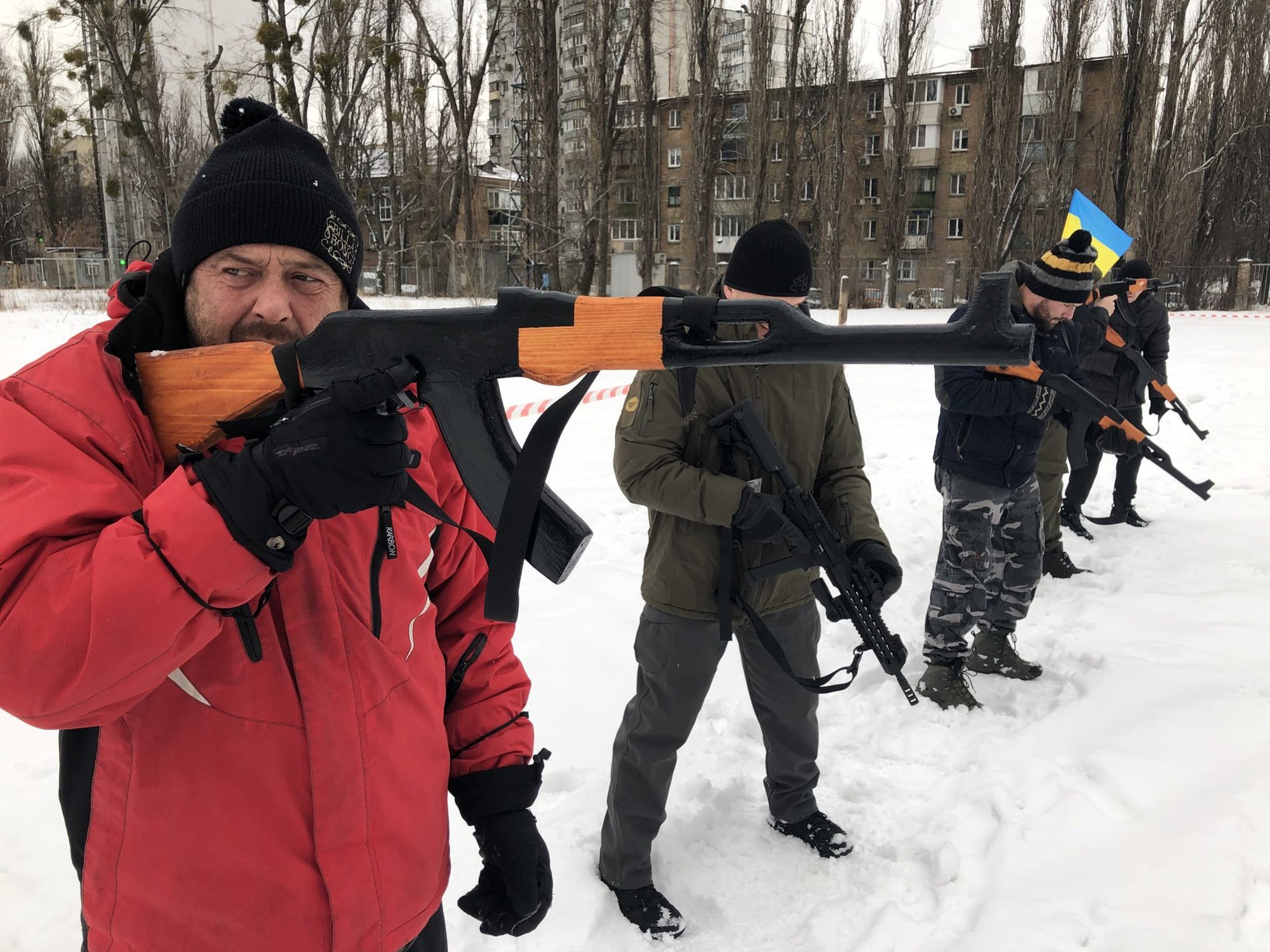 Though Wallace said the claims about the "Ghost of Kyiv" were likely untrue, he pointed out that the stakes for Ukrainians defending their homeland are a powerful motivation to accept extreme risk.
"As far as the 'Ghost of Kyiv' is concerned, Ukrainian pilots are protecting their families and homeland," Wallace said. "Russians, on the other hand, don't really give a shit about much of anything other than protecting themselves. The acceptable level of risk for a Ukrainian pilot is much higher."
Read Next: