Like many veterans of "The Greatest Generation," 95-year-old Palmer Andrews kept his war experience to himself for decades after he returned home. Such "combat silence" is not uncommon among veterans. Veterans often have good reasons not to communicate what they saw "over there." For Andrews, it might have been because he experienced the mother of all combat as an infantry grunt in the Pacific theater of World War II with I Company, 3rd Battalion, 5th Marines.
Recently, after watching the 2010 HBO series The Pacific with his grandson, former Pfc. Andrews found himself finally wanting to talk to someone in his family about his time in combat. The series immerses viewers in the Pacific theater of World War II, masterfully weaving the perspectives of three real-life Marines who served in the 1st Marine Division during the war: Eugene Sledge, Robert Leckie, and John Basilone.
The series begins with combat on Guadalcanal, where the 1st Marine Division became famous to Americans back home for persevering through constant enemy attack and lack of resupply. Marine legend Chesty Puller earned his third Navy Cross there and recommended John Basilone for a Medal of Honor, which he received. Basilone became an American hero, and the Corps sent him on a war-bond tour after the battle of Guadalcanal. He later volunteered to get back in the fight and was awarded the Navy Cross posthumously for his service on Iwo Jima, where he was killed in action.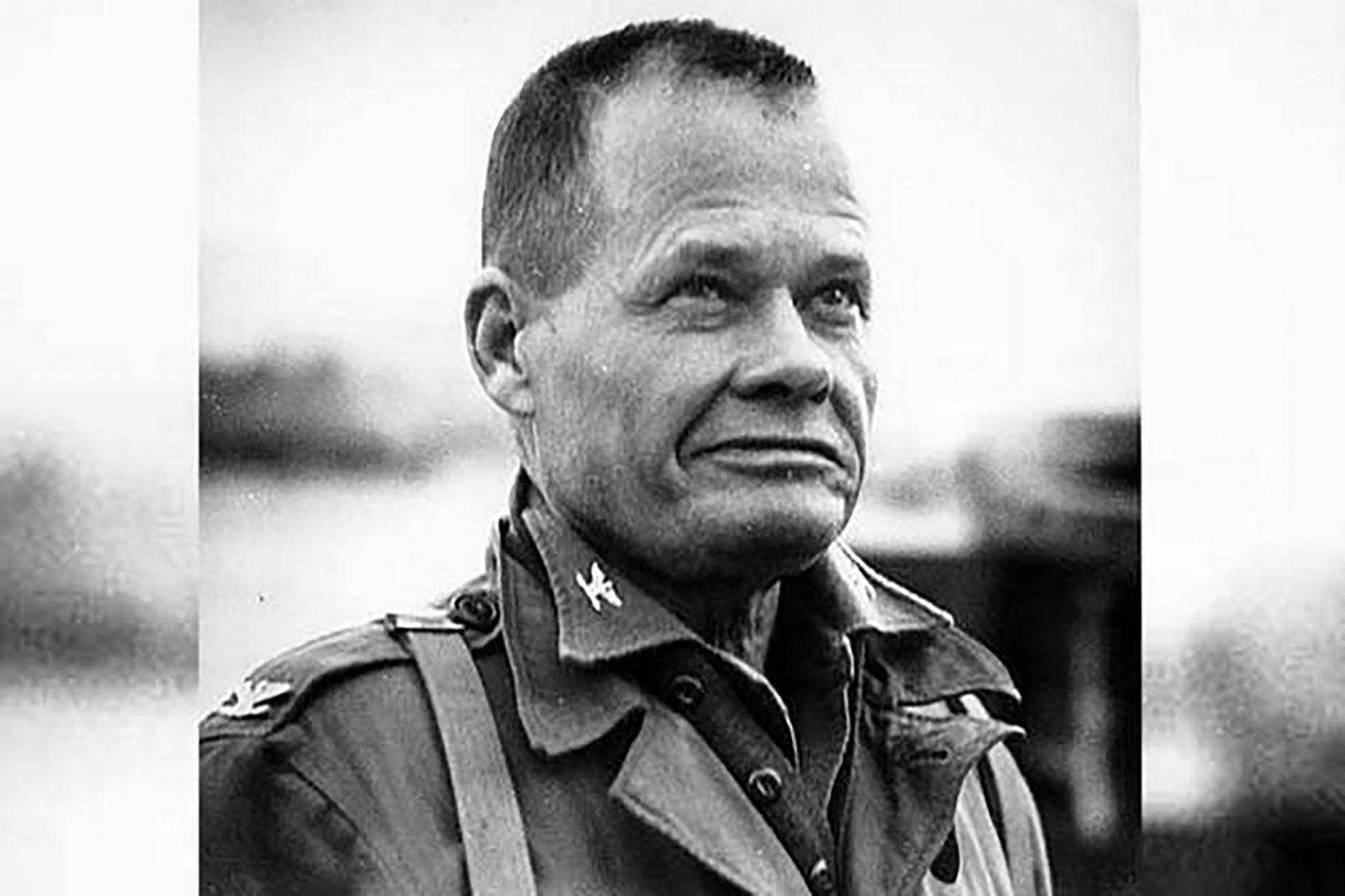 Palmer Andrews enlisted in the Marine Corps as an alternative to court-ordered reform school. His mother drove him to the recruiter, where they signed his enlistment papers when he was 17. He joined the 1st Marine Division in Melbourne, Australia (featured in the miniseries), and describes The Pacific's steamy depiction of life in Melbourne as accurate. He recalls riding on a train and being approached by a middle-aged woman who sought to comfort the troops by baking them cookies. Andrews was her first target, and shortly after politely accepting her confections, he realized they had been concocted with mutton grease and flour and not much, if any, sugar, which was scarce due to wartime rationing. Chewing on the foul-tasting cookies, he smiled politely — a quality that makes him "Old Corps," Andrews says during a recent interview with Coffee or Die Magazine.
Read Next: Read the Four Books HBO's 'The Pacific' Is Based On
The fourth episode of The Pacific depicts what was Andrews' first combat deployment to the Battle of Cape Gloucester on the island of New Britain. Though the island was ultimately of little tactical importance and lacked the epic action of other campaigns, Chesty Puller earned his fourth Navy Cross there. Andrews recalls that as Puller was assembling the Gilnit patrol, named for an island village the Marines would be clearing, Puller looked over to Andrews, pointed, and said, "You're going."
Their mission was to complete 1st Marine Division's secondary objective of securing Western New Britain between Borgen Bay and the Itni River in search of their elusive enemy: Gen. Iwao Matsuda's forces from the Imperial Japanese Army's 65th combat brigade, who were attempting to tactically withdraw and regroup after the Allies invaded the island.
The Japanese troops on the island were suffering from malnutrition and lack of resupply due to Allied naval dominance, yet they would still mount suicidal, frontal-assault "banzai" attacks on Marine units at night. Andrews says he enjoyed those attacks because they were an easy way for Marines to identify and eliminate their enemy.
Puller, a seasoned veteran of chasing his enemy through jungles, had successfully scrambled young Marines up muddy hills in Haiti before Andrews was born, and in Nicaragua when Andrews was a young child. By then Chesty was highly decorated and renowned for his prowess under fire and for leading from the front.
"I can say one thing for sure about Chesty," Andrews recalls. "He led (the Gilnit patrol) from the front. The only people ahead of him were scouts."
The challenges the Marines faced on the Gilnit patrol were more physical and mental than they were kinetic. Temperatures broke 90 degrees with high humidity amid an unforgiving jungle landscape. The Allies' water supply in New Britain had been initially tainted by fuel, and many troops went down as heat casualties. Then there was the mud.
"Mud, mud, mud," Andrews recalls.
The tanks that landed on New Britain were not able to support troops going inland because of the dense jungle and slick mud. Andrews and the rest of the members of the Gilnit patrol slogged through sticky mud that seemed to pull and suck at their heavy boots. Being disconnected from vehicles meant that resupply for the Gilnit patrol had to be air-dropped by small Piper Cub planes.
The Marines passed through villages in search of their enemy and intelligence but only found that it appeared Japanese forces had cleared out of the area weeks or months prior. Some units on the patrol were diverted until there were only a few hundred Marines heading toward Gilnit. Though the Marines were looking to close with and kill the Japanese, their enemy never materialized in force.
"Not much action that I recall," Andrews says, recalling the Gilnit patrol. "There was a lot of walking."
Overall the Gilnit patrol was considered a success because it ultimately fulfilled the 1st Marine Division's secondary objective of securing that sector of Western New Britain. It is also credited with toughening the young Marines present for the combat they would endure during Gen. Douglas MacArthur's island-hopping campaign — the bloodiest combat US Marines have experienced to date.
Not much is written about the Gilnit patrol, but Andrews says he'll never forget the moment Chesty Puller locked eyes with him. Puller went on to lead Marines in several other major operations in the Pacific, including the Battle of Peleliu, where Andrews also served. Puller has been criticized by some historians for underestimating the Japanese forces that outnumbered the 1st Marines and for being too aggressive when charging well-entrenched fortified Japanese positions with full frontal assaults. Like New Britain, Peleliu was fought over and quickly bypassed for any strategic importance on the road to invading Japan. Andrews remembers little from his time on Peleliu, other than the fact it was a hellscape that resulted in an astronomical casualty rate for the Marines. But he vividly recalls the crabs on the island of Pavavu — where the Marines trained for Peleliu — that invaded and tried to claim his boots as their own.
Andrews' family members have sometimes wondered how he and the Marines kept moving forward into the thick of multiple combat operations.
"I didn't think about it," he says. "I just kept going, one boot in front of the other — like we were trained."
Andrews says Eugene Sledge's harrowing account of the war — captured in Sledge's acclaimed memoir With the Old Breed: At Peleliu and Okinawa and depicted in The Pacific — captures something that was close to Andrews' experience because Sledge was assigned to a nearby unit, though as a mortarman, Sledge was just behind the action Andrews faced as a rifleman.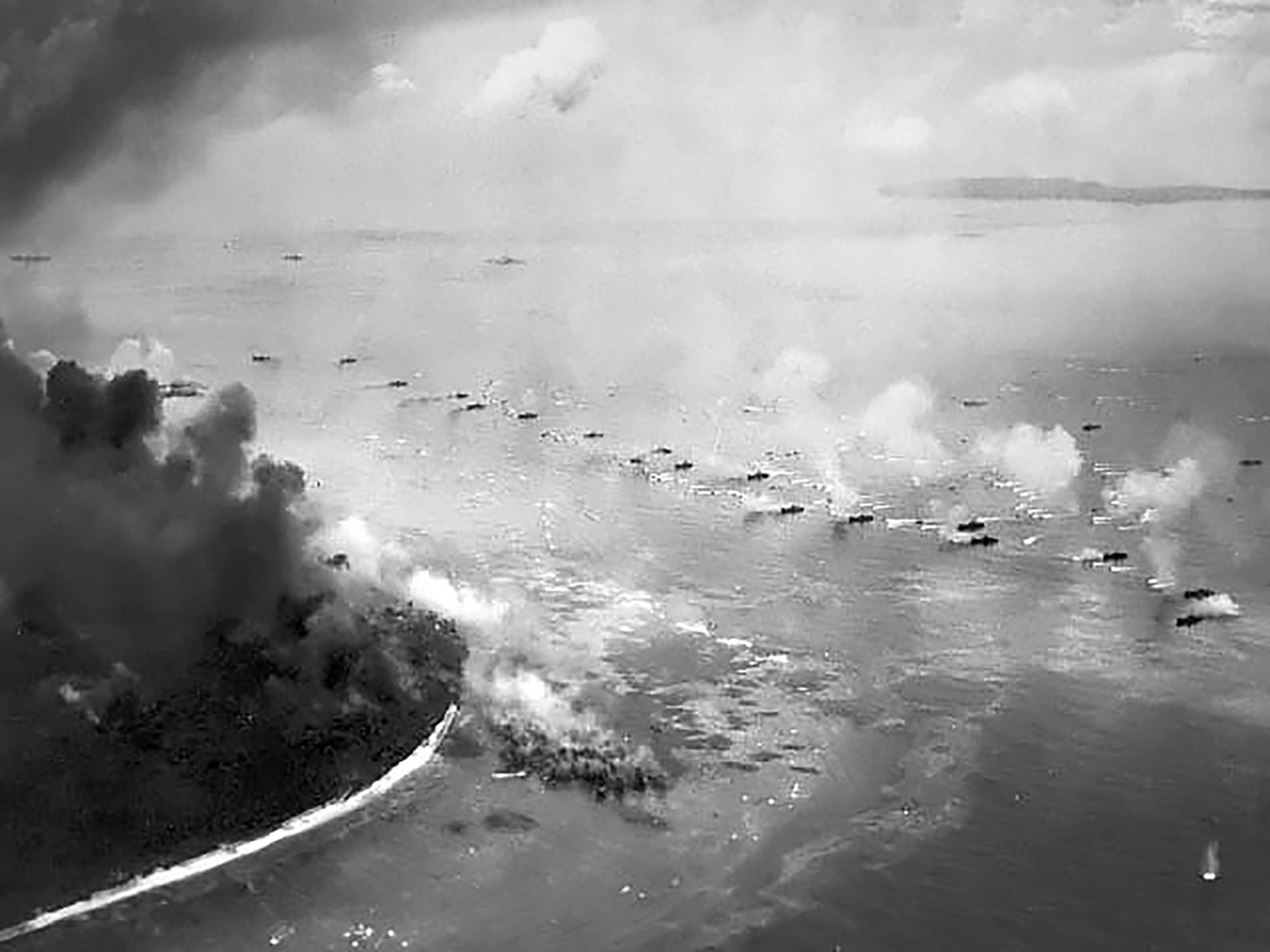 Like Sledge, Andrews served in the Battle of Okinawa, where he spotted a Japanese sniper at one point. He got the attention of a Marine sniper and guided him onto the target.
The only thing Andrews says he feels guilty about from his time in combat are the moments where he could hear nearby units engaged during lulls in his unit's action. During those times, he would think to himself that he was glad to be safe. He recalls that the Marines he was with on V-J Day "were a happy bunch."
Andrews credits President Harry Truman and the atomic bombs he dropped on Japan for bringing Andrews and his fellow service members home. He is glad he didn't have to invade mainland Japan. He says he doesn't recall being nervous in combat because he trusted that the Marines on his left and right would do their duty without hesitation and bring his body home if it came to that.
He has other fond memories about famous Marines and people he experienced during his service. He once saw Eleanor Roosevelt in Australia and a Bob Hope USO show after New Britain. Andrews believes Lou Diamond "was the best mortarman ever." He also remembers when his battalion commander "Shifty" Shofner, respected for successfully escaping a Japanese prisoner of war camp at Corregidor earlier in the war, passed by Andrews while he was painting a motivational unit sign for I, 3/5, and told him, "Don't break that fucken' arm," apparently having approved of the young Marine's artwork.
These are the types of memories lost to family and history when veterans remain silent about their combat experiences. Luckily for his family, Palmer Andrews was able to share a little about his wartime experience after viewing something that looked like what he did — more than 65 years after he did it.
"You don't remember everything, but some things never go away," he says.