Thursday marks the 75th anniversary of the American bombing of Hiroshima; the first of only two times in history a nuclear weapon has been used in war.
After the Cold War ended in 1991 with the collapse of the Soviet Union, it was widely thought that humanity had dodged the threat of an apocalyptic nuclear exchange. In the intervening decades other threats, namely terrorism, overtook nuclear war as the chief concerns for American national security officials.
But the post-Cold War "end of history" is over. So, too, is America's generational focus on counterinsurgency warfare that began after the Sept. 11, 2001, terrorist attacks. Today, the US has entered a new era of strategic competition with so-called near-peer adversaries that wield nuclear weapons — namely, Russia and China. Consequently, the unthinkable is, once again, a possibility.
"One of the first things I told this command is you don't live in a country with sanctuary anymore," said Gen. Timothy Ray, commander of US Air Force Global Strike Command.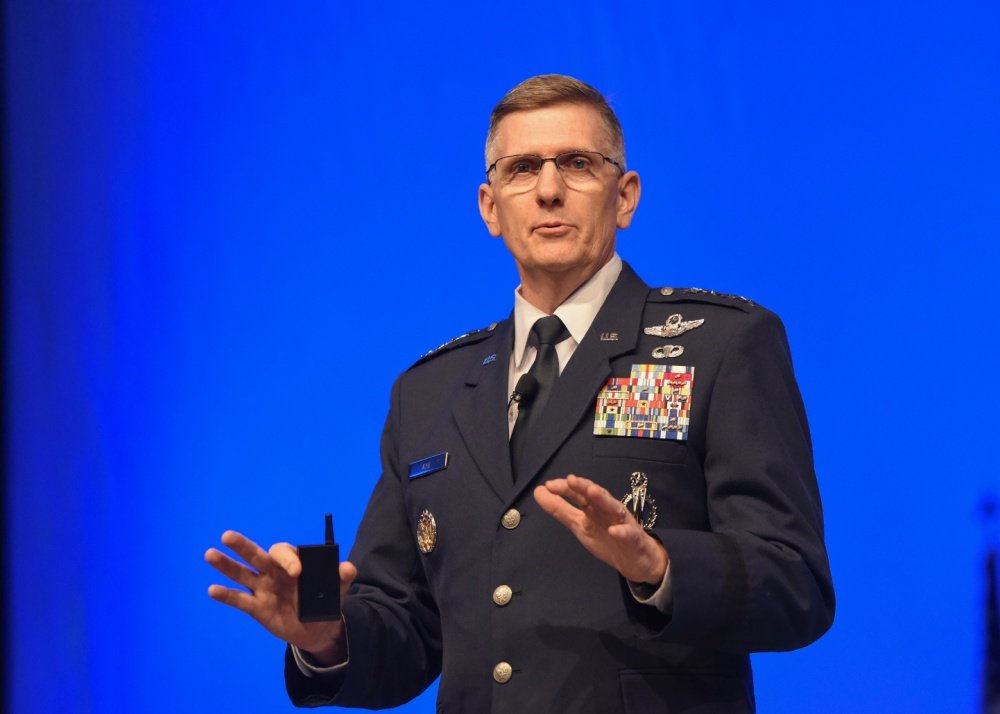 "We've had the luxury of beginning conflicts on our own terms ever since the Korean conflict. We've never had an armed conflict with a nuclear-armed adversary," Ray, who also commands Air Forces Strategic-Air under US Strategic Command, told Coffee or Die in an exclusive telephone interview while he was en route to inspect a facility related to the still-secret B-21 bomber program.
"There was never an existential dimension to anything in the Middle East," Ray added, referring to America's post-9/11 counterinsurgency campaigns. "Our national survival was never truly at stake. There were strategic concerns, but they weren't central to the calculus."
Old Game, New Rules
Russia and China are both expanding their arsenals of nuclear and conventional strategic weapons, thereby presenting novel threats to the US homeland and unsettling the global arms control status quo, which has, to date, averted the use of nuclear weapons in combat ever since the American atomic bombings of Hiroshima and Nagasaki in the closing days of World War II.
The bipolar era of the Cold War is over. Consequently, the Cold War-era strategies America used to deter and defend against Soviet strategic threats to the homeland are not necessarily a template by which to deal with simultaneous, contemporary threats from both China and the Russian Federation.
"Back then, it was a fairly bipolar world. The threats were fairly understandable," Ray said of the Cold War. "You know, you had an east versus west — now it's so multipolar. It is so multipolar, and you've got a lot more threats out there that are much more challenging than they used to be."
During the Cold War, the Air Force's Strategic Air Command was responsible for two out of the three pillars of America's nuclear defense triad — both the strategic bomber fleet and land-based intercontinental ballistic missiles. Strategic Air Command dissolved in 1992 following the Soviet Union's breakup the year prior.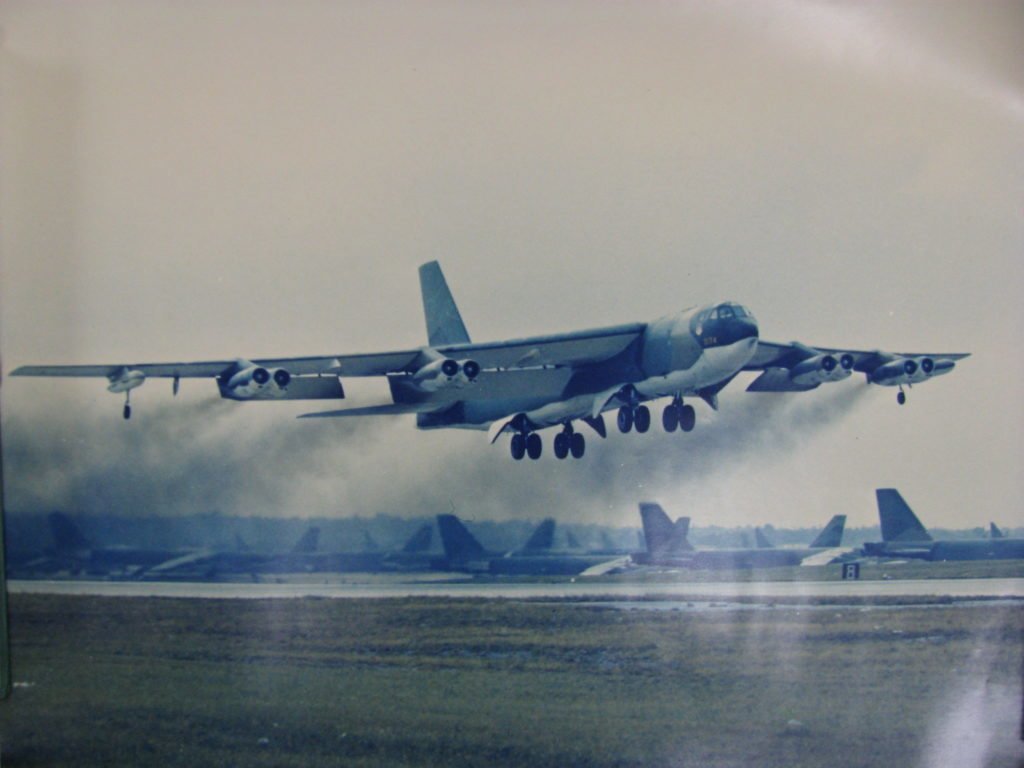 Based at Barksdale Air Force Base in Louisiana, today's Air Force Global Strike Command has taken over a docket of responsibilities essentially equivalent to that of Strategic Air Command during the Cold War.
From 2009 to 2010, Air Force Global Strike Command assumed authority over America's land-based intercontinental ballistic missile forces and the lion's share of strategic bombers. After all B-1 bombers were transferred from Air Combat Command in 2015, Air Force Global Strike Command officially assumed control over the entirety of America's strategic bomber force. Today, the Eighth Air Force, which comprises America's bomber fleet, and the Twentieth Air Force, which includes America's ICBM forces, both fall under Air Force Global Strike Command's authority.
The command possesses the only strategic bomber assets and ICBMs available to the NATO alliance.
When asked to describe the bread-and-butter mission of his command, Ray replied: "Long-range precision strike anywhere on the planet in the name of the team."
Yet, Air Force Global Strike Command is far from a carbon copy of Strategic Air Command. For one, the modern responsibilities of America's strategic bombers include close air support operations to support American troops in combat on far-flung battlefields in Syria, Iraq, Afghanistan, or elsewhere.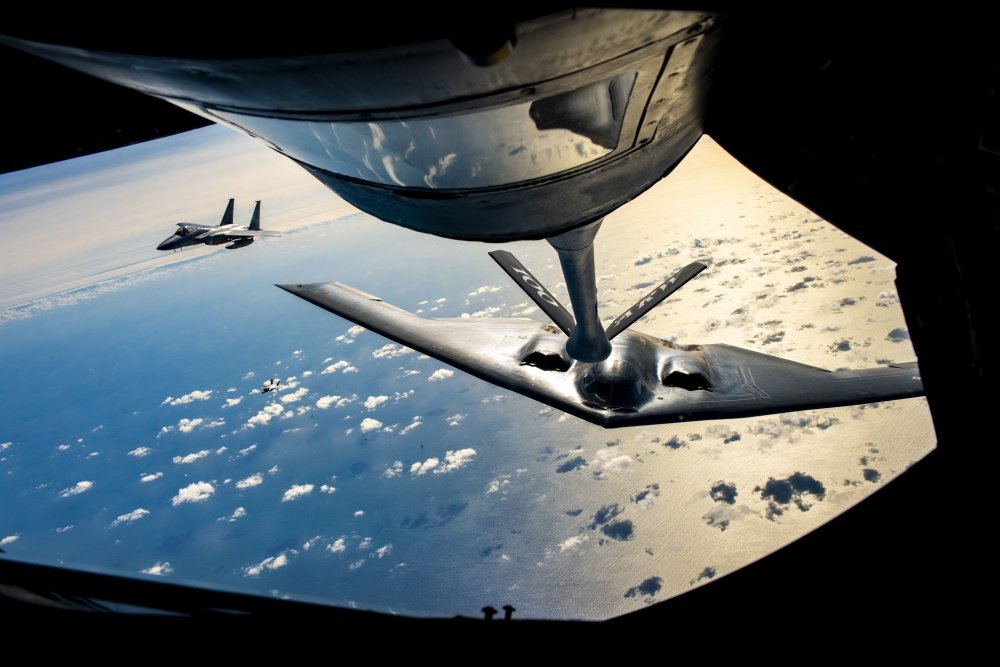 Also, the idea of the lone B-52 trying to penetrate Soviet airspace (think Dr. Strangelove) is a far cry from the contemporary model of US Air Force bombers closely integrating with the military forces of America's allies and partners, as well as forward-positioned US forces, to conduct strikes globally.
"Our bombers are never alone," Ray said.
Air Force Global Strike Command is engaged in a truly global effort to demonstrate and hone America's ability to strike anywhere in the world with its bombers and missiles. Over the past few years, this upstart command has steadily dialed up its pace of so-called bomber task force missions, comprising details of bombers, typically launched from American soil, which then fly transcontinental missions to conduct simulated combat strikes in geographical regions ranging from the Arctic to Eastern Europe and the South China Sea. And, along the way, these bombers often coordinate with forward deployed American military forces, as well as those of America's allies and partners.
That global infrastructure of allied and partner forces offers American forces a distinct edge over their adversaries in terms of global power projection. America's strategic forces will "continue to outperform our adversaries" with "sustainment, logistics, and our ability to integrate from lots of different places and to come together as a joint force," Ray said. "We actually have that in our DNA."
Ray added: "It's not all about Armageddon — this is about competing."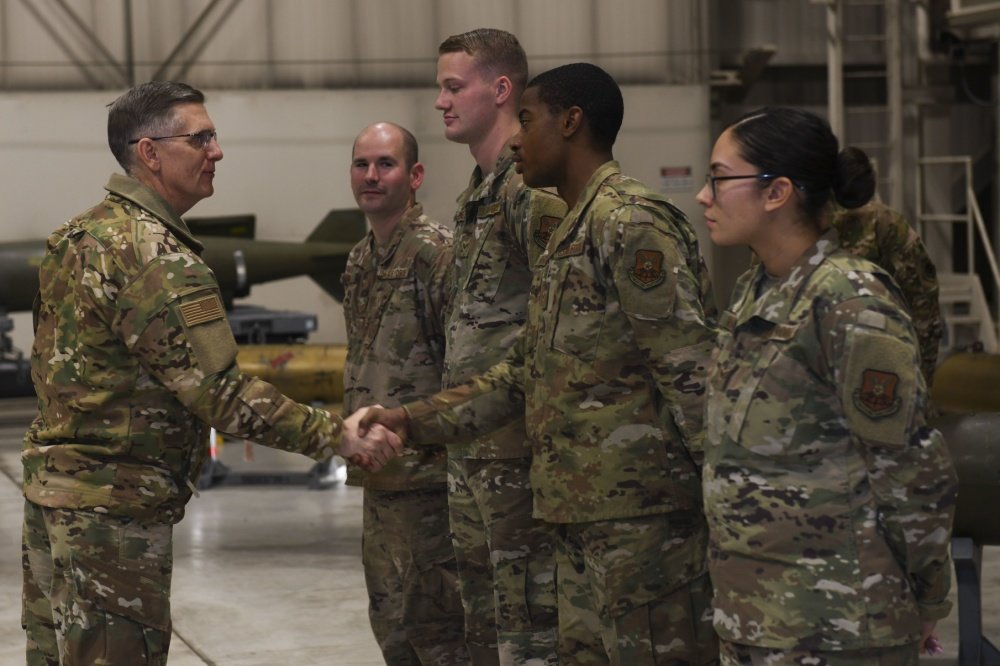 No More MADness
A 1985 Air Force Academy grad who came of age in the Cold War and went on to earn his spurs as a B-52 and B-1 bomber pilot, Ray is well-versed in the strategic importance of America's bomber fleet, as well as its arsenal of intercontinental ballistic missiles.
And as a seasoned combat pilot and commander during the post-9/11 counterinsurgency wars, Ray is also appreciative of the many layers of changes — spanning the gamut from strategic, tactical, technological, and cultural — needed to pivot America's global strike assets into the strategic competition era. While the Air Force still routinely conducts airstrikes against militants in Iraq, Syria, and Afghanistan, the post-9/11 counterinsurgency campaigns are a shadow of what they were in years past, requiring a less constant air support capability.
Ray said that he's impressed upon his personnel the fact that their mission is now no longer hyper focused on supporting American troops under fire on distant counterinsurgency battles. Rather, with the advent of space and cyber as contested combat domains, as well as the development by Russia of new, advanced cruise missile systems, the technological complexity of strategic defense in many respects surpasses that of the Cold War era.
"You can have cruise missiles, hypersonics, all those things — cyberspace. It's a high-threat environment, even in the homeland," Ray said. "So there's a competitive mindset that you don't just give yourself that safe space, no matter what. You're mindful of having that ability to react and respond. And the whole world is our theater. The whole world. I mean, I'm flying bomber task forces all over the planet."
We're also at the dawn of a new era of so-called gray zone warfare, in which war and peace may be measured on a spectrum, not as binary conditions.
"People don't play by the same rules as they did in the Cold War," Ray said. "They don't play by the same kind of understood rules, and it becomes more strategically complicated."
The strategic weapons wielded by America's modern near-peer adversaries — that's to say, long-range bombers, ballistic missiles, and intercontinental ballistic missiles — are not necessarily armed with nuclear weapons, as they were assumed to be during the Cold War.
Additionally, today's nuclear weapons are not always the multi-megaton, city destroyers that were developed during the Cold War. Rather, both China and Russia have developed tactical nuclear weapons, designed more for wiping out single military units than whole cities.
The increased reliance on conventional weapons, as well as tactical nuclear weapons, has scrambled the old Cold War paradigm of mutually assured destruction, or MAD. In short, the former assumption that a nuclear war would result in the complete annihilation of both camps is now no longer the operative deterrence model.
"You've got a continuum of capabilities," Ray explained. "We tend to say that nuclear begins with armageddon, and actually, we then just kind of wave our hand at all that competitive space. […] With this great power competition, if we take that approach, we're missing the game."
The new operative word in deterrence is "competition." Meaning that the US must stay on top of new technologies and tactics so that an adversary won't be empowered to strike first, assuming that it can catch America flat-footed with an innovative weapons system.
"Really, this is about being competitive. If you want to deter, you've got to compete," Ray said. "We are more ready and more dynamic and more deterrent than we've ever been."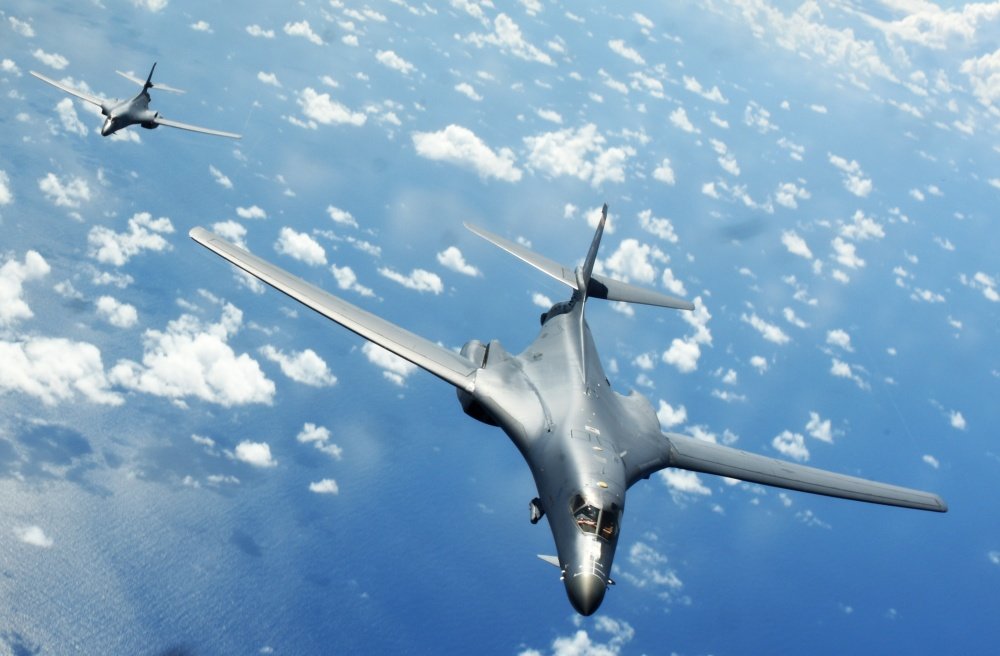 Competitive Advantages
During the post-9/11 counterinsurgency era, meeting the immediate needs of American warfighters in Afghanistan and Iraq trumped other long-term, strategic concerns, such as the modernization of America's nuclear weapons arsenal or missile defenses. Today, Ray has no qualms about that trade-off, asserting that the No. 1 responsibility of the Air Force is to support American forces on the ground.
"We saved a lot of American kids. That was job one," Ray said. "We had to bring those kids home. So that's not a question of, you know, lamenting. It's a question of shifting and moving in the right direction. We had the luxury of the resources to go do that. And I'll never be one that laments that. Kids came home, American kids came home, and they otherwise wouldn't."
Yet, America's military has some catching up to do, Ray conceded, when it comes to modernizing strategic weapons systems and dusting off old skill sets that were shelved during the counterinsurgency era.
"We've got to remember all the old stuff that was good, and we've got to learn and embrace all the new stuff that we've learned over the past couple of decades to make this better," Ray said.
One key success for Global Strike Command has been the renaissance of the B-1, a Cold War-era, supersonic bomber that had been plagued for years by maintenance issues. Today, the B-1 has been rehabilitated and brought back to readiness levels not anticipated to occur for years, Ray said.
"The B-1 was broken because it was neglected," Ray said. "Now it's staged a comeback. […] Our readiness numbers in the B-1, they've never seen this."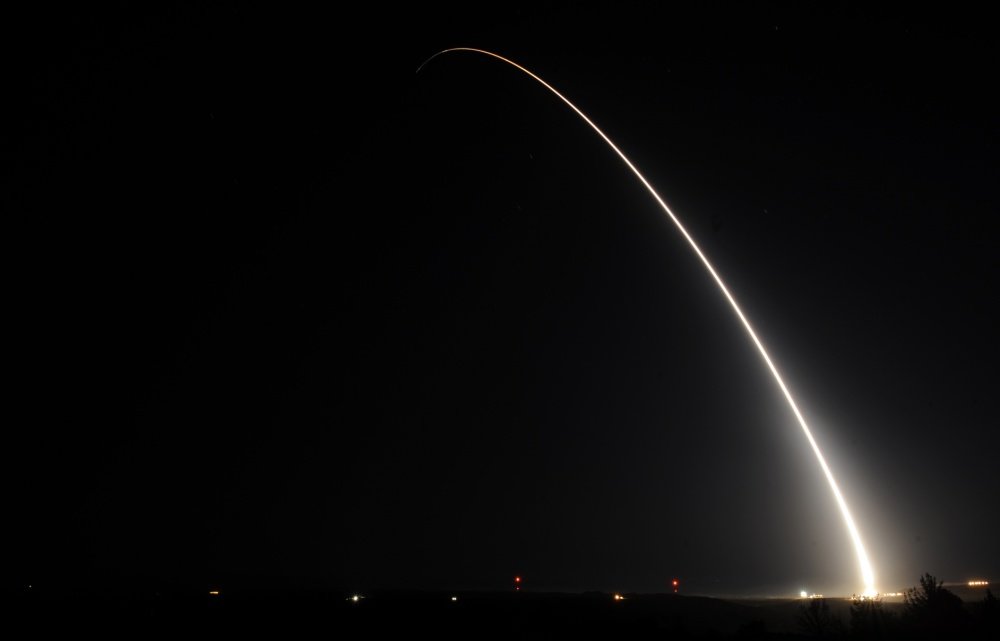 The New Normal
According to the Arms Control Association, the United States possesses some 6,185 nuclear weapons, while Russia has 6,490 such weapons in its arsenal. The US-based Federation of American Scientists estimated China has about 320 warheads — roughly on par with France's number of 300.
"While Beijing has long focused on maintaining a minimum deterrent, it is likely that its nuclear stockpile will increase in the next few decades," the Center for Arms Control and Non-Proliferation said in an April 2020 report.
Russia wields about 2,000 tactical nuclear devices, according to the Department of Defense's 2018 Nuclear Posture Review. The US, for its part, has about 230 tactical nuclear weapons, according to a 2019 report by the Bulletin of American Scientists.
Tactical, or "nonstrategic," nuclear weapons generally refer to warheads of low yield (relative to nuclear weapons), which are deployed by short- or intermediate-range weapons. Tactical nuclear warheads are better suited for targeting military facilities and combat units, rather than destroying whole cities.
In February, the Pentagon announced that the US Navy had deployed the new W76-2 low-yield nuclear warhead aboard some ballistic missile submarines. Each W76-2 has a yield of about 5 kilotons — roughly on par, in terms of explosive yield, with the weapons dropped on Hiroshima and Nagasaki in World War II.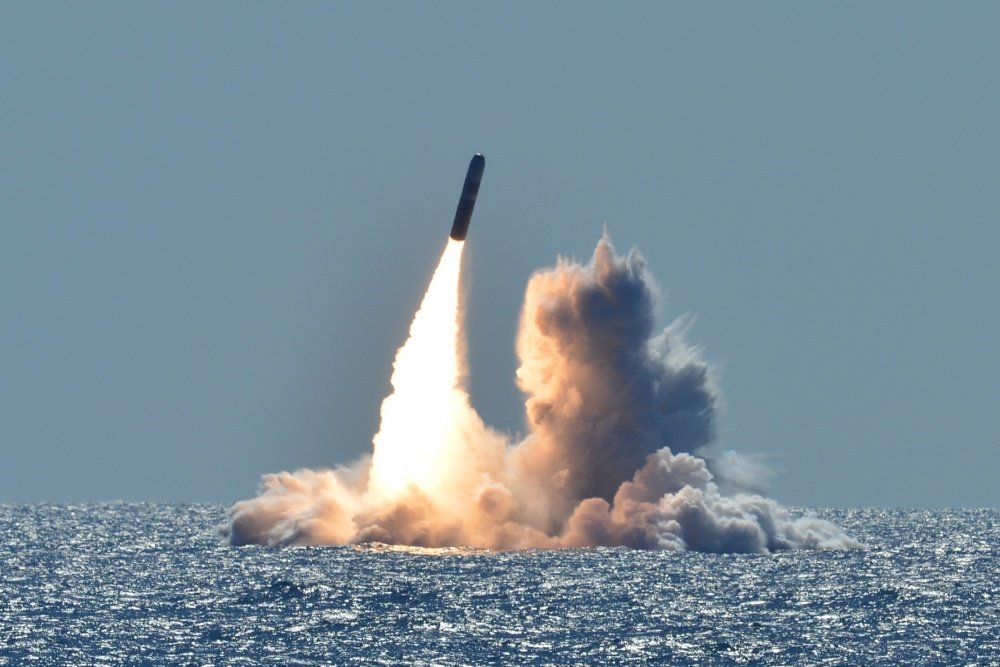 According to the Federation of American Scientists, the new warheads were first deployed at the end of 2019 on board the USS Tennessee — an Ohio-class ballistic missile submarine — during a so-called deterrent patrol in the Atlantic Ocean.
The US already fields low-yield nuclear warheads designed for use on gravity bombs and bomber-launched cruise missiles. A submarine-launched Trident ballistic missile — armed with multiple W76-2 low-yield nuclear warheads — is better able to defeat Russia's advanced air-defense systems, experts say, than weapons deployed from warplanes.
The US State Department said the deployment of low-yield nuclear weapons "reduces the risk of nuclear war by reinforcing extended deterrence and assurance."
However, even though there are now more shades of gray when it comes to strategic strikes, that doesn't necessarily diminish the prospects of an accidental war arising from an errant missile or miscalculated military maneuver.
On June 2, Russia released an updated doctrine on its use of nuclear weapons. Titled "Fundamental Principles of the Russian Federation State Policy on Nuclear Deterrence," the Russian doctrine raised some eyebrows over its apparent authorization of nuclear strikes in retaliation for non-nuclear attacks.
Notably, the decree also authorizes the use of nuclear weapons after "reliable reports about the launch of ballistic missiles at Russia" — without the caveat that nuclear warheads need to be on those missiles.
In 2018, Russian President Vladimir Putin unveiled new weapons that he touted would be able to defeat US missile defense systems. Among those new weapons was the Avangard hypersonic vehicle, supposedly capable of flying at Mach 27. The Avangard reportedly went operational in December.
Russia is also reportedly developing an atomic-powered underwater drone — the "Poseidon" — that will creep up to an adversary's coast, detonate a nuclear weapon, and create a 500-meter, or 1,640-foot, tsunami.
China is also reportedly developing a so-called nuclear triad, comprising the ability to deliver nuclear weapons by ground-based ICBMs, sea-launched missiles from submarines, and by aircraft.
China's missile program is developing a wide range of missiles of various ranges. And in April, the US State Department published a report raising concerns that China had conducted low-yield nuclear tests at a nuclear weapons test site called Lop Nur in 2019.
Best Use
The missile threat against US forces is on the rise globally. In the Middle East, American bases like al Udeid Air Base in Qatar that were once safely quarantined from the effects of counterinsurgency combat are now squarely within striking range of Iran's missiles. The same goes for US military forces in the Pacific region. As China continues to militarize remote atolls in the South China Sea, the Chinese missile threat umbrella now covers American bases such as Guam's Andersen Air Base.
In April, Air Force Global Strike Command announced that it was ending long-term bomber deployments to al Udeid and Andersen air bases. The decision ended a 16-year-old "continuous bomber presence" on Guam. Similarly, al Udeid had long been a hub for US bombers in the post-9/11 era, providing a stable of close-air support assets for US troops operating in Iraq, Afghanistan, and Syria.
Air Force Global Strike Command now rotates bombers across its network of bases in the Middle East and the Pacific. So, too, in Europe the US Air Force does not maintain long-range, strategic bombers on a permanently deployed basis.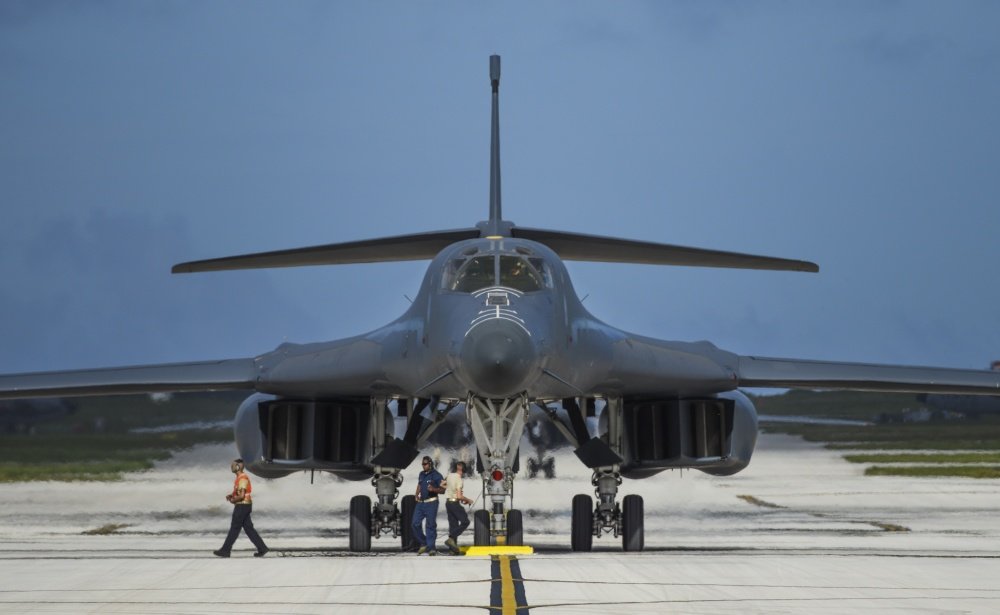 The decision to retrench America's bomber fleet mostly to the American homeland was not only about the missile threat, however, Ray said. The decision also reflects a broader rethinking about how to best use America's strategic bombers in this new era of national security threats.
"It really became an issue of the best use of the bomber. […] It was to step back and refocus on long-range precision strike," Ray said of the move to end permanent American bomber presences in Guam and Qatar. "It's about turning our hand to great power competition, it's turning our hand to a global focus, to turning our hand to long-range precision strike."
The end of established bomber presences in the Middle East and the Pacific heralded a simultaneous uptick in so-called bomber task force missions. One of the chief advantages of the long-range, precision strike ability offered by America's bomber fleet, which can be launched from US soil to strike anywhere on earth, is that those warplanes don't need to be forward deployed on foreign soil with all the attendant diplomatic complications, nor do those bombers have to be based within striking range of an adversary's missiles.
During the COVID-19 pandemic, in particular, Air Force Global Strike Command bombers have maintained a steady drumbeat of bomber task force missions, often launching from US soil, including in Alaska, to conduct missions in the Pacific, European, and Arctic theaters.
"During this pandemic, our armed forces are actually thriving. We have got the best readiness we've seen in years," Ray said. "I think some folks are still really scared of us, for a good reason."