I could feel the tension as I walked into our impromptu San Antonio command center. We were preparing to announce our intention to go public the following day. My mind raced back and forth between what needed to be done right now and memories of the last seven years working to even get to this point. Remember when Evan let us blast him in the face with a can of bear spray?
Our co-CEO, Tom Davin, was leading a video teleconference from Salt Lake City with the rest of the Black Rifle Coffee executive team, most of whom were gathered in our San Antonio headquarters going over last-minute preparations. His leadership and business acumen have been vital to turning this page to a different chapter, diving into another category of business from which there would be no coming back. "Going public" is a big step for anyone, but especially for guys like us. We were dragging a rifle around war zones not too long before starting this company, after all.
I moved to the corner of the room, sat down next to Evan, and tuned into the conversation. It was exactly what you might expect: Very Serious Business People saying a bunch of Very Serious Business People stuff. The air pulsated with nervous energy. Everyone in the room knew the stakes and how hard we'd all worked to get here.
I felt my phone vibrate moments later. It was a text from Evan. I opened the message to see an image of Randy "Macho Man" Savage dripping in sweat with text that read "my butthole watching me pour hot sauce over everything."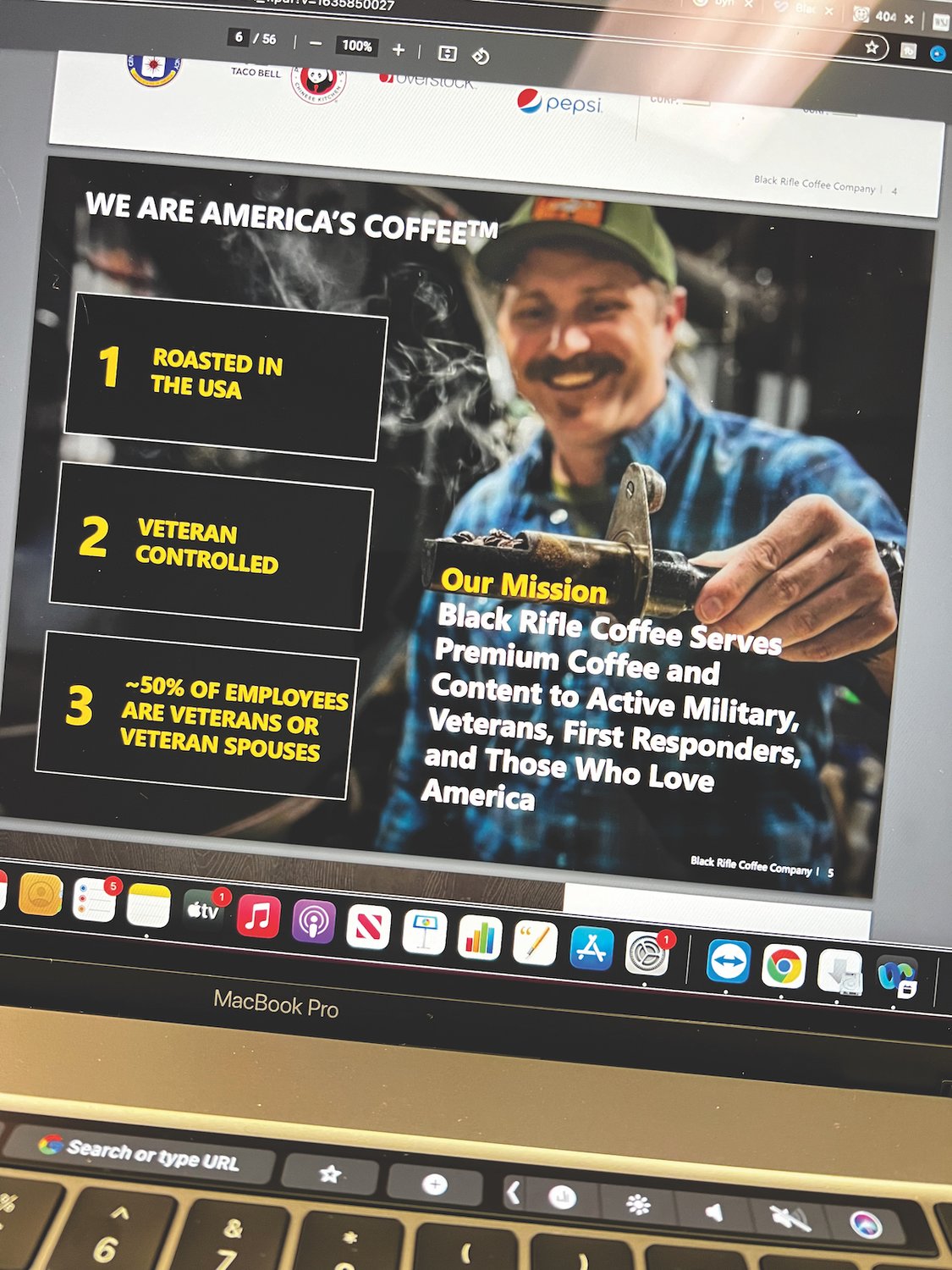 At that moment, I was reminded once again that most of the reasons why this business made it to the point of going public with a $1.7 billion valuation revolve around Evan Hafer's ability to thrive in chaos. It also reminded me that not even going public could change what this company is and who we are.
Sure, the influx of cash will allow us to grow at a rate we previously could only imagine. It will enable us to hire more people and expand our footprint of coffee outposts across the country. But who we are doesn't change. Going public doesn't change the fact that we all like drinking coffee and living life in the most positive way we can. We'll still be the guys at the range next to you. We'll still be helping out where we can in the veteran community. Hell, we'll still be the guys who think it's totally normal to strap twin miniguns to a Tesla.
Why? We want to share the love, the ticking clock of life ever present in the midst of surviving all the combat we endured in our previous professions. We know how fragile life is. We feel it in our souls. That's why we're going public. The idea of growing slowly is counterintuitive to us, a reminder that the next patrol could be our last. So we might as well keep the foot on the gas and just fucking send it. Hang on.
---
This article first appeared in the Winter 2022 print edition of Coffee or Die Magazine as "The Caffeinated Life."
Read Next: