The US Army Chief of Staff Gen. James C. McConville and the acting Secretary of the Army, Honorable John E. Whitley, awarded the Army's Distinguished Public Service Award to Capitol Police Officer Eugene Goodman for his heroic actions during the mob attack on the Capitol on Jan. 6, according to a Tuesday evening tweet from McConville. Despite this announcement, the night retained a somber tone as the remains of Officer Brian D. Sicknick, who gave the ultimate sacrifice during the violent insurrection, arrived to lie in honor in the Capitol Rotunda.
"It was a distinct honor to join [Secretary Whitley] in presenting the Army's Distinguished Public Service Award to Capitol Police Officer Eugene Goodman," reads the tweet. "Officer Goodman is a [101st Airborne Division] Soldier-for-Life whose heroic actions at the Capitol Jan. 6 helped safeguard lawmakers from violence."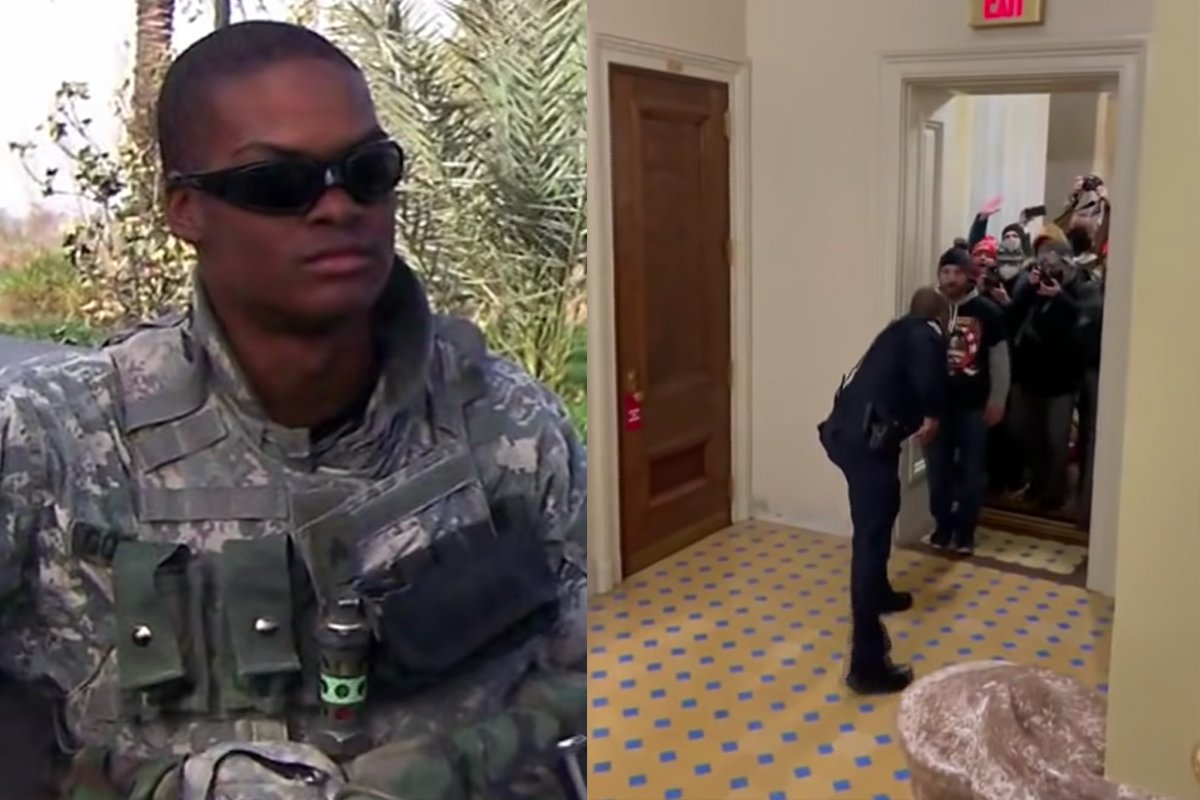 The Twitter account for the 101st Airborne retweeted the Army Chief of Staff's tweet with an encouraging message about Goodman: "Eugene Goodman represents everything good about us. He is everything good about us. He is what we stand for, and what we've stood for since 1942."
At about 9:30 p.m., hours after the ceremony honoring Goodman, an urn containing the cremated remains of the late US Capitol Police Officer Brian Sicknick was carried into the United States Capitol Rotunda. Sicknick, a member of the department for approximately 12 years and a veteran of the New Jersey Air National Guard, died one day after sustaining injuries while defending the Capitol Jan. 6.
Sicknick will lie in honor, a rare distinction previously given to only four other people, as his family, fellow officers, and lawmakers say their goodbyes. President Joe Biden and first lady Jill Biden paid their respects late Tuesday night.
"The U.S. Congress is united in grief, gratitude and solemn appreciation for the service and sacrifice of Officer Brian Sicknick," Speaker Nancy Pelosi and Senate Majority Leader Chuck Schumer said in a press release. "The heroism of Officer Sicknick and the Capitol Police force during the violent insurrection against our Capitol helped save lives, defend the temple of our democracy and ensure that the Congress was not diverted from our duty to the Constitution. His sacrifice reminds us every day of our obligation to our country and to the people we serve."
The viewing period for Sicknick's fellow officers started at 10 p.m. on the East Front of the US Capitol and lasted through the night. An invitation-only Congressional Tribute was set to begin at 10:30 a.m., with a ceremonial departure at noon. He will be buried in the Arlington National Cemetery.
The US Army Public Affairs office had not returned requests for further comment in regard to Goodman's receiving the service award at the time of publication.