The shell landed with a deafening explosion, slamming Wilfred Owen into an embankment, knocking him unconscious. He spent the next several days drifting in and out of consciousness. His only company in the muddy embankment was the remnants of his friend, 2nd Lt. Hubert Gaukroger, scattered around him in broken pieces. When Owen was finally picked up by his comrades, they noted he was acting strangely and sent him to Craiglockhart Hospital in Scotland to be treated for "shell shock."
It was there in Scotland that Owen met Siegfried Sassoon, a fellow British officer and poet, and forged a friendship that helped shape two of the greatest war poets in Western literature. Both men played a significant role in each other's lives and in the poetry movement that came out of World War I.
World War I soldiers used their poetry to describe the brutal realities of modern warfare in ways never previously explored. They described the horror of gas attacks and the terror of enduring extended artillery barrages. Machine guns, tanks, aircraft, and massed entrenched armies were the new faces of war — a war that nearly stripped Europe of an entire generation of young men. Notions of glory in dying for one's country faded as both sides sought a way out of the cataclysm.
In an age before television and the internet, poetry was a popular medium for social commentary, and in a war that saw single battles result in more than a million casualties, it's no surprise that soldiers quickly became overtly critical of the war. Their poetry brought attention to the plight of the average soldier and openly blamed the politicians and generals who repeatedly sent waves of young men to their deaths for nothing more than a few inches of mud.
Sassoon and Owen were unique in both the quality of their work as well as their personal relationship. Both men served on the Western Front and developed a reputation for bravery in battle. They were both awarded the Military Cross, Britain's third-highest award for valor. Their relationship led to some of the most lasting poetry to emerge from their generation, though their friendship ended in tragedy.
Sassoon, already an established poet when he met Owen, was writing emphatically anti-war poetry. After being treated for gastric fever, Sassoon refused to return to the front as a protest against the war. His letter of refusal was read aloud before Parliament, and because of his respected reputation, he was treated for shell shock rather than punished for desertion.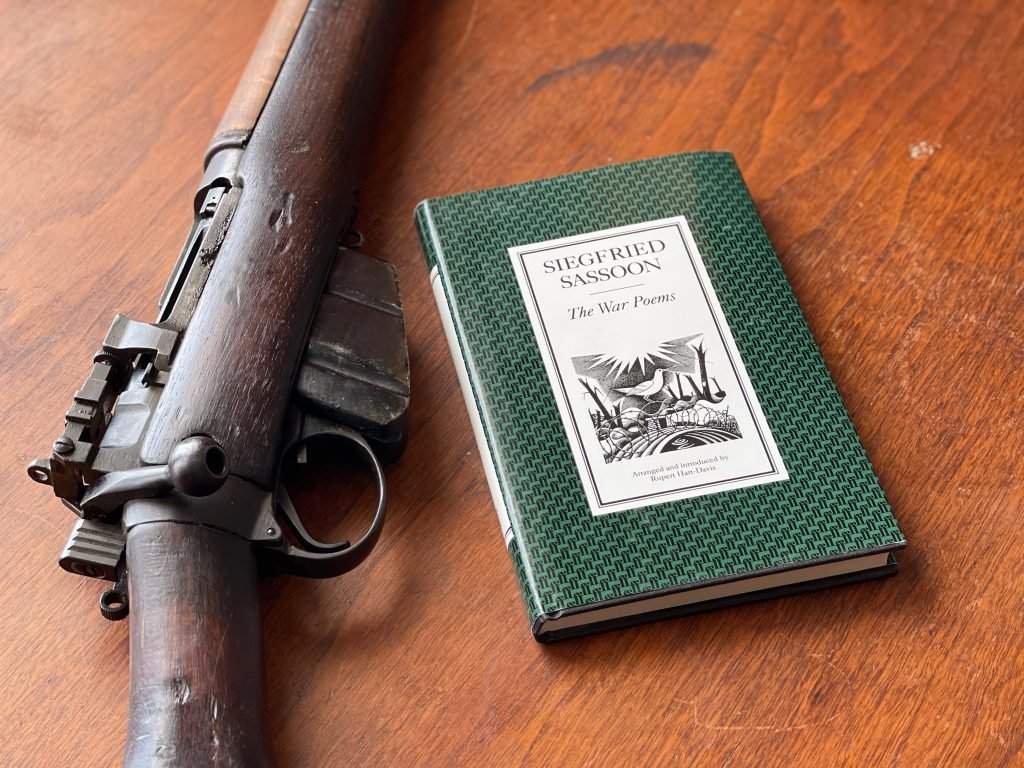 Sassoon's earliest poems reflected the romantic perception of war that first influenced him to join the Army. Following the death of his brother at Gallipoli and his own experiences on the Western Front, the tone of Sassoon's poetry quickly changed. His poems took on a more gritty, realistic voice that sought to expose war for what it really was to an otherwise ignorant citizenry back in England. In "Suicide in the Trenches," Sassoon tackles the taboo topic of suicide, placing blame on "You smug-faced crowds with kindling eye / Who cheer when soldier lads march by."
Owen shared Sassoon's criticism of the pro-war propaganda that swept across England before the war. Owen was the editor of Craiglockhart Hospital's literary magazine when Sassoon arrived. After Owen shared some of his characteristically angry poetry, Sassoon encouraged him to keep writing, and the two began sharing ideas and encouraging each other's creativity.
Owen's poetry is uniquely gritty and also openly critical of British war propaganda. In his poem "Dulce et Decorum Est," Owen describes the horror of chemical warfare and refutes the ancient Roman poet Horace's claim that "it is sweet and fitting to die for one's country."
Sassoon and Owen both returned to the front after being discharged from the hospital. Sassoon was soon shot in the head but eventually made a full recovery. Tragically, Owen was killed in action leading his men across the Sambre canal, just seven days before the armistice. Owen's parents were notified of his death just hours after learning the war was officially over — making his death all the more tragic.
Wracked with survivor's guilt, Sassoon led the effort to have Owen's poetry published and shared. Now, in the Poets' Corner of Westminster Abbey, where the names of Britain's most revered poets are preserved in stone, Owen's words encircle the dead: "My subject is War, and the pity of War. The Poetry is in the pity."
For anyone interested in war poetry, reading the poets of the Great War is a must, and the work of Sassoon and Owen — two of the most notable figures in war poetry — is the most logical starting point.
Read Next: Verses Born in Battle: A Comparison of World War I and GWOT War Poetry