U.S. Army Sergeant First Class Richard Stayskal never intended to be an activist. "I liked being a nobody in the quiet," Stayskal said. But his career as a Green Beret has been interrupted as he balances battling stage 4 lung cancer and crusading on Capitol Hill for the right of active duty military to sue the Department of Defense for malpractice.
In January 2017, Stayskal had a physical before attending dive school, which he planned to attend before starting his warrant officer course. Throughout his career, he had always pushed himself. "I had been doing freefall for many years, been doing the sniper stuff almost my whole career, been to all the other shooting schools," he said. "I knew as a warrant officer I would do a lot of intelligence schools. I was just trying to get ahead."
Stayskal had been shot in the lung in 2004 when he was a U.S. Marine, but after a CT scan the doctor told him that he was perfectly healthy. However, he was dropped from the dive course after problems with his breathing arose. "Just slowly, I couldn't do anything," he said. "I was wheezing, I was coughing, I was short of breath, I had a pain in my chest." Only five months after being assured there was nothing wrong with his lungs, he knew that wasn't true.
He sought treatment, beginning with the clinic at Fort Bragg. He was then sent to the ER at Womack Army Medical Center, where they reviewed his scans from January and said he had walking pneumonia. A few days later he was in a different ER, unconscious and coughing up blood. "My vision was going out. I was passing out sitting down," Stayskal said. "I don't know what to do. Nobody will take me seriously. Nobody seems to care."
Finally he got cleared to see a civilian pulmonologist, who did another CT scan and said he would call if he saw anything. "I think he called me the next day," Stayskal said. At the end of June, at the age of 36, he was diagnosed with stage 3A lung cancer.
The civilian doctor said that things may have been different if he had been diagnosed sooner — all the signs were there in his scans from January. "Somebody documented it, measured it, noted it," Stayskal realized.
Friends and colleagues encouraged him to sue for malpractice, but everyone he contacted dismissed him, saying it wasn't possible. "We would hang up the phone, my wife would cry, and we'd do it all over again," he said. Stayskal soon discovered the roadblock that stood in his way and changed the direction of his life: the Feres doctrine.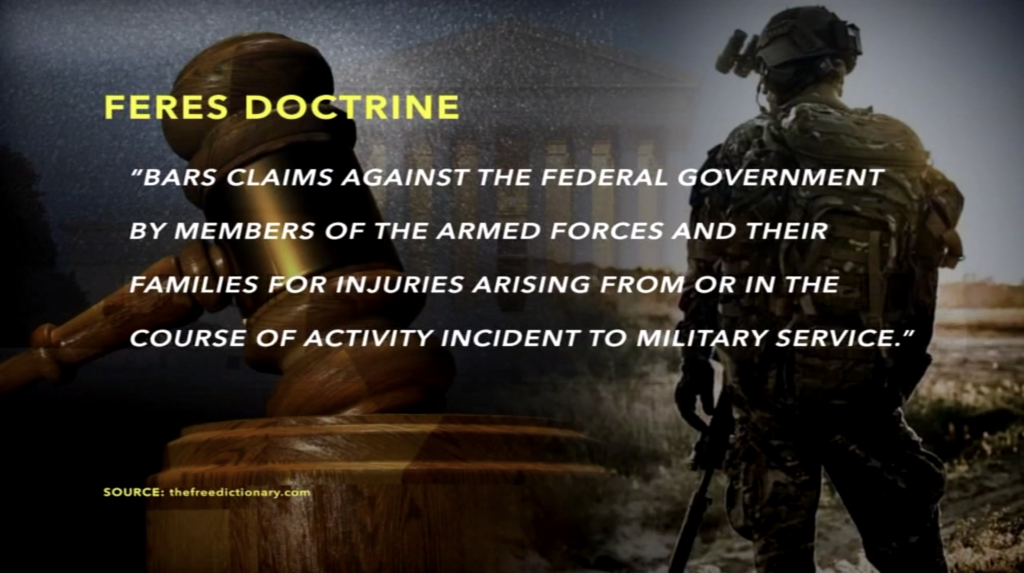 Feres v. United States, a Supreme Court case decided in 1950, bars active duty military personnel from suing the government for medical malpractice. It has been used to shield the government from all medical malpractice cases over the years, even for incidents that were caused by military doctors at military installations far from any war zone.
Stayskal's lawyer, Natalie Khawam, fervently believes that Feres is being used unjustly. "The spirit of the law, the Feres doctrine, was that if a medic was out in combat with a soldier and malpractice happens, the medic and the DoD cannot be sued for malpractice because it's in combat, in the middle of war," Khawam explained. "That's understandable. It's an emergency situation, you don't have all the equipment you need. That interpretation is fair. However, it's being misapplied today."
In 1987, United States v. Johnson upheld the current usage of Feres, and Justice Antonin Scalia wrote a strong dissent based on his belief that Feres, as it is applied, is essentially immoral in its treatment of servicemen and women. Even he had to admit, however, that overturning a standing precedent was not the role of the Supreme Court.
"We're the Supreme Court. We don't make law. That's Congress' job," Khawam paraphrased. "If this was what Congress intended it to be, that's for Congress to decide."
So Stayskal has been approaching members of Congress, telling his story. "The more I started learning about Feres, it was like holy moly — this thing's been going on 70 years and all these people have tried," Stayskal said. "I'd sit up until 3 or 4 in the morning listening to or reading about people's stories of what happened to them, or their fathers, their grandfathers, their uncles, their mothers."
The current Department of Defense Appropriations Act for next year has passed the House of Representatives with an amendment added by California Representative Jackie Speier, which clarifies that the Feres decision would only apply to incidents that took place during combat.
"It resolves the issue," Khawam said, adding that the amendment reiterates was the Feres Doctrine originally outlined: that non-combat-related cases would be eligible for legal remedy.
But Stayskal and Khawam haven't been able to get the language through the version of the bill currently in the Senate. It will apparently be blocked in the Armed Forces Committee by chairman Sen. Lindsey Graham, R-S.C. Graham, himself a former U.S. Air Force JAG officer, is opposed to a change to the Feres doctrine. "We have compensation for people who are killed or injured in the military," he said recently. "We're not going to open Pandora's Box."
"I love it when someone says it's Pandora's Box," Khawam said. "Let's do Pandora's Box. Let's fix it from the bottom up. You know how they say 'drain the swamp' here? Let's drain it. Let's make sure that those who serve our country have the same rights, not less, that all of us enjoy."
Khawam sees the issue through a civil rights prism. "There's a lot of laws that we've had that we decided later were unfair or unjust," she said. "This is one of those situations where we're all becoming aware of it, and we all have to do something about it. It's not going to change itself. The only way Congress is going to do anything is when they hear it from the people who say this is enough."
Stayskal has found it difficult to balance his home life with his wife and two daughters with his new political role, not to mention treatment for the cancer that has metastasized to his pelvis, spinal bones, lymph nodes, liver, and spleen. "My daughter just started softball," Stayskal said. "I've missed every game for two weeks now. It adds up over time."
But he remains determined. "I just kind of started looking at myself and it was like, Darn it, I don't want to do this. But I was a Marine, I'm a Green Beret, I actually have found an attorney who wants to do this. It just seemed like all the cards were in the right place at the right time. If it was gonna happen, it was gonna happen now."