Slosh, plop, slosh, plop. The noise my boots made with every step seemed deafening. 20 or so Iraqi Special Forces soldiers and I were doing our best to be sneaky on our way to the target building, but it was the wet season, so Iraq's infamous moon dust had already made the transition to sticky tar-like mud.
Slosh, plop, slosh, plop. Our boots, caked in mud at this point, were getting worse with every step. We might as well have been a middle school orchestra doing sound checks.
Before we got too close to our target house, I needed to remind the commander of the platoon I was advising about a key point we neglected on our last mission. "Remember, get one ladder up and clear the courtyard before the other ladder goes up and everyone starts jumping over the wall," I whispered in my best broken Iraqi Arabic. I had to simultaneously motion with my hands to mimic a wall, a house, and a ladder. I wasn't sure what was more confusing, my Arabic or the goofy hand gestures.
Luckily, the commander was used to whatever an American trying to speak in his native tongue sounded like, so he nodded in the affirmative, which could mean "yup, got it" or "whatever, dude." I guess we'll see in a few minutes, I thought to myself. Fortunately, it only took seconds.
"Fuck'n Yalla!" he said with a huge grin, blasting me with his ashtray breath. Guess we're good then.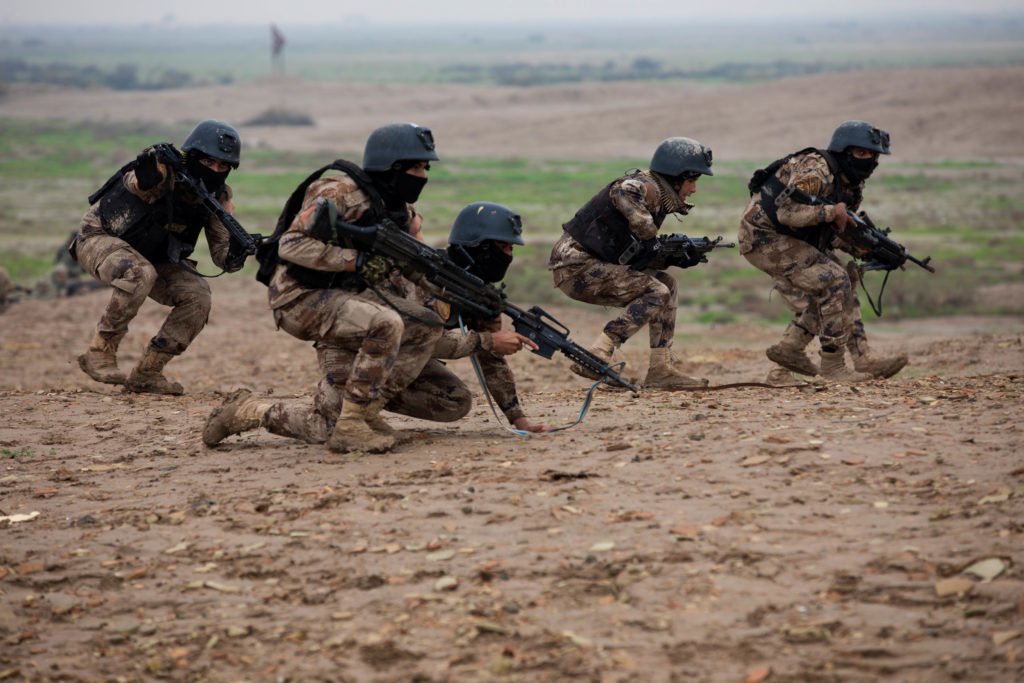 Our not-so-sneaky infil became a comically loud trot of mud-caked boots as we closed in on the target house. The Iraqi Special Forces soldiers stacked up on the wall outside the house, and the commander was directing traffic. The first ladder went up and a soldier climbed up and deliberately swept the courtyard with his rifle before stopping at the door into the house.
With security posted, another ladder was placed against the wall. The other soldiers began silently scaling the wall, entering the courtyard, and stacking on the house in preparation for breaching the door.
The third Iraqi in the stack emerged with a mini batting ram, cocked it back, and slammed it into the door. A sharp metallic clash rang out as the door flew inward and the soldiers flowed into the house.
Up to this point, the Iraqis had been as silent as possible and relied only on streetlights to see, but now that the front door had been violently breached, the gig was up. They flicked on their "white lights" — the tactical flashlights they attached to their AK47s to illuminate rooms they were clearing — and started shouting commands to each other and whoever was inside as they methodically moved from room to room. Speed, surprise, and violence of action. Check, check, check.
I watched as their lights reached the second floor, and then my radio crackled to life. "Joe, wrap it up. It's fucking turkey time!"
Shit, that's right, I thought. It's hard to track holidays with the constant grind of combat operations and training. I walked into the training compound that the Iraqis had just assaulted and found their commander. "Hey brother, great job on the ladder — big improvement from last time," I said. "That's it for tonight, we are on standby for ops this week."
He nodded, gave me a fist bump, and motioned for his soldiers to exit the house.
They didn't need to be convinced. They slung their weapons, lit cigarettes, and joked and exchanged slaps on the back just like soldiers have since man first formed armies. The life-or-death business of war is too important to take too seriously.
I wished them "Tisballahhair," or "good evening," as I began my muddy slog back to the team house. The cool breeze coming off the Tigris River filtered through the rain-soaked palm trees, bringing with it a pleasant jasmine scent. During my first winter in Iraq, I was amazed that the smell of the city in the late fall and winter was so refreshing. But off in the distance, I could still hear the occasional bursts of gunfire and explosions mixed with the echoes of a call to prayer and horn blasts. Such was life in Iraq in 2004.
The life-or-death business of war is too important to take too seriously.
Even though I was far from home on Thanksgiving, I was living my childhood dream. I was a 24-year-old U.S. Army Green Beret on my second combat deployment living in the middle of Baghdad with my Operational Detachment Alpha (ODA) training the Iraqi Special Operations Forces (ISOF) and advising them on actual combat operations — which included everything from tracking down bad guys to conducting raids to kill or capture them.
And there was no shortage of work to go around. We were located in northern Baghdad on the western bank of the Tigris, caught between the Shia enclave of Kadhimiya and the Sunni stronghold of Adimiyah. That put us right in the middle of the action, which is exactly where a modern Green Beret wants to be.
Our Saddam Hussein-era military barracks were within a combat outpost secured by a company of the U.S. Army's 2nd Cavalry Division. Before the invasion, our home away from home was one of Hussein's most feared prisons, run by his dreaded secret police. When we moved in, several of the Iraqis had horrific stories about being tortured there, and some even refused to work there. The Iraqi commander eventually brought in a local religious leader to bless the barracks and ensure no evil spirit lingered in the erie corridors of our compound.
As was the case everywhere that early in the war, our living conditions were spartan, but we made the best of it. Our team house was a simple one-story concrete building fortified with sand bags over the windows and on the roof. We had a makeshift porch with a large grill that was glowing with charcoal and wafting smoke tinged with the sweet smell of bacon. Take that, jihad, I thought as I kicked my boots against the wall of the house in an effort to knock the mud off.
I opened the door and rounded the corner into our living room and kitchen area, where the smell of turkey and stuffing overpowered the scents of Copenhagen, gun oil, and coffee that normally permeated the house.
"What's up, man? How'd the house go?" asked Matt, our Special Forces medic. Like most SF medics, Matt had a reassuring calm and sharp intellect that made him an asset on any mission. But what made him unique was that he could have been a stand-up comedian if he ever decided to hang up his green beret. At least once a day he had me laughing so hard it hurt — most recently performing a hilarious parody of Al-Qaeda leader Abu Musab Al-Zarqawi's manifesto.
"It went well — hopefully we fixed our wall issue," I replied.
"Inshallah habibi — grab a plate of chow!" Matt said, gesturing to our kitchen table, where Thanksgiving dinner was waiting. I happily obliged.
"Joe, your jundis are having ladder issues? That's weird" The sarcastic comment came from Stu, our team's intelligence sergeant.
I knew that was coming. Stu had been on the team for several years and was part of 5th Group's legendary initial push into Afghanistan in 2001. He was built like a linebacker and always plotting a prank. ODAs are tight, which means you never live down your screw ups; all you can do is smile and hope your skin gets thick — fast. A few of the other guys laughed. So did I. Here we go…
"Wait, what happened?" asked Jeremy, our communications sergeant. Jeremy had been on the team for years but missed our last trip due to a broken neck he sustained during training. He was a good ol' boy from Missouri and sounded like Boomhauer from "King of the Hill," so naturally the Army gave him the job that required him to talk on the radio.
"Oh shit, that's right, we have to tell you this one!" Matt replied. Well, at least Matt would make the story funny, I thought as I scooped some cranberry sauce onto my turkey.
"Dude, so no shit there we were," Matt said, opening with the proper war story preamble, "assaulting a huge-ass compound out west — some deck-of-cards clown's house, which was awesome. The mission had everything: helo infil with fast ropes to the roof, a wall breech, the door gunners even lit up a guard tower. Pretty awesome op." Matt was now standing to make more room to add animation with his hands.
"It was going great until we were trying to get over this big-ass wall with these shitty ladders, and Joe, loaded with way too much bullshit, breaks a rung on the ladder, gets mad, throws the ladder to the side and tries to ninja climb over the 8-foot wall. He gets caught by his kit on the wall, so I get under him and push his ass over the wall like combat Winnie the Pooh!" Matt explained, reenacting my finest hour.
"Well, that's a technique," Jermey said with his normal deadpan wit. Everyone got a good laugh. All I could do was finish fixing my plate and find a place to sit. Gary, our engineer, was my best bet.
Gary was a wiry backwoods Southerner, and we went to Special Forces Selection and the Special Forces Qualification Course together. He had just earned a valor award for his calm under enemy fire during a raid in Samara, but you wouldn't peg him as a Green Beret — or the guy who would remain calm while getting shot at for that matter.
"We eating or waiting for Mom and Dad?" Gary asked as he spit Copenhagen into one of the ever-present dip bottles that lined our house floor. "Mom and Dad" were Mike, our senior noncommissioned officer, or more simply known as the team sergeant; and Trevor, our team leader and only commissioned officer. Neither was Mom or Dad specifically, but together they were a couple.
"Hey, come eat!" Stu yelled into the office that adjoined our living room where Mike and Trevor would send reports back to our headquarters. These were definitely the good old days of limited connectivity and little to no micromanagement from higher headquarters. Sure, we still checked in over the radio with them daily, but it was mostly asking for forgiveness and not permission. Unfortunately, that dynamic has been replaced by nearly nonstop emails, messenger chatting, and teleconferences from every nook and cranny of today's battlefield.
Our leadership duo emerged from the back office, Mike in the lead. He grew up in the infantry and had seen combat in the first Gulf War, Kosovo, the initial push into Afghanistan, and was on his second Iraq deployment. He was the most experienced guy on the team, an aggressive leader, and gave us a ton of space to succeed.
Trevor was Mike's commissioned counterpart, a humble officer who had every reason not to be: he was a West Point graduate who knocked out all of the Army's hardest training by the time he was a captain. He also had the ability to understand every detail of what we were doing and how it tied into the big picture.
"Happy Thanksgiving three-five … again," Mike said as he piled turkey onto his plate and sat down at our gaudy wood and fake-gold kitchen table. Trevor grabbed a plate last and sat next to Mike, our team now almost complete.
"Intel update!" Josh said as he entered the room and took a seat with his plate of turkey, stuffing, and jelly-looking cranberry sauce. Josh had also been in SF for several years and was now running the Iraqi recon element that collected intel for our Iraqi Special Forces companies to action.
It was normal for meals to be interrupted by intel updates, and Thanksgiving was no exception, so all eyes were on Josh. It had been a hell of a trip so far, with summer fighting in Najaf against Sadr's boys, chasing Zarqawi and his hostages on every backstreet of Baghdad, another away game in Samara, followed by Operation Phantom Fury in Fallujah. The more information we could get, the better — you never knew when the next shithead would pop up for a round of whack-a-mole.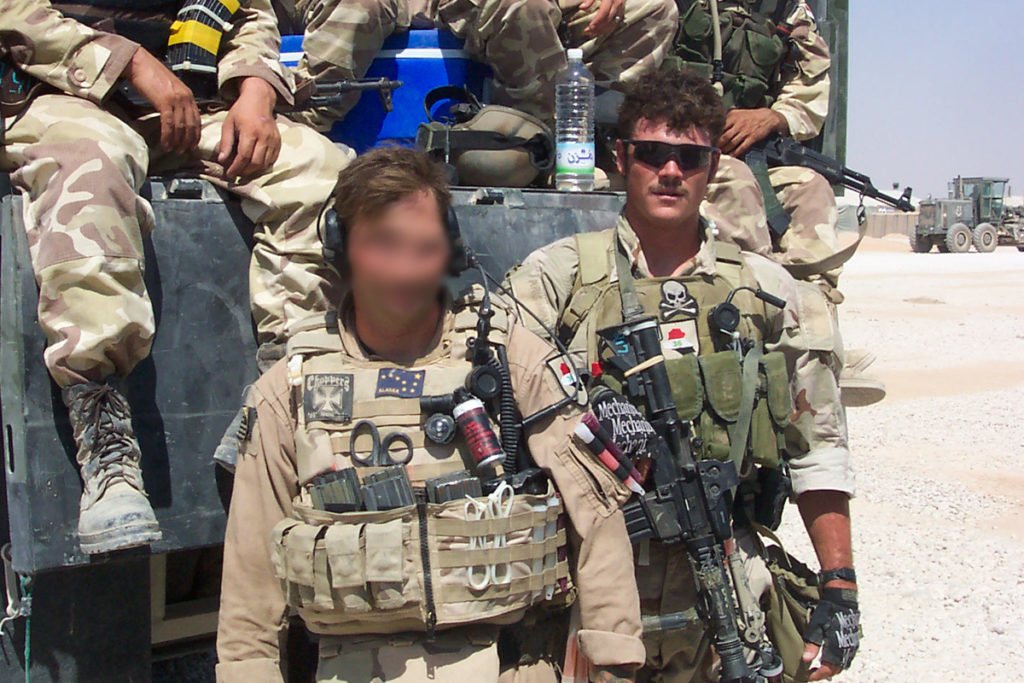 But today would not be one of those days.
"No ops tonight — beer light's on, nerds," Josh said, as he pulled a green 22-ounce Tuborg "tall boy" out of his cargo pocket. "Right, Mike?" he asked, with a smart-ass grin, deferring to our senior NCO for the official approval.
"I did say, happy Thanksgiving …" Mike said, motioning for Josh to pass him a beer.
Josh was more than happy to oblige. He cracked open our refrigerator and passed around a combination of Tuborg, Hienekens, and Efes tall boys, graciously provided by our Iraqi Christian friends. They didn't mess around when it came to beer. "It's like they know no one in Iraq wants just a pint of beer," Josh said. "The tall boy is their standard."
But just like any other Thanksgiving, you always seemed to be waiting on the weird uncle to show up.
"Where is Seaux?" Mike asked suspiciously. Seaux, named after the famous Johnny Cash song, may be the origin of the phrase "stranger than fiction." If he's not, he definitely lived up to it. Seaux had fought in Grenada with the 82nd Airborne, then joined the French Foreigin Legion, but eventually found his way back into the U.S. Army and had served in every war the U.S. had been in from Mogadishu to Iraq. It probably comes as no surprise that Seaux loved going native and spent most of his time with a few Iraqis doing recon work.
"I'm coming — don't you flatlanders know I eat dinner at 4PM sharp?" Seaux grumbled from his room. "No respect for seniors."
When Seaux hung out with us, he did so either dressed as a viking or as a native American, complete with a bow and arrow he used to shoot flaming arrows across the Tigris. Like I said, stranger than fiction.
Before long, he emerged from his room and caught the beer that Josh tossed to him.
But just like any other Thanksgiving, you always seemed to be waiting on the weird uncle to show up.
"Cheers, fuckers!" Stu said, as he made a toasting motion. The rest of the team unceremoniously made the motion in return, cracked their beers, took a sip, and dug into their dinner. We may not have been home for Thanksgiving, but in our line of work, sitting down as a team — a family — for turkey that day seemed more like home in some ways than what we would have had back in the States.
"We're lucky this year," Trevor said with a grin. "The B Team busted their asses to get every ODA a turkey. Worked out well for everyone but Two-Three …" ODA 523 was just across the river from us, and we often supported each other on missions and shared intel a few times a week.
"Do tell, sir," Jeremy said.
"Well, they drove one of their Mercedes to pick up their turkey in the Green Zone, and when they were coming back in to their base, I guess the kid on guard didn't know it was them and lit up their car with his machine gun!" Trevor explained.
Everyone paused; there's nothing friendly about friendly fire.
For the first couple of years of the war in Iraq, Special Forces ODAs in major Iraqi cities acquired local cars to drive around town so that they could conduct reconnaissance and low-profile assaults. That technique was a double-edged sword though. It worked great in that we could avoid contact with the enemy until we wanted to make it and got a great feel for Iraq at the street level. However, the most dangerous part of these operations was the re-entry to friendly lines. The guys guarding the gate were usually very young soldiers and were used to seeing military vehicles. Suffice it to say, that at two years into the war, all of us had stared down the barrel of U.S. weapons with our hands up screaming "I AM AN AMERICAN!" a few times.
"Somehow, no one got hurt, the kid on the gun lit up the engine block," Trevor continued. "Marty and Lee bailed out, and the car caught on fire and ruined their turkey!" All of us laughed at the cartoonish mental image of our buddies dodging some private's hail of machine gun fire and their turkey getting cooked early. Like many things in war, the closest of calls would usually end up as a fun story to laugh about later. And sometimes … they didn't.
"Yeah, man. Better than last year when we got tossed out of the big Army chow hall because POTUS was coming and we looked like pirates," Josh said with a laugh. He was referring to our last deployment when a high-strung mess officer rudely told us we couldn't eat Thanksgiving dinner unless we were in uniform. We wanted to eat, but not that bad.
What we didn't know at the time was that President George W. Bush was coming to eat with the troops at the chow hall we were trying to get into. In hindsight, it made sense why hooligans like us were turned away. There are plenty of perks that come with wearing the green beret, but sometimes it can work against you.
Looking around our makeshift living and dining room, I felt very grateful to be sitting there with my brothers. This was our second Thanksgiving together in combat; we didn't know it at the time, but we'd be doing the same drill the next year on the Syrian border.
The mood would be far more somber for that dinner. Our luck would run out by then, and we would have lost two teammates by the time we sat down for turkey again. Sergeant First Class Brett E. Walden and Army Sergeant First Class Robert V. Derenda paid the ultimate sacrifice, and their families are in my thoughts this Thanksgiving.
In retrospect, I guess we were all just getting warmed up. Most of us cracking beers in our Baghdad team house in 2004 would spend more Thanksgivings with teammates in combat zones over the next 14 years than with our actual families. Holidays spent in makeshift living spaces, living feet away from each other and always in-between intense combat operations, would become normal for all of us — and we wouldn't have it any other way.
Even then, I knew the bonds I forged with those men in that room would last for the rest of my life. After our third combat deployment, most of us had to move on to other assignments. All of us stayed in the fight and made efforts to stay in touch though. Josh and I forged a tight bond in Baghdad that remained long afterward. In fact, when I married my warrior soulmate, Shannon — a special operator herself — she insisted that Josh and his son be at every Thanksgiving and Christmas we shared as a family.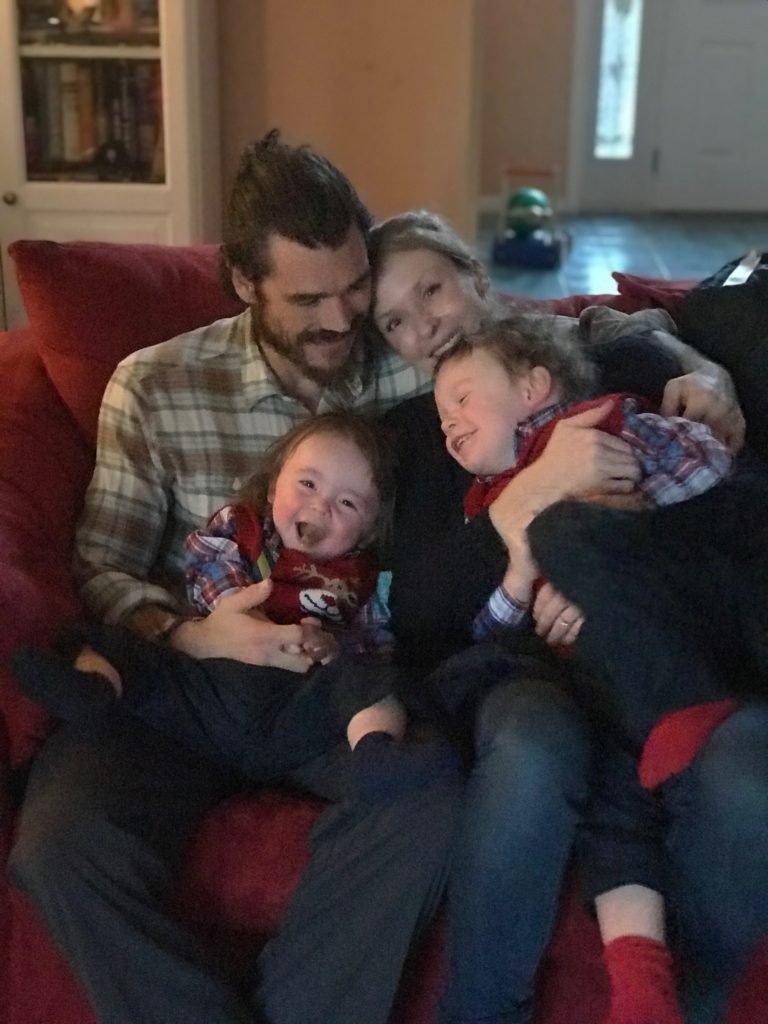 But what I didn't know was how all of them would be there for me 14 years later, during the darkest hour on the worst day of my life … the day I found out my wife, Senior Chief Petty Officer Shannon Kent, was killed in action while hunting ISIS in Syria alongside three other courageous Americans: Scotty Wirtz, a former U.S. Navy SEAL; Ghadir Thahir, a Syrian-American linguist; and Jon Farmer, a Green Beret Warrant Officer, from the 5th Special Forces Group — my old group. I had not seen most of my brothers from Three-Five in more than 10 years, but it didn't matter. They were there for me, they cried with me, and they are still there for me and my sons to this day.
Unlike that Thanksgiving next to the Tigris in 2004, cracking jokes and telling stories over a modest turkey dinner, this Thanksgiving is going to suck. I can't believe it has been almost a year since I last saw my wife in person. But what I am beyond thankful for is my sons, the short time I had with Shannon, and the love of my teammates. The bonds formed in the horrors of combat are lasting and unbreakable.
Take the time this Thanksgiving to reach out to your brothers and sisters in arms — talk about the good times and work through the bad. Be there for each other because you never know when you'll need them the most.