About a dozen Army Special Forces soldiers have deployed to Mozambique to help train the country's Marines to combat an ongoing and brutal ISIS insurgency. The mission underscores the growing importance of Africa for America's global fight against terrorism as extremist groups like ISIS and al Qaeda expand their franchises on the continent.
ISIS, in particular, has incorporated new affiliates across Africa, spurring the US State Department this month to expand its list of designated foreign terrorist organizations to account for the new crop of African extremist groups.
According to the Special Operations Command Africa, the Green Berets will be in Mozambique for two months for the training mission intended to "prevent the spread of terrorism and violent extremism."
"[Joint combined exchange trainings] are typically carried out by smaller tactical teams composed of special operations forces and support forces," Army Sgt. 1st Class Daniel Love, a spokesman for Special Operations Command Africa, told Coffee or Die Magazine.
The Green Berets' training program for the Mozambican Marines could include a broad skill set, including "small unit tactics, airborne operations, sniper tactics, intelligence integration, country familiarization, assessments, and language training," Love said.
Col. Richard Schmidt, deputy commander of US Special Operations Command Africa, was on hand to attend a ceremony to mark the beginning of the "joint combined exchange training" between US and Mozambican forces.
"Events like this […] benefit both our Mozambican partners and U.S. Special Forces," Schmidt said, according to a statement posted on social media by Special Operations Command Africa.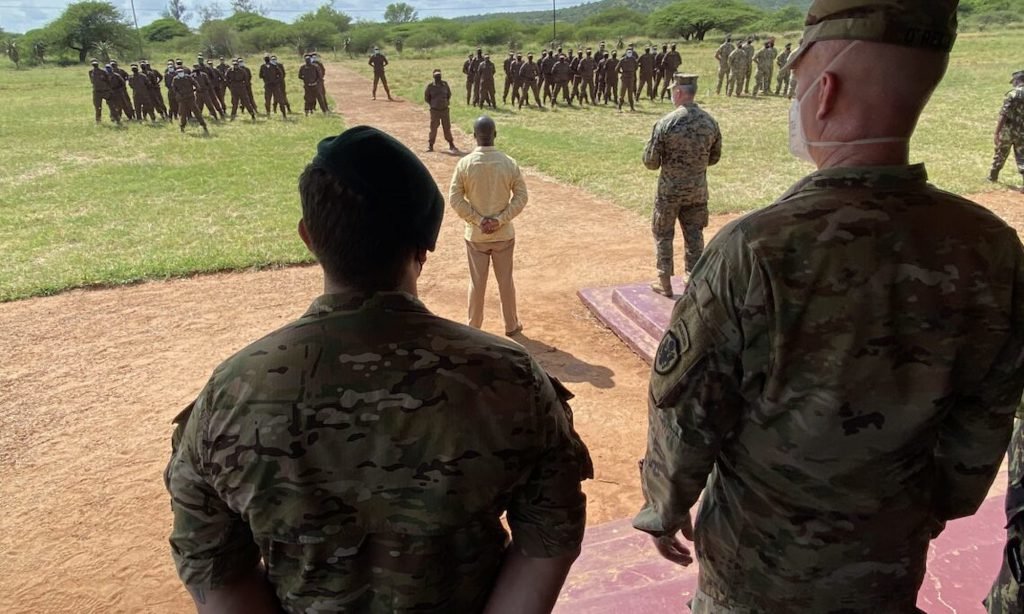 Originally known as al-Shabaab in Mozambique, ISIS in Mozambique pledged allegiance to ISIS in April 2018 and was accepted as an affiliate group by ISIS's central leadership in August 2019.
With about 800 militants in its ranks, the ISIS affiliate in Mozambique has waged a violent extremist insurgency in the country's northern Cabo Delgado province since 2017. The group has taken de facto control over large swaths of land, including a port on the Indian Ocean. To date, the fighting has killed more than 2,300 people — including more than 1,300 civilians. And the State Department estimates that some 670,000 people within northern Mozambique have fled their homes due to the violence. Some 1.3 million people in the region are in urgent need of humanitarian assistance, the United Nations reports.
According to Love, the Special Operations Command Africa spokesman, the Green Berets will not partake in combat missions while in Mozambique. "[Joint combined exchange trainings] generally don't take place in direct conflict zones and this particular training will not take place in Cabo Delgado," Love said.
The State Department designated ISIS in Mozambique as a foreign terrorist organization on March 10. That designation outlaws US citizens from giving the group any material or financial support, and blocks all of the group's assets under US jurisdiction.
The Mozambican government, headquartered in the capital city of Maputo, had previously used mercenaries from South Africa and Russia to combat the ISIS insurgency in the north. However, Amnesty International accused that private army, as well as government forces, of multiple human rights abuses.
In a March 17 release, US Africa Command said the US "prioritizes the respect for human rights, protection of civilians, and engagement with civil society in all security assistance." In addition to combat training, the US will also provide Mozambican military forces with medical and communications equipment.
"Civilian protection, human rights, and community engagement are central to U.S. cooperation and are foundational to effectively counter the Islamic State in Mozambique," the US Embassy in Mozambique said in a release.
With the collapse of its so-called caliphate in Iraq in Syria, ISIS has regrouped in new places such as Afghanistan and across the African continent. In November, ISIS militants beheaded more than 50 civilians in a village in Mozambique's Cabo Delgado province. According to area news reports, the terrorists used a soccer field in the village of Muatide to decapitate people and then "chop up" the bodies.
Nine other people in the restive area were beheaded in a separate ISIS attack in November. And in April 2020, ISIS militants killed 50 people in another village in Cabo Delgado province.
Some 25 Islamist militant groups operate across Africa, according to the US Department of Defense. Due to the widespread terrorist threat, US counterterrorism efforts continue in force across the continent. Today, the US military maintains a broad, if somewhat quiet, military presence in Africa, comprising some 6,000 personnel.