Three to five seconds.
That's the approximate time it takes for a grenade to explode. It's barely enough time to think, let alone act, but diving on a grenade to smother the blast and sacrifice oneself to save others is a courageous act that many American service members have carried out.
It requires immeasurable bravery and selflessness to carry out an act for which death is all but guaranteed, but in several instances throughout history, exemplary service members have dived on grenades and survived the explosion.
Call it toughness, will, or just plain luck — these five American service members have defied the odds by diving on grenades and living to talk about it.
Marine Pfc. Jack Lucas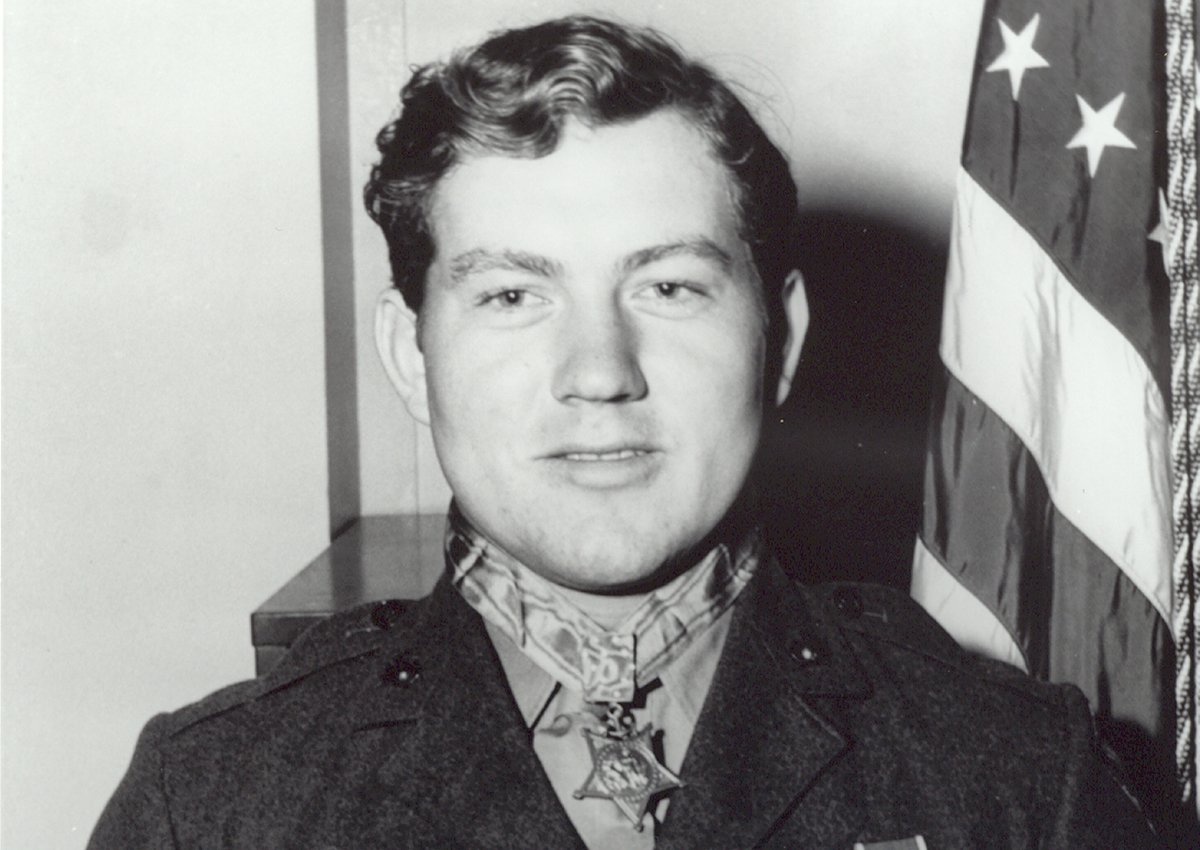 Just a few days after his 17th birthday, Marine Pfc. Jack Lucas was maneuvering with a fire team through a trench to assault an enemy position during the Battle of Iwo Jima. Lucas' four-man element spotted 11 Japanese soldiers in a parallel trench, and a firefight ensued. When Japanese soldiers threw two fragmentation grenades into the trench, Lucas managed to gather both grenades underneath him in an attempt to smother the blast and save his fellow Marines. Despite only one of the two grenades detonating, Lucas was so egregiously wounded that his squad believed him to be dead and continued on with their assault. Lucas survived, thanks to the help of a passing Marine who realized Lucas was alive and called over a corpsman. Lucas later received the Medal of Honor for his actions that day. He was the youngest Marine and service member in World War II to receive the distinction.
Army Spc. John Baca
On Feb. 10, 1970, the lead platoon of Spc. John Baca's company was ambushed and pinned under heavy enemy fire in Vietnam. Baca and his team maneuvered under fire to help the besieged platoon and eventually reached a defensive position within the platoon's perimeter. Just as they were planning a counterattack, an enemy soldier lobbed a grenade into the middle of the patrol, and Baca threw himself on it to save the lives of his fellow soldiers. Baca survived his wounds and President Richard M. Nixon awarded him the Medal of Honor March 2, 1971.
Marine Cpl. Kyle Carpenter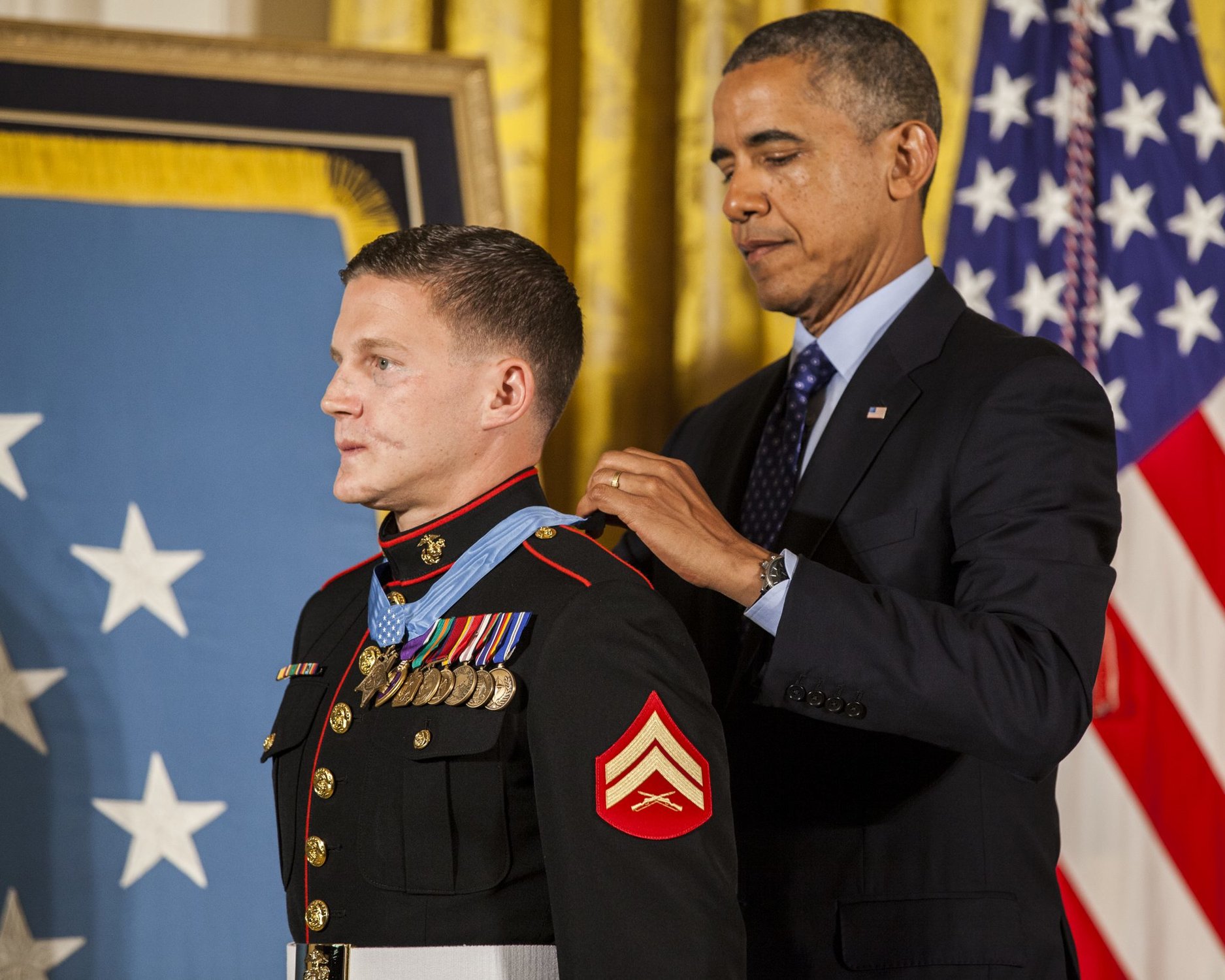 On Nov. 21, 2010, in Helmand province, Afghanistan, then-Lance Cpl. Kyle Carpenter and a fellow Marine were pulling security on a rooftop position on the perimeter of Patrol Base Dakota when enemy combatants initiated a raid. An enemy grenade landed near Carpenter. Carpenter dove on the grenade and absorbed the blast with his body, saving the life of the other Marine on the rooftop that day. Carpenter survived the blast and was awarded the Medal of Honor for his actions. He is now an author and motivational speaker and has a hilarious Instagram bio.
Marine Cpl. Duane Dewey
On April 16, 1952, Marine Cpl. Duane Dewy was wounded by an enemy grenade while serving as the leader of a machine-gun squad near Panmunjom, Korea. While he was being treated by a Navy corpsman, a second grenade landed near his squad's position. Dewey immediately yanked the corpsman out of the way and warned the other members of the squad before throwing himself on top of the grenade.
Dewey managed to survive two separate grenade blasts, as well as a gunshot wound to the abdomen. Dewey was released from active duty Aug. 19, 1952, and President Dwight D. Eisenhower awarded him the Medal of Honor on March 12, 1953. Eisenhower remarked that Dewey "must have a body of steel."
Army Cpl. Robert D. Maxwell
As German forces closed in on their defensive position in Besançon, France, Sept. 7, 1944, Army Cpl. Robert Maxwell and three other soldiers were severely outnumbered and outgunned. When a grenade landed inside the group's fighting position, Maxwell threw himself on it to save the lives of the other soldiers. Maxwell survived the blast and received the Medal of Honor on May 12, 1945.
Read Next: Three Inspiring Books About GWOT Marines Who Earned the Medal of Honor