When the "Great American Off-Road Race" opened a new category to military vehicles in 2020, more than 20 teams signed up. A mix of HMMWVs, dune buggies, and other military hardware dueled over the 100-mile course outside Las Vegas, Nevada, in the annual Mint 400.
While most entries were stripped-down versions of their active-duty counterparts, a team of Green Berets from the 5th Special Forces Group decided their Ground Mobility Vehicle could give a little more: They did two laps of the course with a full combat crew, with real weapons mounted, and carrying a full load of ammo.
"We have these vehicles loaded out how we would have them for combat and were excited to push their limits and see what they're capable of," the team's leader said.
The GMVs have been the primary ground combat machines for many special operations.
This role traces back to 2012, when the US Special Operations Command put the word out that it was searching for a new set of wheels to replace the HMMWV, the military's go-to vehicle at the time. SOCOM needed something capable of carrying a high payload — guys, gear, and guns — anywhere on the battlefield. And it had to be compact, small enough that operators could use it to boldly navigate terrain unfit for bigger, bulkier vehicles.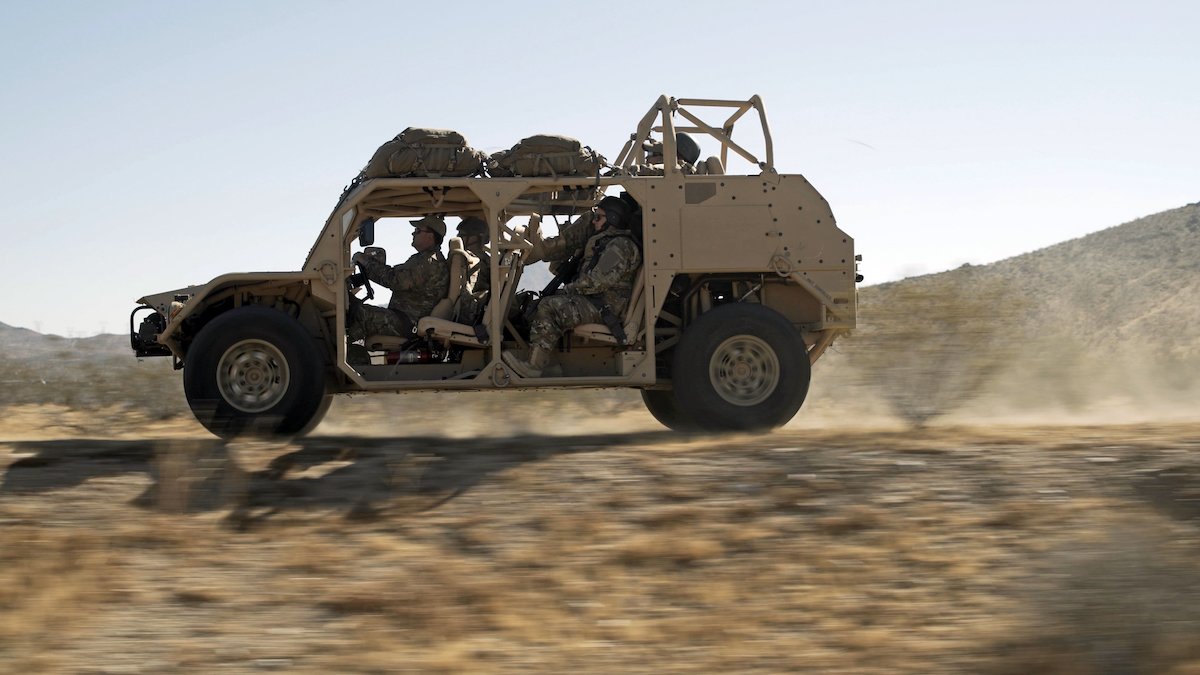 The following summer, SOCOM awarded a contract to Flyer Defense LLC and General Dynamics Ordnance and Tactical Systems for the Flyer 72 — a Baja truck on steroids. It served as the base model for the Flyer Ground Mobility Vehicle 1.1.
Flyer Defense executive vice president of strategic planning Eric Westly said this vehicle was tailored to meet the needs of the operator. "I've been in a lot of wheeled vehicles in my career, and I've never been in a vehicle as fast as the Flyer. And it has a suspension that allows it to go almost anywhere," he said. "There's no vehicle that can compete with its size, speed, and payload."
The GMV 1.1 has a curb weight of 7,300 pounds and can carry a payload of 5,700 pounds with a 300-mile range when completely kitted out. With 220 horsepower and 332 pounds of torque, the GMV 1.1 tops out at 95 mph and can seat up to nine people and carry three litters. The air-ride suspension allows the vehicle to be raised or lowered to conquer any terrain it encounters. And it's built specifically to fit in the back of a CH-47 Chinook.
Back at the Mint 400, the Green Berets didn't actually win the event. Instead, they took home the race's honorary finish award. It seems they spent most of their time using their GMV to pull other racers out of ditches — freeing the oppressed to the end.
---
This article first appeared in the Winter 2022 edition of Coffee or Die's print magazine as "Check Out SOCOM's Ground Mobility Vehicle."
Read Next: