Both Norwegian and Japanese oil tankers were attacked in the Gulf of Oman on Thursday, June 13, escalating maritime tensions in the Middle East. The Gulf of Oman connects to the Strait of Hormuz, a narrow channel where an estimated 20 percent of the world's crude oil passes through.
In a press briefing following the attacks, Secretary of State Mike Pompeo said, "It is the assessment of the U.S. government that Iran is responsible for today's attacks in the Gulf of Oman." Soon after his remarks, U.S. Central Command released grainy footage of a military vessel belonging to the Islamic Republic of Iran removing a limpet mine from the Japanese tanker Kokuka Courageous.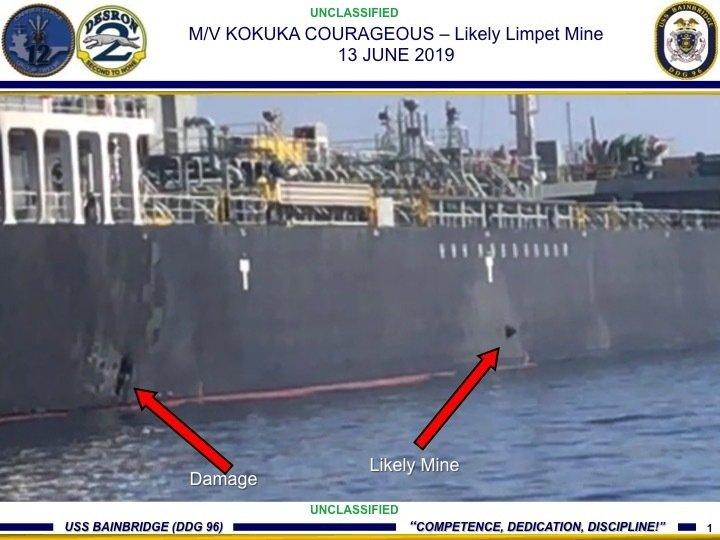 CENTCOM's account of the story, however, was disputed by Yutaka Katada, head of Kokuka Sangyo, which owns the tanker that was attacked. Katada blamed a flying projectile for the incident. "I do not think there was a time bomb or an object attached to the side of the ship," he said at a Tokyo press conference.
Because of the grainy footage and the counter-testimony from Katada, there remains a great deal of skepticism about Iran's involvement.
A source with direct knowledge of the events in the Gulf of Oman spoke to Coffee or Die on condition of anonymity.
"Attacks on both tankers happened between around 0200 and 0300 Zulu. The footage in the Gulf of Oman is grainy because the flight was more than 10 kilometers away, flying at a high altitude. It was shot using FLIR [Forward Looking Infrared] as the attack happened in the early morning hours, which correspond to the timeline of when the attacks occurred," said the source.
In addition, a U.S. official who spoke to CNN said that prior to the attack, the Islamic Republic of Iran fired on a U.S. drone with a surface-to-air missile but did not hit its target. The drone was reportedly watching the IRI move closer to the tankers before they struck.
Iranian officials have denied any involvement in the attacks, with Foreign Minister Javad Zarif claiming that there is not a "shred of evidence." Zarif added that the U.S. intends to sabotage diplomacy between Japan and the Islamic Republic of Iran, as Japanese Prime Minister Shinzo Abe was in Iran to meet with Supreme Leader Ali Khamenei at the time of the attacks.
During their meeting, Khamenei expressed to Abe that he doesn't have any plans to talk to U.S. President Donald Trump. "I do not consider Trump as a person worth exchanging any message with," he said.