Over the past 11 days, gunfire killed three cops nationwide, and a fourth died in a car crash tied to a hoax kidnapping.
They join the ranks of 60 other law enforcement officers killed on the job so far in 2022, according to the Officer Down Memorial Page as of Friday, March 4.
The COVID-19 virus killed 40 of those officers. The number of cops who have died in the line of duty in 2021 is down 53% compared to the same time last year.
Joshua Daniel Caudell
Arkansas Division of Correction Sgt. Joshua Caudell, 29, died from a gunshot wound Feb. 28 at a local hospital, shortly after being shot in Maumelle during a manhunt.
Authorities suspect his killer is Demark Lee Jordan, 37, but detectives are still piecing together the events of a 34-hour time period that began with shots fired at Pulaski County Sheriff's deputies at a Maumelle home and Jordan's Tuesday-morning arrest at a gas station near Morgan.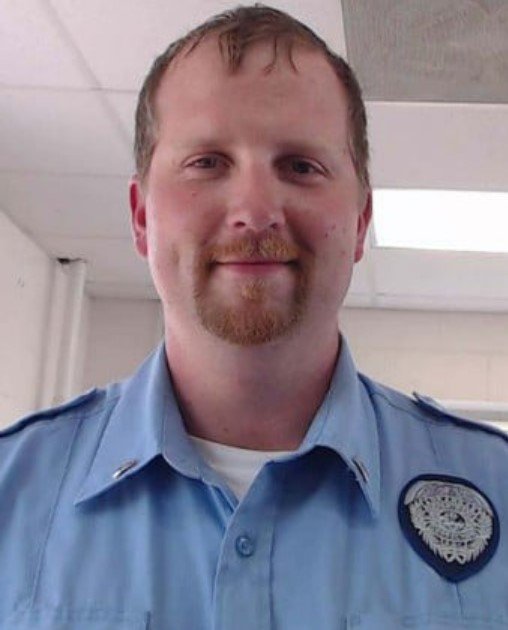 The gunfire erupted while deputies made a welfare check on a Maumelle woman who hadn't arrived at work that day. Authorities said that, when they peeked into the windows, they were greeted with blasts that struck their patrol vehicles.
The hunt began for the suspected shooter. Deputies were joined by Arkansas Division of Correction tracking dogs, and they led the search party early Feb. 28 to a trailer along Overstreet Road, about a block away from the initial confrontation.
Authorities said Jordan fired at Caudell from under the trailer and escaped the dragnet again.
Pulaski County Sheriff's Office spokesperson Lt. Cody Burk told Coffee or Die Magazine that Jordan was taken into custody around 6 a.m. Tuesday at the Morgan gas station. He was booked into the Pulaski County Detention Facility in Little Rock at 9:49 a.m. Tuesday on a probation violation, according to jail records.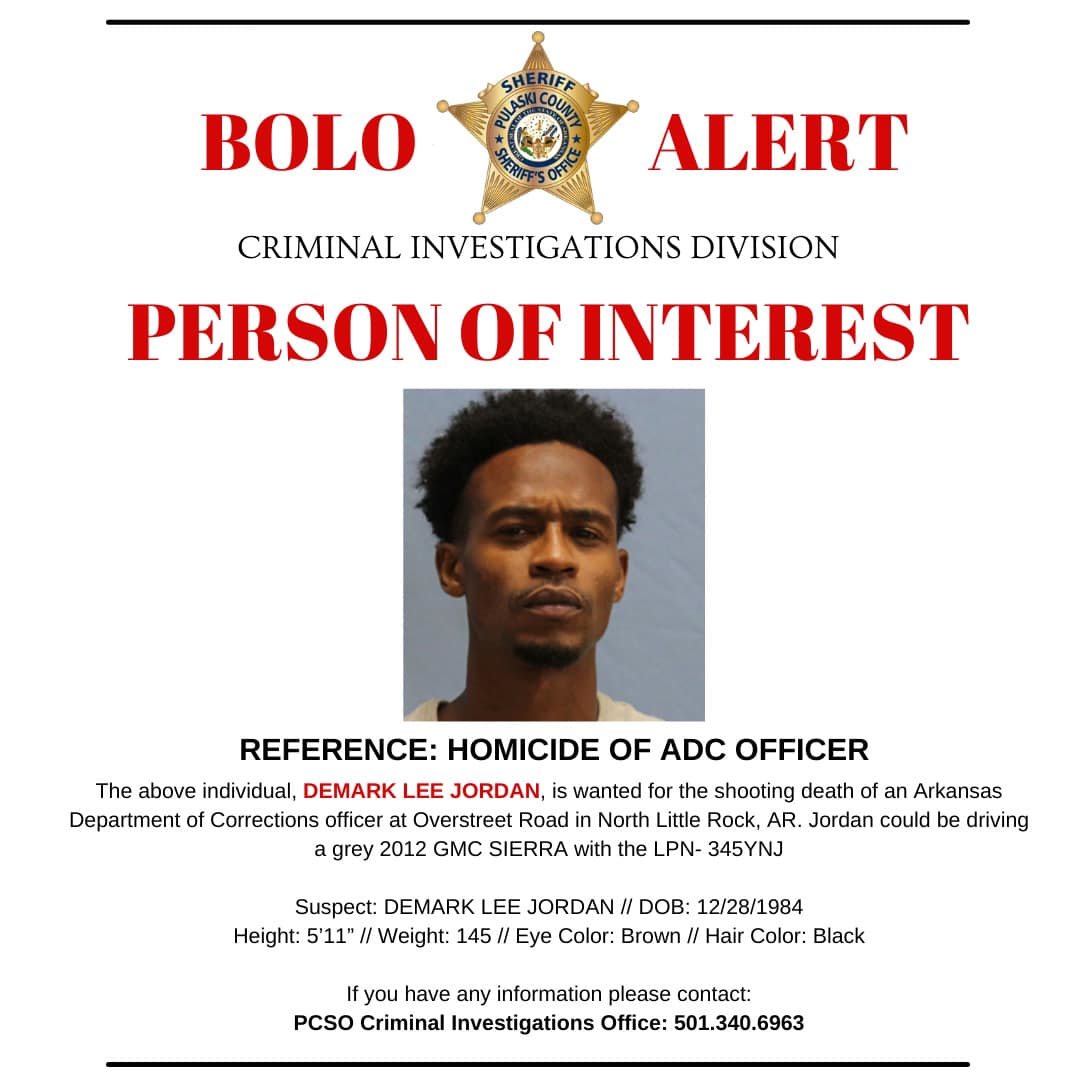 Prosecutors charged him later in the day with felony murder and two counts of criminal attempt. He was arraigned by video hearing the next day. He's being held without bond.
"The department has no formal statements regarding the arrest of the individual," Arkansas Department of Corrections Secretary Solomon Graves said. "We would continue to ask the people of the state to join us in prayer for Sgt. Caudell's family and continue to celebrate his life of service. That is most important to us right now."
While he was being transported to jail, Jordan yelled to reporters that the "police tried to kill me, break in my house to try to kill me."
Jordan's rap sheet dates back to 2009 and includes convictions for dealing marijuana, narcotics possession, terroristic acts, unlawful possession of a firearm, aggravated assault, and multiple traffic violations.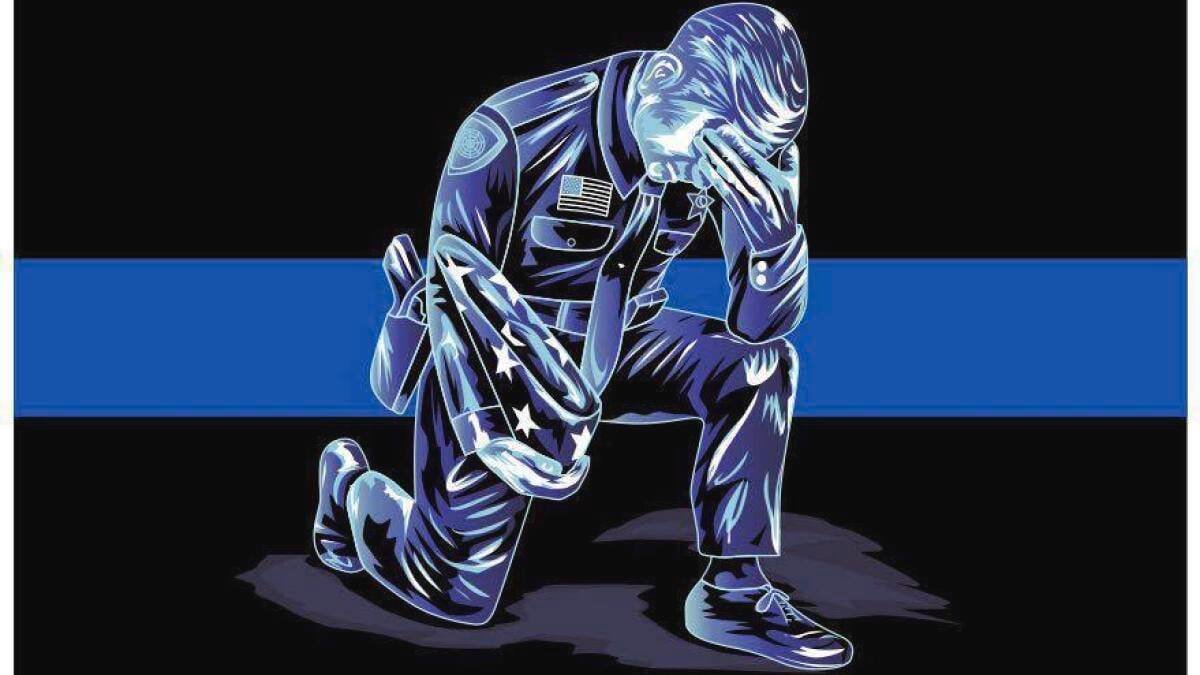 A prepared statement released by Caudell's family mourned the "devastating" loss of the sergeant but said the "overwhelming love and support we have received from his friends, the Department of Corrections family and the Arkansas law enforcement community has been a great comfort."
The family thanked the Arkansas Association of Correctional Employees Trust for funding the funeral and covering other expenses. They also thanked fellow correctional officers for meals they'd supplied while the family was in mourning and for "most importantly, their prayers."
An eight-year Arkansas Army National Guard veteran, Caudell had served the state prison system since 2012, most recently as a K9 handler and field rider on horseback, according to his obituary.
He loved fishing, the University of Arkansas Razorbacks, and serving others, his obituary stated.
Caudell was born Dec. 24, 1992, in Little Rock to Michael Caudell and Sue Ann Caudell (née Rawlinson).
He was preceded in death by his son, Greysen Daniel Caudell.
He is survived by his parents; his wife, Lorna-Beth Hill Mason Caudell; daughters, EmmaRae and Audrey; son, Jeremiah; and brother, Kyle Rawlinson.
The visitation was held Friday at Family Church in White Hall. His funeral was held Saturday at Family Church. The burial followed at Cypress Memorial Gardens.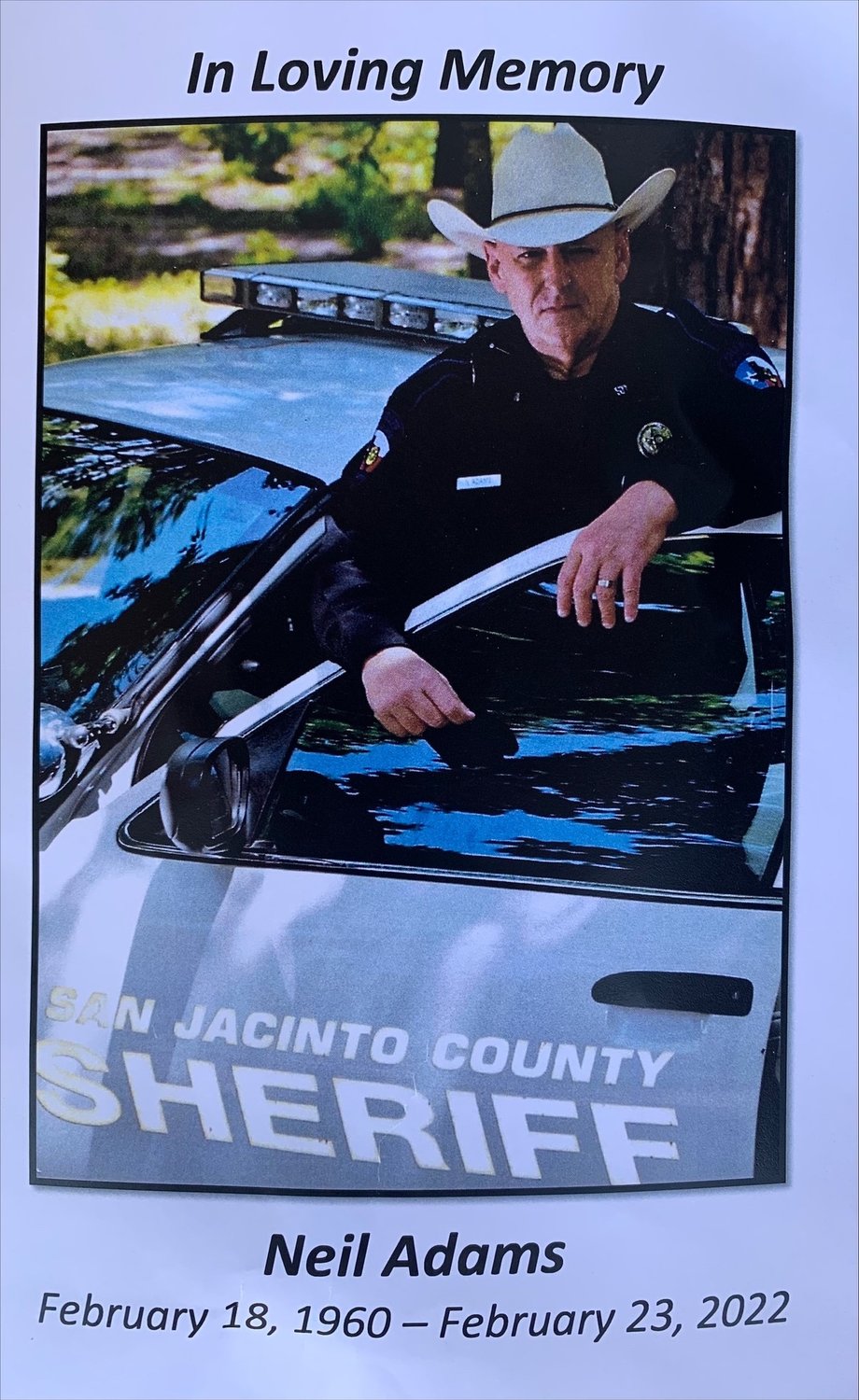 Neil Pat Adams
San Jacinto County Precinct 1 Deputy Constable Neil Adams, 62, died Feb. 23 at Ben Taub Hospital, hours after he was shot at Greater Sharpstown's PlazAmericas Mall.
Houston Police Department Chief Troy Finner told reporters Adams had been moonlighting at the mall when an altercation erupted at the Casanova Collezioni store. Adams intercepted a knife-wielding man, Finner said.
During the confrontation, Czyz Harrison, 35, took possession of Adams' firearm and shot him with it. Two Houston Police Department officers then shot and killed the suspect.
It was Harrison's birthday. It also was supposed to be the last shift Adams worked for mall security.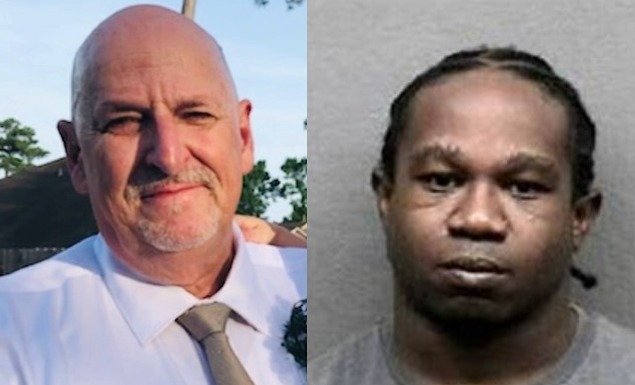 "I ask that everybody pray for this beautiful family. Pray for law enforcement. Pray for our cities, our counties, and our nation," Finner said.
Adams' wife, DeeDee, spoke to reporters shortly after her husband's death, repeating a motto her husband often said: "'You can either be a sheep or be a sheepdog.' I want everybody to pray for all the sheepdogs out there that are protecting everybody. They get a bad rep and they just want to protect. That's what they want to do in their heart. And everybody's turned their back on them. And everybody should pray for all of them because they're here for you."
The Harris County District Attorney's Office is probing the incident.
Adams was born Feb. 18, 1960, in Brownwood, Texas, to Pat and Jeannine Adams.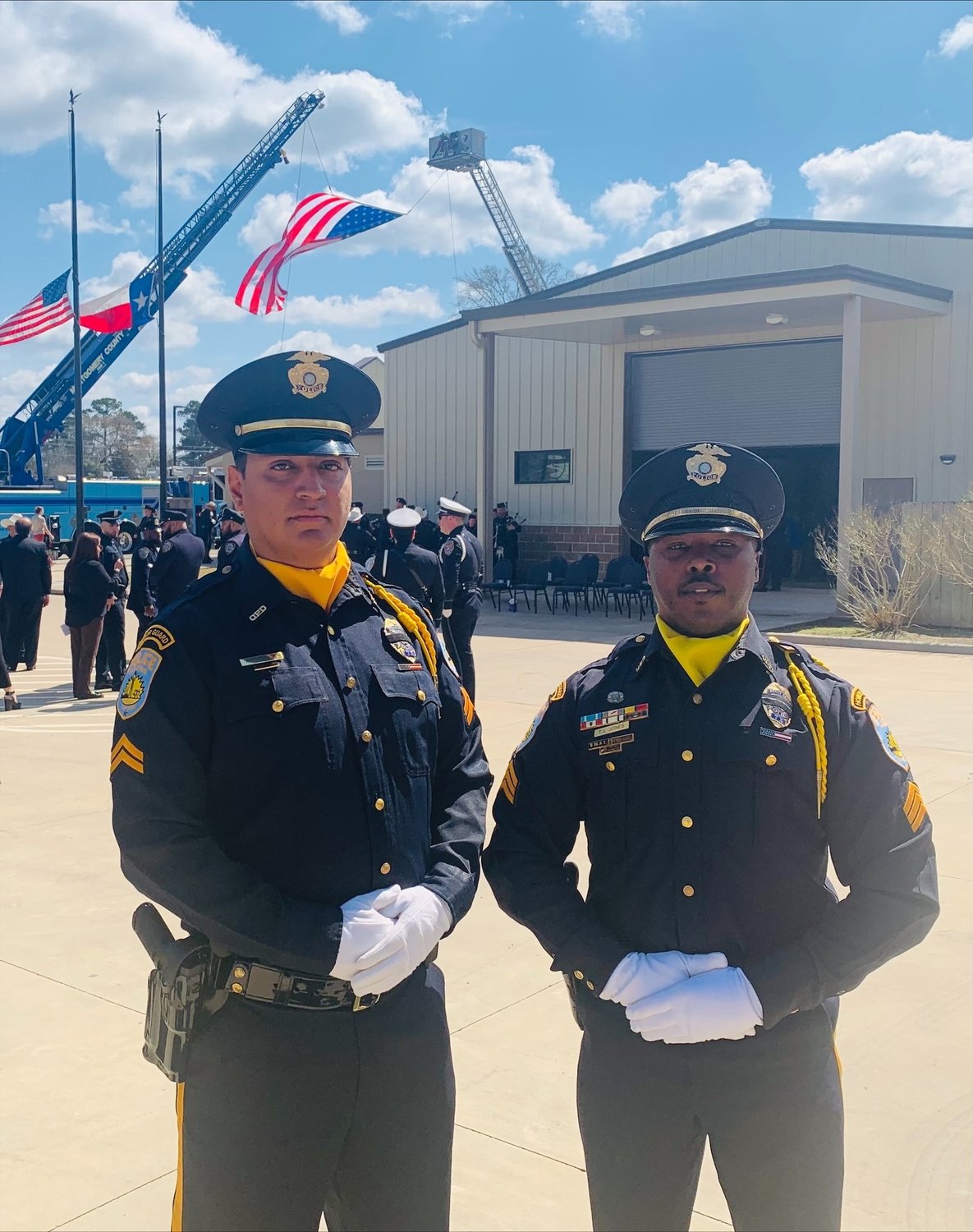 Adams graduated from the Angelina College Police Academy in 2012 and began his career in law enforcement as an emergency dispatcher at the San Jacinto County Sheriff's Office. He also served in the Bear Creek Volunteer Fire Department.
"Thank you for sharing Neil Adams with this community," said the Rev. Dale Inman, who officiated the Thursday funeral service at a San Jacinto County community shelter. "It's often said that police officers are heroes. I believe that with all that I am. I thank each one of you that wake up every morning, put on a badge, put on a bulletproof vest, and step out on the streets not knowing what will happen that day."
Adams' brother-in-law, Ross Hintz, said the deputy's "caring heart was as big as a statue."
Neil Adams is survived by his parents and his wife; daughters, Sabrina and Kaela; son, Tyler; and sisters, Angela and Laurel.
The burial followed at Montague Cemetery in Cleveland.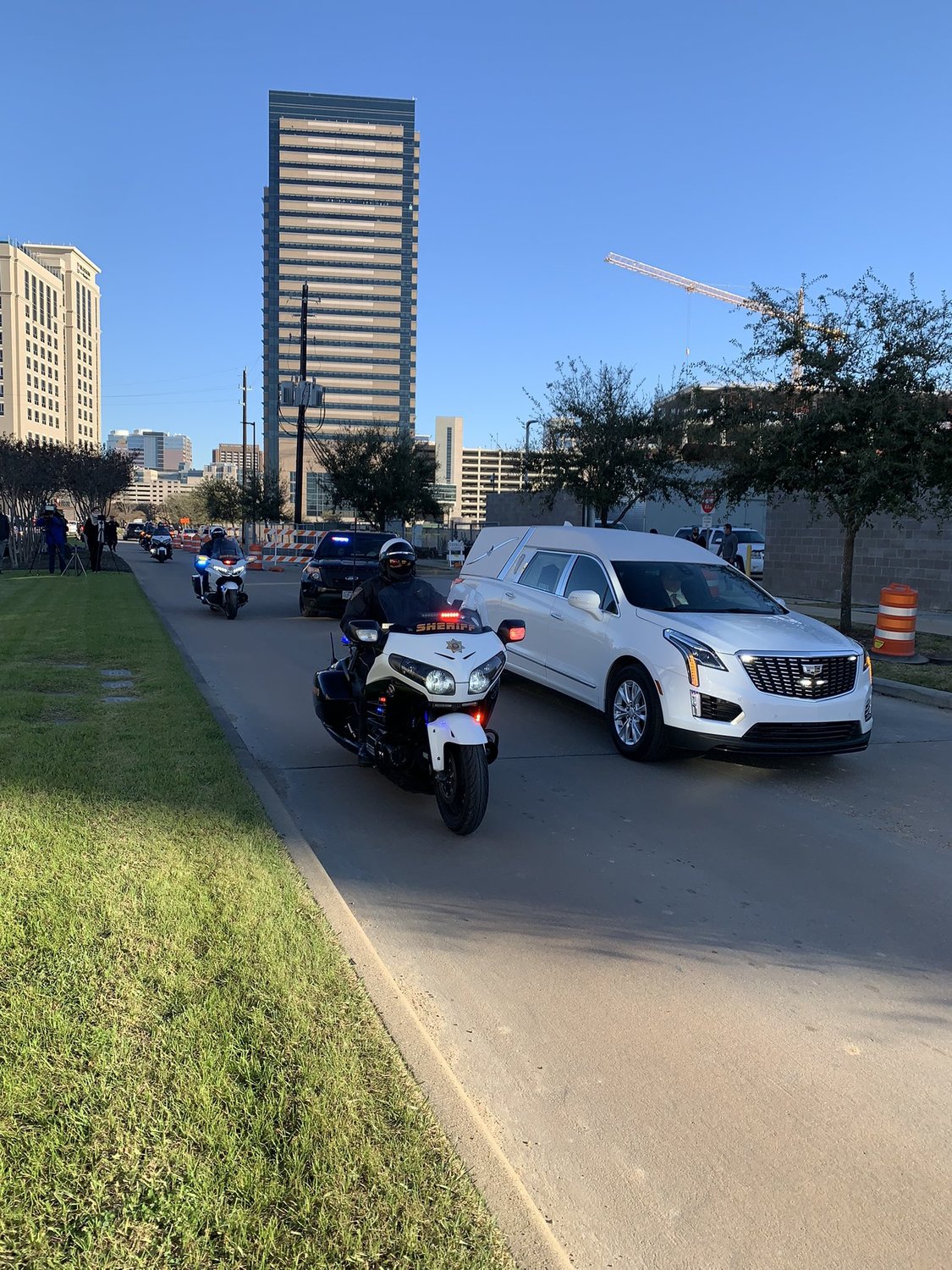 Robert Duran
Santa Fe Senior Police Officer Robert Duran died Wednesday after sustaining fatal injuries in a multiple-vehicle crash, according to the New Mexico Department of Public Safety.
Duran, 43, and another officer were both driving their own police cruisers while pursuing a suspected male kidnapper operating a stolen white Chevrolet Malibu with his alleged hostage as a passenger.
The Malibu veered south into the northbound lanes of Interstate 25, the officers behind it.
Investigators continue to piece together what happened next, but an initial Department of Public Safety statement indicated that a collision occurred near milepost 286, close to the city center, that involved both Sante Fe police cruisers, the Malibu, and a pickup truck and a blue car driven by unsuspecting bystanders.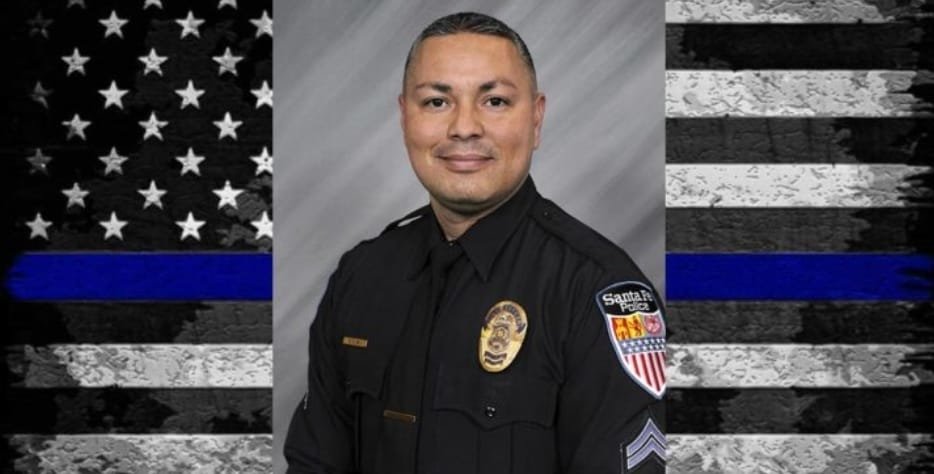 The operator of the pickup truck — retired Las Vegas, New Mexico, firefighter Frank Lovato, 62 — also died in the crash.
As it turned out, there was no kidnapper or victim, prosecutors said. The woman who was treated and released at a local hospital, Jeannine June Jaramillo, was arrested by New Mexico State Police troopers and booked into the Santa Fe County Adult Detention Facility Saturday for fabricating what they said had been an elaborate and ultimately deadly hoax.
Santa Fe County District Attorney Mary Carmack-Altwies charged Jaramillo, 46, of Albuquerque, with two counts of first-degree murder, homicide by vehicle, receiving stolen property, aggravated fleeing, and tampering with evidence.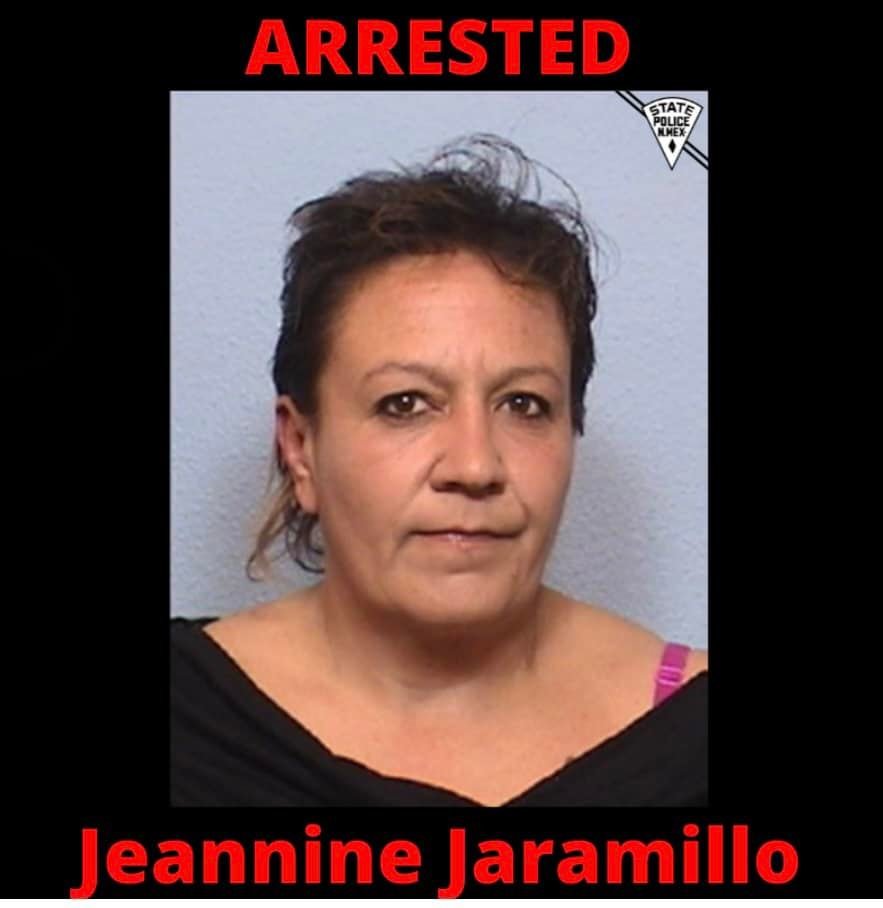 According to a prepared statement from New Mexico State Police explaining Jaramillo's arrest, Jaramillo's story about being kidnapped began to unravel in the aftermath of the crash.
The Malibu had been reported stolen from Las Vegas on Feb. 28. While it was warming up, someone drove off with the car. Its fob was found with Jaramillo in a back seat after the crash, investigators said.
Data pulled from the Malibu's onboard computer revealed to New Mexico State Police Crash Reconstruction Unit troopers that only one person was in the vehicle at the time of the crash, and that was the driver.
DNA collected from the driver's side airbag in the Malibu also matched Jaramillo's, according to the New Mexico Department of Public Safety Crime Lab.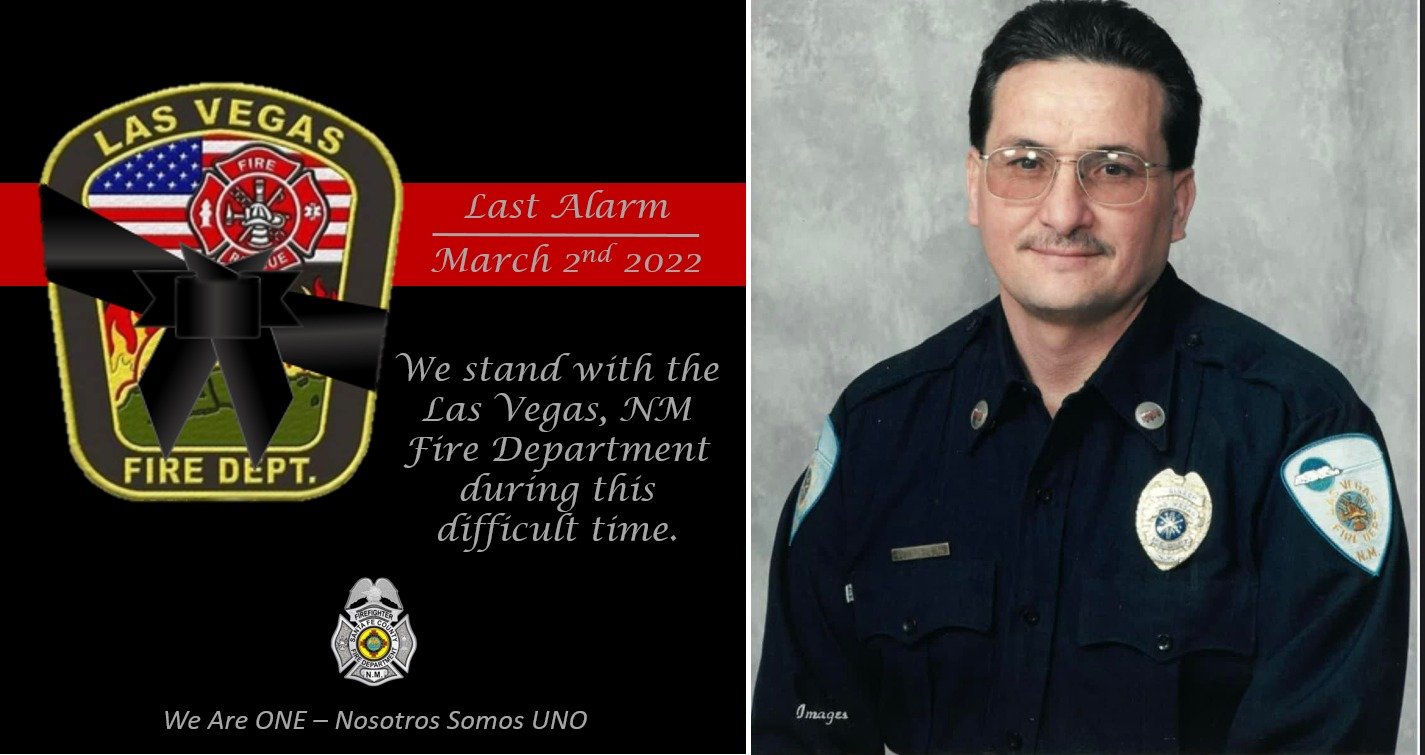 "I believe the arrest of Jeannine Jaramillo has made our community safer," New Mexico State Police Chief Tim Johnson said, according to the statement. "Her actions put the entire public in danger and took the lives of two dedicated public servants. I hope that holding her accountable will provide some closure to Officer Duran and Frank Lovato's family."
Santa Fe Police Department Deputy Chief of Administration Ben Valdez said Duran was the department's first line-of-duty death since the 1930s.
"Our community and members of our department lost a great officer and an amazing man," Valdez said in a prepared statement. "My heart is broken for Robert's family and his colleagues as they process their loss."
New Mexico Gov. Michelle Lujan Grisham ordered all flags to be lowered to half-staff until Sunday in mourning for Duran.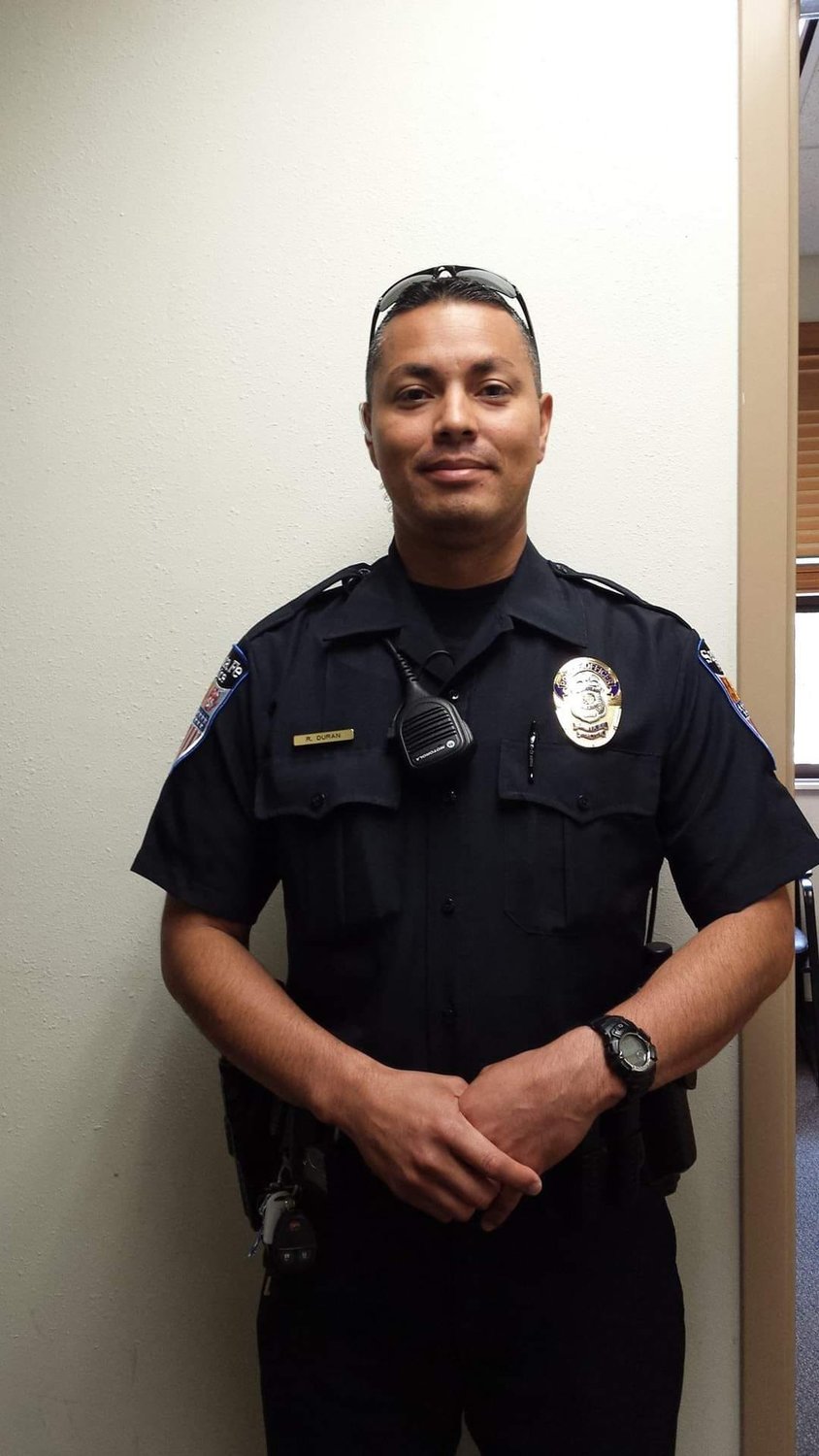 In a prepared statement released Friday by the Santa Fe Police Department, Duran's widow, Kathleen, recalled her husband as a man with a "goofy sense of humor" who decided after a great deal of thought and prayer to enter law enforcement in 2015.
"It was not an easy decision, and we knew there were risks, especially in this day and age where officers are sometimes targeted at random simply for being law enforcement," she said. "It was also a period of time where law enforcement was under scrutiny, and the nation is still calling out for reform. He had always considered law enforcement as a career but did not want to risk not being here for his boys. It came down to preserving a future for our children that compelled him to take a leap of faith and follow his heart. If good people who care about the safety and development of our communities are not willing to stand up and take risks to make our world a better place, then what hope is there for our society and our children?"
Officer Duran's final assignment with the Santa Fe department was in the patrol division. Duran also served on the department's emergency response team.
Duran was born on Feb. 1, 1979, in Artesia, New Mexico. He's survived by his wife and two teenage sons. Funeral arrangements are pending.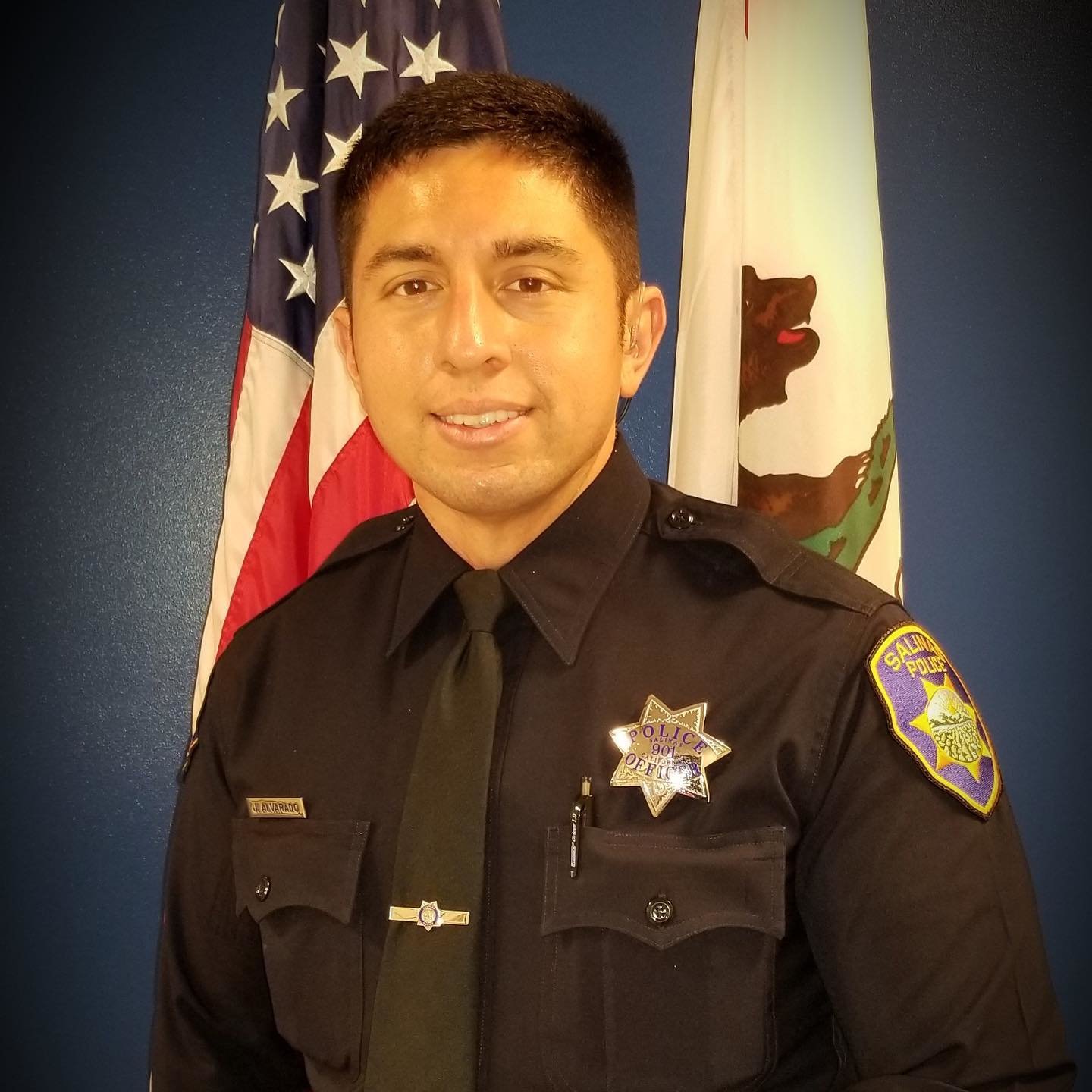 Jorge David Alvarado Jr.
In California, Salinas Police Officer Jorge David Alvarado Jr. died in a Feb. 25 shootout with his murderer, according to the Monterey County District Attorney's Office.
Authorities said Alvarado, 30, had begun to conduct a traffic stop near East Market Street and Griffin Street at 10:41 p.m. on Feb. 25. The motorist, Gustavo Matias Morales, pulled over abruptly, exited his vehicle, and opened fire before Alarado could get out of his seat. But Alvardo managed to return fire, wounding Morales in his left hand.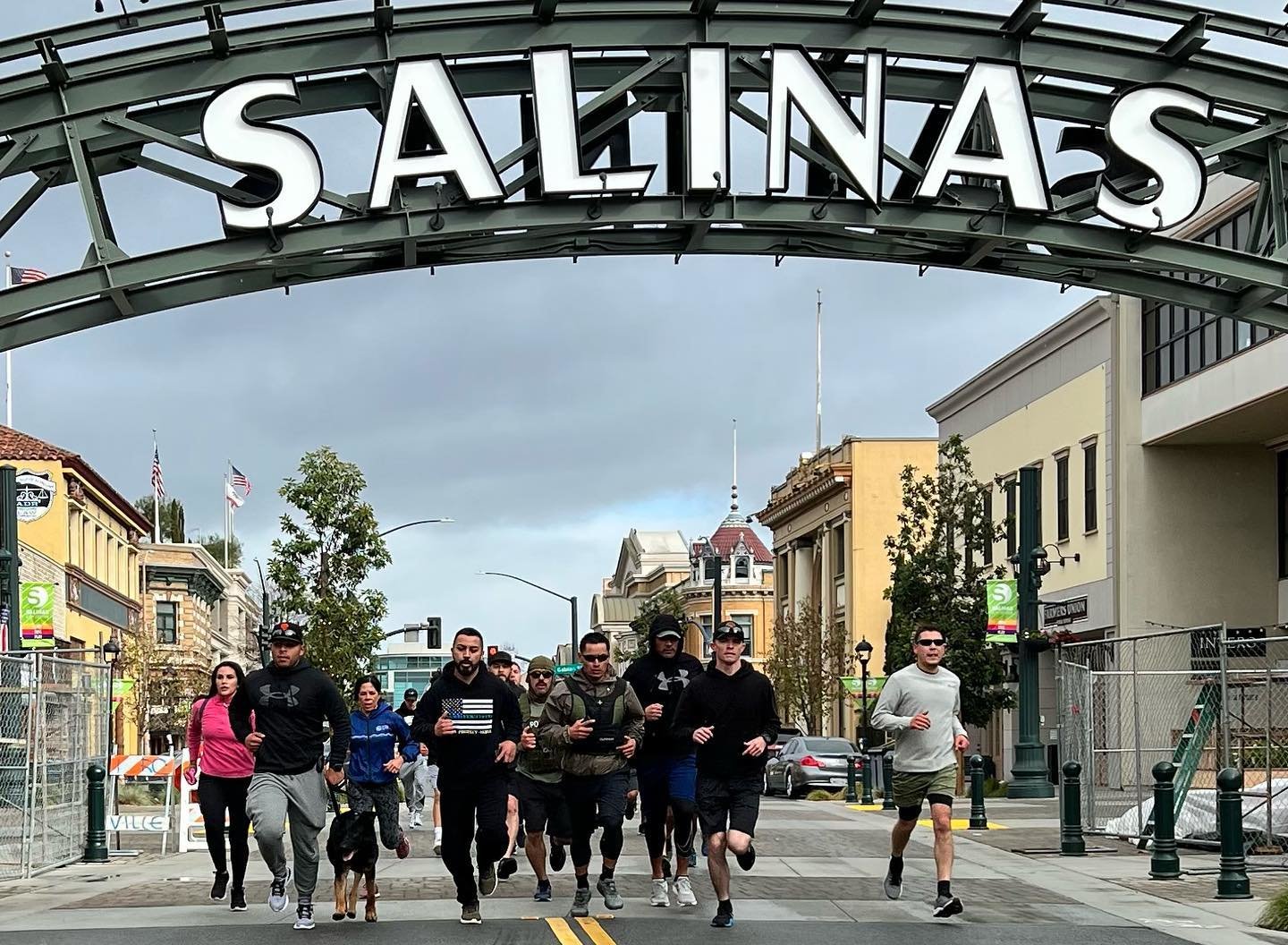 "Officer Alvarado's heroic action during the confrontation directly led to the arrest of the suspect," a prepared statement from the Salinas Police Department reads.
Monterey County Sheriff's Office records indicate that Morales, 31, has been charged with murder and discharging a firearm causing death while committing a crime. He was arraigned Tuesday in Monterey Superior Court. If convicted, he could face the death penalty.
Alvarado is survived by his mother and his fiancee. He had served in the Salinas department for five years.
A public memorial service for Alvarado is slated for Thursday at Rabobank Stadium at the Salinas Sports Complex.
Editor's Note: This story was changed to reflect an officer's status as a veteran.
Read Next: