The Army is reinstating a program to provide its personnel a temporary pay bump for deployments longer than nine months.
Sgt. Maj. of the Army Michael Grinston announced the change over the weekend, calling the move a way to ease the burden on personnel as the Army continues to work on ways to "create more predictable deployment cycles."
Some 180,000 Army active-duty, National Guard, and reserve personnel remain mobilized or forward-deployed, according to Army officials. Known as "hardship duty pay-tempo," the new benefit will dole out up to $495 a month for personnel whose deployments have been extended past nine months.
Grinston, who was sworn in as the 16th sergeant major of the Army in August 2019, announced the change over the weekend on both Twitter and Instagram, reflecting an ongoing effort by the Army's most senior enlisted member to improve morale and leadership by reaching out to troops over social media platforms.
As part of his outreach effort, Grinston held a Thanksgiving town hall meeting with a cross-section of personnel from the Army's Air Defense Artillery branch to discuss issues related to the Army's operational tempo. Deployment length was one of the hot topics.
"One of the major problems was deployments regularly being extended past the original 9 months," Grinston tweeted on Sunday, describing the outcome of the Thanksgiving meeting.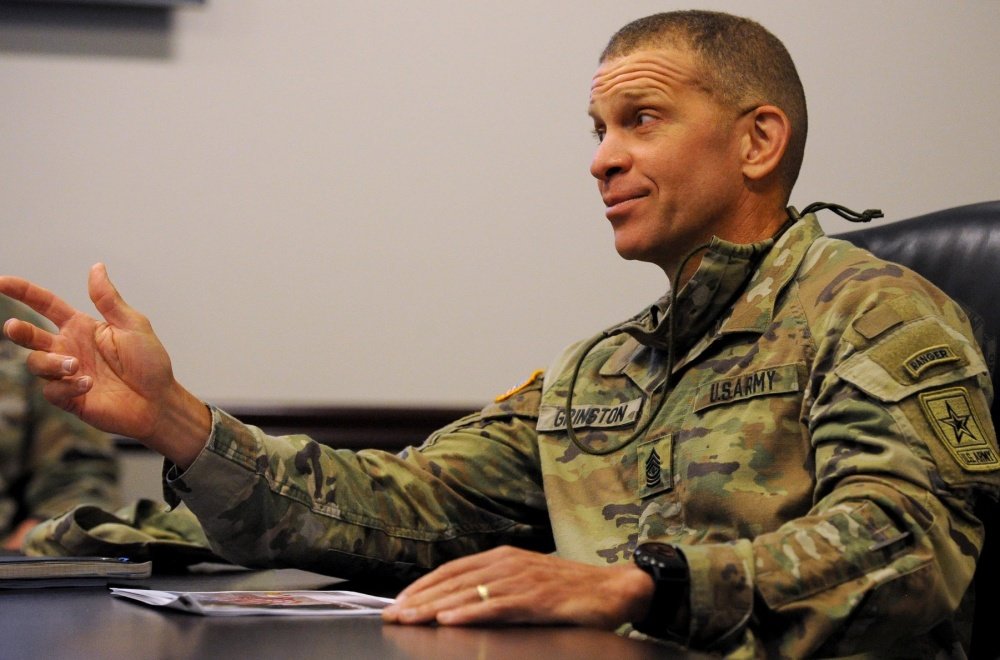 While the wars in Afghanistan and Iraq now require a fraction of the manpower they once did, Army personnel are still deployed to those theaters as well as in myriad other locations worldwide — not only to fight terrorism, but to deter America's near-peer adversaries of China and Russia in ways reminiscent of the Cold War.
In addition to additional counterterrorism operations in Africa and Syria, Army troops also frequently rotate in and around Eastern Europe in training exercises and deployments to deter Russian aggression. Army personnel are also in Ukraine, continuing a training mission that dates back to 2015 — one year after Russia invaded. That worldwide presence puts on a strain on Army personnel and their families, especially with the added burden of the COVID-19 pandemic.
According to law, service branch secretaries can authorize supplemental hardship duty pay when a mobilization or deployment "requires the member to perform duties in an operational environment for periods that exceed rotation norms."
"This doesn't give you time back with your family, but I hope this shows that Army leaders are LISTENING, and your service makes a difference," Grinston tweeted on Sunday, adding: "I told you People First meant aligning time and money to help Soldiers. We have to get this right. More details coming soon."