From a Harlem apartment ambush to a hit and run that killed a deputy in Houston, it's been a grim late January for police departments nationwide.
Eight law enforcement officers have been killed in the line of duty since Jan. 20.
According to the Officer Down Memorial Page, 25 officers have died so far in 2022.



That's less than half of the count for the same time period in 2021.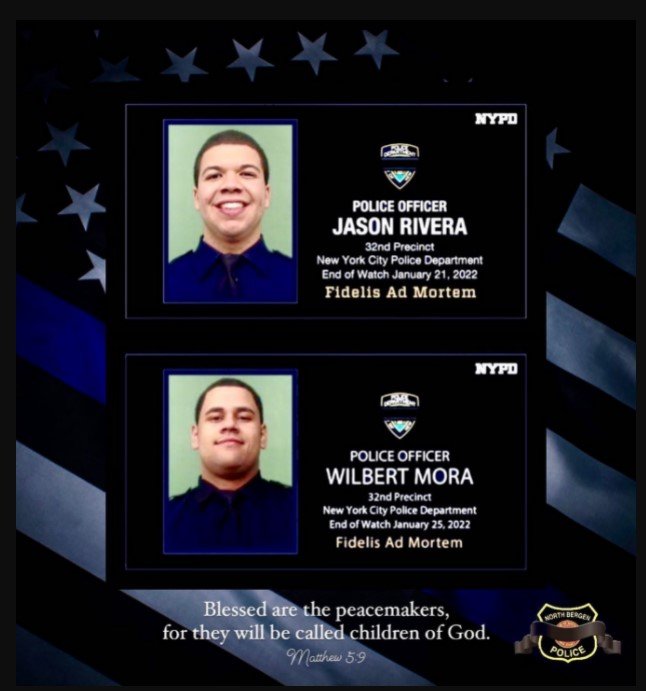 Jason Rivera and Wilbert Mora
New York City Police Department Officers Jason Rivera, 22, and Wilbert Mora, 27, responded Jan. 21 to a domestic dispute call involving an elderly mother and her 47-year-old son, Lashawn McNeil, at a Harlem apartment.
Authorities believe that the two officers went to approach McNeil, an ex-con, in a back bedroom. McNeil suddenly flung open the door and fired multiple rounds at the 32nd Precinct cops.
A third officer who had arrived at the apartment returned fire, wounding McNeil. McNeil died later in a New York hospital.
Officials have not released the name of the officer who shot McNeil, but the New York Post identified him as Officer Sumit Sulan, 27. Authorities have not confirmed the officer's identity.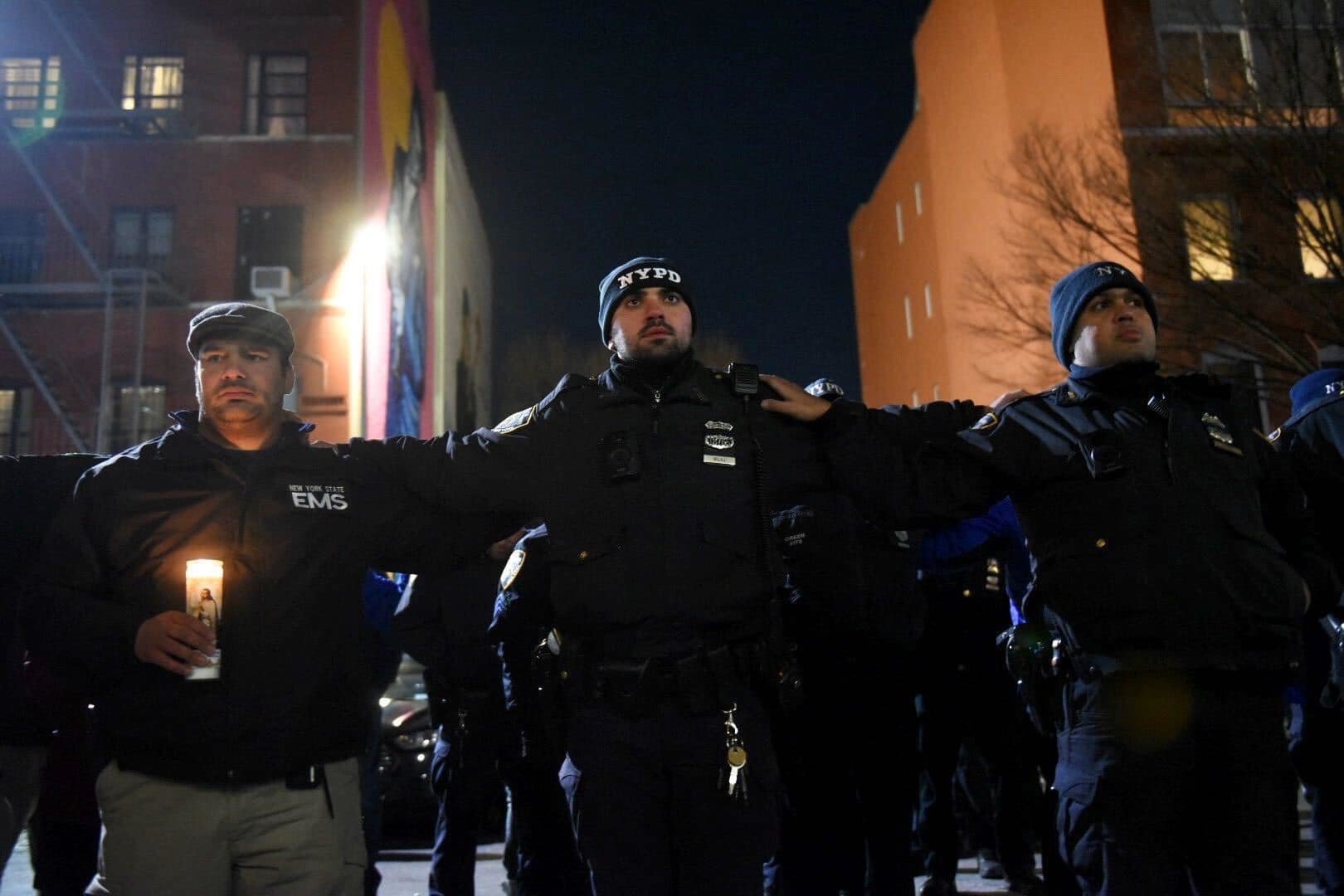 Officers Rivera and Mora were transported to Harlem Hospital Center. Rivera died there that day.
Mora was transferred to New York University Langone Medical Center and put on life support, but he died Tuesday, Jan. 25.
"Wilbert is three times a hero. For choosing a life of service. For sacrificing his life to protect others. For giving life even in death through organ donation. Our heads are bowed, and our hearts are heavy," New York City Police Department officials said in a prepared statement released on the agency's official social media pages.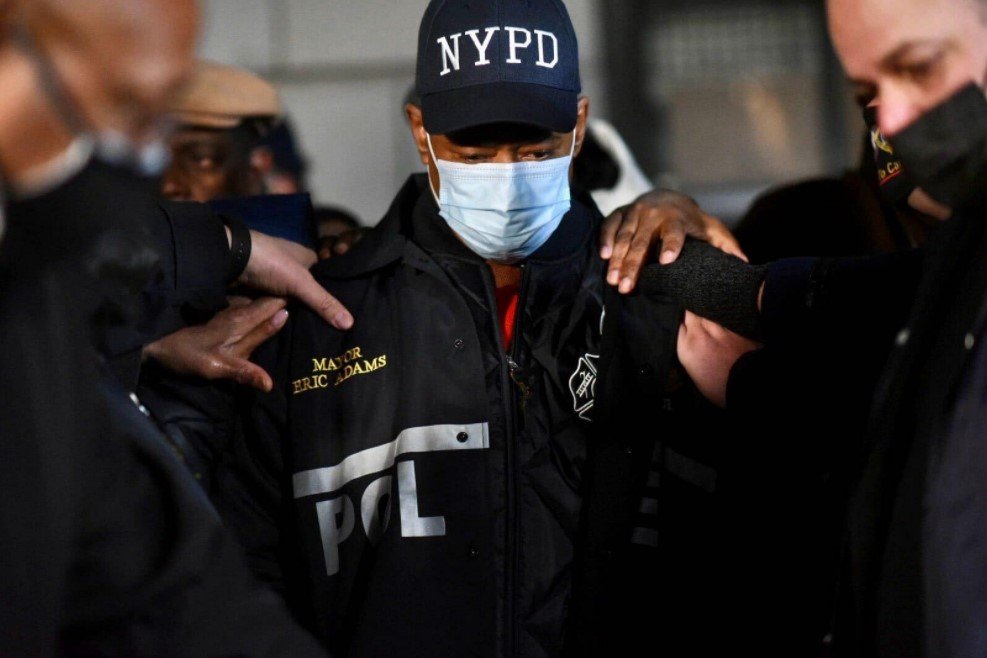 In his eulogy delivered during Rivera's Friday funeral services at St. Patrick's Cathedral in Manhattan, New York City, Mayor Eric Adams told mourners the officers' deaths were a "stark reminder of what's at stake every day" for the police.
Adams turned to Christian scripture, telling Rivera's fellow officers that there's no love greater than that of the man who would "lay down his life for his friends."
"That is what Jason did," Adams said. "He gave his life defending his fellow New Yorkers."
Rivera is survived by his wife, Dominique Rivera.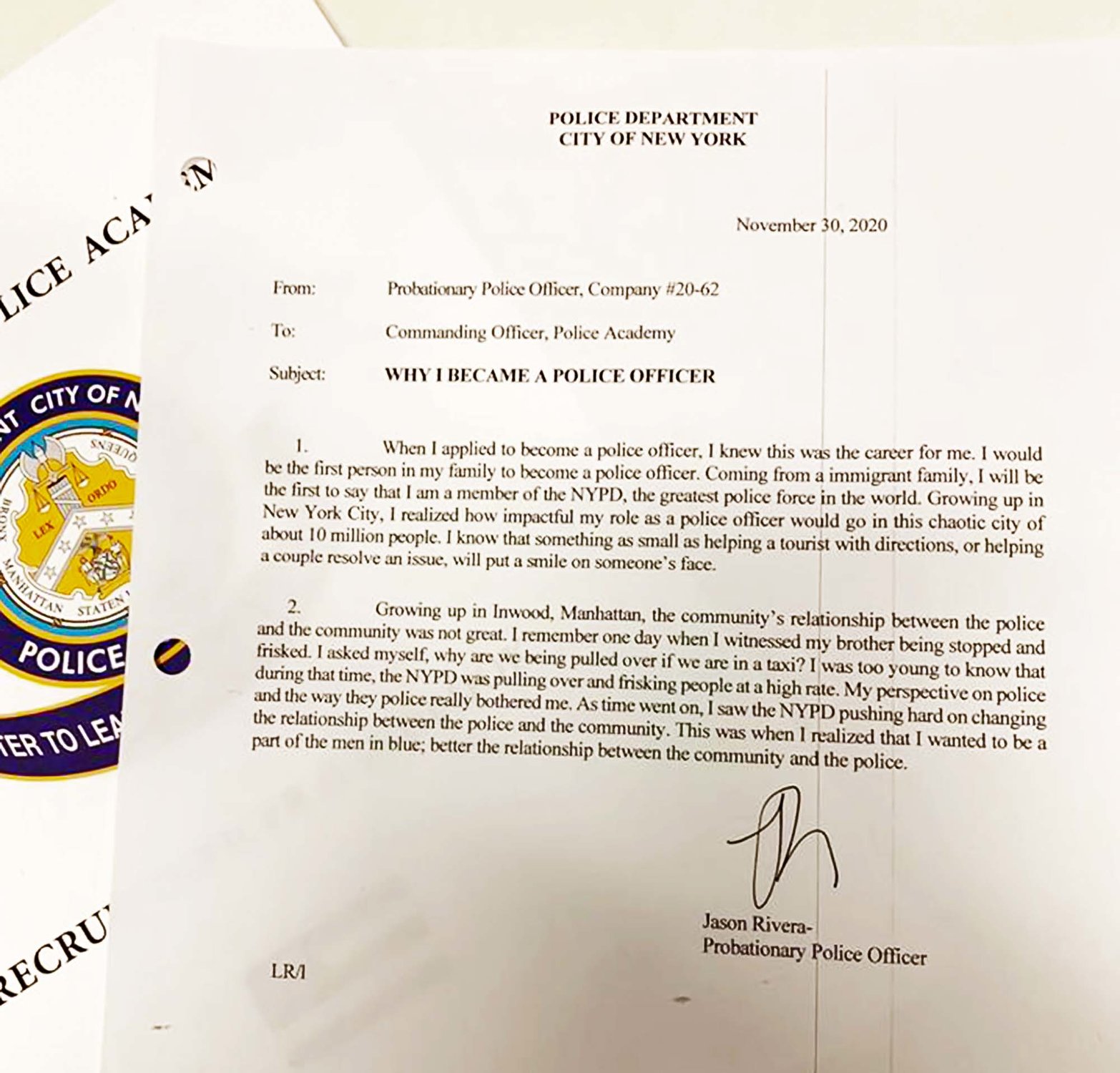 Officer Mora's viewing is slated for Tuesday at St. Patrick's Cathedral. A funeral Mass will follow the next morning.
New York City Police Department Chief of Detectives James Essig said during a Jan. 21 press conference that the firearm that killed the officers was a Glock .45 with an extended magazine holding up to 40 additional rounds.
The weapon had been reported stolen in Baltimore four years ago, and an ex-con like McNeil was barred from possessing it.
According to the New York State Police's Criminal Gun Clearinghouse, 1,074 illegal guns were recovered in 2021.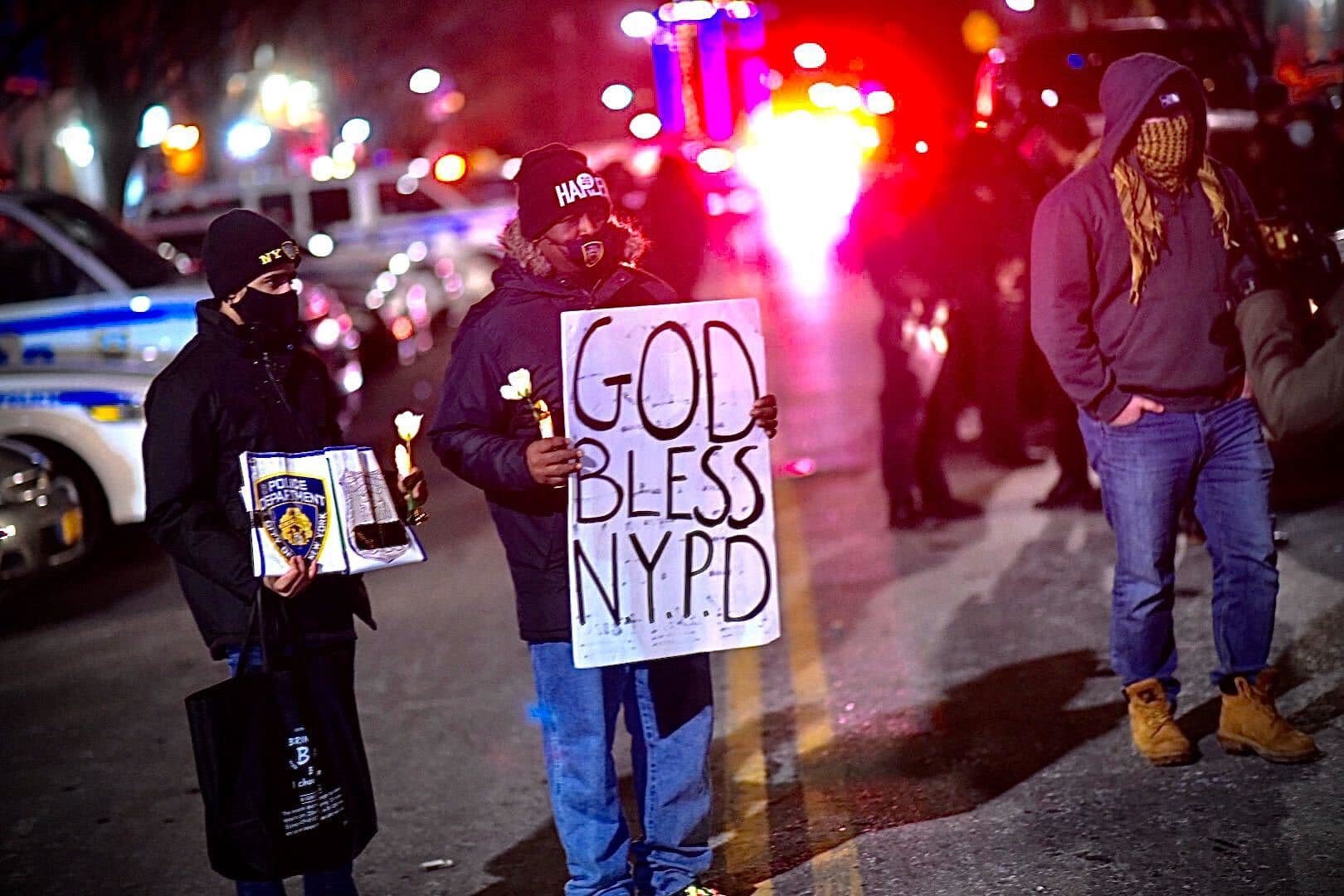 Corille 'CJ' Cortez Jones
Memphis Police Department's Officer Corille Jones, dispatched for a 911 call early Jan. 20, was driving his squad car when it was struck by another motorist's vehicle.
According to one of his obituaries, Jones was transported to Regional One Health in Memphis, where he succumbed to his injuries the following day.
The motorist, 22-year-old Malik Estridge, died at the scene of the crash.
Jones died nearly a month before the second anniversary of his start with the Memphis Police Department, Feb. 15, 2020. He was assigned to the Ridgeway Station, Alpha shift.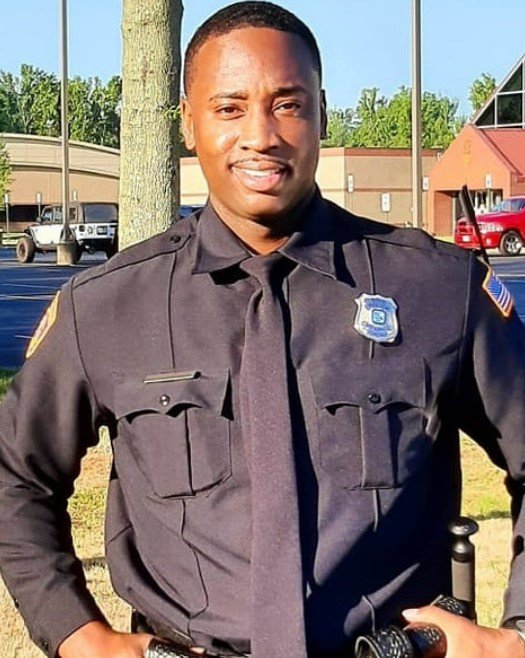 "Officer Jones came to work every day to serve the citizens of Memphis and did so with a pleasant disposition and a smile on his face," the Memphis Police Department said in a prepared statement. "Officer Jones personified what it means to be the Best in Blue. His hard work and dedication to serving our community will be missed."
The Memphis Police Department did not reply to requests for further information. Jones previously served in the Memphis Fire Department.
"Our thoughts and prayers go out to the family and friends of Memphis Police Officer Corille Jones, as well as our brothers and sisters in blue as they cope with the loss of one of their own," Memphis Fire Director Gina Sweat said in a prepared statement. "Tragedies like these are often hard to understand, take time to process and leave a void that can never be filled. We ask that the citizens of Memphis keep the Jones family and all first responders in their prayers."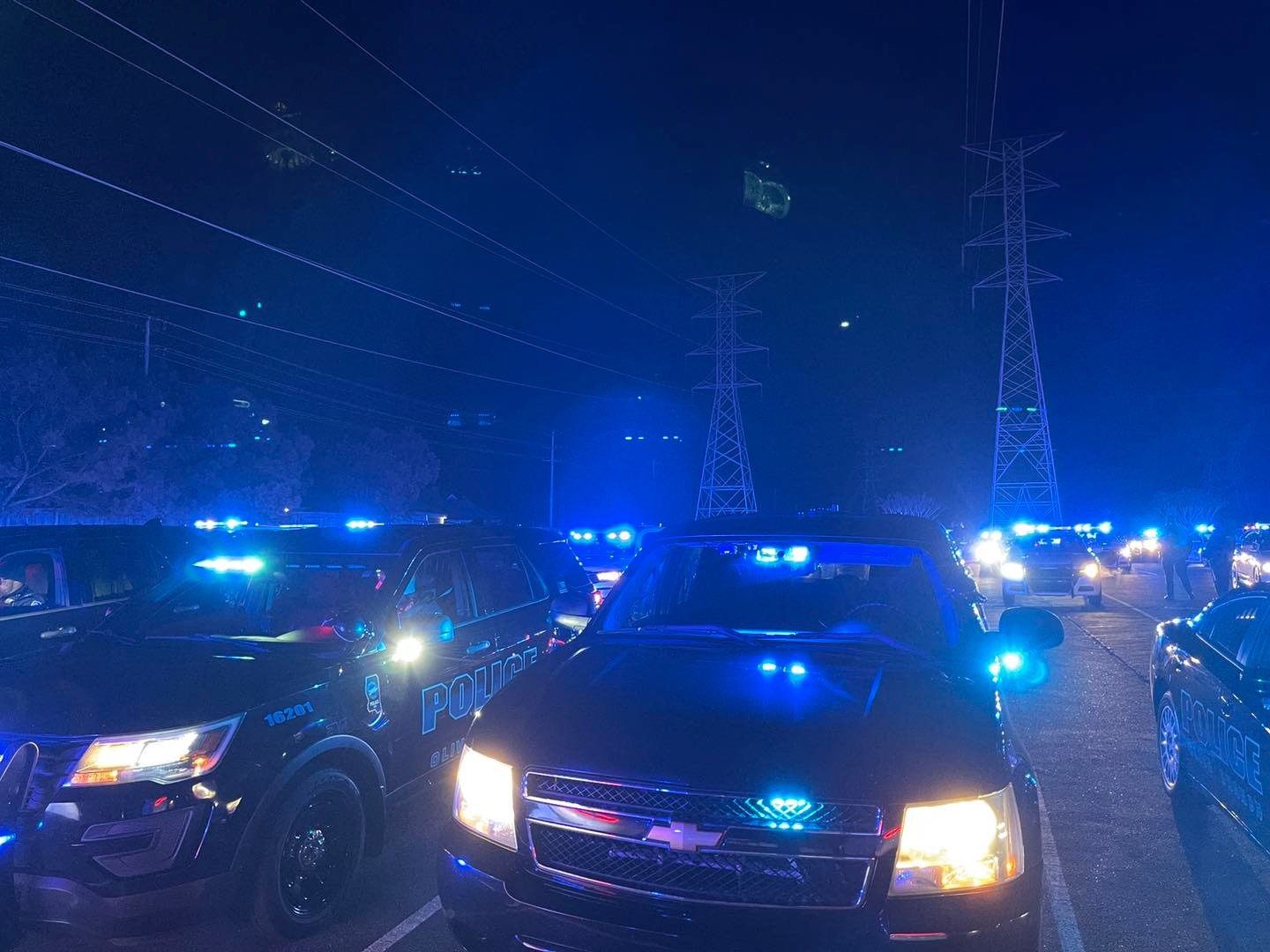 Jones was born April 25, 1989, to Robbie McKinney and Sharon A. Jones, and later lived with his uncle and aunt, Stanley and Gale Lynn.
He was preceded in death by his father. He's survived by his mother; his uncle and aunt; sisters, Sylvia Wells, Sandra Griggs, and Carolyn Brooks; fiance, Melanie Clark; and daughters, Kaitlyn and Harmony Jones.
His visitation occurred Wednesday at Hope Church in Cordova, Tennessee. His funeral was held on Thursday at Hope Church. Burial followed at Holy Temple Cemetery in Brighton.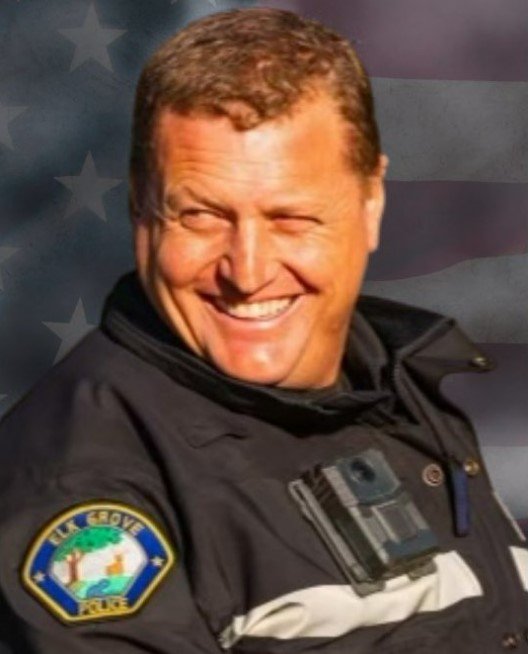 Tyler Ryan Lenehan
Authorities said Elk Grove Police Department Officer Tyler "Ty" Lenehan, 44, died Jan. 21 after a wrong-way drunk driver collided with him on State Highway 99 in Sacramento, California.
Lenehan was driving to work on his police motorcycle when the accident happened, according to the California Highway Patrol.
Responding officers and Sacramento firefighters treated Lenehan at the scene and transported him to UC Davis Medical Center, where he died despite lifesaving efforts.
According to the Sacramento County Jail, Jermaine Walton, 31, was arrested and charged with first-degree murder and felony hit and run.
Lenehan served in the US Air Force for five years, according to an Elk Grove Police Department press release. He began his law enforcement career in 2012 and served two other departments in California before joining the Elk Grove force in 2016.
He'd qualified for the department's motorcycle division in 2020 and was "extremely excited to begin" there before he died, Elk Grove officials said.
Lenehan was born July 16, 1977, according to his obituary. The Officer Down Memorial page indicated that he left behind his wife, who's a Sacramento Police Department officer, and two children.
A memorial service is slated for Tuesday at Bayside Church Adventure Campus in Roseville. A private graveside service will follow at Green Valley Mortuary in Rescue.
Johnny Raymond Patterson
Johnny Patterson, a school resource officer of 13 years at Mississippi's Lee County School District, was directing traffic outside the Shannon Primary School Jan. 13 when a motorist struck his squad car, propelling it into the officer.
Patterson, 59, was transported to the North Mississippi Medical Center. He was removed from life support Jan. 21.
He'd spent nearly three decades in law enforcement and was also serving as Verona Police Department's assistant police chief when he died.
According to his obituary, Patterson enjoyed camping and yard work, but his "greatest joy" was taking his granddaughters to the movies, bowling, and skating.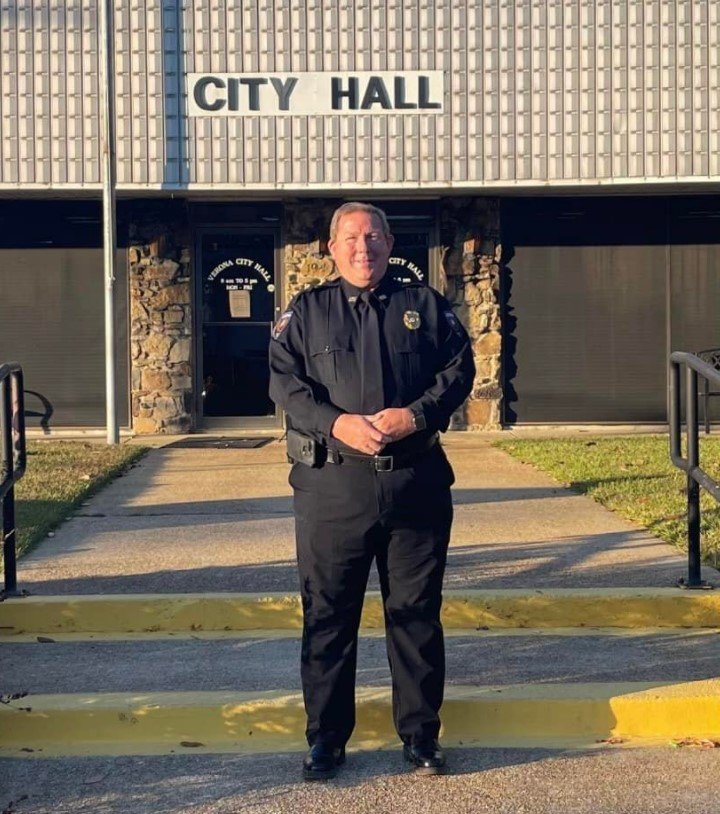 Patterson was born to James Raymond and Melba Jean Patterson (née Barnes) in Baldwyn on Jan. 28, 1962.
Patterson was preceded in death by his father and his siblings, Vicki Gillard, Kenneth Patterson, Raymond Leathers, and Braden Tate.
He's survived by his mother; his wife, Carol; two sons, Corey and Cody; and siblings, Boyce Levain Leathers, Juanita Morphis, Tony Patterson, Billy Tate, Tommie Jean Patterson, Melissia Gail Brinkley, Jamie Patterson, and Melba Jean Tate.
His funeral was held Monday at Shannon High School. The burial followed at Lee Memorial Park.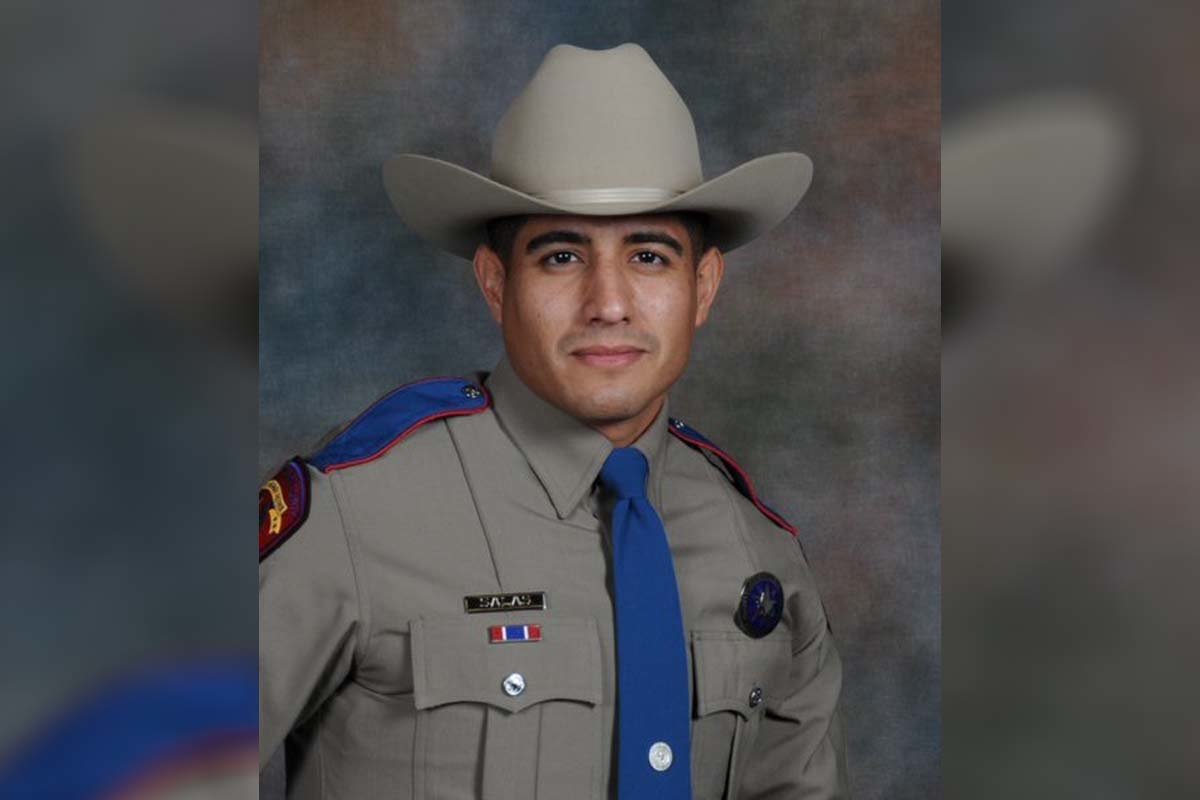 Anthony 'AC' Carlos Salas
Texas Department of Public Safety's Special Agent Anthony Salas, 37, died Jan. 22 while working with the US Border Patrol's elite Tactical Unit, better known as BORTAC.
A member of the state's West Texas Special Response Team and a nine-year veteran of the department, Salas was killed during an unspecified accident that occurred around 7:30 p.m. on Jan. 21 during joint tactical operations in Maverick County, near Eagle Pass, on the border with Mexico, according to his agency's press release.
Local paramedics transported Salas to the Fort Duncan Regional Medical Center, where he was airlifted to University Health System in San Antonio. Authorities said Salas died the next morning, surrounded by his family.
Salas served in the US Marine Corps for nine years before joining the state's Special Operations Group, officials said.
The release indicated that Salas loved the Pittsburgh Steelers, movies about superheroes, and hip-hop's Wu-Tang Clan, but above all else "he was a family man."
Salas was born Nov. 23, 1984, to Juan Carlos Solas and Teresa Salas (née Sosa), according to his obituary.
He is survived by his parents; his wife, Lizzett; and children, Alessandra, Isabella, and Luke.
Services for Salas were held Thursday at Crestview Funeral Home in El Paso. A rosary was prayed Friday at St. Pius X Catholic Church in El Paso, followed by a funeral Mass there.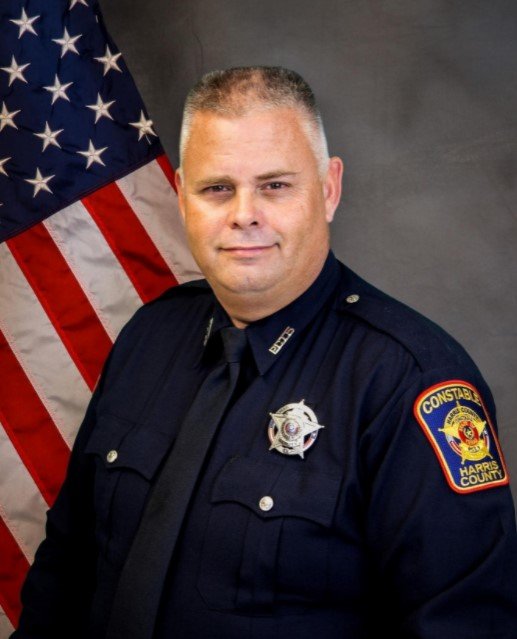 Charles Eudell Galloway Jr.
Harris County Constable Precinct 5 Cpl. Charles Galloway, 47, was shot to death early Sunday in the southwestern corner of Houston, shortly after he pulled over a Toyota Avalon sedan.
Houston Police Department detectives suspect the gunman was Oscar Rosales, 51. They believe he exited his car and then opened fire on Galloway before fleeing the scene in the Toyota.
Constable Ted Heap called Galloway's killing a "ruthless, savage execution" at the end of a "cold-blooded ambush."
A manhunt that straddled both sides of the border caught up to Rosales in Ciudad de Acuna, Mexico, across from Del Rio, Texas.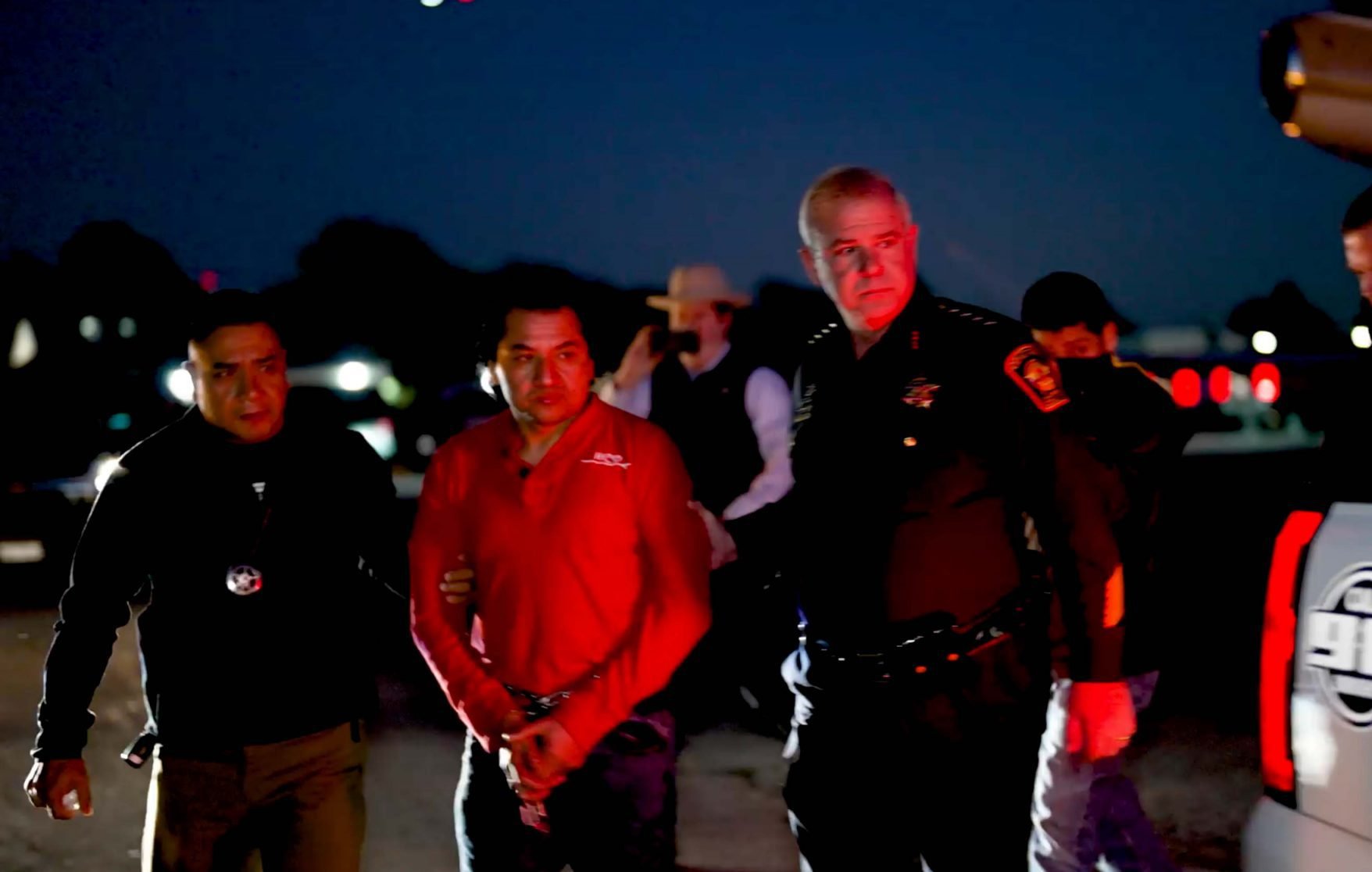 Heap and his assistant chief, Kevin Hubbard, delivered Rosales to the Harris County Joint Processing Center Wednesday, shortly after he was arrested and extradited to the US.
Harris County District Attorney Kim K. Ogg told reporters Rosales had been a fugitive for more than a quarter-century, following a failure to appear in court after a 1996 conviction for aggravated assault with a knife.
Ogg said Rosales was also wanted for murder in El Salvador, but first, he must face capital murder charges in Texas for the slaying of Galloway.
During a Thursday press conference, Houston Police Chief Troy Finner said no one could speak to the "sheer evilness" of the suspect Rosales. But he asked good people to ask themselves, "How can a human being do that to another human being, especially somebody who's serving?
"And then it's just hard to accept, but right now justice is going to be served."
Galloway had served in Precinct 5 for a dozen years. He served as a field training officer in the Toll Road Division during his final assignment.
"Cpl. Galloway was very much loved by the men and women he served with," Heap said. "There's a lot of broken up officers who he meant a lot to in their lives."
Galloway was born April 27, 1974, in Katy, Texas.
His funeral service is slated for Tuesday at Second Baptist Church – West Campus in Houston.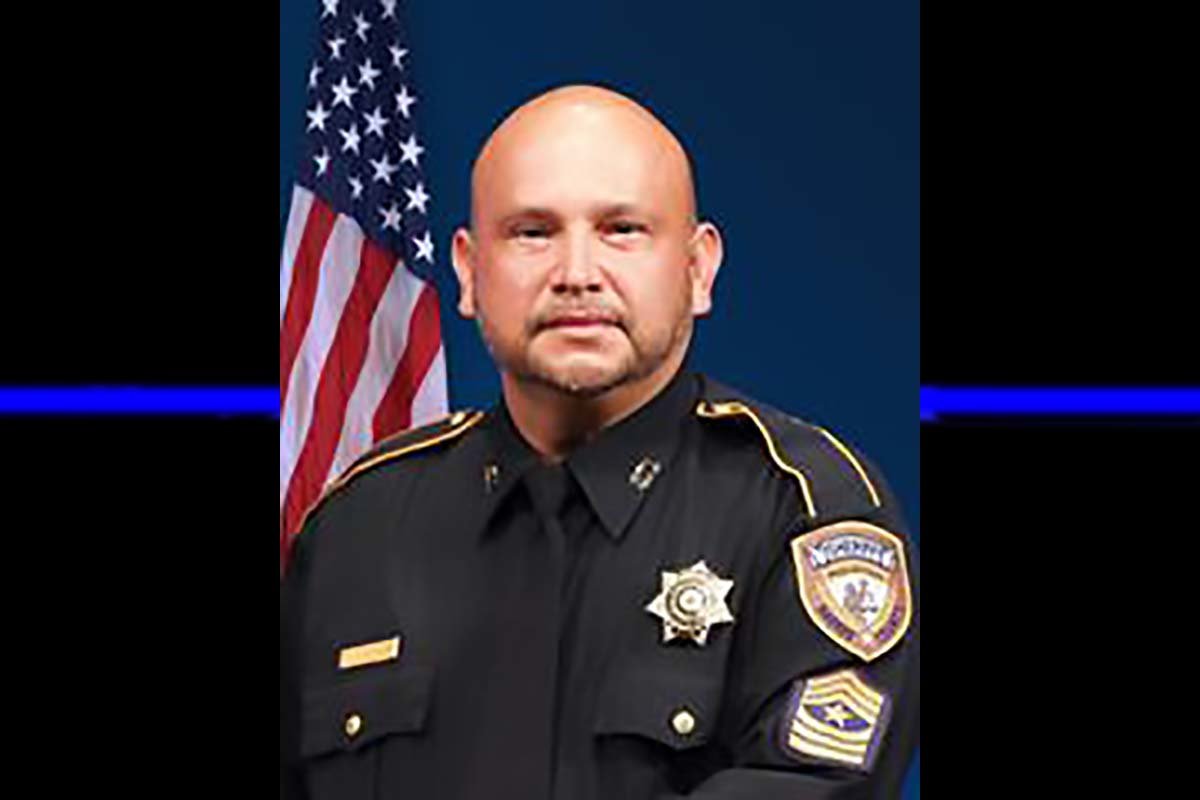 Ramon Gutierrez Jr.
Prosecutors in Texas suspect that Harris County Sheriff's Sgt. Ramon Gutierrez, 45, was killed early Monday on the Sam Houston Parkway in northeastern Houston by a motorist who hit him with her vehicle and fled the scene.
Gutierrez was escorting a "permitted heavy load" hauled by a motor carrier when he hopped off his motorcycle to block an exit ramp off a service road and was struck by the vehicle of the other motorist, according to Harris County Sheriff Ed Gonzalez.
Another sheriff's deputy later arrested Lavillia Spry, 40. She faces multiple charges, including intoxication manslaughter.
First responders treated Gutierrez at the scene before he was airlifted to Memorial Hermann Health System, where he later died. He had served the sheriff's office for two decades, the last 13 years investigating vehicular crimes.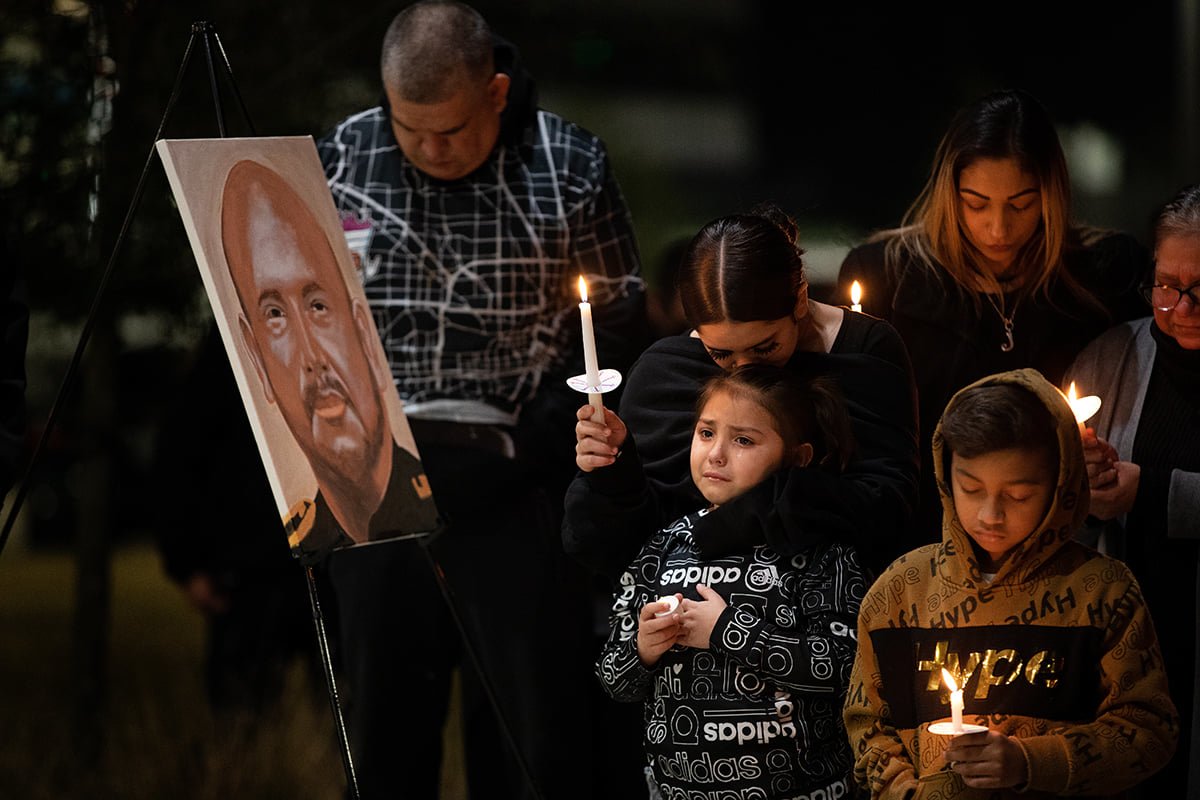 Sean Teare, the chief of the vehicular crimes division of the Harris County District Attorney's Office, told reporters that having worked with Gutierrez nearly every day "adds an even larger layer" to his death.
Ramon Gutierrez was born June 8, 1976, in Houston, according to his obituary.
He is survived by his wife and three children.
Harris County Sheriff's deputies escorted his body to Houston's Claire Brothers Funeral Home Thursday. Mourners held a candlelight vigil at East Aldine Amphitheater that day, too.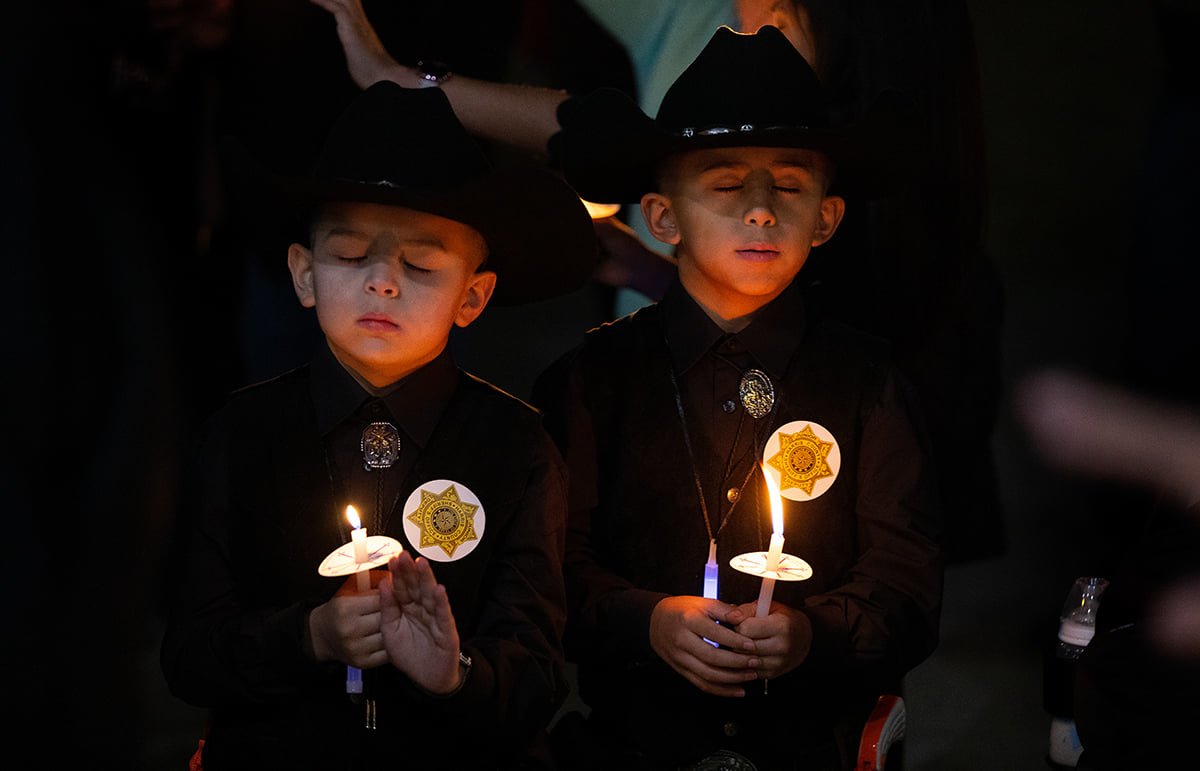 "Our hearts are heavy right now, as we lost a very good man," Gonzalez said in a Monday press conference. "We're feeling his loss today, and he will never be forgotten."
Gutierrez's family will hold a funeral service Thursday at Woodlands Church, with the burial to follow at Klein Memorial Park.
Read Next: