Authorities in California and North Carolina blame stress and overexertion for the heart attacks that killed two senior firefighters on Feb. 9.
Their deaths bring to 21 the number of firefighters who have died on duty so far in 2022, according to the US Fire Administration.
Nearly half of all firefighter duty-related deaths are caused by sudden cardiac death, according to the National Institute for Occupational Safety and Health.
In 2021, heart attacks, stress, and overexertion combined to kill 26 firefighters nationwide; 16 of them were over the age of 50 and all of the victims were men. The risk of heart attack increases with age. For men, the average age of a first attack is 65, according to the American Heart Association.
Steven McCann
Los Angeles County Fire Department Capt. Steven McCann, 47, died from an apparent heart attack on Feb. 9.
A 17-year veteran of the department, McCann collapsed shortly after his Station 166 in El Monte received an emergency dispatch call.
His fellow firefighters began CPR and he was transported quickly to Methodist Hospital of Southern California in Arcadia, but he died there around 9:30 p.m.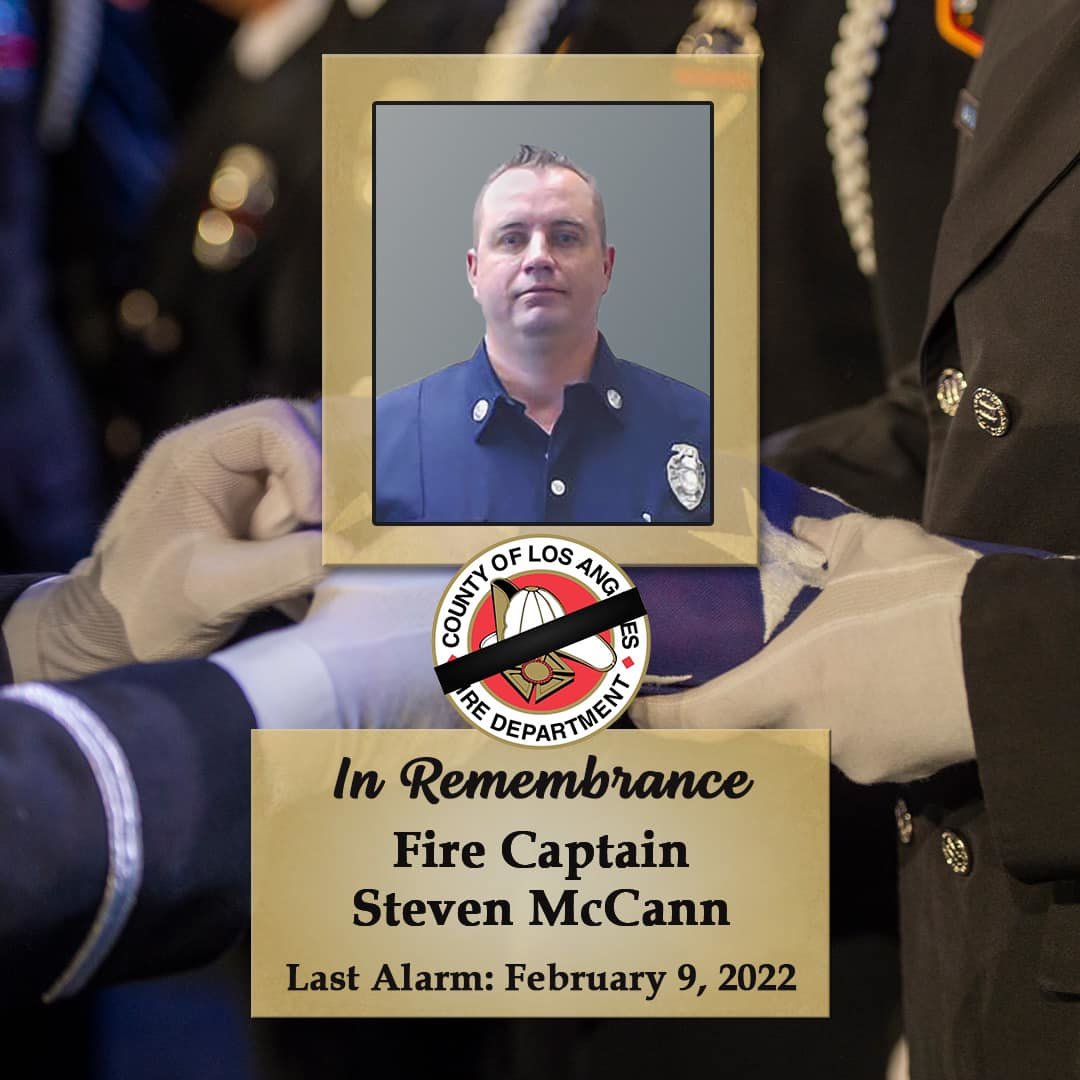 Los Angeles County Supervisor Kathryn Barger called McCann's death a "dark time" for the captain's family, friends, and fellow firefighters.
"His service to our county's fire department will not be forgotten," she said in a prepared statement emailed to Coffee or Die Magazine. "His dedication to his life's work and sudden passing serve as a stark reminder of the deep thanks we owe the brave men and women who, like him, are always there to answer our calls for help during our times of greatest need. May he rest in peace."
McCann's death came during a bustling time for his department. January of 2022 broke the record for the number of calls the county's firefighters handled in a month.
A procession by firefighters carried the captain's body from the hospital to Todd Memorial Chapel in Pomona on Feb. 10. Funeral services are slated to begin at 10 a.m. Feb. 25 at Calvary Chapel Golden Springs.
Mark Christopher Holt
North Carolina officials said a family member found Thomasville Fire and Rescue Battalion Chief Mark Holt unresponsive in his North Carolina home on Feb. 9, shortly after he came off a 24-hour shift that included battling a blaze.
Davidson County Emergency Medical Services personnel gave him CPR but he was pronounced dead at the scene from an apparent heart attack.
Holt was 50. Pastor Luke Jackson officiated a private funeral on Feb. 12 at Mount Zion Wesleyan Church. Burial followed at Holly Hill Memorial Park Cemetery.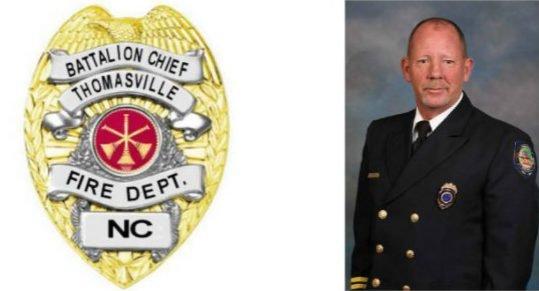 Mark Christopher Holt was born Aug. 20, 1971, to Billy Devon Holt and Donna (née Fullington) Holt in Thomasville, according to his obituary.
Holt is survived by his parents; his children, Amber and Dakota; his brother, Bill Jr.; and his fiancée, Brandi Monk.
Holt dabbled in taxidermy and music as a hobby, but he made firefighting his career. He began as a junior firefighter nearly three decades ago at the Fair Grove Fire Department before becoming a Thomasville Fire and Rescue firefighter on June 7, 1999.
"I didn't hesitate; I hired him right on the spot," said Fair Grove Fire and Rescue's longest-serving member, Safety Officer Andy Lyndon, during Holt's funeral service. "I might have made him go through an interview, but in my mind he was hired. I knew Mark, I knew his work ethic, I knew he was a hard worker — and I know he's looking down on us today saying, 'All of y'all should be at work,' because he was that kind of person. He was a hero."
In his address to mourners at the service, Thomasville Fire and Rescue Chief Eddie Bowling said Holt had logged 3,750 hours of training with his department since 2006. He also racked up 850 hours responding to emergencies in his community.
"Those are no small feats," Bowling said during the service. "That's 850 hours you're away from your family."
Bowling promoted Holt to battalion chief on June 7, 2021.
"Mark had a passion to teach a young firefighter how to become an old firefighter," Bowling said.
In his eulogy, Thomasville Fire and Rescue Capt. Richard Waddell called Holt "a great blessing." He recalled Holt staying late past his shift to teach him how to play guitar.
"Mark was one of the persons that wouldn't just teach you how to do something, but along the way he would try to convince me that I knew how to play the guitar," he said.
Waddell added, "I knew I couldn't play."
"He would just always encourage me to keep on trying," he continued. "That's just the kind of person he was. That's a special kind of teacher that will actually teach you and encourage you to continue you on in the things that he's trying to tell you."
Read Next: