Whether she's charging up mountains, grabbing catfish out of rivers with her bare hands, or producing hilarious videos for Black Rifle Coffee Company, Heather Lynn is always highly caffeinated and living life to the fullest. In fact, sometimes living life means she's looking for dead things (it's a hobby of hers).
We took a second to catch up with her in between comedy sketches and coffee pours to ask her a few questions. Well, 11 questions, to be exact. Check it out.
This interview has been edited for length and clarity.
COD: How do you make your coffee?
HL: So I used to make my coffee in a coffee pot. Now I use a pour over device — typically the Chemex. I keep evolving my coffee game. I feel like, as the years go on, something about working in close proximity with credentialed coffee graders, I guess that just can't be avoided.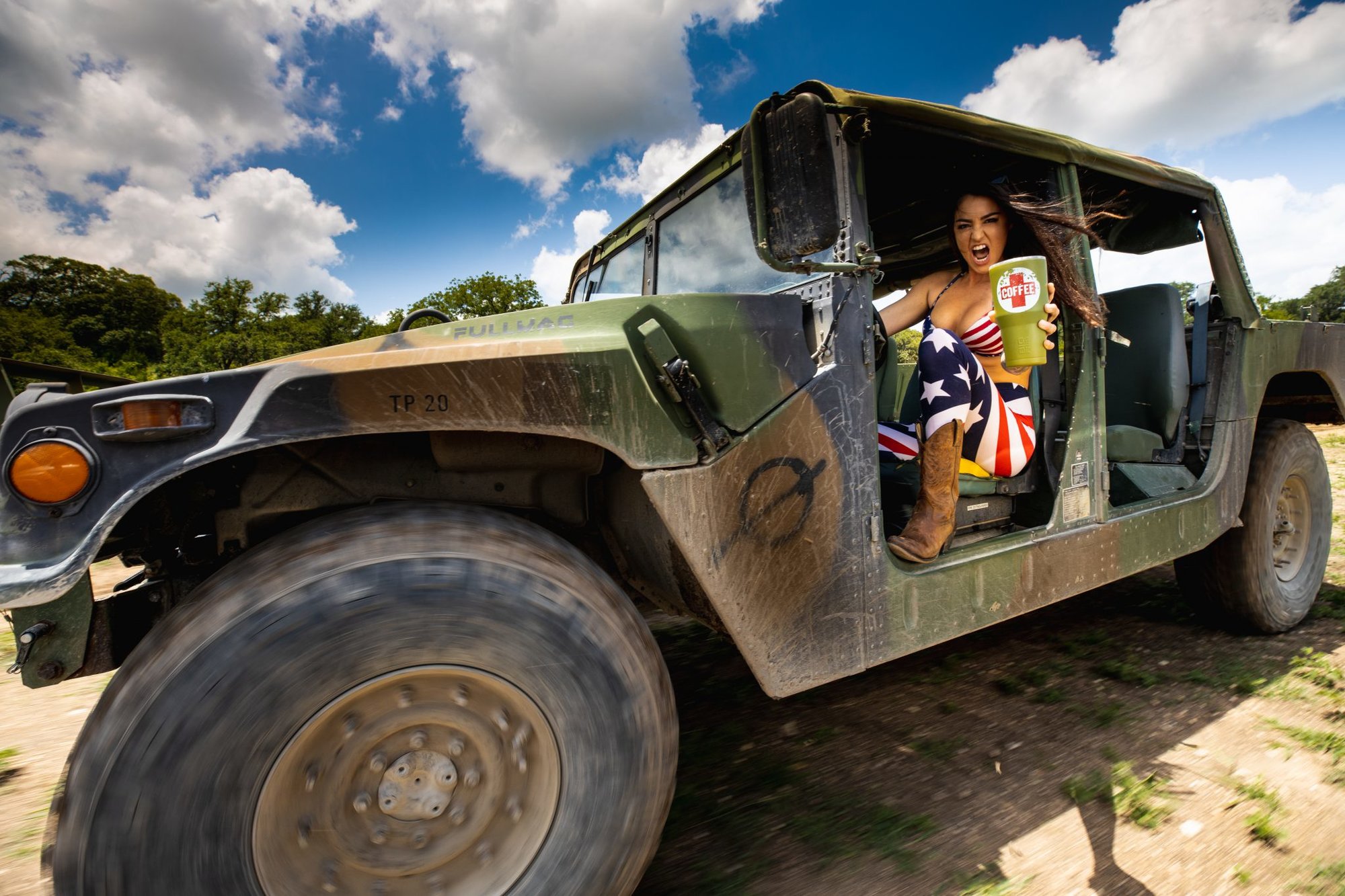 COD: How do you take your coffee?
HL: I drink my coffee black now. Like I said, I have evolved my coffee game — I have dumped the creamer and the sugar, and I've become somewhat of a purist.
COD: What's the most bizarre or extreme place you've ever gotten (or made) a cup of coffee?
HL: Most recently, my most bizarre cup of coffee would be on the mountaintops in Montana with my new friend Laura Zerra. She's a survivalist. And we spent a whole week searching for dead things, talking about dead things, which we call our memento mori mornings — memento mori being Latin for "remember you must die." We'd have these little coffee talks where we would search for dead things, make coffee, and just have these good talks about life or death. With beautiful mountain scenery, it's very jarring.
COD: What's the hardest thing you've ever done — physical or mental?
HL: Mentally, there's a lot to unpack here, and I don't feel like traumatizing our audience. So I'm going to skip over to the physical exertion.
Once again, climbing the mountains with Laura Zerra. These mountaintops were kind of straight up and down, and there were moments where I would pause while climbing these mountains and think to myself, I could for sure tumble to my death, which made it super interesting. Our feet were blistering. We would take off layers and put layers back on. We would be sweating from the physical exertion, but then we were also freezing because it was snowing. And it was pretty much the most physically demanding thing I have ever done in my entire life. But 10 out of 10, would do it again.
COD: What motivates you to do what you do?
HL: As far as content creation, I think what motivates me is that I've had a pretty difficult life, and I've developed a dark sense of humor as a means of not only coping with that but genuinely wanting to bring joy to other people's lives. And I remember being in the throes of depression and you know, comedians and certain videos literally forcing a laugh from me. And I was always so appreciative of those moments of light in the darkness. And I hope that maybe I can do that for other people.
As far as what motivates me to live my life as unconventionally as I do, I think it's this hunger, almost this fear of missing out on life, like not doing enough before I die. And it's me wanting to just be able to slide into my grave content in knowing that I've conquered all that I was born into this fucked-up world to be, knowing that I don't hold back. And that's why I shove my hand inside monster catfish and why I climb treacherous mountains and try to kidnap wildlife — it's that fear of missing out on life. It's a healthy fear, though. It's just enough to keep me grinded and to keep me pushing the limits of my comfort.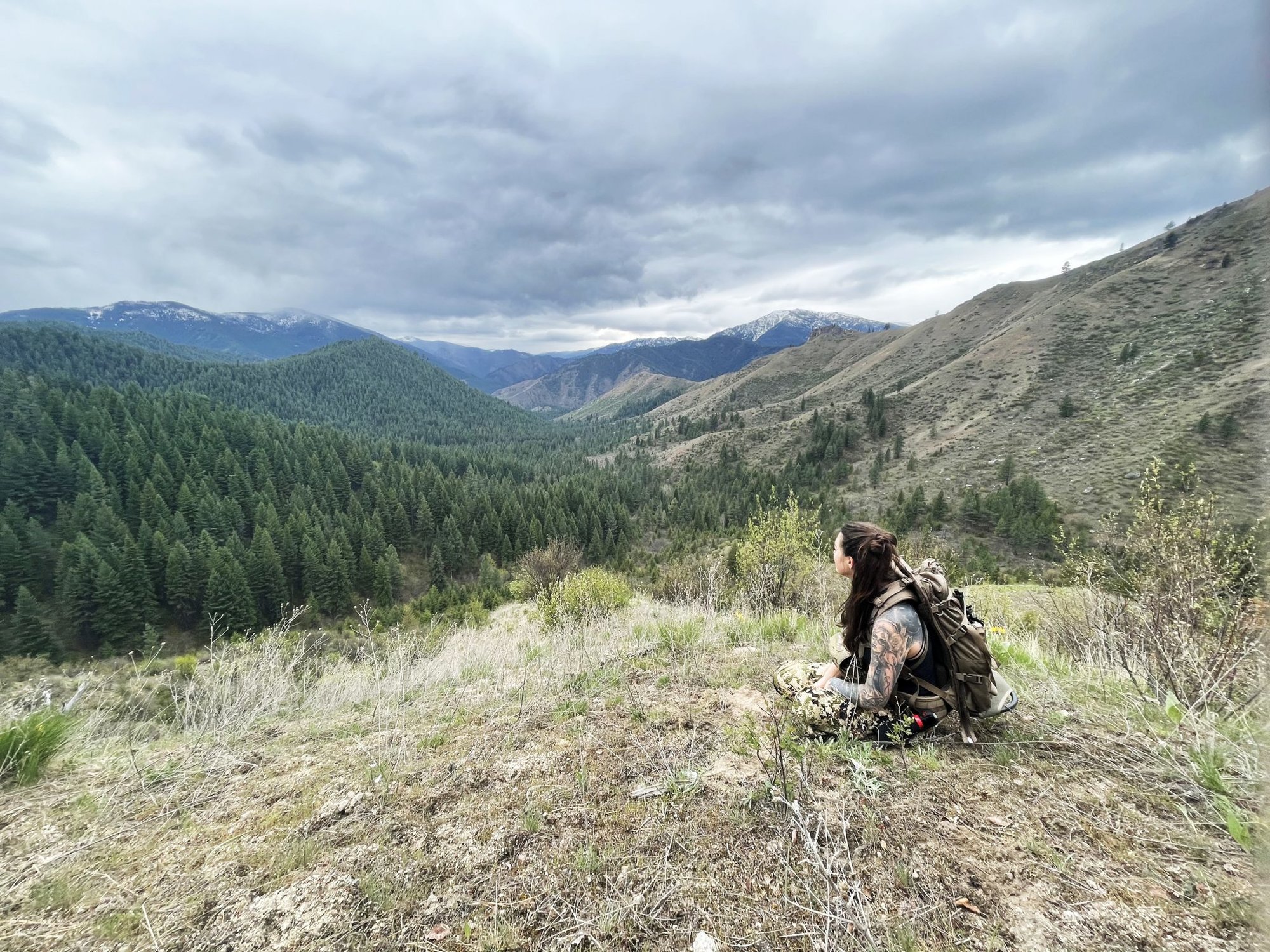 COD: What do you think is the most misunderstood thing about you or the work you do?
HL: I think people believe that, as a content creator or a content producer, life is one big, giant party. And at the end of the day, it's a lot of mental strain just trying to be creative, even when you're not feeling creative.
I get asked all the time — nothing bothers me. I have the thickest skin; I literally have the thickest skin ever when it comes to almost anything. The one thing that just drives me insane is the constant question, "Who writes your content for you?" Which people — I don't know if it's like — I don't want to just be funny for a woman, I just want to be a funny person. And I think people think that other people write my content for me and present it to me and that I just ha-ha repeat.
COD: How do you define success?
HL: It sounds really cliche, but I define success as just never giving up, as trying your hardest. And even if, at the end of doing something, you don't reach what you view as success, you've either learned something from it and you can try to do better — like, How can I be better because of this thing? And as long as you keep fucking up in order to get where you need to go, you're doing fine. I keep fucking up, and I'll continue fucking up until I get it right, no matter how many times I change direction or I search for meaning in different places. I'm going to get to what I want eventually because I'm just gonna keep grinding.
COD: Mountain view or ocean view?
HL: A few months ago I probably would have said ocean view, but mountain view for sure. Climbing those mountains with Laura was awe-inspiring — that beauty could never be captured through a lens. Unless you're from California and you're wanting to move to Montana, in which case it's not beautiful at all. It's disgusting. Don't ever go there.
COD: If you could have any superpower, what would it be?
HL: I'd want to be able to find dead bodies. Like, if my body could be like a metal detector for dead things. Sometimes I'm in the swamps, and I'm like, I wonder how many fucking people were dumped out here? Or like, I went deep sea fishing a couple of months ago, and my first thought was, How many people were taken out here and given cement shoes and then pushed over the side of the boat? That'd just be really cool to be able to find — not for any really moral reasons. It's not like I really want to bring justice.
This is fucked up. This is not the answer you want.
Yeah, I want to be a human cadaver dog. It's so fucked up.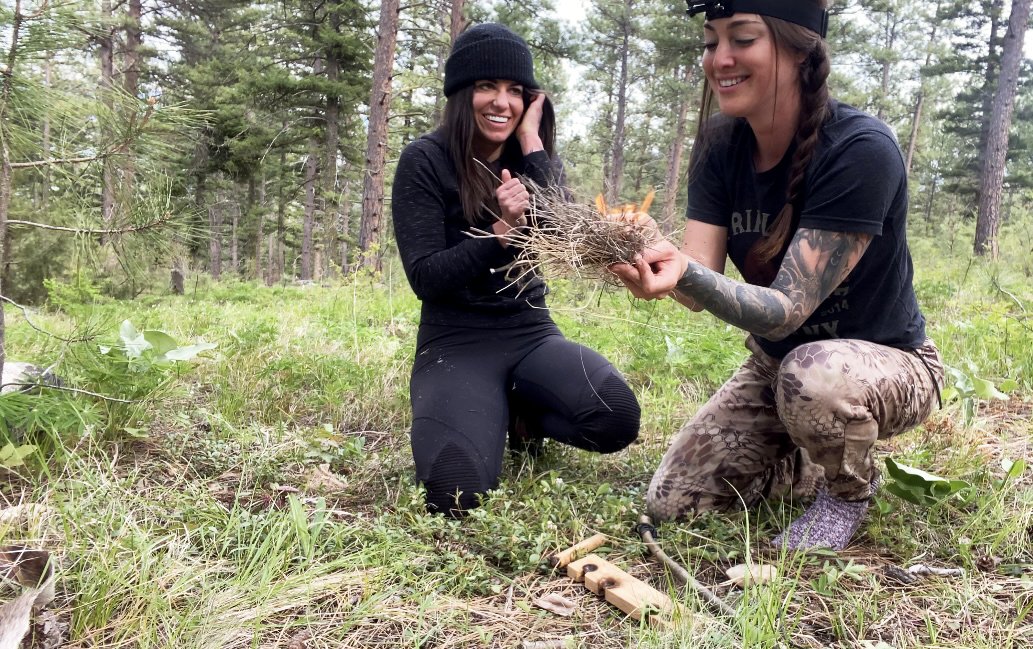 COD: What are your hobbies, outside of what you are known for?
HL: I feel like I'm pretty transparent about my hobbies, like rucking, fishing — domestic animals, not domestic animals. Petting all the animals, animals I'm not supposed to be petting, kidnapping, keeping in the bathroom for weeks at a time. Working out, metal, throwing down in metal pits. Normal things.
COD: On a scale of 1 to 10, how confident are you in your ability to survive in a post-apocalyptic world?
HL: Okay, that's a really difficult one. I wouldn't be the first to die, and I for sure wouldn't be the last. I feel like I've gathered enough post-apocalyptic skills, like I can drive a manual car; I can catch, clean, and cook fish; I can build a primitive fire; I'm pretty decent with firearms.
That being said, I'm a clumsy bitch, and I'm in the hospital at least once a year. I jammed my knee into a boat propeller. I had to get my fist stitched back together once because I accidentally slammed it into a countertop. I fell off the back of an ATV, smashed my body into the pavement. Most recently, I tore a tendon in my finger attempting to regain control of a giant demon catfish. As one normally does.
I think, you know, I wouldn't really last as long as I'd like to.
Read Next: Heather Lynn's Ghost in the Graveyard Halloween Cocktail