This story was originally published Sept. 20, 2020, on We Are The Mighty.
By Miguel Ortiz
The Sikorsky S-70 platform is one of the most popular and versatile medium-lift utility helicopters with the U.S. military and government agencies. As a result, it can be seen in a variety of color schemes. Air Force HH-60 Pave Hawks can be found sporting a dark gull gray scheme while Navy SH-60 Sea Hawks bear a lighter maritime gray. Army UH-60 Black Hawks are painted in a dark green while their Special Forces 160th SOAR MH-60 counterparts are completely blacked out. However, there is one color that can be seen on multiple S-70-based aircraft and many others besides.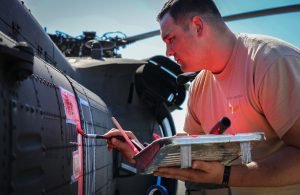 When serious wildfires break out on the west coast, state and local firefighting teams are augmented by the National Guard. Ground forces are often employed cutting fire breaks while air assets are used to rescue fire victims and attack the fire directly. However, air operations in the middle of a fire are extremely dangerous. High winds, thick smoke, and extreme heat make for a difficult flying environment that can challenge even the most experienced aviators. The firefighting effort against the 2020 Creek Fire has already produced 7 Distinguished Flying Cross recipients who heroically braved the deadly conditions and ignored orders to abort their mission to save hundreds of people trapped by the flames.
Although modern technology like night vision goggles and advanced sensor suites can assist pilots in navigating through the treacherous conditions that they face while fighting fires, one low-tech firefighting modification is applied to every military aircraft that flies against a fire. While their gray and green paint schemes help to reduce their visual signature in their respective combat environments, they can serve as a hazard in a firefighting situation where visibility is low and heavy air traffic results in increased risk of mid-air collisions. In order to mitigate this, military aircraft used to fight fires are painted with a fluorescent paint called shocking pink.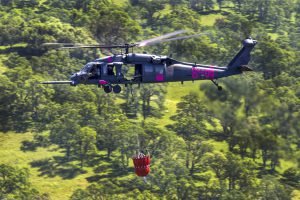 The result of an agreement between the California National Guard and CAL FIRE, shocking pink is the official color that is applied to aircraft from outside agencies that are assigned to battle fires. Aircraft identification numbers are repainted in the vivid color along with thick stripes on the tail and fuselage. "There can be a lot of aircraft fighting the fire in the fire lane," said Chief Warrant Officer Bruce Pulgencio, a pilot with the California Guard's 1-140th Aviation Battalion (Assault). "We need to see each other as well as ground forces need to see us."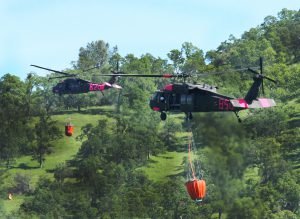 Although shocking pink is the official color, it is not always what is used. As a result of heavy firefighting focus in California, resources in surrounding states have been heavily reduced. During the 2018 wildfires in Washington State, Governor Jay Inslee declared a state of emergency and activated the National Guard to assist in the firefighting effort. National Guard units stationed at Joint Base Lewis-McChord quickly mustered and gathered their firefighting equipment. However, one resource that was lacking was the shocking pink paint for their aircraft. "They ran out of paint," Black Hawk crew chief Spc. Noah Marshman said as he applied pink paint to his aircraft. "They just went to the craft store." The use of craft store paint highlights both the necessity of the brilliant color and the resourcefulness and ingenuity of the soldiers.
If you ever see a military aircraft overhead with pink markings, know that it's being crewed by service members on their way to fight a fire…not that you could miss it.