When the sister of Henry County Police Officer Paramhans Dineshchandra Desai heard about her brother's fatal gunshot wound, she sought answers. She wanted to know, Why my brother? Why him?
During his funeral Sunday, Nov. 14, at the Henry County Performing Arts Center in McDonough, Georgia, Divya Desai told the audience the universe answered back: Why not him? Giving up his life to save the lives of others was his purpose.
Officer Desai, 38, was a 17-year veteran of law enforcement. He died in an Atlanta hospital on Nov. 8, four days after he was shot while responding to a domestic violence report in McDonough. Authorities launched a dragnet to find the man they said gunned Desai down — Jordan Marquis Jackson, 22 — after he fled the scene.
Authorities said they'd discovered Jackson, dead from a self-inflicted gunshot wound, on Tuesday at an apartment in nearby Clayton County, only moments after SWAT officers began closing in on him.
In her Sunday eulogy, Desai's sister fit her brother's heroism into his version of the American dream. Born on Oct. 5, 1983, in Bilimora, India, he was 8 years old when he and his 10-year-old sister came to the US.
She said their early years were marked by hunger and poverty, with a lack of formal education replaced by being "schooled by life." She said their father had $40 in his pocket when he arrived in Ohio.
Although Desai was bullied in the US for being different from his peers, she said "he turned his pain to purpose" and decided as a boy to become a cop when he grew up.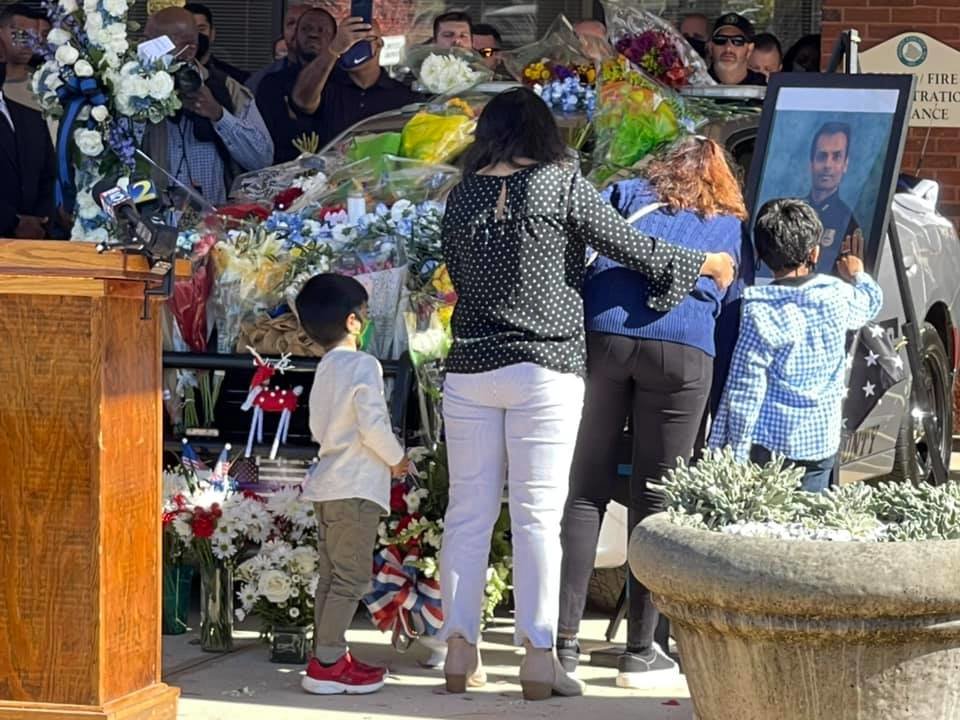 By the time he was 20, Desai was serving as a corrections officer in Georgia's Clayton County. He later joined the DeKalb County Police. At 35, he arrived at the Henry County Police Department.
Divya Desai said her "fitness fanatic" brother began his days at 3 a.m. with a workout and ended his nights with an evening run.
"The meaning of life is to find your gift, and the purpose of life is to give the gift away," she continued. "Being a cop wasn't a phase or just a job for him. It was a calling, a purpose so deep that he paid the price for it with his life."
Officer Desai leaves behind his wife, Ankita, and their sons Om, 11, and Namah, 8.
Thanks to a gift to his community, others will live on long after he's gone. According to the Henry County Police Department, he donated multiple organs. County officials estimated Sunday that his gift will help save the lives of 11 Georgians.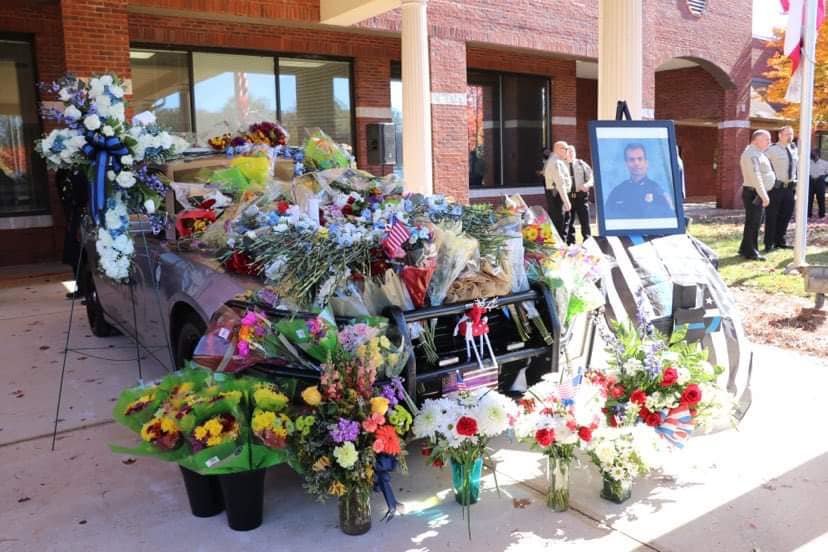 "The events on Nov. 4 make it easy to recognize that Officer Desai was a true hero," Henry County Police Chief Mark Amerman told the audience at the funeral. "However, I would not say that Nov. 4 was the day that Officer Desai became a hero, for it's not just how police officers died that makes them heroes. It's also how they lived."
On Friday, a grieving community converged on the Henry County Police Department's headquarters, adorning Officer Desai's cruiser with flowers.
"May he always watch and protect this department, and all the departments," his sister, Divya, said Sunday.
In lieu of flowers, the Henry County Police Department asks that donations be made to the family's GoFundMe page, with proceeds earmarked for Desai's wife and children.
Read Next: Did These Women Help an Accused Cop Killer Escape?