When New York State Police troopers and Evans Mills Fire Department personnel arrived at the crash near the US Army's Fort Drum on May 7, they saw a woman alone in an SUV, close to drowning.
It was 8:50 p.m. and her 2010 Ford Explorer was sinking in a Le Ray drainage ditch, the cold water about 6 feet deep and lapping at her shoulders. It appeared as if she'd driven the sport utility vehicle through a guide wire, then a chain-link fence, before plunging the Ford into the retention pond, which had only recently been excavated.
With no time to waste, Evans Mills Assistant Fire Chief John Russell tied a throw bag to his body, so first responders along the lip of the ditch could track his movements and haul him out, if necessary.
Trooper Christopher Hardy dropped his gun belt and ballistic vest and also donned a throw bag. Then he waded into the chilly stormwater, joining Russell at the SUV.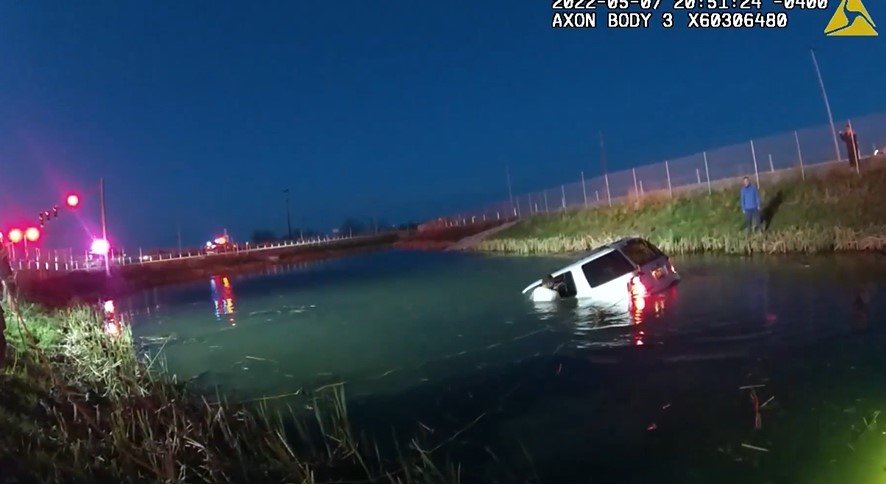 Hardy told Coffee or Die Magazine he didn't feel the 50-degree water because adrenaline was rushing through his body.
"It wasn't until we got back to the hospital that I kind of realized how cold it was," said Hardy, who's a member of the state police Underwater Recovery Team with advanced swiftwater training.
Wielding a steel pole, Russell broke the Explorer's back window and shimmied into the SUV. He tried wrestling the woman from her driver's seat to tug her to the back of the Ford but couldn't budge her. Everything in the rear compartment of the vehicle had slammed forward in the crash, pinning her in the seat.
As the two rescuers tried to unlock other doors, the Ford began to nose deeper into the reservoir. Water gushed into the Explorer. Firefighters from land shouted to Russell, "Chief, get out!"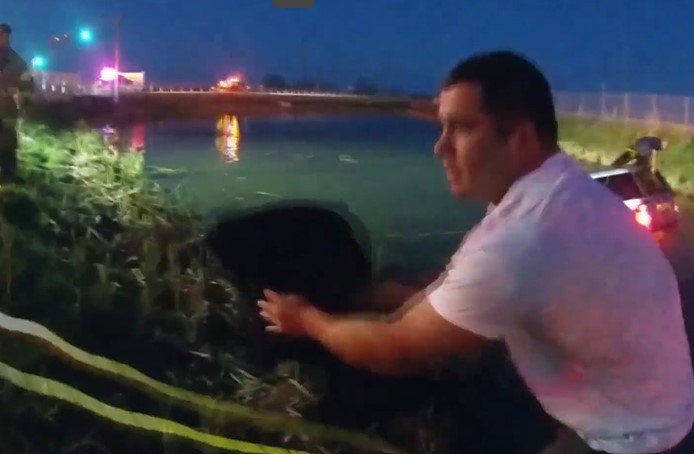 Hardy and Russell scaled the SUV and mounted the roof. Hardy said he "could see her hair floating up against the sunroof," so he raised the steel pole and speared it through the glass, making sure to dodge her head.
Then he grabbed her and, with Russell's help, yanked the woman out of the sunroof. And the Explorer kept sinking. The trooper told Coffee or Die it's as if his mind went into autopilot while he made hasty decisions to save the driver's life.
"Everyone realizes there are five different ways to do something but unless you just pick one of them and start doing it, nothing's going to happen," Hardy said.
Hardy didn't even notice that plunging his arm through the sunroof left him with gashes. He estimates the woman spent 20 seconds holding her breath while submerged. He thought she'd come out gasping for air, but she was conscious and alert.
"As soon as I pulled her out she said, 'I could have navigated that better,'" Hardy said with a laugh.

Hardy said a fellow trooper, Ryan Gentile, splashed into the water "to help however he could" while Trooper Rexford Reynolds tugged Hardy and the woman out of the pond by pulling on Hardy's throw bag.
"Even when I was carrying her out, luckily I had a throw bag around me so I wasn't frozen, falling over with her, and they were able to guide me out," Hardy said.
First responders logged her rescue at 8:54 p.m., only four minutes after they arrived. But Evans Mills fire personnel remained at the scene for more than two hours longer until it was secured. They're all volunteers.
Watch the rescue here:
Paramedics transported the driver, 61-year-old Joanne Tanner of Evans Mills, to Samaritan Medical Center in Watertown. She was treated for hypothermia and minor lacerations and released. Hardy joined her there because he had hypothermia, too. Medical staffers also needed to test for blood exposure due to the cuts on both Tanner and Hardy caused by the glass shards.
"She was actually out of there quicker than I was," Hardy said, adding that "she was very grateful" in the ambulance for the rescue.
"I know she came up to me, said, 'Thank you for not allowing me to drown,' so that was enough for me," Hardy told Coffee or Die.
Tanner was arrested for misdemeanor driving while under the influence, felony aggravated unlicensed operation in the 1st degree, and speeding. She was issued an appearance ticket and is slated for an initial May 27 court hearing in Watertown.
Read Next: Hero Firefighter Drowns Trying To Save 2 Trapped in Car in River