Then will he strip his sleeve and show his scars, And say
"These wounds I had on Crispin's day."
After I left the military in 2011, I wandered for months, crisscrossing India and Nepal. I studied Buddhism in the misty mountain village of McLeod Ganj in India, the seat of the Tibetan government in exile. Later, while in Nepal, I hiked alone for weeks in the Annapurna region.
As winter neared, I returned to Kathmandu and plotted the final chapter of my adventures. I had come up with a plan: I would trek solo through the Khumbu region for several weeks and ultimately reach the village of Chukhung where a Sherpa guide would lead me on a climb up Island Peak, a 20,305-foot-high side spur of Mount Everest.
Climbing Island Peak would be a serious adventure. The mountain is as high as Denali; its slopes are steep and icy, requiring the use of crampons and ice axes. It would be unlike any other physical challenge I had experienced. The purpose, of course, wasn't to conquer anything. Many people had already done what I was about to do. Ultimately, the point was to suffer, and hopefully learn something in the process.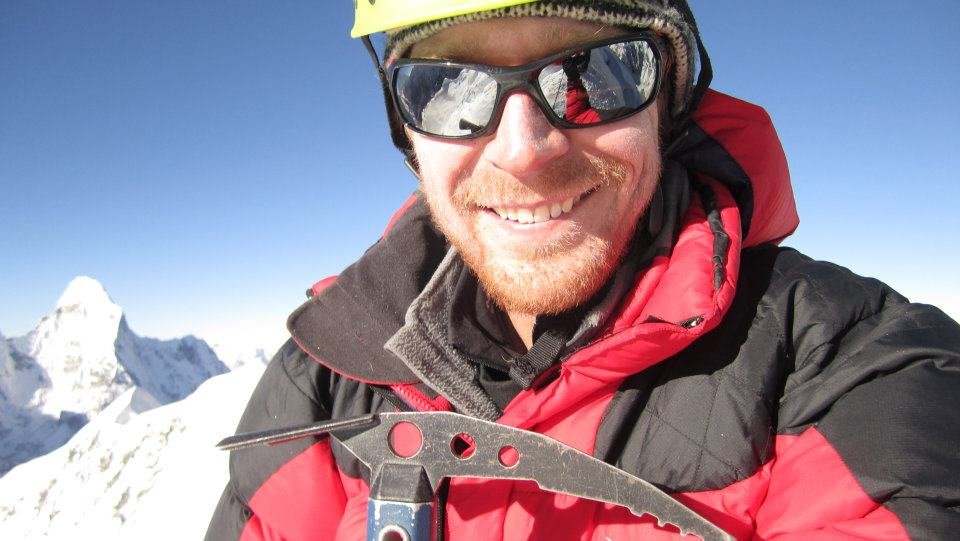 Ihiked for weeks, living out of a backpack like a true nomad. I loved the simplicity and raw physicality of this lifestyle. It was a way of living so far removed from the normal routine of modern life that it awoke within me a sense of strength and health that had long been dormant. The freedom from worry was equally as energizing. I had brought no gadgets with me, so I was cut off from the internet, email, and phone calls. I was totally rooted in the present, so no energy was wasted on what might happen beyond tomorrow. There was no schedule to keep, no calendar to reference for daily obligations. I woke with the sun and went to bed at dark. My body was in tune with the outside world, my mind entrenched in the here and now.
The final night before the Island Peak climb, I was in the dining room of the lodge in Chukhung, Nepal, eating Tibetan momos while I sipped on an Everest beer. I had just begun a conversation with a Canadian climber about my time in Afghanistan as an Air Force pilot when I heard an American voice call out from across the dark, smoky room: "Dude, were you in the US military?"
Through the haze of burning yak dung fueling the stove around which we sat, I saw a young, bearded man. He wore a black beanie and his short sleeves revealed arms covered in tattoos. There were scars beneath the ink. I'd seen arms like those before on my brothers in Afghanistan and Iraq. Before he said another word, I knew he was an American soldier, and I knew he was from the world of special operations.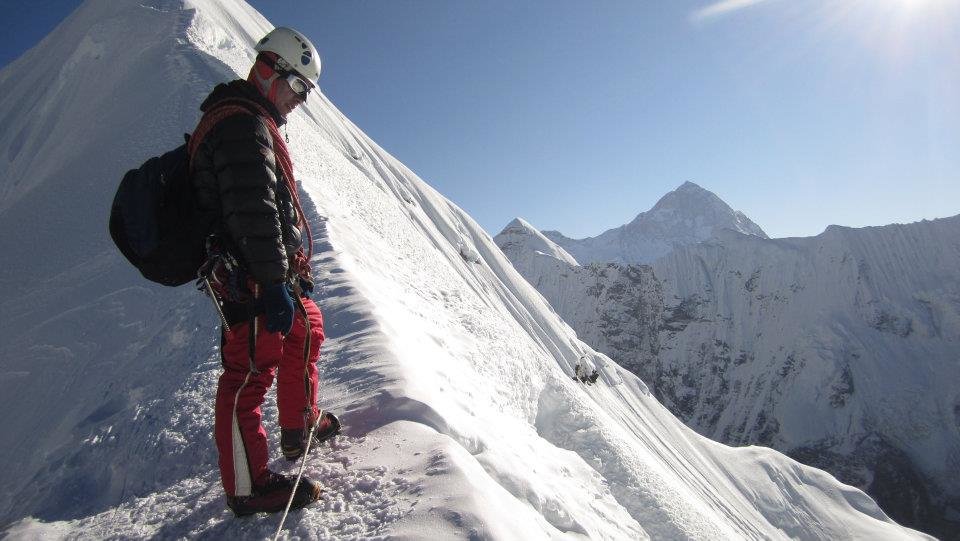 I politely excused myself from the conversation with the Canadian and joined the man at his table. We made introductions and hit it off immediately. The man's name was Kevin, and he was there with his father who sat beside him.
Like me, they were on their way to climb Island Peak. Kevin and his father were with a guided group run by Adventure Consultants, the company of the ill-fated mountaineering guide, Rob Hall, who had famously telephoned his wife as he lay dying on the summit ridge of Everest to choose a name for their unborn daughter.
I told Kevin and his father that I had been in the US military and served in Iraq and Afghanistan. I had just separated from the Air Force three months earlier, I explained, and was on a trip through India and Nepal, looking for closure.
A light flicked on in Kevin's eyes as I spoke. Conversation burst out of him like he had been slowly filling up for years with the words, waiting to tell his story to someone who might understand.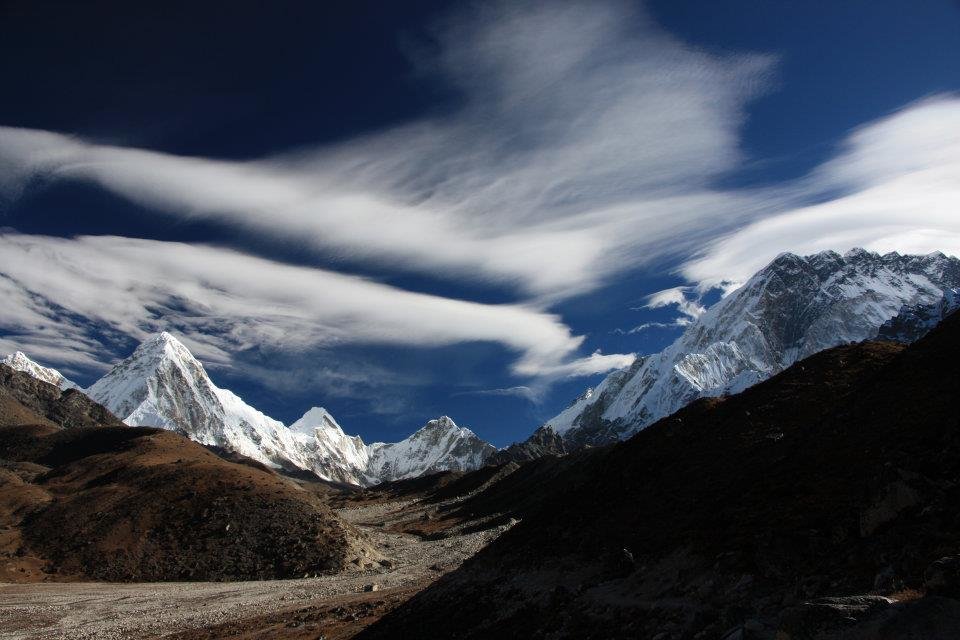 Kevin had served multiple tours in Iraq and Afghanistan as an Army Ranger, he told me, and he had seen the worst kind of fighting in both places. He described how a terrorist's bomb had decapitated his best friend just yards outside the gates of a base in Afghanistan.
"I had been talking to him just five minutes before that," Kevin said as he scooped a handful of salty popcorn from a bowl on the table between us.
"His body was completely fucked up. You couldn't even tell it was him."
Kevin was at a tough time in his life. The war had taken everything from him. His life had fallen apart, bit by bit, and he was in search of a way to put it all back together. Not long after his best friend died, Kevin was himself badly wounded by an improvised explosive device. Shortly thereafter, while recovering from his wounds at a hospital in Germany, he learned that his mother had committed suicide. A few months later, after he had returned to the US, his wife divorced him and took their daughter.
The Army had recently medically discharged Kevin against his will because of his injuries. So, there he was in Nepal, looking to start over and reconnect with his father. What else was there to do? Where else was there to go?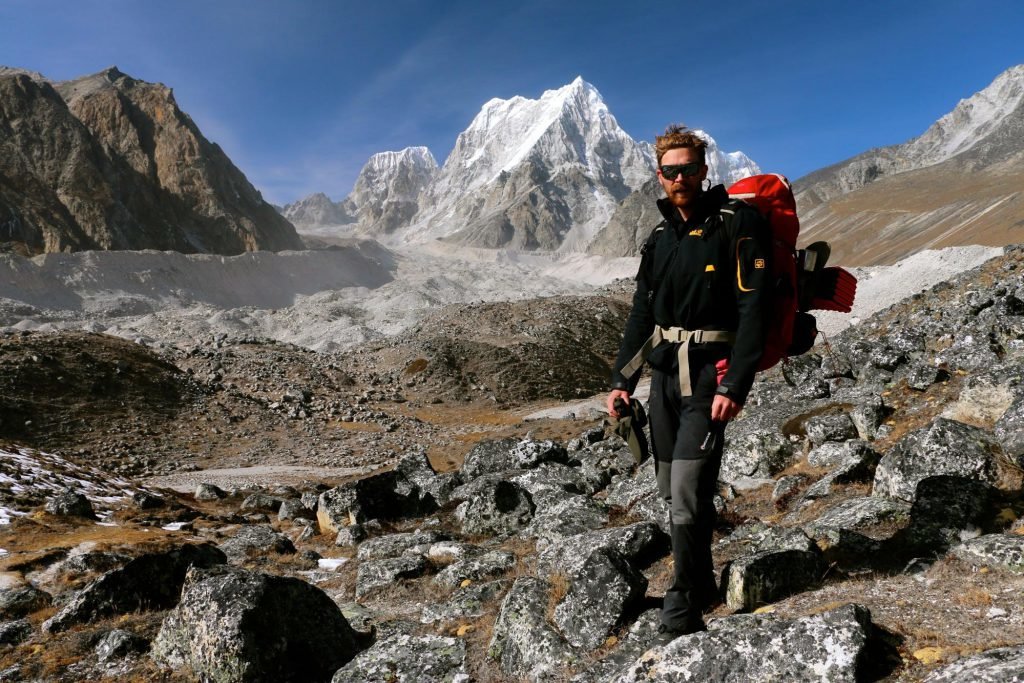 In the book Eiger Dreams, Jon Krakauer wrote, "Mountains make poor receptacles for dreams."
I suppose he was right, since I never found any answers in the mountains to the questions in my life. But sometimes there just wasn't anywhere else to go when everything fell apart. The mountains may not solve any problems, but the ones they create are simple and free from the complicated tragedies of the lives we leave behind. For Kevin, the mountains were the only place where the world still made sense.
Kevin's dad said good night and wisely went to get some much-needed rest before the big day. We were going to climb a Himalayan mountain the next night. But Kevin and I stayed up, choosing not to worry about the climb. Instead, we kept drinking beer and sharing stories. At one point he asked me what call sign I used in combat.
"Draco," I told him.
Kevin's shoulders slumped forward, his chest deflated and his lips trembled as he spoke: "Are you fucking kidding me?"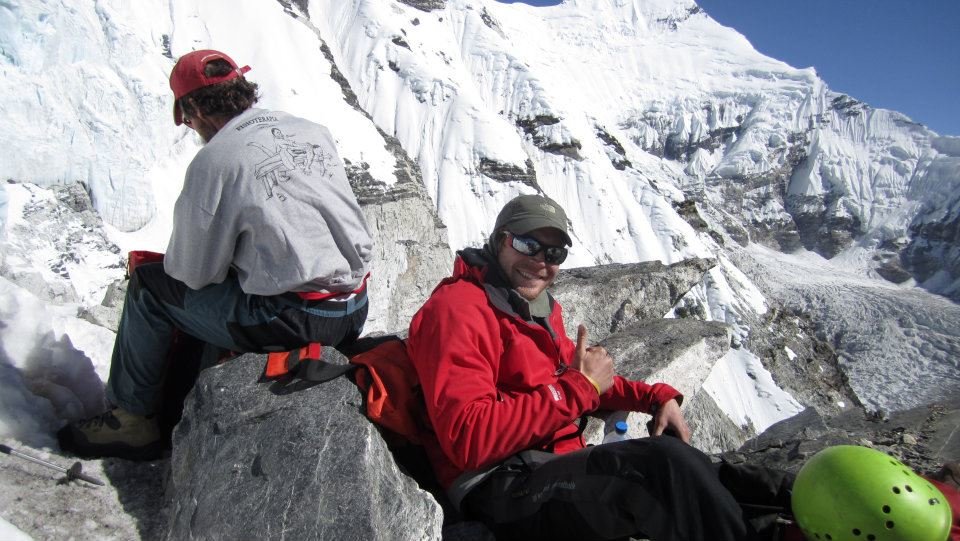 And then he started to cry. And trust me, tears looked pretty out of place on Kevin's face. I sat there, stunned and immeasurably curious as to what this was all about, until Kevin began to explain. He was in a firefight in Afghanistan in 2010 — a bad one — when he radioed for help. A plane responded and directed the air strike that killed the Taliban fighters about to overrun his position.
"That plane saved my life, and the lives of my men," Kevin told me, his eyes welling.
And then came the kicker. Kevin told me the pilot's call sign. "Draco," he said. "I've never forgotten."
I was deployed to Afghanistan at the same time his story took place, but it was probably other pilots from my squadron on the mission, I reasoned, since we all used the same call sign in combat. But it could have been me. For Kevin, it didn't matter if it was me or not. I represented that anonymous, airborne vessel of his salvation. The impossible answer to his prayer. He never knew the identity of the pilots who saved him, or even the type of plane they flew since it was all still classified at that time. All he knew was the voice of "Draco" on the radio when he thought he was going to die.
He bought me another beer as a way of saying thanks. Something he had wanted to do for a long time, he told me. He had no reason to thank me, I answered. The truth was, my war had been nothing like Kevin's. I mostly spent it in the relative security of a cockpit, with the ugliness of combat reduced to amorphous infrared images on my displays. But after deploying and serving my country, I think I was there in Nepal for the same reasons as Kevin. I wanted to divorce myself completely and cleanly from the life I had been living, with the hope that this experience could compensate for what I thought I had lost and inspire me to live in a way that was worthy of the second chance not all of my friends would get.
So there we were. Two Americans who unknowingly depended on each other in combat, meeting for the first time on the eve of climbing a remote Himalayan peak. Together at the end of the Earth, we were trying to make sense out of the senselessness of war and the unrecoverable currency of youth.
We drank Everest beer long into the night and told stories like we were old friends. There was an easy, instant connection based on our military experiences and our shared attraction to the mountains. Soon, we were the last two in the dining room, and the exasperated lodge owner told us, in the overwhelmingly polite Sherpa way, that it was time for bed.
Kevin would be setting out in the morning with his group a few hours after I was scheduled to leave, and we would not see each other again before the climb. I said goodbye, we exchanged contact information, and that was it.
Aday later, I stood on the summit of Island Peak. On that narrow cone of snow, my feet touched the earth at the same altitude at which jetliners and Air Force warplanes fly. But I didn't think about jetliners or warplanes, I only thought about how beautiful the view was and how hard I had worked to be there.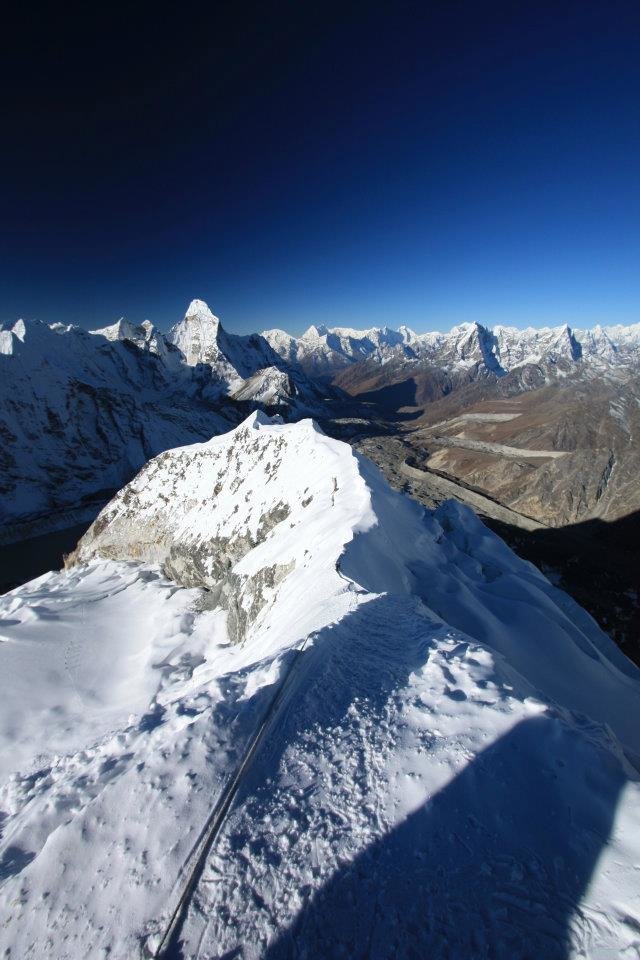 Before me, an endless vista of snowy peaks and glaciers now stretched toward the jagged horizon. No other places on earth, except for the sea, are as overwhelming as the high mountains. Perhaps this is why we attribute such human qualities to these vast, inanimate landscapes. We look for God, after all, when we are at our most mortal, weak and impressed.
I'd left that morning from base camp before sunrise. Climbing, I retreated into my thoughts. Consumed by the meditation of constant movement and work, the hours clicked by like minutes. This meditative effect was amplified by the dark and the quiet.
I'd reached that wonderful moment when you forget about the future and the past and only exist in the present. That "mind of no-mind," as the Eastern mystics say, is a state of being so devilishly hard to achieve in normal life. In fact, it's a condition I've only otherwise experienced in war. I believe that's why so many soldiers end up missing war, and why so many wanderlusting weekend warriors, discontent with so-called normal life, risk their lives and fortunes to climb the world's highest peaks.
Few other places on earth (except, perhaps, for the polar regions or the oceans) allow you to live so much on instinct alone, where any thought or emotion not immediately useful to your survival is simply unnecessary. In such potentially lethal environments, you are momentarily unbound from worrying about yesterday or tomorrow. You have to exist wholly in the present moment in order to survive it.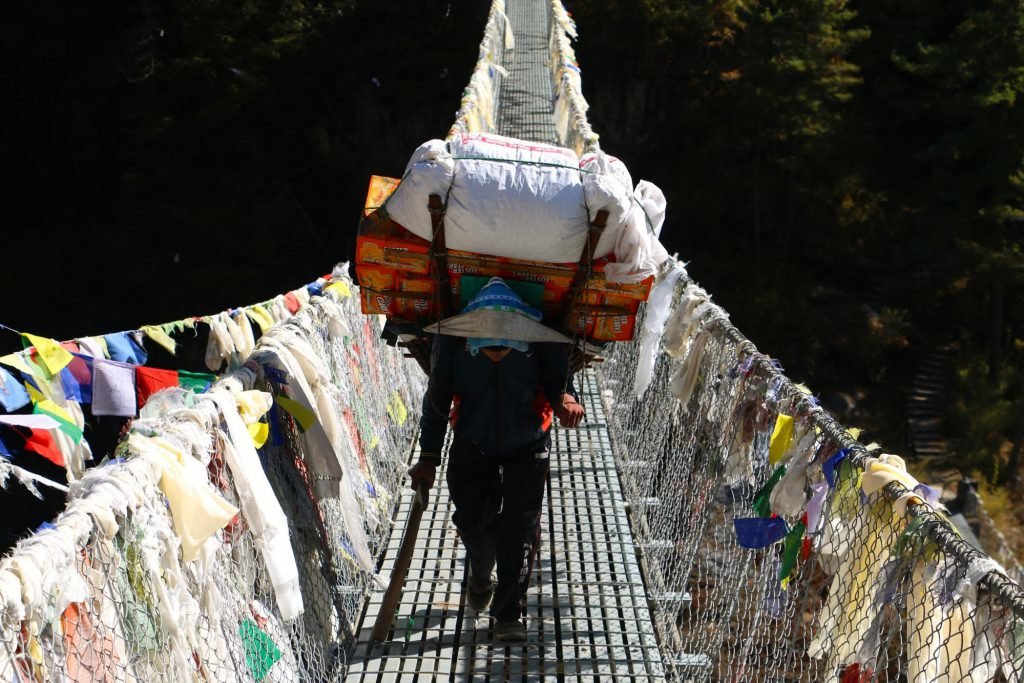 All that matters is now.
Then, as I looked down upon the distant villages I thought about something terrible, which I had tried so very hard to never think about again. But it was impossible to forget. I felt a familiar sadness, remembering why I was in this place at all. I had gone in search of wonders in these faraway places, hoping to discover some elusive truth that would allow me to return home and live an enlightened life. But, on that mountaintop, I learned the most common human experience was a life spent longing for the affection and opportunities I had waiting for me all along.
Krakauer was right about mountains and dreams because there's always another mountain to climb. Some other challenge left undone, which, you mistakenly think, is that one last obstacle before happiness. But the summit wasn't going to change me or reveal some hidden truth. It wasn't going to tell me what to do next. There was never any one thing I could achieve that would illuminate my path forward. My education was in the heavy price I found myself so willing to pay for such a meaningless achievement.
Later, I saw Kevin as I was descending from the summit. He was still on the way up with his father. They both looked tired but were determined to keep going. We stopped for a minute to shake hands, and I gave a brief account of my experience. Then we parted ways. I haven't seen Kevin since, and I've lost touch with him over the years. But I'll never forget meeting him and how, when facing the climb, the things I had wanted to leave behind ended up being my greatest comfort.