Adolf Hitler committed suicide 76 years ago today, on April 30, 1945, in a bunker underneath his headquarters in Berlin. According to witnesses, Hitler swallowed a cyanide capsule, then shot himself in the head. A short time later, the Third Reich surrendered to the Allies. On V-E Day — May 8, 1945 — OSS officer and future CIA Deputy Director Richard Helms found a piece of Hitler's stationery and wrote a letter of reflection to his 3-year-old son describing his feelings about the end of the war.
"Dear Dennis,
"The man who might have written on this card once controlled Europe — three short years ago when you were born. Today he is dead, his memory despised, his country in ruins."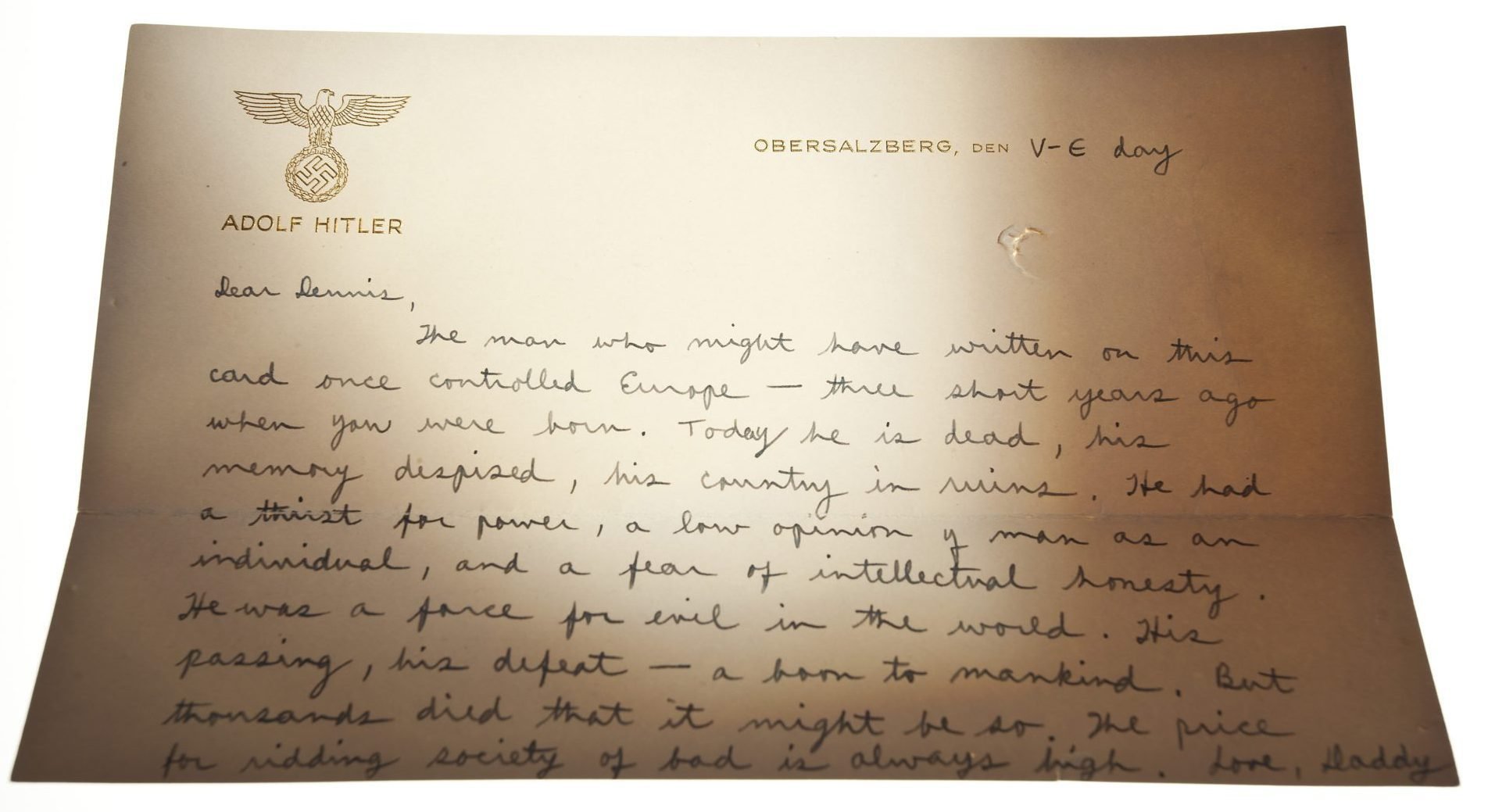 Today, the last weeks of Hitler's empire are remembered in association with a madman in a bunker awaiting his end, an image that was brought to unexpected international fame — and mockery — by the 2004 movie Downfall. The film depicts a crybaby world leader ranting at his top Nazi generals in his final days in power.
Predictably, the internet made it a meme. As Hitler winds himself up into a self-pitying hissy fit in German, jokesters all over the world have added subtitles addressing their own, usually petty grievances with over-the-top and curse-word-heavy laments. Because the Hitler of Downfall, played by Swiss actor Bruno Ganz, is so petulant and pitiful, the meme can be applied to almost any situation with an amusing change of fortune, from losing a football game to disappointment in a new Star Wars movie to being banned from a video game service.
But how realistic was the rant?
Hitler was known to be prone to outbursts. The scene depicted in Downfall took place on April 21, 1945, nine days before Hitler's suicide. It is based on a three-hour briefing in the map room at the bunker in Berlin. The Red Army had reached the city's outskirts, and when his generals informed Hitler that no counterattack had taken place, he allegedly exploded in rage. However, the epic tirade in the movie cannot be fully authenticated, as various first-person testimonies and sources contradict one another.
One known real-life Hitler rant is in a recovered transcript of an 85-minute recording from early in the war between Hitler and Field Marshal Wilhelm Keitel — who is also in the final Downfall scene — from the Russian Defense Ministry archive. The transcript details the conversation inside one of Hitler's front headquarters for the war against the Soviet Union in Vinnytsia, Ukraine, on Sept. 18, 1942. When Hitler invaded the Soviet Union on June 22, 1941, he expected victory within weeks. Hitler reportedly called Keitel and his top generals "flabby," "indecent," and "complete failures" when his armies stalled — language similar to that which Ganz hurls at the generals in Downfall.
And then there's the rant recorded in "The Hitler Book," a 413-page dossier that Joseph Stalin had compiled on Hitler after the war. Researchers believe that, for years, there were only two copies in existence: one held in President Vladimir Putin's safe, and the other made by order of Stalin's successor, Nikita Khrushchev, who deposited it into Moscow Party archives in 1959. Two German historians claimed to have unearthed the book in 2009.
The book alleges that one late-war Hitler rant was strikingly similar to the Downfall scene. Addressing his generals, the book says Hitler yelled, "The war is lost! But, gentlemen, if you believe that I will leave Berlin, you are sorely mistaken! I'd rather put a bullet through my head."
Ganz says essentially the same sentence at the end of the Downfall rant.
Another curious account of late days in the bunker came from Gerhard Herrgesell, one of Hitler's stenographers, who told American interrogators that the exchange wasn't one-sided. Frantic leaders Keitel and Alfred Jodl, the head of Germany's armed forces operations staff, warned Hitler to leave Berlin. "I have killed many generals because they retreated," Hitler said, according to Herrgesell's recollection in an interview on April 14, 1948. "Therefore, I will not retreat myself. When I leave Berlin, everything is lost."
In a report on a meeting on April 20, 1945 — days before Hitler's suicide, like the Downfall scene — Hermann Göring, the Luftwaffe commander, stormed off after one of Hitler's rants. "I don't see much reason for me staying here, I am going south," Göring said.
Much of what was said in Hitler's bunker remains a mystery, but we've collected some of our favorite "guesses" below. After all, it's possible that Hitler would not take well to, say, having to watch an Adam Sandler movie because Sex and the City 2 is sold out at the mall.
Read Next: 4 Facts About the Tuskegee Airmen, Famed Black Pilots of World War II