In college athletics there are names from every sport and from every era that are universally well known. And as each collegiate season evolves, previously unknown athletes can become famous overnight. For Hobey Baker, college hockey's first American-born hockey superstar, he was more than just an overnight sensation. He was a transcendent athlete whose life was tragically cut short when he dedicated himself to service as a fighter pilot during World War I.
Hobart Amory "Hobey" Baker had it all. He was born into an aristocratic family in Philadelphia, the son of Alfred Thornton Baker, an upholsterer, and socialite Mary Augusta Pemberton. He was handsome with wavy-blond hair and might have been considered a Hollywood heartthrob if he had chosen to go into the acting business, but instead he chose athletics.
Baker had all-around talent and was even named Best Athlete while he attended St. Paul's School, an elite preparatory school in Concord, New Hampshire. There was no sport that he didn't try out nor dominate in, including football, baseball, tennis, swimming, track, golf, and hockey.
He enrolled at Princeton University in 1910 and joined the hockey, baseball, and football teams. The university's rules, however, allowed for a student-athlete to join only two teams, so Baker relented and hung up his baseball cleats for good. During a time when football players didn't wear helmets, sportswriters affectionately described him as a "blond Adonis of the gridiron."
On the football field he was elusive and versatile, playing halfback for the Princeton Tigers on offense, and on special teams he kicked field goals and returned punts. In his senior season he was named captain of the football team and also set a school record for single-season scoring with 92 points in 1912. That record wasn't broken until 1974.
He was the most popular person on campus and left a memorable impression on those with whom he interacted. Notably, novelist F. Scott Fitzgerald later named a minor character, Amory Blaine, after Baker in This Side of Paradise.
But it was in the hockey rink and on the ice where Baker went from prodigy to legend. The spectators in the crowd often cheered in excitement, "Here he comes!" each time he touched the puck. He was smart, quick, and agile. He even rounded the edges of his skates to turn more easily and effectively. "No player has been able to weave in and out of a defense, change his pace and direction, with the uncanny skill and generalship of Baker," wrote the Boston Journal. "He is the wonder player of hockey."
And yet the trait that historians and sportswriters often remark on most when they look back on his collegiate legacy is not all the wins or personal stats, but rather his sportsmanship. His leadership and style of play became known as "The Hobey Code," an unspoken rule to show humility in triumph as well as defeat. Baker played by the rules, never was a showboat, and declared victory as a team and not as an individual. Throughout his career, he was only penalized once, and out of respect for his excellence the official apologized to him after the game.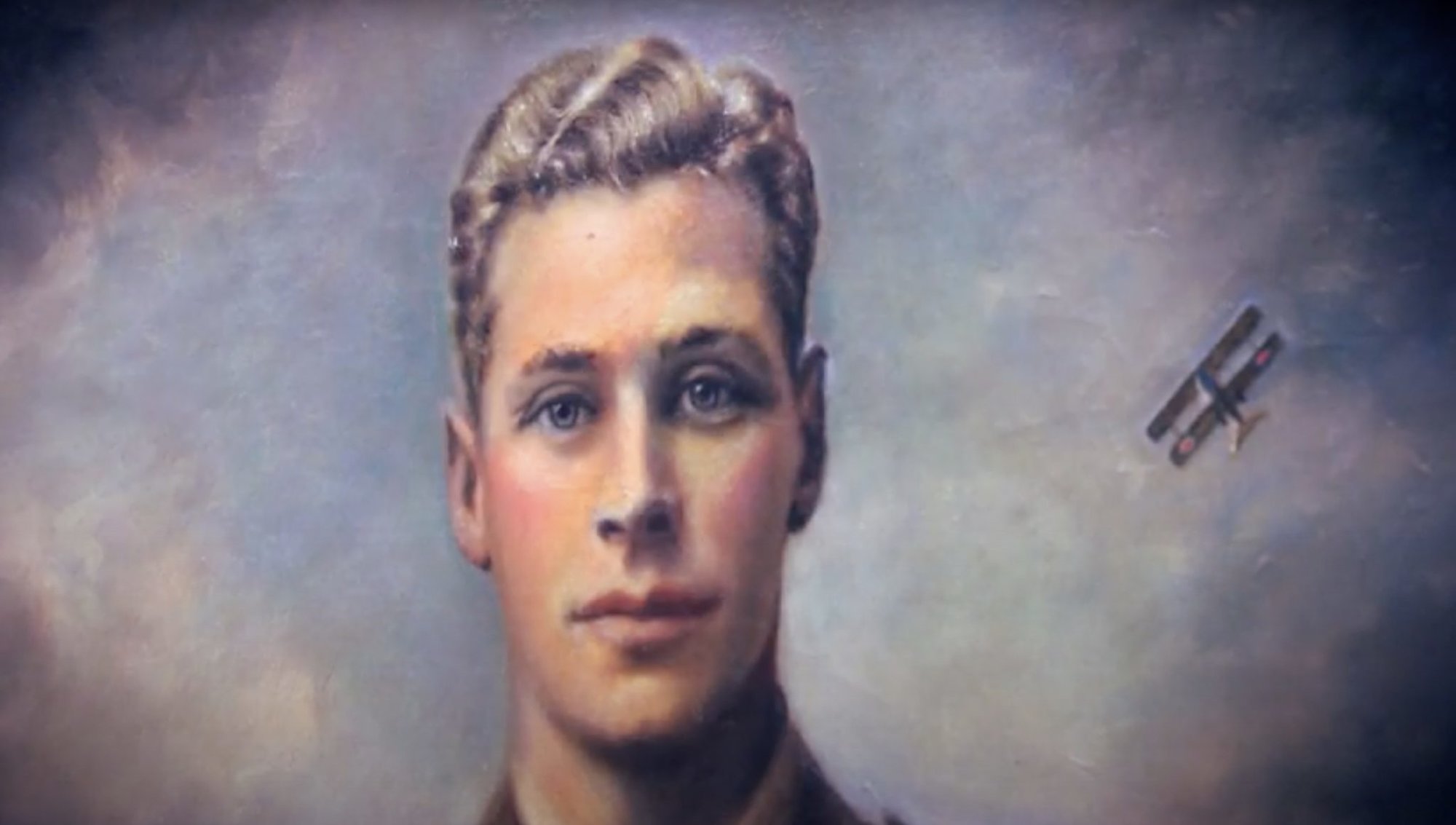 Despite Baker's reputation as a multisport phenom, he declined professional offers because he felt these went against his belief in playing for the love of the game. After graduating from Princeton, Baker had a brief career at J.P. Morgan in New York City and continued to play amateur hockey. His job bored him, and he was seeking a new adventure he had not previously conquered. After working his day job on Wall Street, he learned to fly in 1916. A year later Baker was commissioned into the US Army and became one of the first fighter pilots to serve overseas in France. When others heard the news, they followed close behind. Princeton had to cancel the 1917-18 men's hockey season because all five starters went to war with Baker.
Baker and other pilots were taught advanced courses in acrobatics, aerial combat, and how to safely align their guns onto a target. During a practice run in training, Baker zoomed in close to a balloon target, raking it with bullets, but slammed into it as he tried to pull his plane out of a dive. With his propeller damaged and cloth wrapped around one of his wings, he kept his focus to safely land his plane on the ground and avoid disaster.
"You handle your machine instinctively just as you dodge instinctively when running with the ball in an open field," Baker wrote in a letter home.
Some accounts suggest Baker served as a member of the Lafayette Escadrille, a legendary squadron of American pilots in France. Others, however, maintain that it was after the Lafayette Escadrille had transferred from the French to the US Air Service toward the end of 1917 that Baker was assigned to the 103rd Aero Squadron.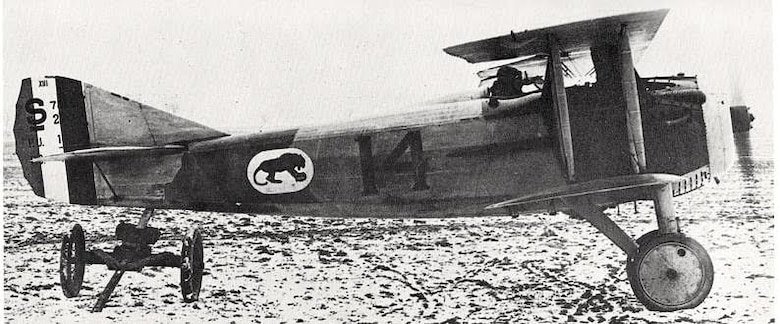 Baker would ultimately achieve the rank of captain. He earned three confirmed kills as a combat aviator and was awarded the French Croix de Guerre. His personality and reputation didn't leave him when he became squadron commander of the 141st Aero Squadron. The planes were painted orange and black, in the colors from his alma mater, and the logo featured the Princeton tiger mauling a German helmet.
Four days before Christmas, on the same day Baker planned to return home, he told his fellow squadron mates that he was going on "one last flight in the old Spad." Baker took to the dark and rainy skies — when suddenly his engine gave out 600 feet above the ground. His SPAD VIII aircraft nosedived before he could reach the airfield. Rescuers pulled him from the wreckage, but he later died in an ambulance. He was only 26 years old.
Some controversy surrounds Baker's death. One theory suggests Baker lacked a purpose in his post-athletic and post-war life because he had accomplished so much so early. He felt he would never achieve the same level of exhilaration as he once had playing at the collegiate level at Princeton. "I realize that my life is finished," he said when he left Princeton. "No matter how long I live, I will never equal the excitement of playing on the football fields." He may have also believed that the post-war civilian world couldn't replace the adrenaline experienced as a pilot in war. Whether his death was a tragic accident or a suicide has never been determined.
However, the legacy of Hobey Baker remains. Baker was one of four Hockey Hall of Famers to be killed during World War I, and he remains the only athlete to be inducted into both the College Football Hall of Fame and the College Hockey Hall of Fame. Since 1981, the Hobey Baker Memorial Award has been given to the top NCAA men's ice hockey player in the nation, the equivalent to college football's Heisman Trophy. In addition to their athletic achievements, the honorees are chosen for their sportsmanship on and off the ice — a fitting homage to Baker.