In a rare honor, two soldiers who fought to the death alongside Special Forces teammates in an infamous October 2017 ambush in Niger were symbolically presented with Green Berets on Tuesday.
Sgt. La David Johnson and Sgt. 1st Class Jeremiah Johnson were assigned to an 11-man team with 3rd Special Forces Group in Niger on Oct. 4, 2017, when the unit was ambushed by more than 100 Islamic State Group terrorists on a remote road. The team became separated during the ambush, with four of the men killed and two injured.
The team, along with more than 30 Nigerien troops, were pursuing a local ISIS commander, Doundoun Cheffou. A helicopter support team pulled out due to weather conditions, leaving the team exposed in Tongo Tongo, near the border with Mali.
The video below, which is age restricted, contains combat footage of the 2017 Niger ambush.
After the initial ambush, which disabled most of the team's vehicles, La David Johnson, a wheeled vehicle mechanic from Miami, Florida, became isolated with three Nigerien soldiers, who were each quickly shot as they looked for cover. Alone, Sgt. Johnson found cover about 1.6 kilometers, or 1 mile, the Army said in its final report, from the ambush site. He engaged the enemy with both an M240 machine gun and M2010 sniper rifle until he was killed by enemy fire. His body was not recovered for 48 hours after the incident, leading to fears that he had been captured. However, the Army concluded that his wounds, which came from at least two different kinds of guns, were consistent with having been hit with sporadic fire while fighting up until his death. He received a posthumous Silver Star for his actions.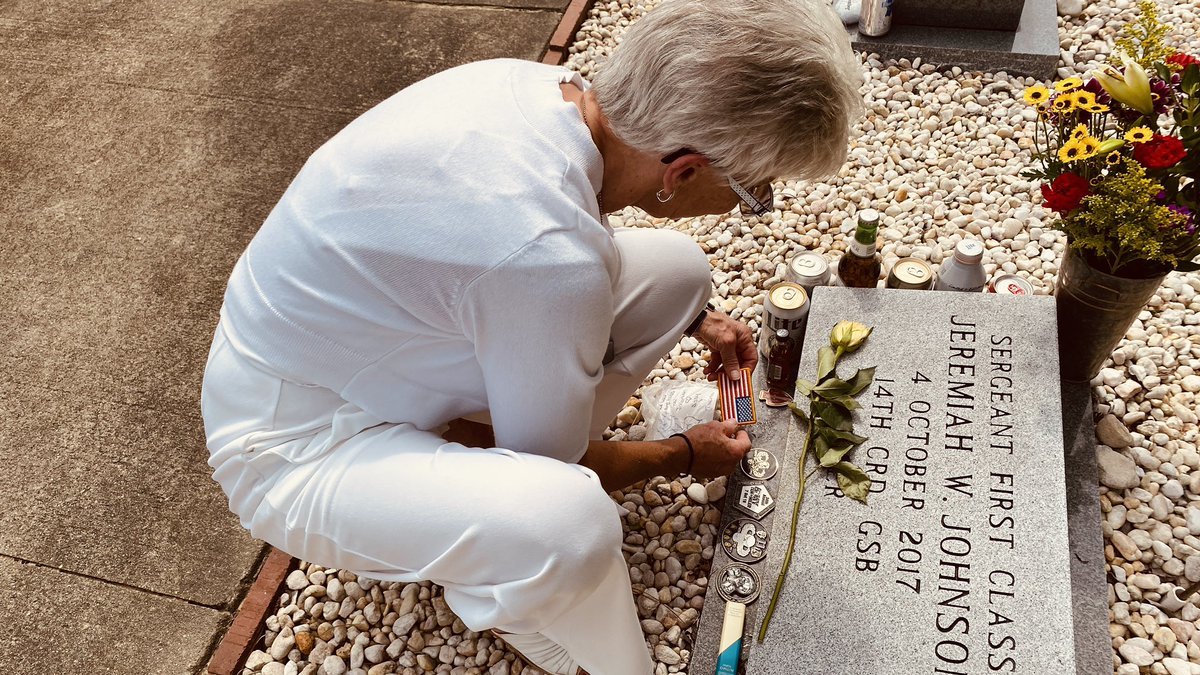 Then-Staff Sgt. Jeremiah Johnson, a chemical, biological, radiological, and nuclear specialist from New Bern, North Carolina, was one of three members of the team who died together. Staff Sgt. Johnson and Green Berets Bryan C. Black and Dustin M. Wright became isolated. By the accounts of their teammates and investigations afterward, they stuck with one another as each became wounded rather than flee as the main enemy force overran them. Johnson's and Wright's bodies were found together with extensive close-range wounds. In the awards ceremony, Johnson was described as having "maneuvered multiple times across open terrain through intense and accurate fire from an overwhelming hostile force to protect his team."
Jeremiah Johnson joined the active-duty Army in 2008 after a year in the Army Reserves. He was awarded a Bronze Star with Valor in 2019 for his role in the fight and was posthumously promoted to Sgt. 1st Class.
"[Their] actions were key to saving the lives of multiple soldiers," reads the citation inducting Sgt. Johnson and Sgt. 1st Class Johnson into the honorary ranks of the Green Berets.
Read Next: