Police in Springfield, Missouri, saved a hot dog trapped in a hot car last week. But when a picture of the pooch and his rescuers — all with big smiles and matching eyes — hit social media, it was commenters who sounded thirsty.
A shooting last week outside a Springfield Walmart left a local man, 33-year-old Tanner Stichka, dead. Police said Stichka had been shot when he'd approached a delivery driver in the parking lot and the two had gotten into an altercation. Police returned to the Walmart almost two hours after their initial investigation when they realized Stichka had left his husky, Zeke, inside his car as the midday sun drove up temperatures.
When two Springfield officers, identified only as officers Adamson and Bashioum, later took Zeke to a local vet, one snapped an offhand shot of their trip.
Once the selfie hit social media, many decided that Zeke had found himself in another very hot car.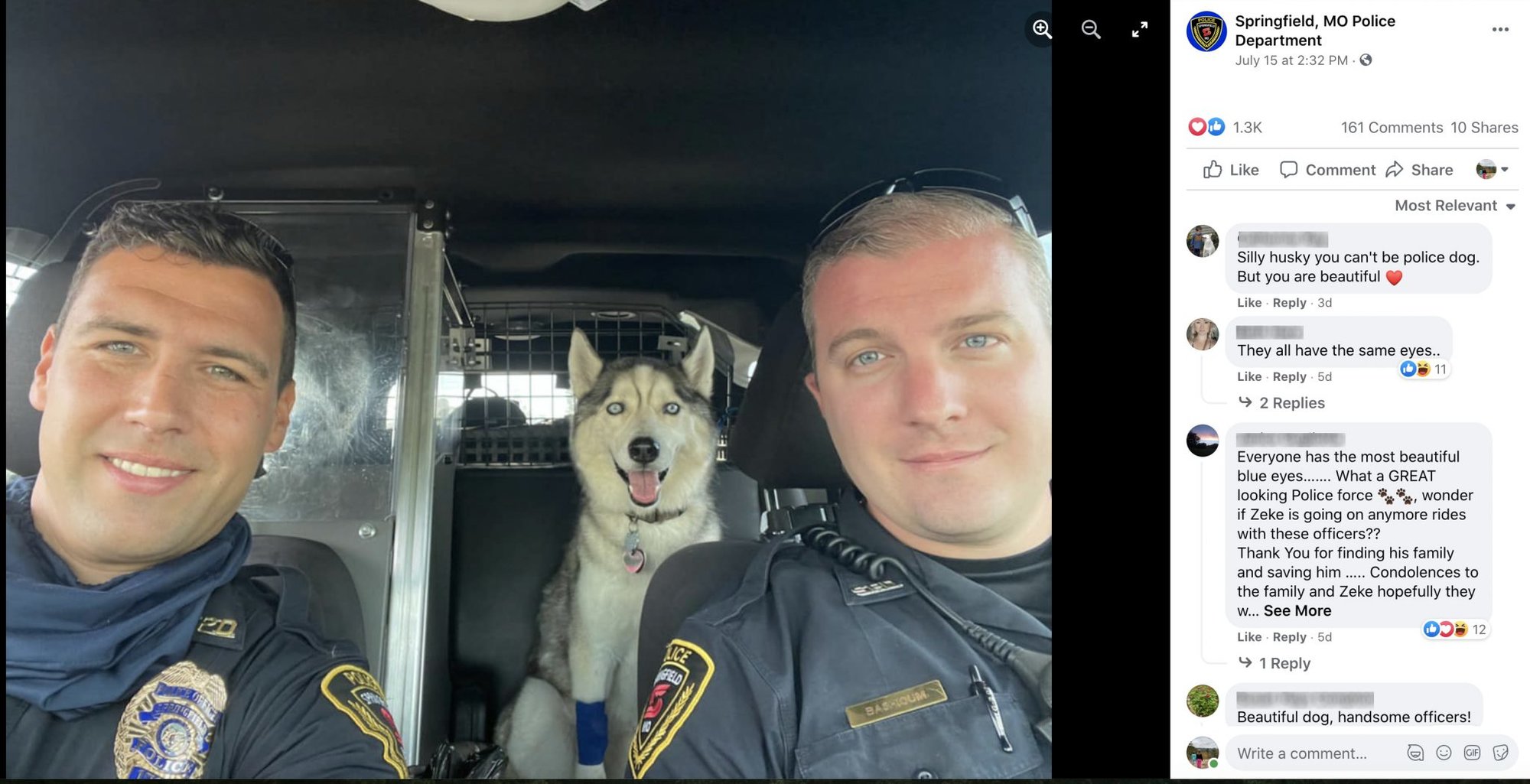 A deluge of comments on the photo, mostly from accounts that appear to belong to women, noted that all three in the picture — both the cops and Zeke — share blue eyes, big smiles, and a certain photogenic glow.
"I actually verbalized a 'well hello' when I saw this photo!" Facebook user Kimberly said.
"3 sets of beautiful blues!!" noted Leslie.
"Excuse me officer……give me sec I'll think of something. Lol. Just send these two!" Kathie added.
"Dang ya'll 3 are good looking!" Sharee announced.
"Hellooooooo Officers!" Ginnie offered.
It goes on like this for more than 160 comments.
Authorities said the man who shot Stichka, 45-year-old Robert D. Weiser, had been delivering pharmaceuticals to the Walmart's pharmacy. Weiser was arrested at the scene but was released when local prosecutors said they would not press charges in the shooting. Police took Zeke to a local vet where he was checked out and spent the night. An anonymous donor covered the $100 cost for his care.
The next day, Zeke was reunited with Stichka's family, Springfield police said. An account that appeared to be that of Stichka's father posted, "Tanner's family can't thank the men and women of the Springfield dept. for all they have done and continue to do for us. The people of Springfield should take pride of these officer's and all they do, including taking care of a very lonely dog. He will forever will be a part of our family."
Read Next: Los Angeles Sheriff's Newest K9 Takes a Bite Out of Digital Crime