Humor in combat is a bizarre topic — and one not many understand unless they've been there. Soldiers, sailors, airmen, and Marines across the world have been fighting in wars since the creation of militaries. Combat is a high-octane blend of mental and physical exhaustion. The more a soldier is in combat, the better they get at warfighting — and coping with the rigors of war creates a unique sense of humor.
Soldiers are known to engage in somewhat dark humor that is typically derived from repeated exposure to high-stress scenarios in training and in combat. These experiences can make assimilation into the civilian sector more difficult after getting out of the military. The gap between veterans and civilians is ever present, and differences in humor — along with extreme differences in life experiences — can contribute to that divide.
According to the Mayo Clinic, laughter in high-stress environments is a coping mechanism and can actually manifest helpful physical effects: "Laughter enhances your intake of oxygen-rich air, stimulates your heart, lungs and muscles, and increases the endorphins that are released by your brain." In addition, laughter can activate and then relieve your stress response as well as decrease tension.
Coffee or Die Magazine spoke with several veterans about their experiences in combat — and why they found some of it funny.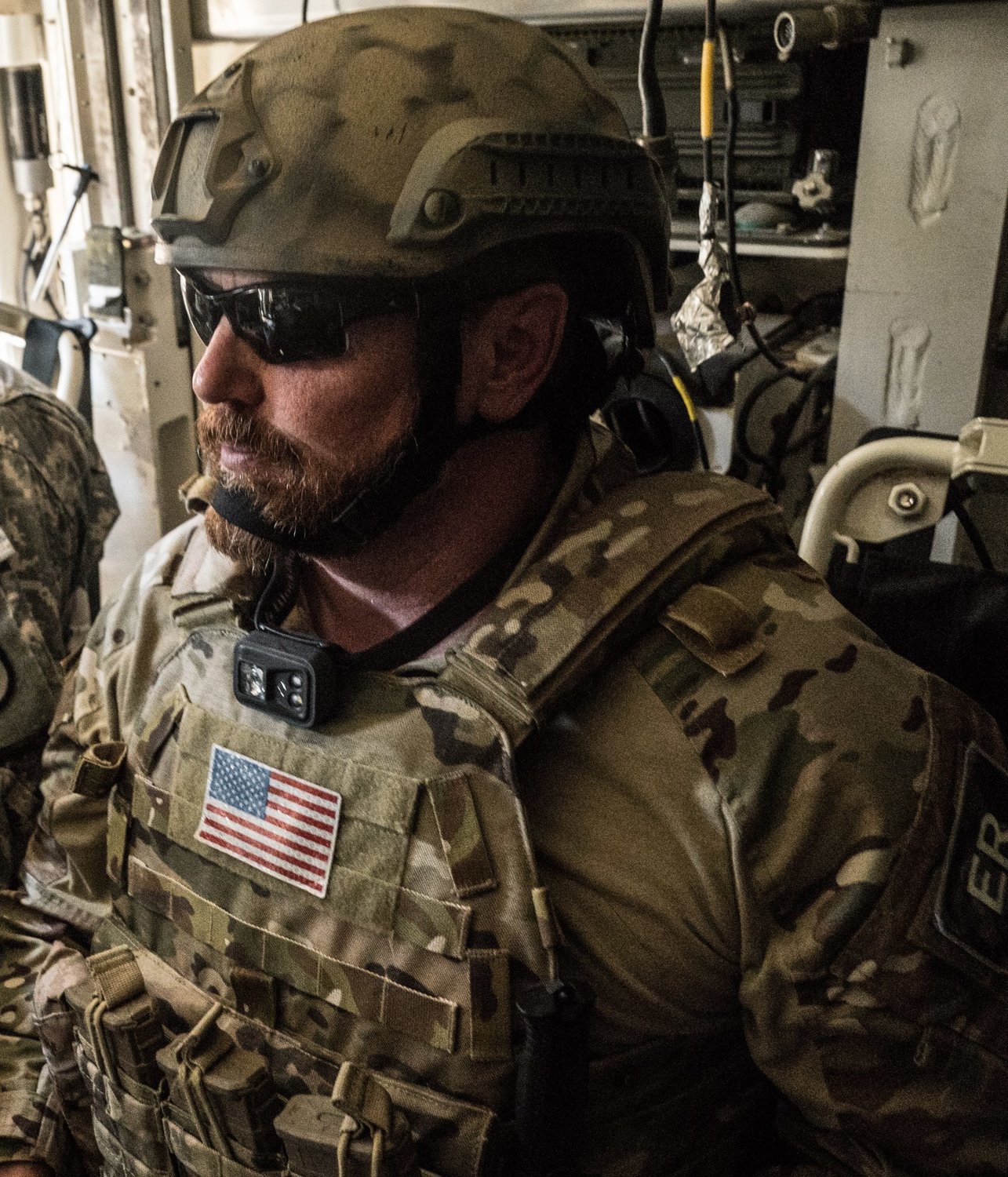 Mike Simpson served in the US Army for 32 years, starting out in 1st Battalion, 75th Ranger Regiment, moving on to 7th Special Forces Group, and ending his career in the military as an emergency medicine physician.
On a deployment in 2013 during winter in Afghanistan, Simpson and his fellow Rangers sprinted into position after their partner force came under fire. It was a small firefight, but they spent the better part of an hour trying to locate a "squirter" that was shooting at them after running from the target building they were there to hit.
During the firefight, Simpson recalled, he "took a mental step back and actually checked my pulse. Then I said, 'Hmmm … interesting,' and I chuckled. The Ranger next to me gave me a funny look."
His fellow Ranger didn't say anything until they got back to their base. Simpson explained to him why he had checked his pulse during the firefight, and they both had another laugh.
"The first half of my career, I had always wondered how I would react on a psychological and physiological level to combat. You read all the stories and the books, but you don't know how you will react until it happens," Simpson said. "I was curious, as a physician, as to how I was handling the situation, so I took my own pulse."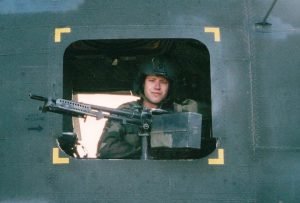 Steve Wickham served in the US Army for a little over 20 years and deployed a total of five times. He was on a deployment to Afghanistan while in the 563rd Aviation Support Battalion back in 2012, stationed at Kandahar Airfield. Rocket attacks were common and he was typically close to the impacts, as he was living on the airfield in a mini-compound. Eight months into his 12-month deployment, another rocket attack came in.
The incoming-ordnance sirens started going off at approximately 11 p.m. Wickham and his active duty and civilian comrades made their way to the bunker on their compound. The airfield's Counter Rocket, Artillery, Mortar (C-RAM) defense system started firing at the incoming ordnance, but Wickham wasn't too concerned.
"The C-Rams were going off, and per usual none of us took the attack very seriously," Wickham said. "I believe I was sitting on top of the bunker, smoking and joking with another NCO, instead of being inside it."
Wickham and his comrades were laughing the night away when three rockets hit just outside their aircraft hangars, approximately 60 yards from their bunker. They started running toward the impacts to render aid if needed.
One of the civilians there was Randy, a veteran and firefighter, who had let himself go after getting out of the military. During this whole deployment, Randy had been hitting the gym hard and had lost a lot of weight. Wickham made a quick quip to this civilian as they were running toward the impact site.
"Damn Randy, look at you. That gym time is paying off — you're keeping up with us!" Appearing dumbfounded, Randy made Wickham's joke worth it. Randy was winded, and all he could do was flip the bird at Wickham and keep running. They arrived to find that no one was injured, so they moved on to evaluate property damage.
Later on, they were all gathered in a circle and talking about the night's events. Randy was laughing about Wickham's ability to crack jokes while sprinting and just after multiple rockets had hit their compound.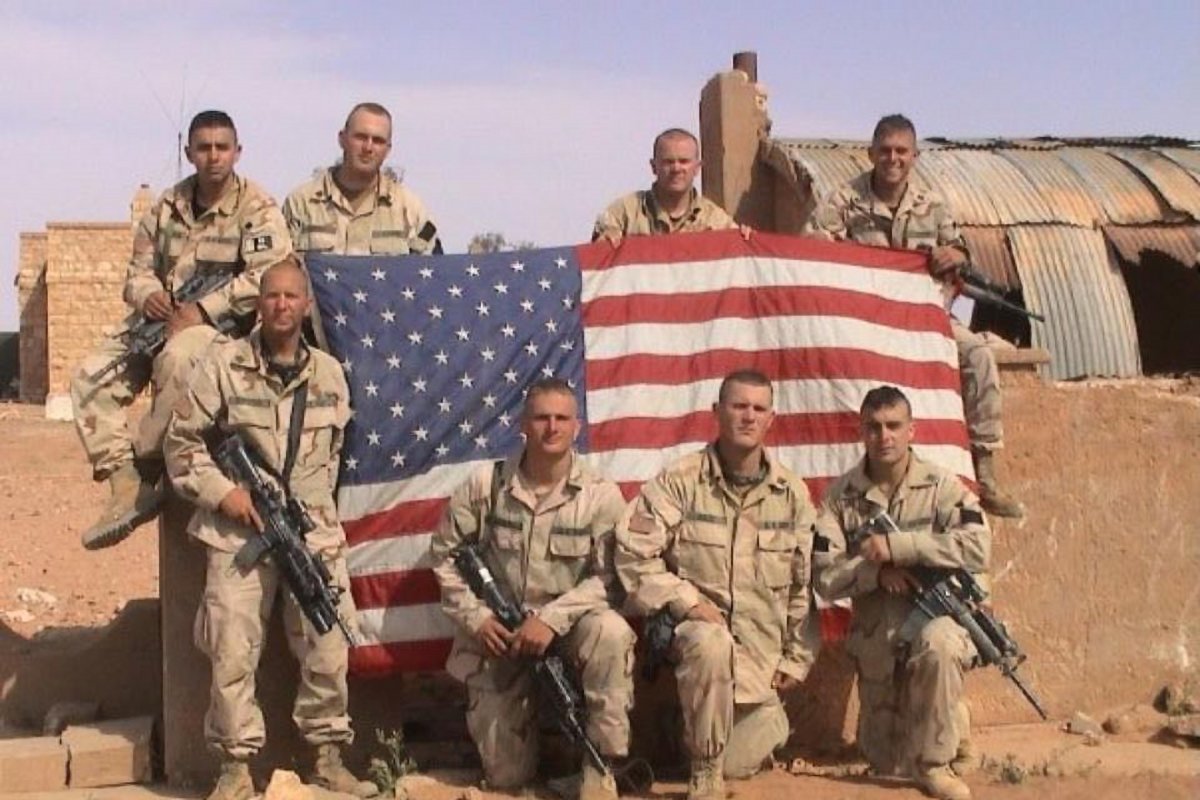 Barrett Carver served in the US Army for almost seven years and deployed multiple times. He spent his time in 3rd Battalion, 75th Ranger Regiment, and was one of the Rangers involved in the assault on Haditha Dam, a critical structure to capture during the 2003 invasion of Iraq.
During the assault, Carver and his fellow Rangers were holed up inside one of the buildings on "the military side of the dam," and they were taking indirect fire from the Iraqis. Artillery rounds were impacting close to their building for several hours with barrages of small-arms fire. Carver thought to himself, Well, it's been a good run.
Suddenly, they all heard a loud twang, and a thick cloud of dust erupted inside the building. Carver looked up to see a horseshoe-shaped indent in the corrugated tin roof over their heads. Everyone burst into uncontrollable laughter — one of the artillery rounds had been deflected by the thin tin roof.
"Deflection is a funny thing," Carver said. "It could have just as easily been a dud round. Either way, I take a kick where I can get it. Amazing thing is that with the amount they dropped on us, we only had two casualties. Both made it."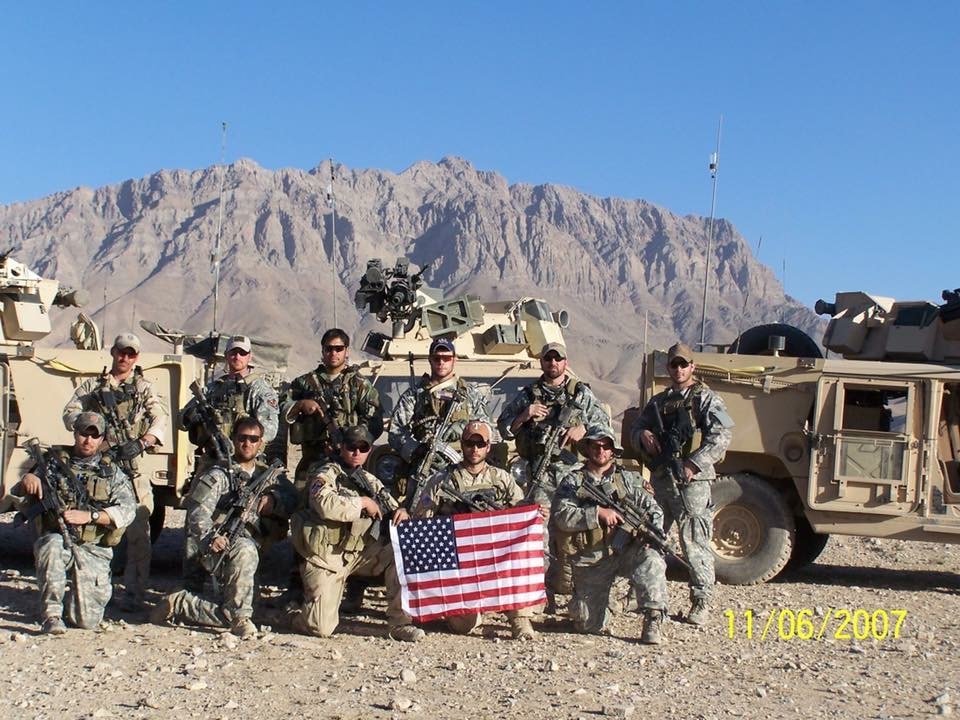 Scott Ford served in the US Army for 21 years and is the recipient of a Silver Star for his actions in Afghanistan on April 6, 2008, while serving as the team sergeant of Operational Detachment Alpha 3336 (ODA-3336).
Ford struck up a conversation with a fellow passenger while on his flight to a training event. She was a psychologist, and they were discussing different ways to handle heavy stress. One of her suggestions for handling stressful situations was to imagine breaking crayons. At the time, Ford didn't realize this suggestion would pop into his head years later during a firefight in Iraq.
During a mission one night in Sadr City, Iraq, Ford and his Special Forces team were pinned down on top of a roof while supporting the main assault element.
"It was one of those little aggravating gunfights where we just can't find the guy to kill him, and we're trying all kinds of unique things," Ford recalled.
It got to a point where Ford and his teammate sat down behind their cover to think through a solution to finally kill the insurgent who had them pinned down. Then a smile creeped across Ford's face, despite the bullets impacting their cover. His teammate looked at him with bewilderment and said, "What the fuck are you thinking about right now?"
Ford looked at him and said, "I'm like, breaking fucking crayons, bro." They both busted out in laughter. After regaining composure, they figured out a way to take out the insurgent.
"You know, it's just one of those moments where anybody else would look at us like, you guys are fucking weird, you know?" Ford said.
Ford believes veterans are unique because they have the ability to laugh in dire situations. Ford and his old teammates still get together from time to time, and the story about breaking crayons always comes up.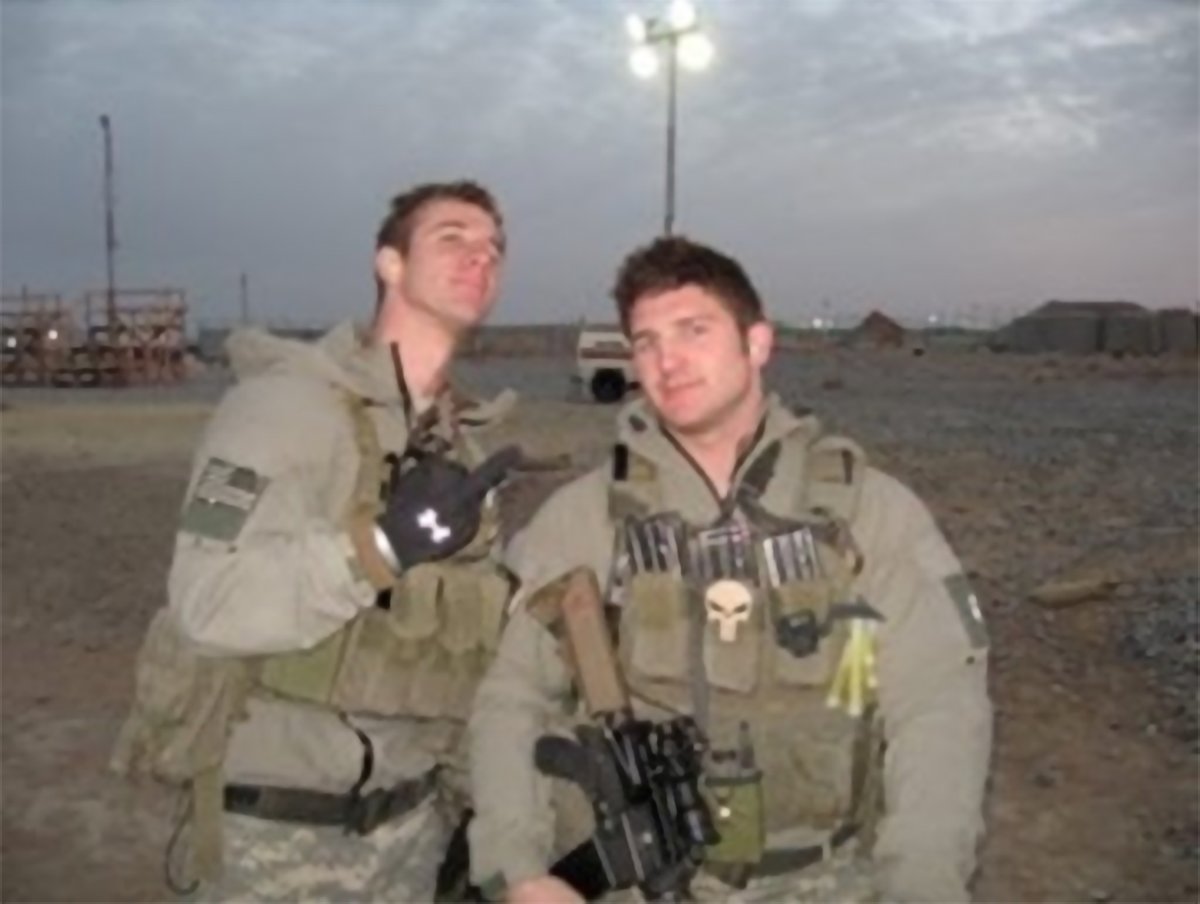 Jason Briggs served in the US Army for four years in 1st Battalion, 75th Ranger Regiment and deployed five times. Briggs' last deployment to Kandahar, Afghanistan, in 2008 involved a particularly funny experience while out on a mission.
His team didn't have their usual pilots and were being flown by an aviation unit that they hadn't worked with much in the past. They were loaded onto two MH-47 Chinook helicopters to infiltrate their target. High winds coming down the mountains made flying conditions difficult. When Briggs' Chinook attempted to touch down, the pilot struggled to make a steady landing and took several tries; each failed attempt to land was followed by a rapid gain in altitude while spinning. Meanwhile, the other helicopter landed on its first attempt and offloaded its Rangers.
The guys were having a blast on his Chinook, pretending the scary helicopter ride was a roller coaster and that they were in Disney World, laughing constantly.
"You'd see the mountains under nods just whizzing by out the back out the Chinook," Briggs said. "It took about four attempts to put her down, and when he did, we were a ways away from the other chalk. But hey, we were finally down."
The Rangers landed and executed their mission, detaining several people from the targeted house. The call for their exfiltration was radioed into command, and eventually the same crew of Chinooks came thundering in.
When the pilot of Briggs' Chinook made the first attempt to land, they all had to take off running with their detainees to avoid getting stomped on by the actual helicopter.
"Sure enough this guy can't put it down again — the first attempt sends us running like mushrooms about to be stomped by Mario," Briggs said. "Have you ever seen an exfil circle, with PUCs, pick up and run in a complete brownout as a helicopter follows them around trying to land on them? Yeah, that actually happened."
The pilot landed after about three attempts, and the Rangers loaded up with their detainees. They had a safe flight back to base to prepare for the inevitable follow-on mission.
"Although we got to share the camaraderie together in the bird," he said, "I don't know if I've ever laughed so hard in my life as I did seeing a helicopter try to land on me in the middle of the night in Afghanistan."