Highly trained mountain rescue paramedics from around southern Idaho leaped into trucks, cars, and even a helicopter to retrieve a couple — and their two dogs — from the cab of a pickup truck dangling from a highway bridge over a mountain canyon Monday. The man and woman inside, both in their 60s, were pinned by their own seatbelts and helpless to escape as their truck hung from a single safety chain above a 100-foot plunge.
After hitching a ride on a helicopter normally used for transporting critical patients, specially trained paramedics from the Twin Falls-based Magic Valley Special Operations and Rescue Team, or SORT, rappelled to the truck and brought both passengers and their dogs to safety.
[vimeo id="524459300″ /]
"The truck was trying to pass somebody and they had bounced off one railing and went over the other side," Brandon Covey, the fire chief of the Gooding City Rural Fire Department told Coffee or Die Magazine. "They were just dangling."
Initially, Covey said, the 2004 four-door Ford F-350 — a truck that used-car databases list as weighing at least 6,000 pounds — hung like a pendulum over the Malad River gorge, 100 feet below and about 30 miles north of Twin Falls.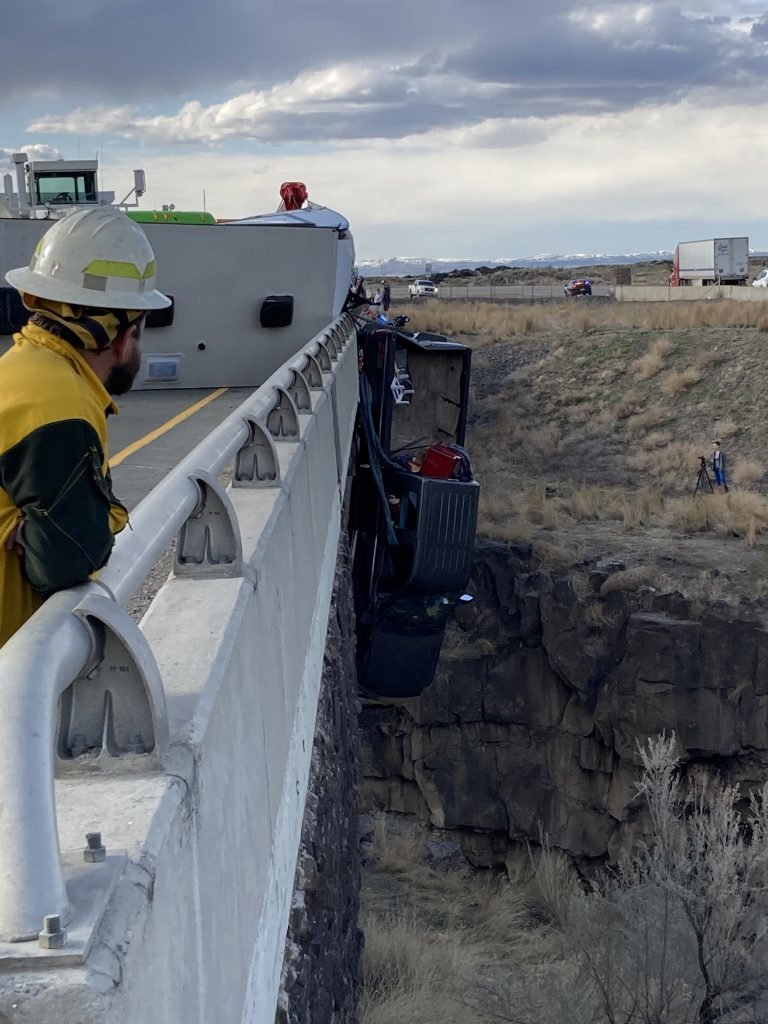 According to Idaho State Police, one of its officers and a Gooding County sheriff's deputy arrived within minutes of the crash and immediately secured the truck with towing chains from a passing 18-wheeler. The officers were also able to yell to the couple in the truck. The man, 67, and woman, 63, said they were alert and largely unhurt, as were their two Shih Tzu dogs. Police said the couple lives in Garden City, near Boise. Though both were secure in seatbelts, the man driving said the position of the belt was making it hard to breathe.
"He was being choked out by his seatbelt," Covey said.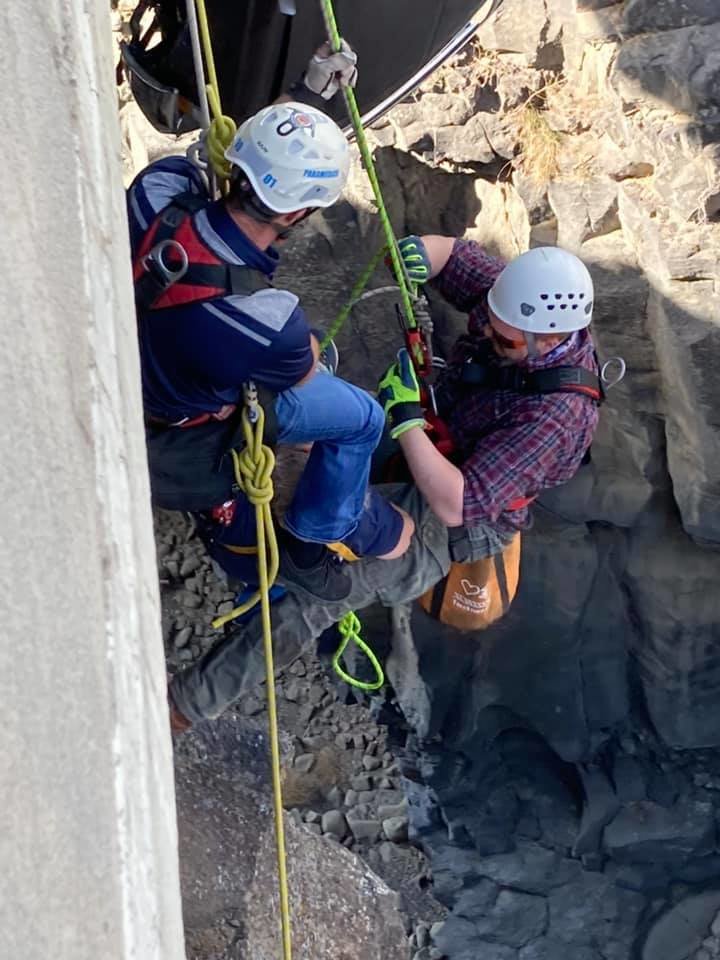 But getting the couple and their dogs out would take more than just a few strong chains and heavy anchors. SORT teams from both Gooding and Twin Falls soon arrived and began setting up the complicated rope systems needed to lower paramedics to the cab. The Twin Falls team is one of the most active backcountry rescue squads in the West, with frequent high-angle rescues in the high canyons around the Snake River. A team spokesperson said the squad trains at least twice every month, and Monday's rescue was its sixth callout of 2021.
Covey said Gooding's SORT team is modeled on Magic Valley's and just took over local search and rescue duties recently in its area from a volunteer organization. The bridge rescue represented that team's very first real-world rescue.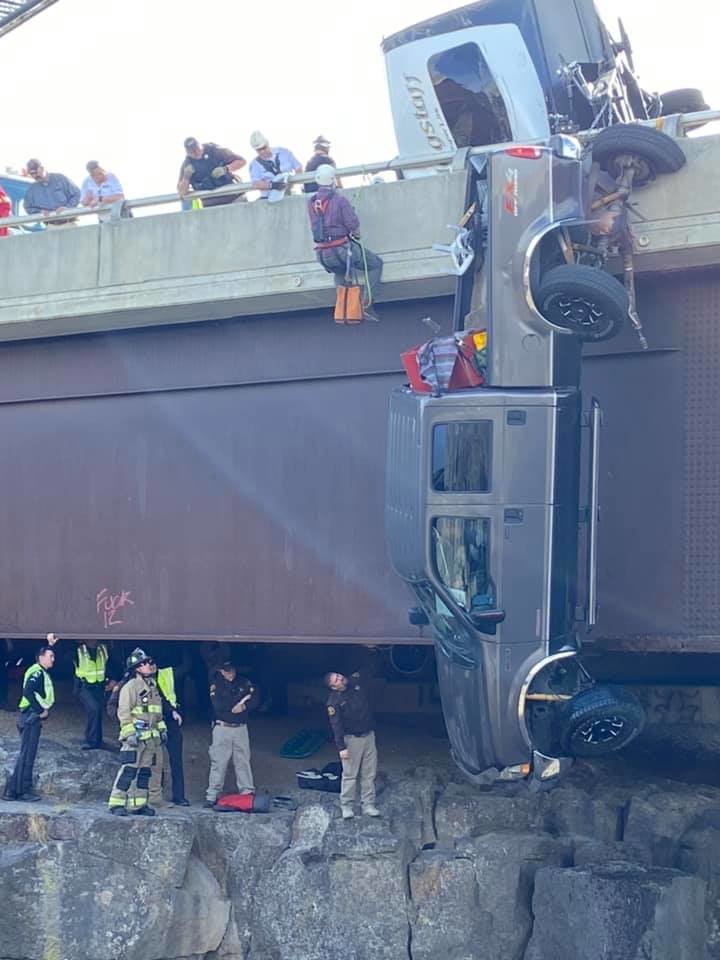 The Magic Valley team deploys so frequently that it has a standing agreement with Air St. Luke's, a hospital-based aeromedical service. Jumping on the helicopter, said one official, gave the team "an ETA of five minutes rather than 40."
Aiding the response was a lucky break of the Malad Gorge's topography: Though the truck hung over a 100-foot drop, its cab was nearly within arm's reach of the canyon's top ledge, thanks to the gorge's essentially vertical walls. Rather than pull the two occupants up and over the bridge's railing — a tricky fight against angles, leverage, and gravity — rescuers were able to swing the couple, one at time, over to the ledge, where other rescuers waited to haul them to solid ground.
First, though, came the couple's Shih Tzus, said Covey: "They put them in a duffel bag and got them out first."
The male driver was transported to the hospital due to his breathing complaints, Covey said, while his female passenger did not require treatment. The dogs were delivered to the nearby home of a relative.
"It shows what all agencies can do working together," said Chad Smith, field supervisor for the Magic Valley SORT. "It was a team effort."
Read Next: World War II Aircraft Nails Perfect Ditching Near Space Force Base