Two big names in Alaskan backcountry lore crossed paths deep in the state's wilderness in early March, though under trying circumstances. After one of the state's most beloved athletes, Iditarod musher Aliy Zirkle, suffered a race-ending crash about 190 miles into the 2021 race, a team from the storied Alaska Air National Guard rescue corps was sent to bring her back.
Racing in her 21st and what she had already announced would be her final Iditarod, Zirkle crashed her sled on the race's third day about 5 miles short of the Rohn Roadhouse checkpoint, a remote cabin about 150 miles north of Anchorage.
On her personal blog, Zirkle wrote that she hit an icy section of trail where "my sled flipped and I remember a very hard impact to my head, seeing black, and then severe pain on my right arm and shoulder … All I remember thinking was I had to get to Rohn. I couldn't use my arm and I began vomiting."
Zirkle thinks she was knocked out for several minutes and was dragged by her team for some distance until the sled was caught up on driftwood. Many mushers do not tie themselves to their sleds, Zirkle said, but she has used a surfboard leash since beginning the sport in her 20s.
Once she awoke, she gathered her team and drove the 5 miles to Rohn. "When you're in that much pain, it tends to focus the mind," she told Coffee or Die Magazine. Medics there called for help, and state authorities activated the Air National Guard's 210th, 211th, and 212th Rescue squadrons based at Joint Base Elmendorf-Richardson near Anchorage.
The 212th is the home of the Air Guard's teams of pararescuemen, or PJs, with a roster of about 30 of the special operations troops and support personnel. The 210th flies the Guard's HH-60 Pavehawk helicopters while the 211th flies HC-130 tankers that refuel the helicopters for long-range missions, transport rescue assets around the state, and, when needed, act as jump platforms for PJ parachute operations. The three units have worked and trained together for more than 30 years out of Anchorage, collectively rescuing hundreds from inaccessible spots around the state.
As Alaska rescue missions go, getting Zirkle out was relatively routine. Under decent weather, a 210th helicopter landed near the Rohn cabin, which sits at the confluence of two large rivers. The PJs onboard made their way to the cabin and worked with race medics to stabilize Zirkle for the flight back to Anchorage.
Zirkle's team of 14 dogs stayed at the checkpoint with volunteers until they could be picked up by friends and family.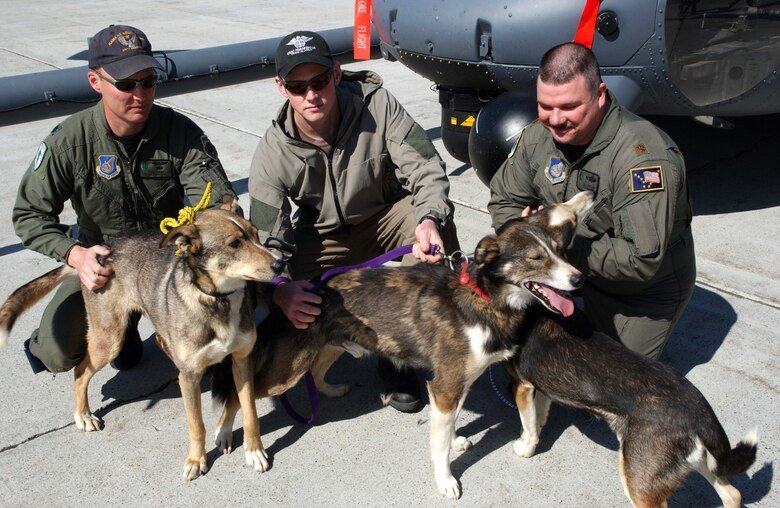 Though the mission was routine, it was not the first time Alaska Air Guard rescuers and Zirkle crossed paths. In 2006, the Guard responded to the Yukon Quest, an Iditarod-like race north of Fairbanks, after a blizzard wiped out the trail, burying several dog teams. In that mission, a Guard HH-60 flew six mushers and 89 dogs off of a mountain pass, including one dog team belonging to Zirkle. The PJs had to dig out many of the dogs from waist-high snow, jamming as many as 25 dogs onto the Guard's helicopter.
The annual Iditarod is a staple of Alaska's unique culture of rugged, traditional outdoor adventure. The race is based on a 1925 dash of sled dog teams across the state's frozen interior to deliver diphtheria serum to the remote town of Nome. Ironically, the COVID-19 pandemic altered the 2021 course away from Nome into an out-and-back of about 800 miles, beginning and ending outside Anchorage.
Over the Iditarod's history, few racers are as beloved in the sport as Zirkle, who announced before this year's race that she was retiring. Though she has never won the race — only two women have claimed the title, Libby Riddles and Susan Butcher, in the 1980s — Zirkle has finished runner-up three times, along with third- and fourth-place finishes and two other top 10 tallies.
She also was at the center of perhaps the most dramatic moment in the race's 40-year history when she finished second in 2014 to five-time winner Dallas Seavey in both the fastest and second-closest finish in the race's history. Heading into the race's final day, Zirkle took over first place without knowing it, passing the leader in a thick snow storm. When she reached the race's final checkpoint, she took a break, believing she was far behind the leaders. Only as she waited inside the checkpoint's cabin did Seavey arrive and continue on.
Realizing her mistake, Zirkle rallied her team and gave chase to Seavey, leaving the checkpoint 20 minutes behind him. She made up 18 minutes over the final stretch, finishing in Nome just two minutes behind Seavey. The finish was the second closest in race history, and both Seavey and Zirkle's time beat the previous course record by more than 40 minutes.
Two years later, in one of the darkest moments in race history, Zirkle was one of several racers attacked by a man on a snowmachine as she raced through the night. The man, a resident of a remote village near the course, ran his snowmachine down the trail looking to run over dog teams as they raced through the night.
Read Next: Lessons in Winter Warfare From the Ukrainian War Zone — A Case Study for America's Arctic Pivot