CARENTAN, France — She wheeled under the trees, through the shady lanes, handing out cards to villagers, each sheet printed with a brief story about what her 101-year-old husband did here in Normandy 78 years ago.
A radio operator in the 29th Infantry Division, Clair "CP" Martin was wounded on Omaha Beach on D-Day, June 6, 1944, and then got stranded for days behind enemy lines at Saint-Lô. But he survived the battle and the war. His wife, Martha, is eight years behind him, but on Saturday, June 4, she was doing a lot of the work with his cards.
They and 27 American veterans of World War II walked or rode wheelchairs across Carentan's cobblestones, mostly two by two, cheered by the French citizens and soldiers who remain grateful that GIs liberated them from Nazi occupation nearly eight decades ago.
"They're here for you!" bellowed Donnie Edwards, a former linebacker for the NFL's Chargers who founded the Best Defense Foundation four years ago to return World War II veterans to the battlefields where they fought.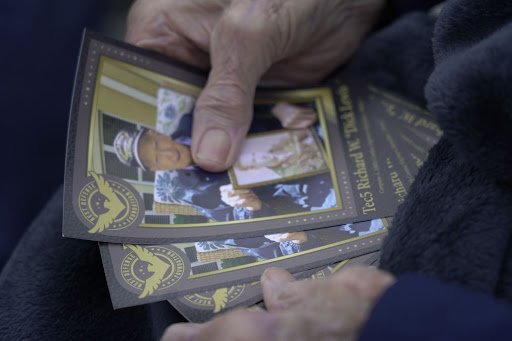 Before the march, Tom Rice sat in the lobby of his hotel, autographing his cards. A member of C Company, 501st Parachute Infantry Regiment, he dropped into Normandy in the early hours of D-Day.
He's 100 now. He inked 500 of them and ran out of cards the next day.
It's Rice's 10th trip back to Normandy. Some came for the 50th anniversary, but said it was too emotional and they hesitated to return, until now. For others, it's their first time back since 1944.
"We have numerous guys that have never been back," Ben Harper, the charity's director of operations, told Coffee or Die Magazine. "We have numerous veterans that are new to Best Defense Foundation and numerous veterans that have never really been celebrated or done much of this. So finding the things that will mean the most to them is what was difficult about fitting it together, like Lego pieces. I think we did. For the most part, we've covered all the bases with our group — 28 veterans and 14 events over seven days — and we've paid homage to all of them in some way."
Black Rifle Coffee Company, Coffee or Die's parent corporation, is a key sponsor of the nonprofit.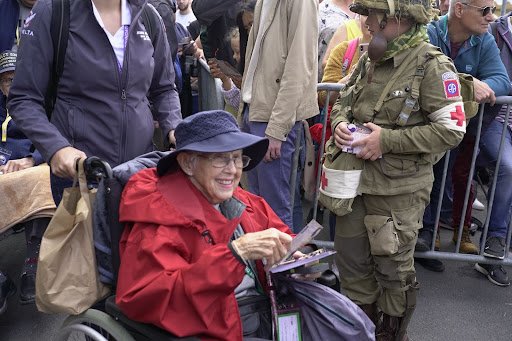 On Sunday, June 5, the veterans gathered in La Fière to remember the tumble into France of the 82nd and 101st Airborne Divisions 78 years ago.
Back then, La Fière was just a smudge of stone buildings near fields flooded by the Germans, but it contained a stone bridge over the sluggish Merderet River. US paratroopers and glider troops had to seize and hold that span in 1944 or risk German forces west of Sainte-Mère-Église counterattacking the fragile US beachhead on the Cotentin Peninsula.
It became one of the bloodiest battles in the Normandy campaign.
During the annual summer pilgrimage of American veterans to France, it's become "a rite of passage" for US troops to reenact the "jump in La Fière, because it's like getting to assault Omaha Beach again," Harper told Coffee or Die.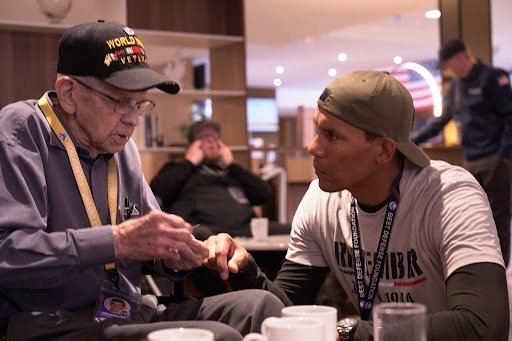 On Sunday, the veterans also paraded through Sainte-Mère-Église, where Rice fought.
As in La Fière, it was a brutal slugfest, with paratroopers often fighting hand-to-hand with German soldiers to take and hold the town.
Organizers estimate more than 20,000 French citizens turned out this year to honor the returning veterans, who sat swaddled in ponchos as the rain lashed them for 20 minutes.
"I don't want to miss anything," said George Hamilton, a 100-year-old US Navy veteran from West Monroe, Louisiana.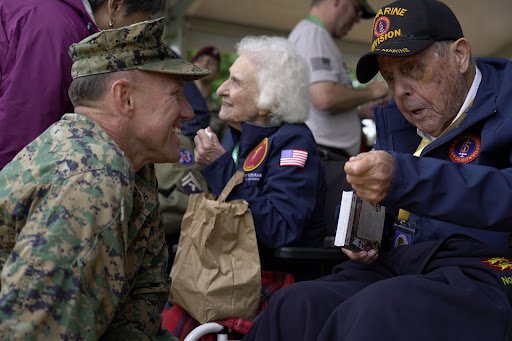 Raymond Dawkins, a 96-year-old US Army veteran from Newberry, South Carolina, joked that he shook 9,823 hands during the parade through Sainte-Mère-Église.
Then he took my hand and announced, "That's 9,824."
"That's just with my right. I never counted the ones on my left," he told me. "I think if people stand out in the rain, my God, I'll shake their hands."
Read Next: 'Ordinary People Who Do Extraordinary Things' — A World War II Veteran Reflects on D-Day and Beyond