Shahab donned a shirt he hadn't worn in weeks, said goodbye to his family, and left the cramped apartment in Mazar-i-Sharif on Sept. 2, 2021. The father of eight had started walking to the money exchange when Taliban foot soldiers stopped him. They searched his shirt pockets and extracted an identification card from one of his old contracting jobs.
Shahab's blood ran cold.
"Are you still carrying the infidel's government ID?" one of the men asked. As they scrutinized the writing on the card, Shahab realized they couldn't read English. The Taliban fighters didn't realize it was a translator ID.
Finally, they ripped up the card, threw the pieces away, and told Shahab to get lost.
Shahab took out his phone to recount what had just happened, typing, "I am so fed up and disappointed with conditions here. God help me!!!"
On the other side of the world, a devoted group of American active and prior military members were piecing together a plan to answer Shahab's prayer.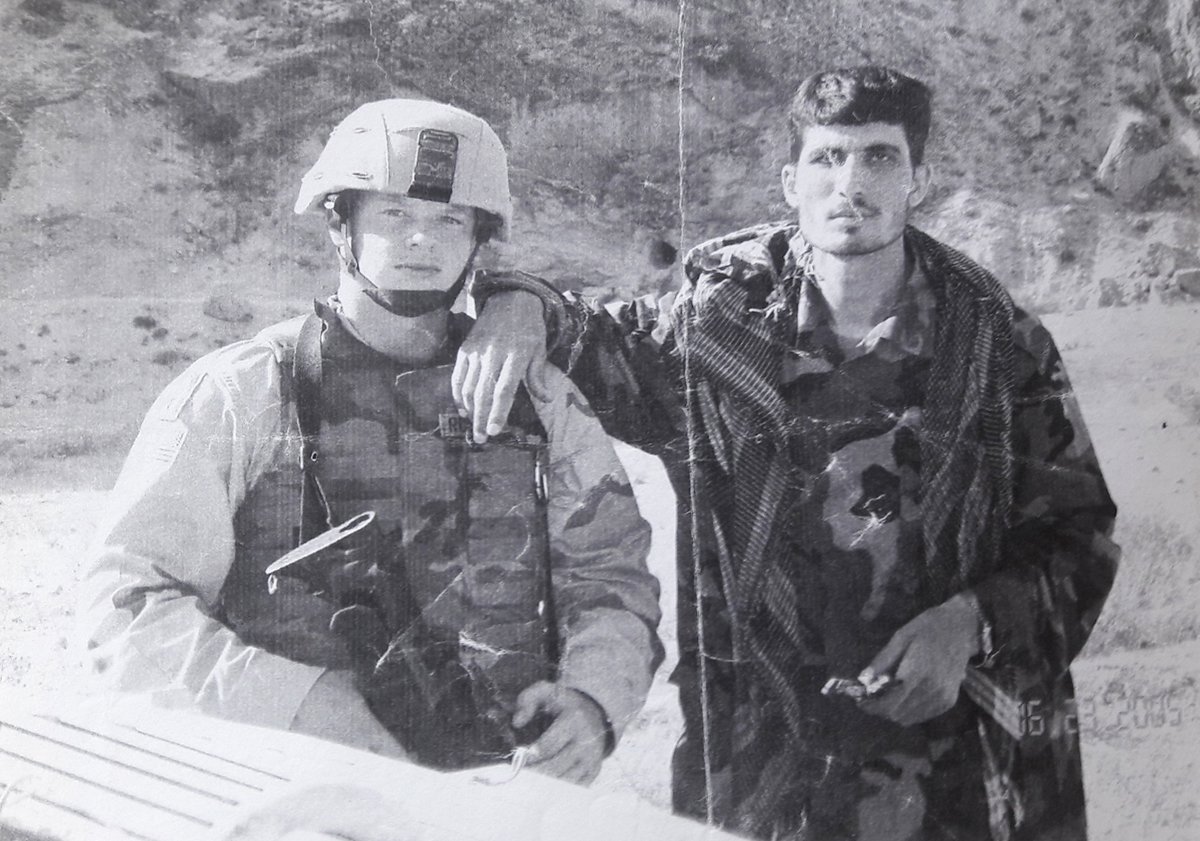 For 15 years, Shahab worked with the US military and contractors in Afghanistan. But after American forces withdrew in August 2021, he became one of the thousands of US allies trapped in Afghanistan. The fall of Kabul threw Shahab, his wife, and their eight children into hiding from the Taliban as a small network of veterans in the US did everything they could to help the family reach safety.
Seven months after the initial rush of tens of thousands of evacuees, the flow of refugees out of Afghanistan has slowed to a trickle. Based on US government numbers, Coffee or Die Magazine estimates that Shahab and his family are among approximately 400 people who made it to the US from Afghanistan between mid-February and mid-March 2022.
Spearheading efforts to aid Shahab's escape was a Tennessean who'd spent a year in Afghanistan, relying on Shahab every day as an interpreter and friend.
Kevin Rardin was 49 when he arrived at Kandahar Airfield in 2007. Rardin had been a judge advocate general in the Army Reserves since 1989, and his job was to mentor judges, prosecutors, and defense lawyers in the Afghan National Army.
Rardin had never been to an Islamic country before and could count the number of Muslims he had met on one hand.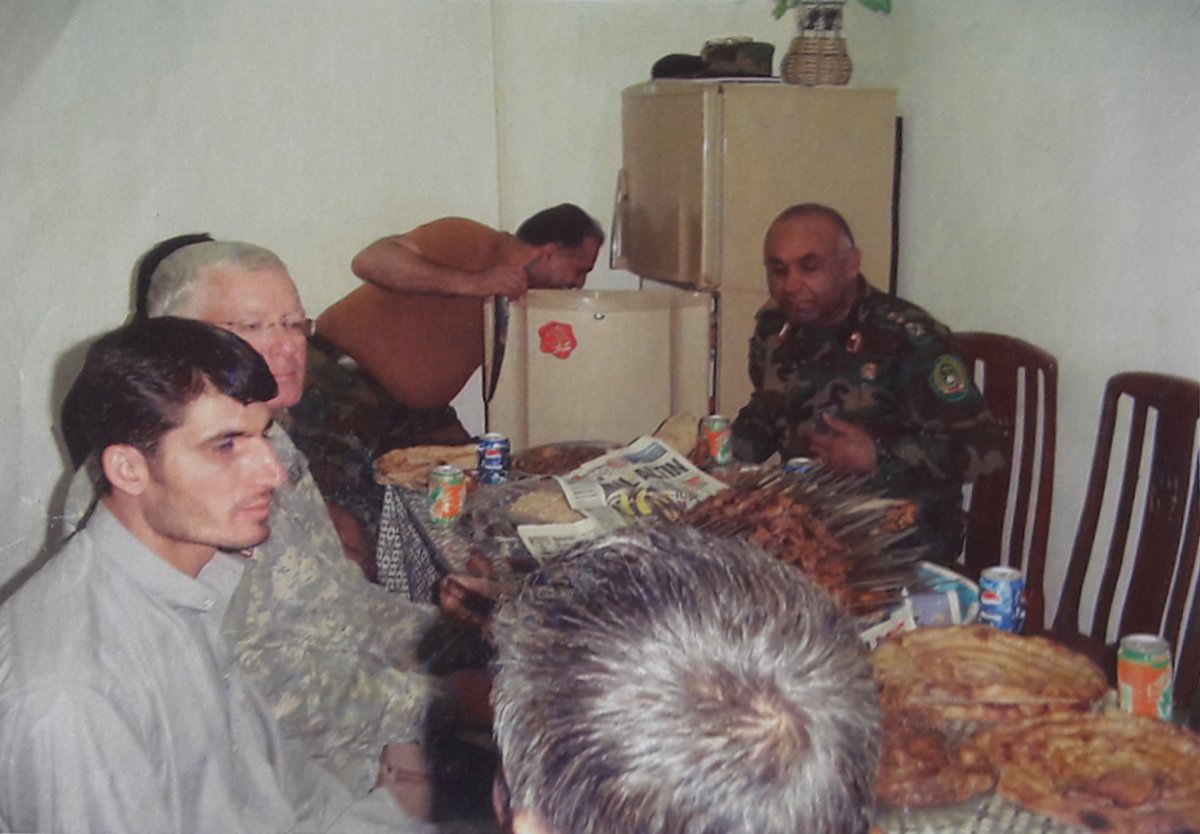 Shahab, then a young father studying law, was Rardin's lifeline. He helped Rardin navigate the barriers of not only language but also culture. He warned Rardin when he thought someone was being insincere, steered him away from cultural faux pas, and helped him bond with other members of the Afghan army. The two traveled together, talked over meals in the interpreter's camp, and shared pictures of their families — a rare gesture of trust among Afghan men.
Rardin stayed in touch with Shahab after returning to the US in 2008, and in 2016 helped Shahab apply for a Special Immigrant Visa. But the process dragged on for years, until Shahab's visa was finally approved on Aug. 28, 2021.
By then, it was too late.
About a week prior, Shahab had phoned Rardin, whom he calls "Uncle Kevin."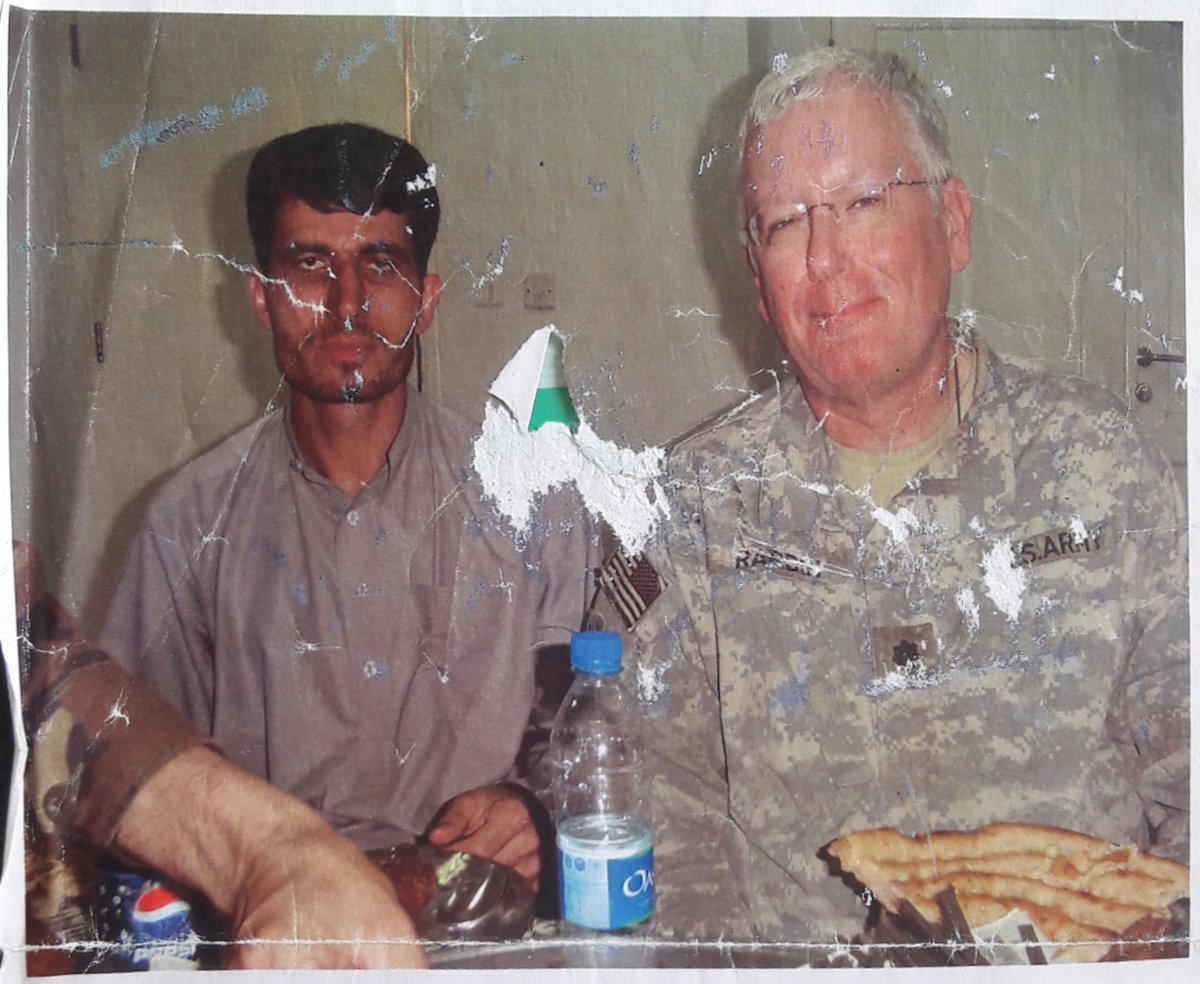 "I call him uncle because I love him," Shahab tells Coffee or Die over video chat. He pauses suddenly, looking away from the camera as his eyes turn red. There is a long silence as he massages his temple and composes himself.
Shahab takes a deep breath before repeating what he told Rardin on that August day: "Uncle, the Taliban came to Afghanistan. They took over everything."
In the US, Rardin was devastated.
"It was one of the worst days of my life," Rardin recalls. Like so many other Afghanistan veterans watching the fall of Kabul from thousands of miles away, he didn't know what to do. So he picked up the phone.
The online mobilization of veterans during the Afghan withdrawal is often referred to as a "digital Dunkirk," referencing the historic World War II effort in which English civilians used their personal boats to help rescue more than 300,000 Allied troops trapped on the beaches of Dunkirk in France. Quickly organized groups like the Pineapple Express and No One Left Behind sprang into action, as did countless other small teams of veterans determined to keep the promises made by America to its allies.
Col. David Green, a JAG officer for a special operations detachment in the Texas Army National Guard, met both Rardin and Shahab in 2007, when he traveled around Afghanistan teaching the law of war to Afghan National Army basic trainees. Green says he had helped several other Afghan allies immigrate to America over the past decade and was happy to help coordinate paperwork and letters of recommendation for Shahab and spend hours calling government departments in an attempt to push his SIV through.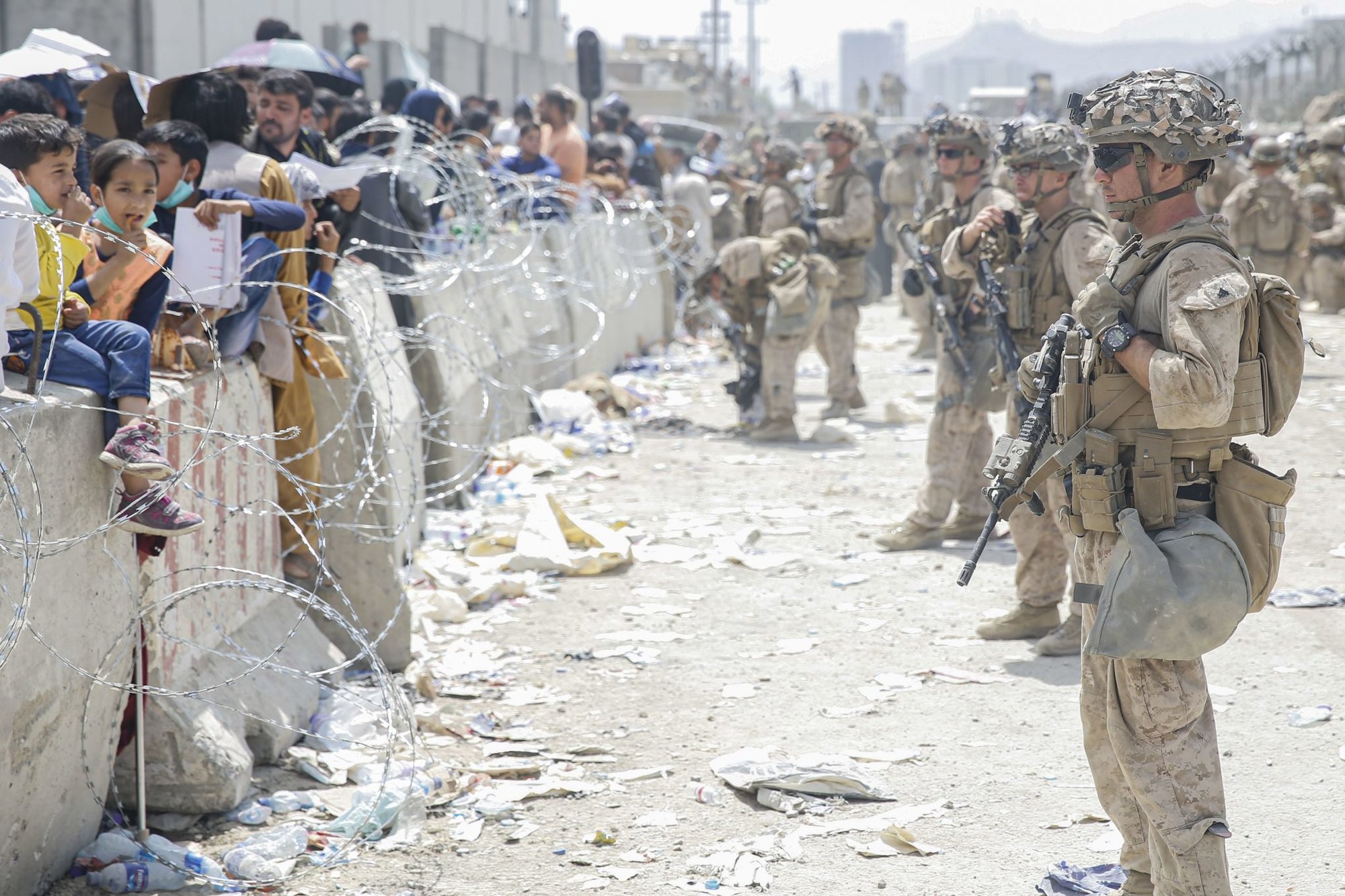 West Point graduate and Army veteran Scott Brady said divine intervention brought him to Shahab's aid. Brady attends the same Memphis-area Catholic church as Rardin's daughter. Their prayer group coordinator sent out an email asking for prayers for someone who worked with an Afghan interpreter and was now trying to help him and his family escape from Kabul.
Brady lent his support to Rardin's efforts, seeking information and assistance from former West Point classmates and social media contacts.
They urged Shahab to get his family to Hamid Karzai International Airport.
For around three days, Shahab, his wife, and their children — who range in age from 5 years old to 20 — waited in the crush of desperate refugees outside the airport gates. People were screaming and raising infants up over the concertina wire. Shahab hesitated to move in close, worried his smallest children might get trampled. They alternated between standing in the murky water of a sewer trench near the fence, and resting on the asphalt when the exhaustion became too much to bear. During one phone call with Shahab, Rardin heard the sound of automatic weapons in the background.
Back in America, the veterans were writing a deluge of emails in Shahab's support and calling anyone they could think of to try to get the family inside the fence surrounding the airport.
They got so close.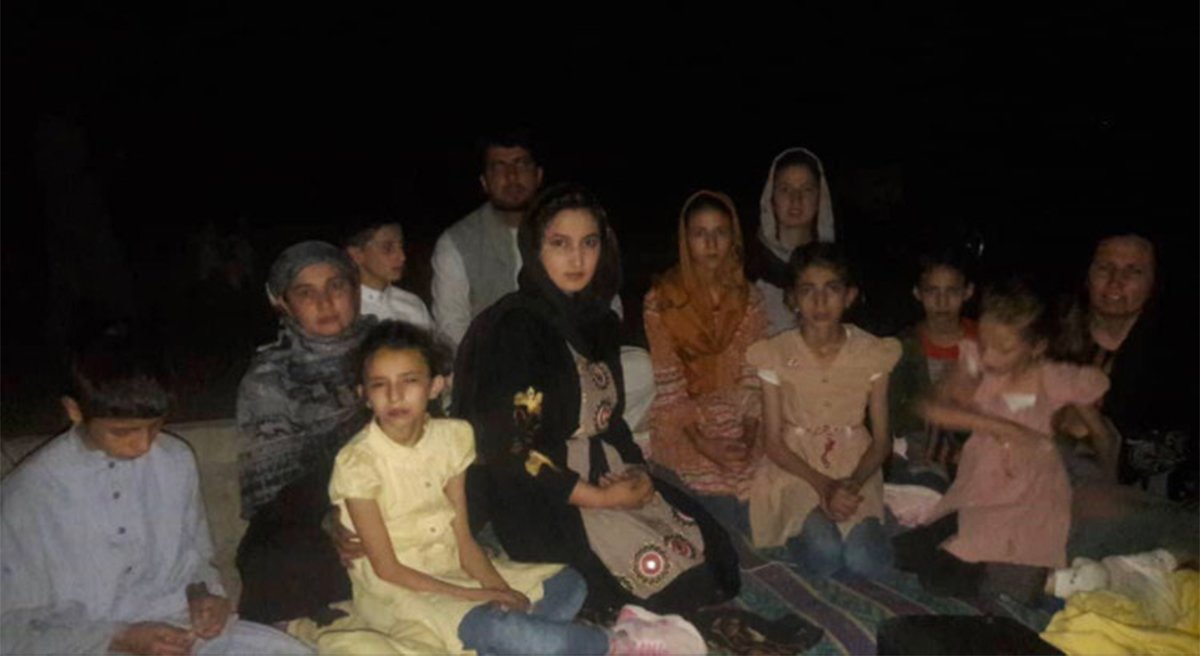 One night, the group made contact with service members on the ground in Kabul. Through text messages on Signal, they instructed Shahab to go to the Black Gate on the north side of HKIA. Someone there would shout out his name. He needed to flag them down so they could pull him and his family through the gate.
"It's hard doing this all through Signal," Brady says. "But at one point, we're like, 'Hey. They're calling for you. They're at the gate.'"
Shahab couldn't quite get close enough; the crowd was dense and someone had deployed what looked like smoke grenades. Shahab's friends suggested he put his son on his shoulders and have the boy wave the cell phone back and forth with the flashlight on.
No one came.
In their desperation to avoid the Taliban stationed around the airport perimeter, it seemed Shahab and his family had ended up at the wrong gate.
"The wind went out of our sails," Brady says.
"I felt so defeated," Green says. "I cried. I didn't know what else to do. We were so close."
Exhausted, out of water, and with a critically low phone battery, Shahab and his family returned to their home in Kabul. It had been looted, apparently by Taliban fighters who asked about Shahab, his neighbor said.
By the time the US left Afghanistan, Shahab and his family had boarded a bus and embarked on a 14-hour journey to Mazar-i-Sharif, where sources had suggested they might be able to fly out.
Instead, they'd spend the next six months bouncing between motels, apartments, and safe houses.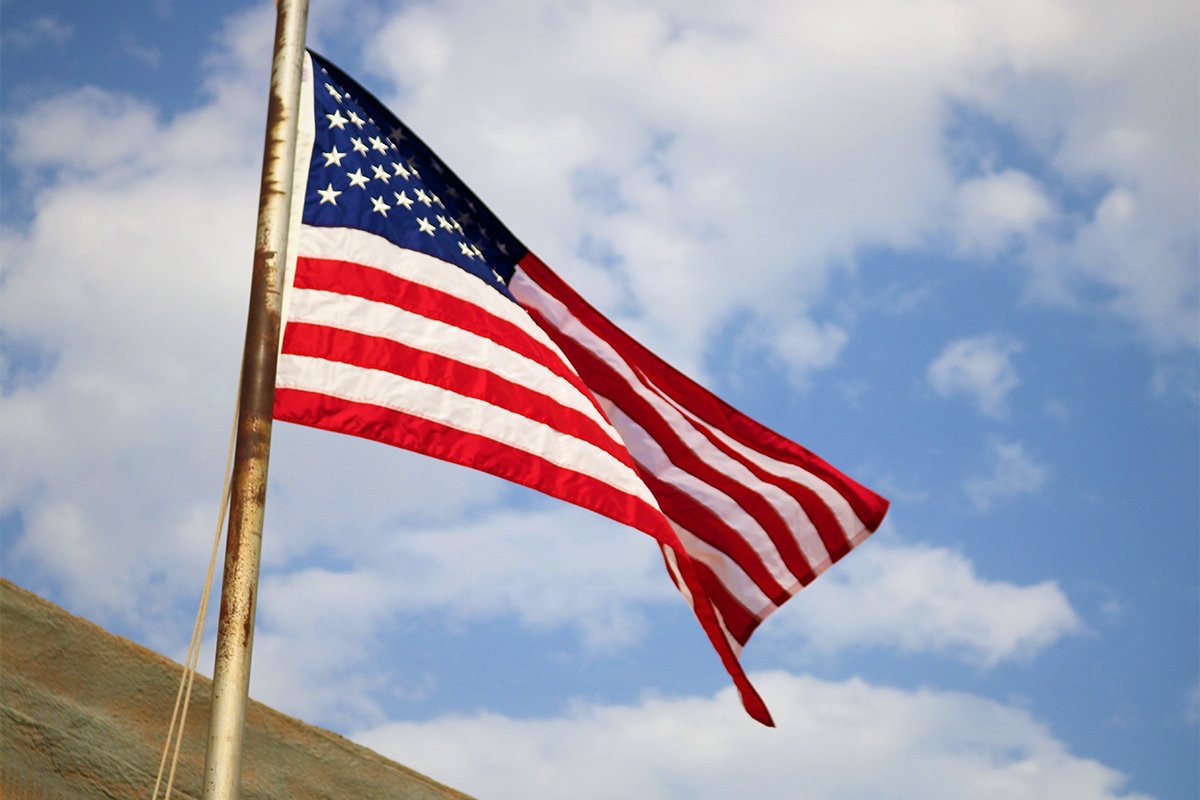 Rardin looked out his window on a sunny day in the first week of September 2021. An American flag hung in front of his house, as it had for all the years he'd lived in Germantown, a suburb of Memphis, Tennessee, full of nice homes, pretty trees, and people with good jobs.
"Dad, nothing ever happens here," one of Rardin's daughters had told him when she was young.
"That's exactly why we moved here," he'd responded.
Decades later, Rardin was sitting in that same suburb where nothing ever happened, while halfway around the world, one of his dearest friends was running for his life.
Rardin went outside and took down the flag, folding it and stowing it in the carport, where it has remained ever since.
"Someday I'll bring it out, but not anytime soon," he tells Coffee or Die, then pauses, overcome with emotion. "Shahab believed me when I told him that if you apply for the Special Immigrant Visa, and you go through all these steps, eventually you'll get to come to the US and bring your family, and you'll be safe. He believed my government's promise. And so I felt such a sense of betrayal and also a fair amount of humiliation when my government betrayed my friend, and betrayed me."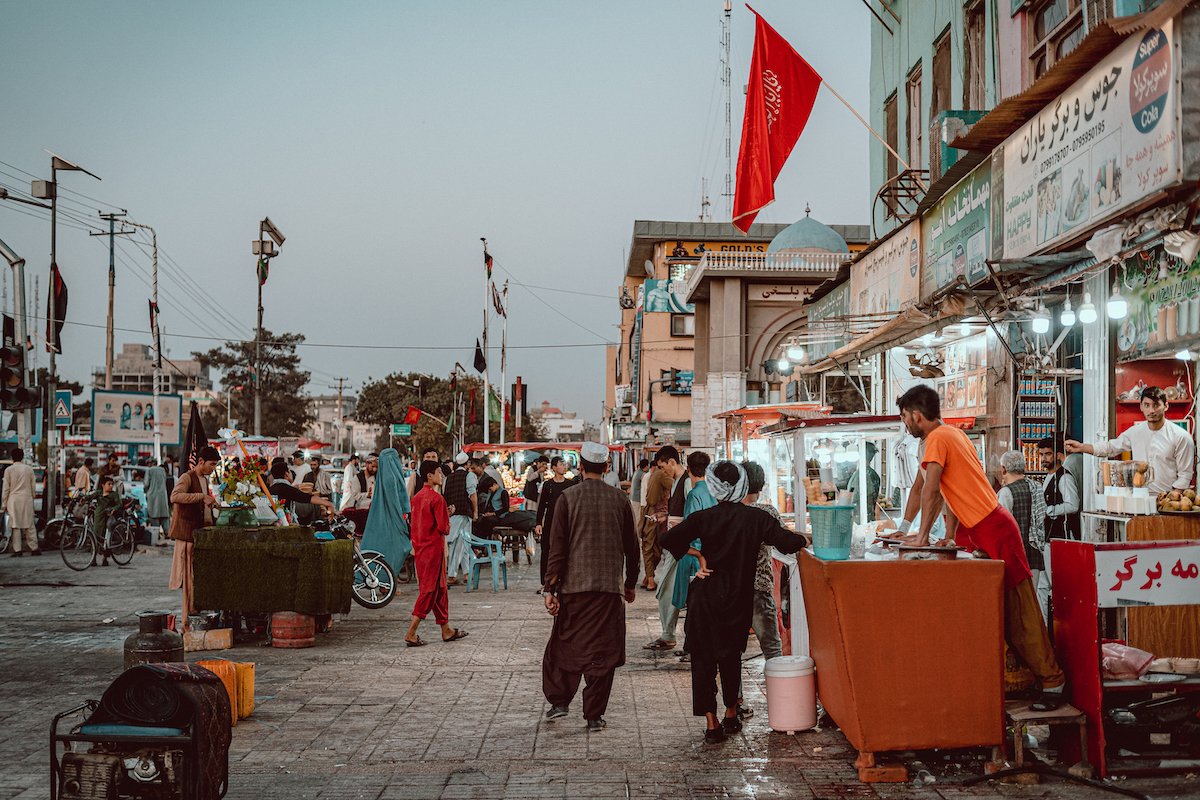 On Oct. 30, Taliban fighters pounded on the door of the apartment where Shahab and his family were living in Mazar-i-Sharif. They took Shahab, his wife, and their terrified children to the station for questioning.
"What are you doing here? How long are you here?" they asked.
With the same calm demeanor that had ensured his family's survival this long, Shahab trotted out his usual excuse: They were in town visiting the famous Blue Mosque and would return to Kabul the next day.
The men tried to search the family's belongings, but Shahab's younger children were crying, so the Taliban let them leave, with the ominous promise that they would see them next time.
"But for the grace of Allah, everything was safe," Shahab said. "They did not harm us."
Shahab would remain indoors for upwards of five days at a time. When he had to leave to get food or receive money that his friends in the US wired to him, he did so at night, when the Taliban were less likely to be patrolling. Spending so much time in hiding was difficult for his family, but Shahab says his children — even the youngest ones — grasped how serious the situation was.
"They realize that their father is a different person," he says. "They already understand that I worked for the US Army."
The threats started long before the Taliban took control of Afghanistan in 2021. Shahab has not seen his own parents in more than 10 years because of fears of Taliban reprisal if he returns to his village.
Every morning, Brady or Rardin sent Shahab a "Good morning" message, and every evening they sent a "Good night" message. Shahab couldn't always respond — sometimes he was off the grid — but the group wanted to make sure that the family knew someone in America was still thinking about them.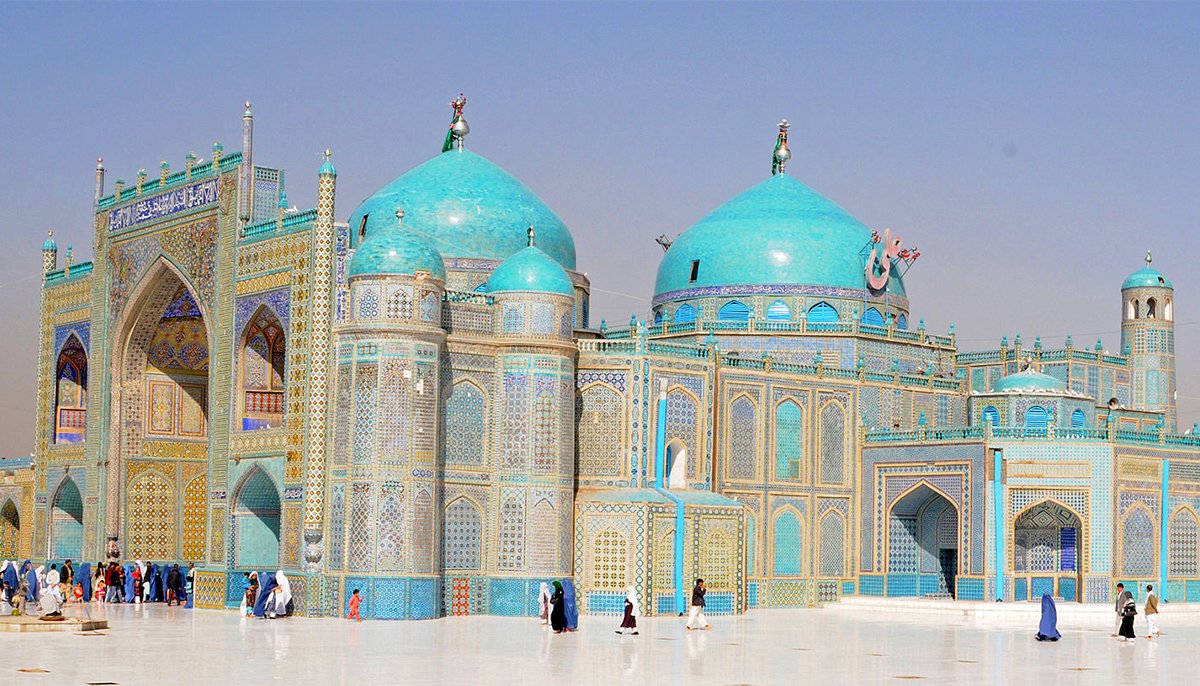 Shahab and his family made several more trips between Kabul and Mazar-i-Sharif in the months that followed, weathering a series of false starts and disappointments.
Finally, another former colleague of Shahab's suggested flying to Pakistan and picking up his physical visa in Islamabad. The group was wary, since Pakistan was seen as being cozy with the Taliban.
"We don't trust them," Shahab said of the Pakistani government. "I especially do not trust them." But after months on the run, he was willing to take the risk.
With the help of a wealthy, anonymous benefactor, the family boarded a commercial flight from Kabul to Islamabad in mid-January.
After one more month in limbo, Shahab and his family went to the embassy for their final SIV interview. Days later, they boarded another plane, this time bound for Houston, Texas.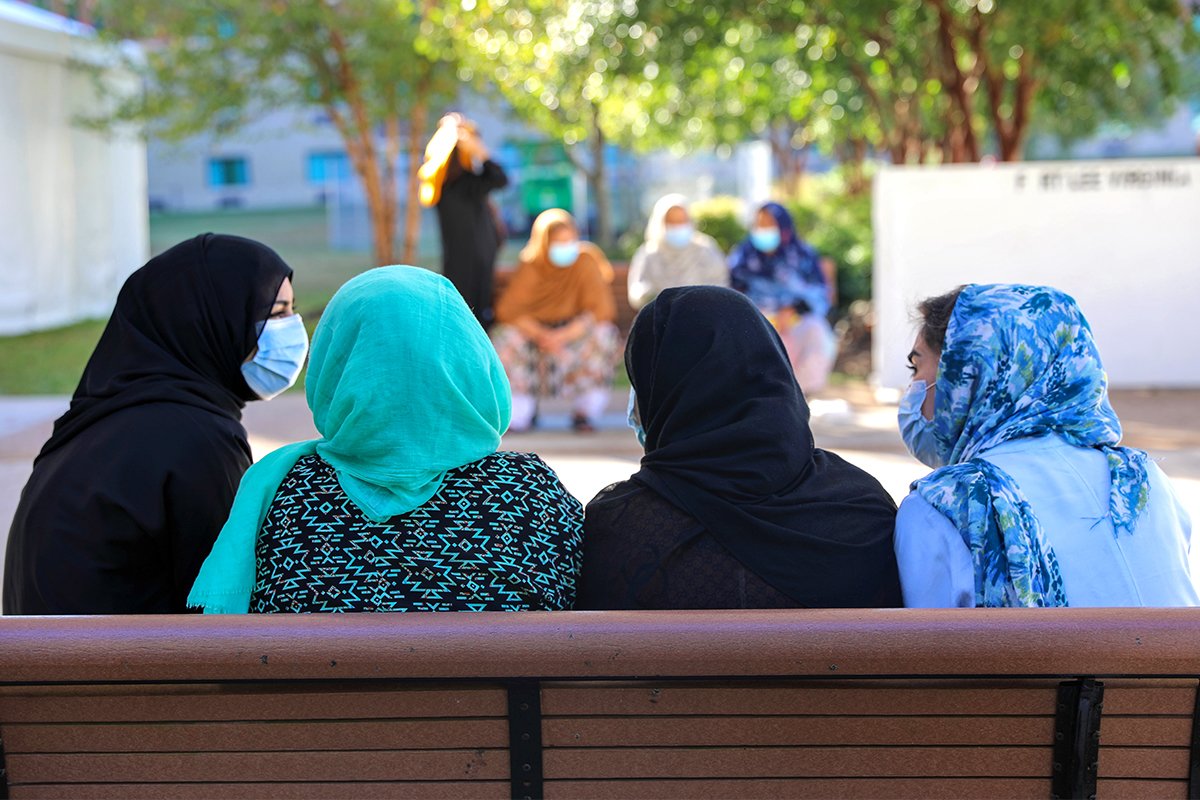 It's difficult to determine how many Afghans who worked with the US military have arrived in America after spending weeks or months in hiding like Shahab did. A State Department spokesperson refused to say how many flights out of Afghanistan the US government had sponsored since the initial withdrawal, telling Coffee or Die only that the department has "carried out several operations" to help American citizens and eligible Afghans.
The Department of Homeland Security, which led resettlement efforts in the US following the collapse of Afghanistan's government, is similarly cryptic. On March 21, a spokesperson for the DHS told Coffee or Die in an email, "Approximately 85,000 Afghan nationals, American citizens, and Lawful Permanent Residents have arrived in the U.S. as part of Operation Allies Welcome." Comparing that figure to a Feb. 19 press release that stated around 84,600 people had arrived in the US as part of the evacuation, Coffee or Die estimates some 400 evacuees made it to America between mid-February and mid-March.
Shahab and his family finally made it through customs and walked out past security on Feb. 23, carrying everything they owned in their hands. Then their weary eyes lit up. A small crowd was there to greet them, clutching balloons, flowers, toys, American flags, and handmade signs reading "Welcome to the USA."
"I was almost giddy and jumping up and down because I just could not believe that he was physically here," says Brady, who traveled to Houston to meet the family.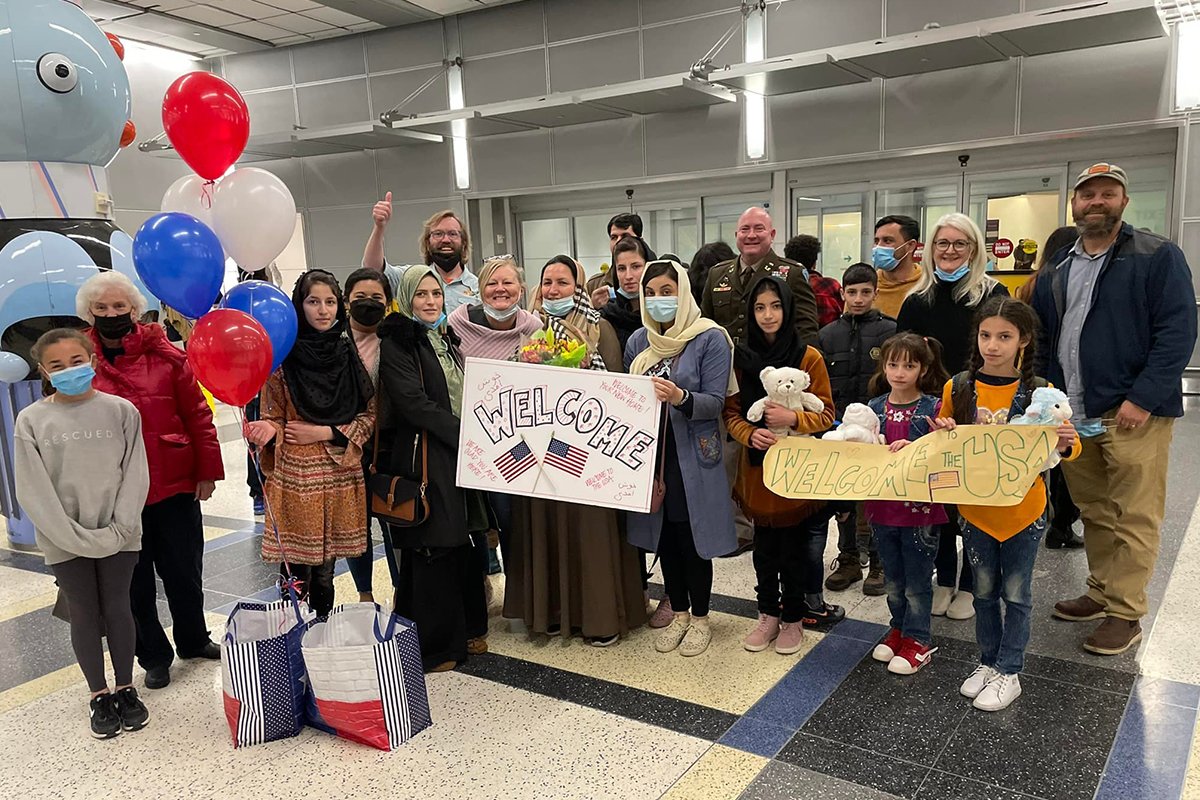 Tears welled in Shahab's tired eyes and he was overcome with pride, especially when his wife and kids marveled at what good friends he had.
"I did not expect that my American friend will come to the airport," Shahab says. "I felt, at that time and that moment, really proud. Because the war times friends are very sweet and very loyal, committed."
Green, who drove down from his home in Dallas, made a point of wearing his formal Army uniform to the airport. Rows of service ribbons and jump wings adorned the front of his coat jacket, with a Special Forces patch on his right arm.
"I wanted them to see that the US military, specifically the US Army, was here and that we were not gonna leave a fallen comrade," Green says. "I wanted the kids to see that."
As the group caravanned to Shahab's sister-in-law's home in Houston, the children stared out the windows with wide eyes, taking in the skyscrapers, overpasses, and tractor trailers.
When Brady and Shahab parked in front of the apartment complex and opened the car door, both kids in the back seat were fast asleep, their half-eaten lollipops on the floor.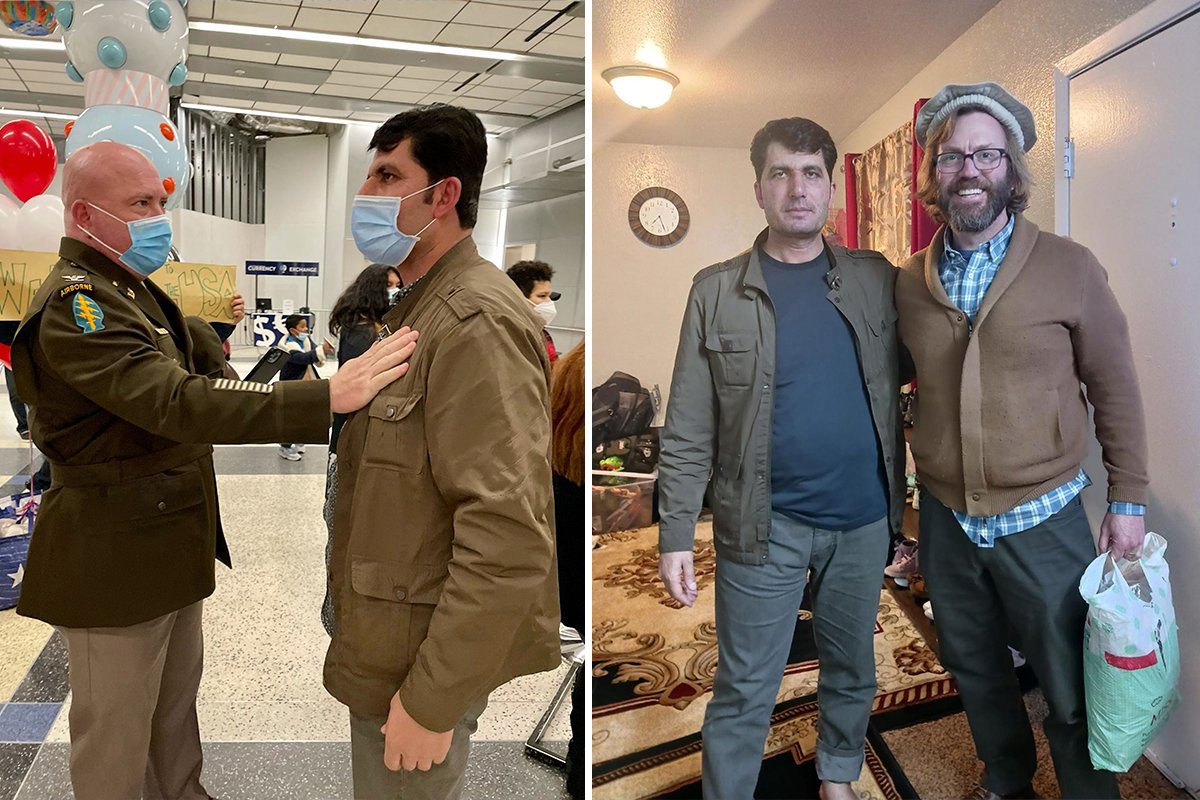 Despite the hour, the group came in for tea, which quickly became a full spread of traditional Afghan food — eggplant, rice, lamb, chicken, bread, and more.
"I don't know how they did it," Green says. "This is how special the Afghan culture is."
He used to scoff when people would say, "We can't save them all, but we can save just that one." Now when he hears that, he thinks of Shahab's family.
"We saved a family of 10," he says. "Eight children. Six girls who would not have been offered the opportunity to go to school. Who will now not be forced into a marriage."
In the weeks since arriving, Shahab's family has moved into a two-bedroom apartment next door to his in-laws. A GoFundMe campaign raised more than $13,000 for the family. Green drove a truckload of furniture and clothes to Houston, items that were donated by his friends, colleagues, and neighbors. Rardin plans to drive down for the beginning of Ramadan, bringing more gifts and household supplies.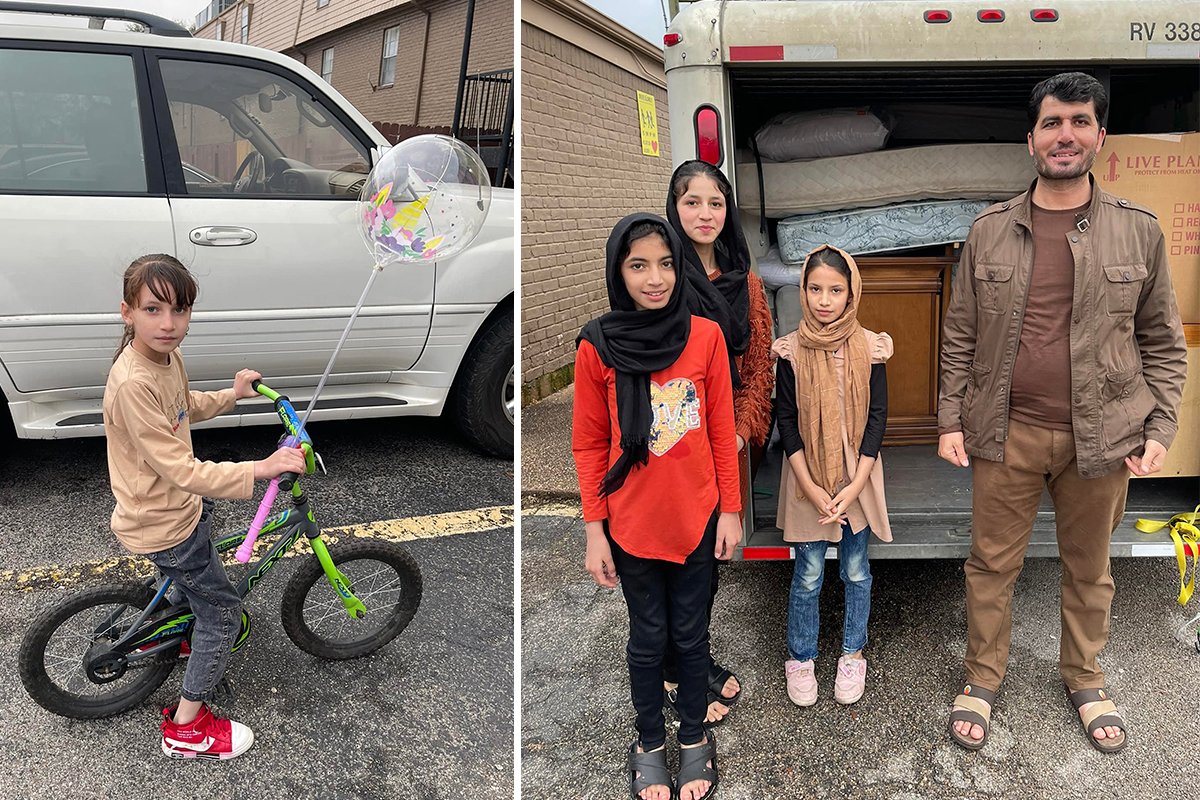 Shahab is taking driving lessons so he can get his license, and his children take English classes through a nonprofit organization for several hours a day. His daughters say they want to be doctors. His youngest son dreams of becoming a pilot.
"I told them America is a land of opportunity," Shahab says. "You can do whatever you want. You have a freedom here. You can do everything."
Despite everything, Shahab appears to hold no resentment against the American government.
"I'm really proud that I work with the US Army," he says. "It was an honor for me to work with them."
And five times a day, he prays for Mr. Scott, Mr. Green, and Uncle Kevin.
"They deserve a lot, and they did a lot for me," he says. "I wish, one day, I could return their favor."
Read Next: