Author's note: The Islamic Republic of Iran doesn't have diplomatic relations with the United States. In Iran, the media and the internet are closely monitored by the government. However, it's impossible to keep track of everyone. And sometimes, despite the tremendous risk involved, an Iranian is eager to share their story and hit back at the pervasive propaganda that Iran's government uses to control its people.
The vast military camp was on the outskirts of a small city. The soil was nearly frozen. There wasn't a tree or any greenery in sight. Concrete buildings made up the complex where Farhad (a pseudonym for his real name) would receive his two months of mandatory military training. He wore light brown and dark green fatigues, a belt, and a pair of poorly manufactured combat boots.
First, Farhad marched for a while. After that, his picture was taken, along with the other conscripts. He then was shown to his barracks and bunk. While many training camps in Iran don't permit leaving the base, he was allowed to go home every weekend.
"Soldiers need food. Their food was shitty — rice with little pieces of meat — and this helped to lessen expenses," he said.
The food may have been bad but remaining connected to his family was one of the benefits. He and the others there were allowed to call home anytime after 5 PM using the phone booths set up on the grounds of the camp.
As for the training he received, Farhad called it a "joke," especially the shooting portion.
The firearm he was issued — a Heckler & Koch G3 — has been around since 1959. If he would have been part of the Islamic Revolutionary Guard Corps (IRGC, or Sepâh), he would have been issued an AK-47 instead. According to Farhad, you go out on the range one time and shoot a dozen bullets. Your results are written on a scorecard, and then it's back to marching. "You march a lot," he recalled.
'They aren't trying to make soldiers. They want a work force.'
Farhad further described what he learned about weapons: "Not much. Effective range. Pure fire range. Caliber. Rate of fire. Weight. How many bullets they take. How to discharge. How to aim. How to safely check a weapon. How to clean your weapon. How to carry it. How many ways there are to carry it. Different types of weapons in the military. Things like that."
In addition, he didn't receive any combatives or medical training. "They aren't trying to make soldiers. They want a work force," Farhad said.
More so than actually training in combat or tactics, the Islamic Republic of Iran is interested in creating soldiers submissive to its religious ideology. Farhad said that religious indoctrination was a major part of his training experience, but he and many others didn't take the sermons seriously. In fact, they would question and mock the mullah's lecture whenever they had the chance.
"The mullahs really got frustrated with us," Farhad said. "No one cared about them and made fun of them when they could and laughed and argued with them and put holes in their arguments all the time."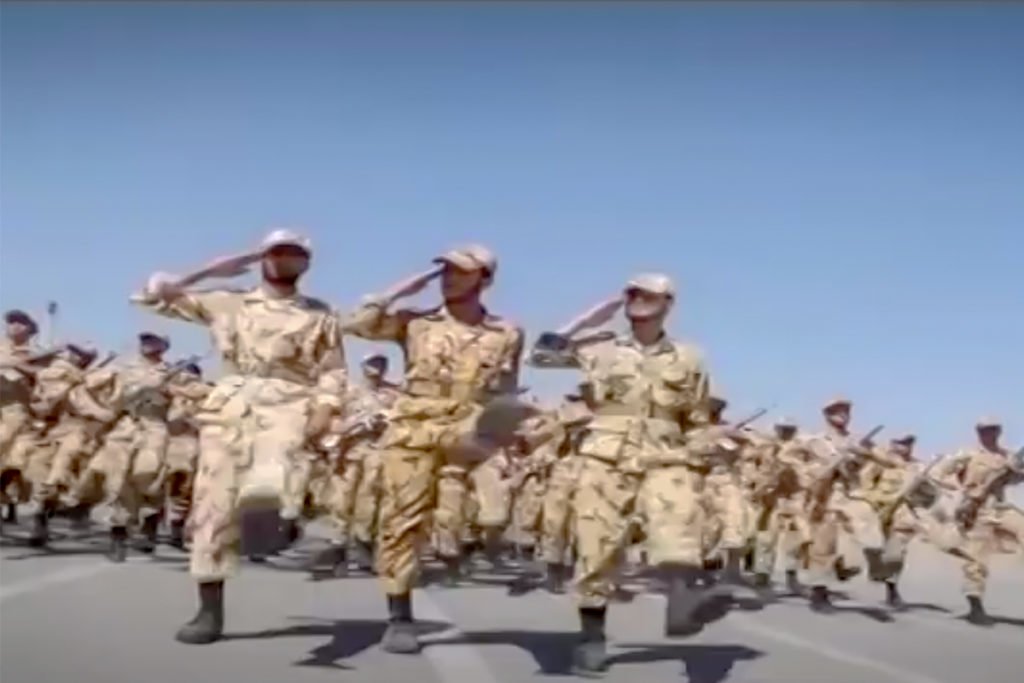 When asked if this resulted in a consequence for him or anyone else involved, Farhad said no. "We didn't get in trouble. Pretty much everyone was doing it."
Even the non-commissioned officers (NCOs) in the camp didn't follow the written rules that governed it.
One night on watch duty, Farhad smelled something weird. There was a little place outside of the chow hall that was mostly blocked from view, and when he looked out there, he saw two NCOs smoking. It didn't take long to figure out they were smoking marijuana, which is a felony for a soldier in the Iranian military. He investigated further in the morning, finding remnants from dozens of marijuana cigars on the ground.
Farhad's boots and the frigid cold gave him the biggest problems, though. In addition to the blisters all over his feet from marching, he also had an infection to keep at bay. And despite how cold it was, the military didn't provide their conscripts with warm enough clothing. During a particularly cold watch duty assignment, he and the others on duty passed around a poncho, each using it for a few minutes to keep warm.
Farhad said that religious indoctrination was a major part of his training experience, but he and many others didn't take the sermons seriously.
When training concluded, there was a ceremony where everyone dressed their best, but, unlike basic training graduation in America, family and friends were not permitted to attend. To his recollection, only one conscript failed to complete the training.
Farhad then spent two years in the Iranian military, which only solidified the negative impression he started with.
"It's such a shitty, unreliable, broken system," he said. "Whenever I see these websites talking about Iran's military might, it makes laugh. They have no idea what they are talking about."