If you like your military movies to be even remotely plausible, then you probably think Top Gun is the gold standard for on-screen aerial combat. But if you prefer your 1980s action with extra cheese, then you likely already know Doug Masters and Col. Chappy of Iron Eagle blow Maverick and Iceman out of the sky when it comes to the best fictional fighter pilots.
Iron Eagle premiered in January of 1986 — half a year before the intended summer release date, and four months before Top Gun began its climb to becoming the highest-grossing movie of the year. Iron Eagle stars Jason Gedrick as Air Force brat Doug Masters and Louis Gossett Jr. as Col. Charles "Chappy" Sinclair. It follows the unlikely buddy pair on an absurd mission to the fictional Middle Eastern country of Bilya to rescue Masters' father, Col. Ted Masters, after he gets shot down.
Doug Masters — a teenager who spends his days playing with a flight simulator and racing motorcycles with his Cessna — manages to use his time behind a toy joystick to steal a pair of real F-16s and convince Chappy to fly halfway around the world with him to dominate the skies over Libya, I mean, Bilya, and pull off the impossible rescue. Iron Eagle doesn't have a dash of realism, but if you prefer the high art of excessive montages and inexplicable gasoline explosions to reality, then this might become your favorite movie. The soundtrack alone will have you convinced this is one of the greatest cinematic achievements of the 1980s.
The music department deserves an Oscar for creating the best thing to ever hit an audience's ears. With the likes of Queen, Twisted Sister, Tina Turner, James Brown, and of course, King Kobra, the mix of glam rock and hair metal pounds your eardrums like F-16 afterburners. Pure auditory ecstasy.
Masters and Chappy defy all logic and beat a squadron of seasoned Bilyan fighter pilots in a series of dogfights. Chappy — a Vietnam veteran whose character is an homage to the real Daniel "Chappie" James Jr., a fighter pilot and veteran of World War II, Korea, and Vietnam and the first Black American to reach the rank of general in the US armed forces — is forced to eject over the Mediterranean Sea.
That doesn't faze Masters, though. The rebellious teenager simply hits play on a motivational cassette he has strapped to his leg — that's right, he has a leg-rig for a cassette player — and makes quick work of the remaining enemy aircraft and the entire airfield. Maybe if Tom Cruise had a sweet drop-holster for mixtapes, Goose would still be alive. Masters' montage of fiery destruction is set to Steve Winwood's "Gimme Some Lovin'" because, you know, it's the '80s, baby.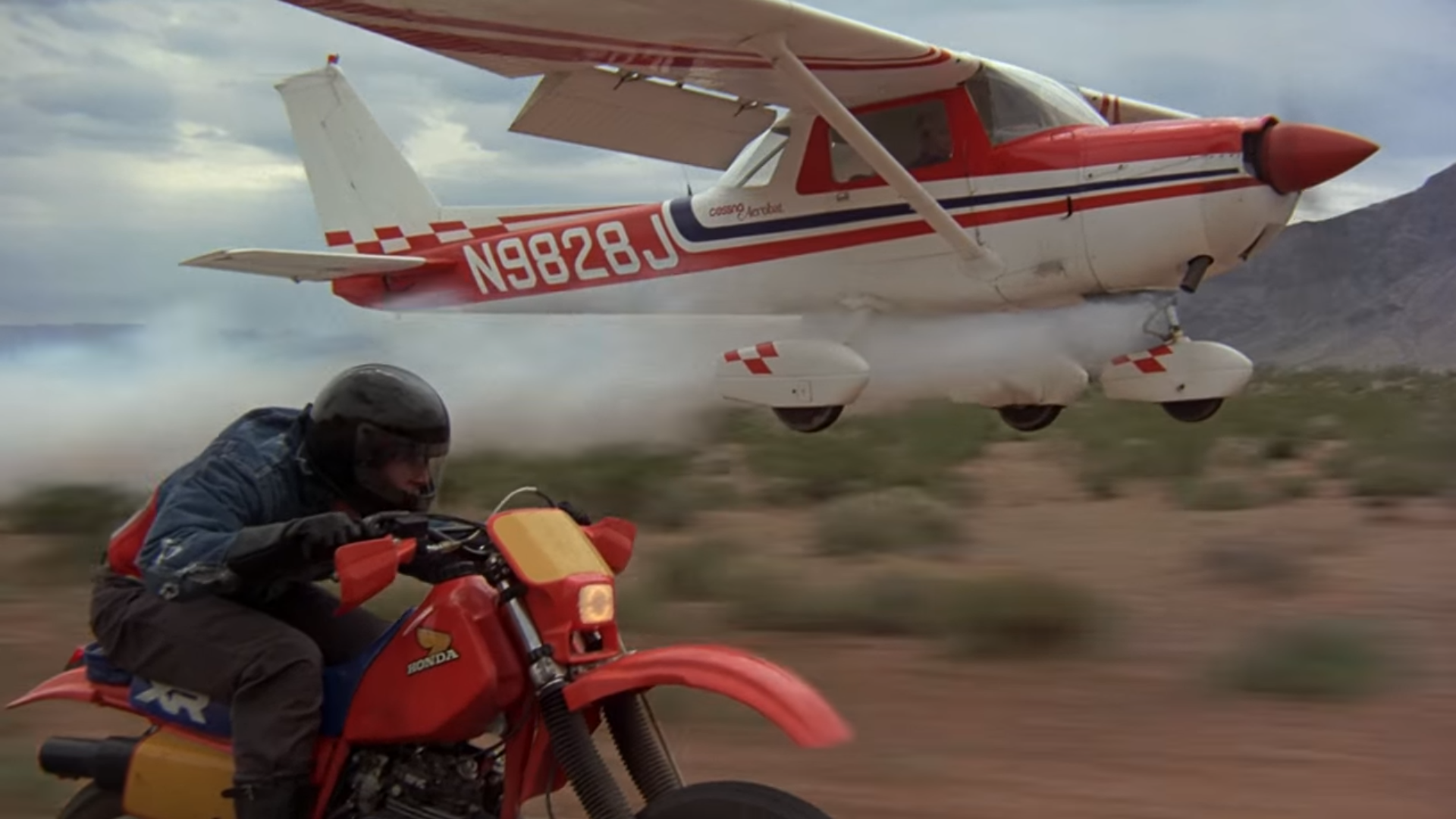 When he's done blasting Bilyans into oblivion, Masters touches down to rescue his injured father. Why the kid opts to use a faster-than-fuck fixed wing to conduct the rescue is irrelevant. A more practical rescue aircraft simply wouldn't be as cool. Father and son make it out alive, and Chappy hitches a ride to safety from some Egyptian fishermen. Of course, there are zero international repercussions, and Masters even manages to use his unsanctioned attack to get accepted into the Air Force Academy. Meanwhile, Maverick, Iceman, and the rest of Top Gun had to go to flight school before they got into dogfights. Nerds.
The movie performed well at the box office, raking in more than $24 million, despite a substantially lower (and painfully obvious) budget. Apparently audiences didn't care whether shots of exploding jets still had visible wires dangling the stationary planes from the ceiling. If you crank the King Kobra theme loud enough, the shoddy special effects get a little easier to swallow.
Although bombing Bilyans didn't have any repercussions for the characters, the jingoistic celebration of American air power did almost cause a real-world shitstorm. Some of the aircraft used in the film were Israeli jets painted to look American. Partway through filming, several Israeli pilots were called to conduct a real-world strike in Lebanon, and according to IMDb, the F-16s carrying live munitions were called off when someone realized they were painted to look American — narrowly avoiding an international incident.
If 117 minutes of teenage aerial combat is not enough to satiate your thirst for ludicrous '80s action, don't fret; there is an even wilder sequel. Better still, there's an Iron Eagle III and, miraculously, an Iron Eagle IV. That's right, Iron Eagle pumped out four movies of F-16 badassery in less than a decade, while it's taken Maverick and Iceman 36 years to get just one sequel off the deck. Checkmate, Navy.
Read Next: How Val Kilmer Used Artificial Intelligence To Speak Again in 'Top Gun: Maverick'