Tony Stark would be impressed.
The Royal Navy and Royal Marines have experimented with a revolutionary jet suit, running drills to simulate an airborne, commando-style raid on an enemy patrol boat.
In a video posted to YouTube, a test pilot is seen disembarking from a PAC-24 Fast RIB — a rigid inflatable boat used by the British armed forces for rescue, anti-piracy, and counternarcotics missions — and flying onto a simulated enemy vessel, a British P2000 Patrol Boat. At one point in the video, three jet suit pilots simultaneously encircle the boat.
Created by Gravity Industries, a British tech startup, the jet suit used in the experimental drill is powered by five mini jet engines and can fly for up to eight minutes, reaching a speed of about 55 mph. According to Gravity Industries, the jet suit produces a total of 1,000 brake horsepower, which "combined with natural human balance" delivers "the most intense and enthralling spectacle, often likened to the real life Ironman."
Two engines are attached to each of the pilot's hands. Known as a micro gas turbine, each one is about the size of a 2-liter soda bottle and — while weighing only about 4 pounds — can produce nearly 50 pounds of thrust. Another larger jet engine is mounted on a backpack-like fuselage, producing more than 100 pounds of thrust. According to the company's website, the entire apparatus weighs about 60 pounds and has enough power to lift a pilot who weighs as much as 187 pounds up to an altitude of 12,000 feet.
Once aloft, the pilot steers the jet suit using his balance and sense of equilibrium.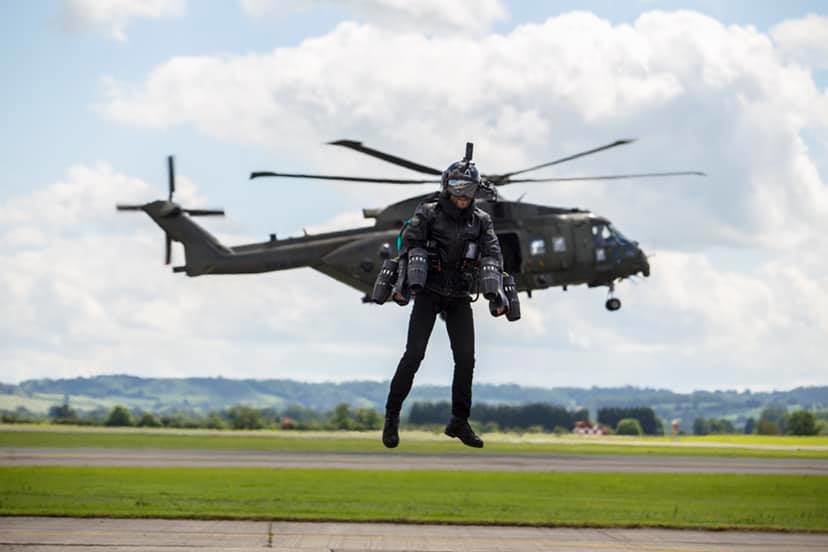 Richard Browning, 41, chief test pilot of Gravity Industries, founded the company in March 2017 "to launch human flight into an entirely new era." Browning, who served six years in the Royal Marines Reserve, piloted his company's jet suit around the HMS Queen Elizabeth last year as part of an overall bid to highlight the device's potential military applications.
Militaries around the world have long floated the idea of wearable jet packs and rocket packs.
A Russian inventor first toyed with the concept of a rocket-powered backpack around the end of World War I. In World War II, the Nazis experimented with a small V1 rocket, known as the Himmelstürmer, which could be worn by a single soldier. None of those ideas, however, ever produced a device with any real battlefield utility.
Taking advantage of expertise gleaned from Nazi rocket scientists captured at the end of World War II, the US military experimented with the idea of jet packs and rocket packs in the 1960s. However, America never developed a workable design, either.
The British armed forces haven't announced a decision to incorporate Gravity Industries' jet suits into their operational forces — not yet, anyway. However, Browning has reportedly met with members of US special operations forces, including Navy SEALs, to discuss the possible combat applications of his company's jet suits.
Last year, US Special Operations Command reportedly experimented with a jet suit system produced by the American firm JetPack Aviation. The California-based aviation company reportedly entered into a development agreement with SOCOM in 2016, and went so far as to train a Navy SEAL to operate its so-called individual lift device. With a top speed of 200 mph, the JetPack Aviation device is considerably faster than the Gravity Industries jet suit.
Gravity Industries, for its part, has also run tests with a British ambulance service to determine how its jet suits might be used for emergency medical services in the mountains, when an overland or helicopter rescue may not be practicable.
"Who knows what the future holds but this is a start we are very proud of," Gravity Industries said in a statement.