Sunday marked the fifth day of heavy fighting between militants affiliated with the Islamic State group, or ISIS, and government forces in Mozambique's northern province of Cabo Delgado, underscoring a rapidly worsening security situation less than two weeks after a contingent of US Army Special Forces arrived in the country to train its armed forces in counterinsurgency combat.
"The Embassy is deeply concerned by the terrorists' continued assaults against the residents of Cabo Delgado, who have suffered tremendously from the terrorists' brutal and indiscriminate tactics," the US Embassy in Mozambique said in a Friday statement.
For nearly a week, militants belonging to a newly minted Islamic State group affiliate have laid siege to the strategic port city of Palma in northern Mozambique. The past few days of violence have been horrific, according to area news reports. The Islamist militants have killed scores of civilians, reportedly "littering the streets" of Palma with bodies, according to Human Rights Watch and The Associated Press. Witnesses described the near constant sound of gunfire.
According to area news reports, a "Dunkirk-style" armada of civilian watercraft — ranging from oil tankers to small pleasure craft — is ferrying civilians off Palma's beaches as the terrorist forces close in.
"Last Wednesday, a group of terrorists sneaked into … Palma and launched actions that resulted in the cowardly murder of dozens of defenseless people," Omar Saranga, spokesman for Mozambique's Defense Ministry, told reporters.
Originally known as al-Shabab in Mozambique, ISIS in Mozambique pledged allegiance to the Islamic State group in April 2018 and was accepted as an affiliate group by the central leadership in August 2019.
With about 800 militants in its ranks, the ISIS affiliate in Mozambique has waged a violent extremist insurgency in the country's northern Cabo Delgado province since 2017. The group has taken de facto control over swaths of land, including the port town of Mocimboa da Praia, located about 31 miles south of Palma, which the militants captured in August.
The State Department designated ISIS in Mozambique as a foreign terrorist organization on March 10.
US Army Special Forces soldiers remain deployed to Mozambique to train the country's marines. The Green Berets are not expected to participate in combat missions while in Mozambique. According to Special Operations Command Africa, the Special Forces soldiers will be in Mozambique for two months for the training mission, which began March 15 and is intended to "prevent the spread of terrorism and violent extremism."
The events in Palma do not affect the US Special Forces training mission in Mozambique, a US Africa Command spokesperson told Coffee or Die Magazine in an email.
"To my knowledge, no US forces are involved in the events in Palma," said Maj. Andrew Caulk, a US Africa Command public affairs director.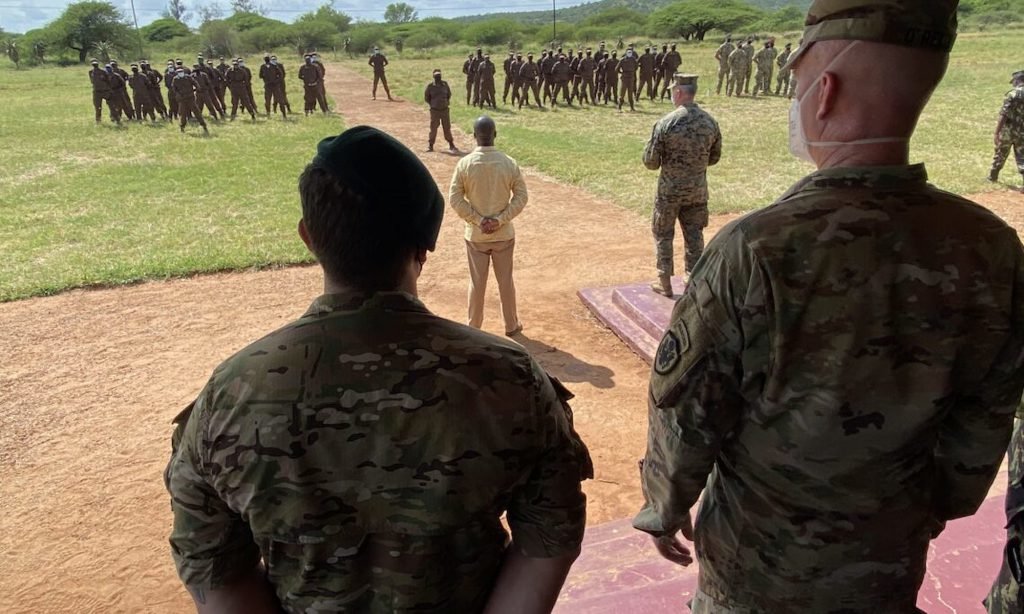 Mozambique's army remains locked in a battle to retake Palma and rescue civilians caught in the crossfire — including hundreds of foreigners. Some foreign workers who tried to evacuate Palma came under fire, resulting in numerous casualties. And, according to Human Rights Watch, the militants have been beheading some of their victims. According to the AP, "a few hundred" foreign workers from South Africa, the United Kingdom, and France took shelter in hotels that were ultimately targeted by the attacking militants.
"Terrorists have staged an attack on the town of Palma in Cabo Delgado Province," the US Embassy in Mozambique said in a Friday security alert. "There are reports of intense fighting between government troops and terrorist forces. Communication networks in the area have been disrupted."
Some 200 foreigners and Mozambicans had taken shelter at the Amarula Palma hotel. A truck convoy that included about 80 of those people reportedly departed the hotel on Friday, heading for a nearby beach where they hoped to be rescued. However, the convoy was attacked while on the road and only seven of 17 trucks eventually made it to the beach. An unknown number of people were killed in the assault. For those who reached the beach, continued fire by the militants has limited the possibility of rescue, the AP reported Sunday.
The Amarula hotel remains under attack, multiple agencies report. The civilians who had been in the 10 disappeared trucks in the convoy remain unaccounted for at the time of this article's publication. Mozambique's military said at least seven civilians were killed in the convoy ambush.
According to the AP, this latest wave of violence in northern Mozambique began on Wednesday following a decision by the French gas company Total to resume operations at a $20 billion natural gas project in Afungi, near Mozambique's border with Tanzania. Total announced that it was once again shutting down operations at the liquified natural gas project due to the latest spike in violence.
To date, fighting in northern Mozambique has killed more than 2,600 people — including more than 1,300 civilians. And the State Department estimates that some 670,000 people within northern Mozambique have fled their homes due to the violence. Some 1.3 million people in the region are in urgent need of humanitarian assistance, the United Nations reports.
The Mozambican government, headquartered in the capital city of Maputo, had previously used mercenaries from South Africa and Russia to combat the ISIS insurgency in the north. However, Amnesty International accused that private army, as well as government forces, of multiple human rights abuses.
According to reporting by Zitamar News, one South African security outfit contracted by the Mozambican government — the Dyck Advisory Group, or DAG — will cease operations in Mozambique by April 6. The DAG had been providing helicopter support for Mozambique's armed forces, according to Zitamar News.
Two other South African defense contractors — Burnham Global and Paramount — have secured contracts to provide Mozambique's armed forces with military training and advisory services.
The Green Berets' training program for the Mozambican marines could include a broad skill set, including "small unit tactics, airborne operations, sniper tactics, intelligence integration, country familiarization, assessments, and language training," Army Sgt. 1st Class Daniel Love, a spokesman for Special Operations Command Africa, previously told Coffee or Die Magazine.
Read Next: