As the closing ceremony of the 2020 Summer Olympic Games draws near, we thought it might be fun to add a Japanese-inspired brewing method to our knowledge database. Coffee beans first made their way into Japan through the ports of Nagasaki in the 17th century. But coffee was not initially well received by the masses. Instead, Dutch residents enjoyed much of Japan's early imported coffee.
It was not until 1888, when the first coffee shop in Tokyo opened its doors, that mainstream Japan began to embrace coffee — albeit very slowly — and the country has been refining its taste for the beverage ever since.
Today, iced coffee and ready-to-drink coffee varieties are extremely popular in Japanese culture as easy, on-the-go options for getting your daily caffeine fix.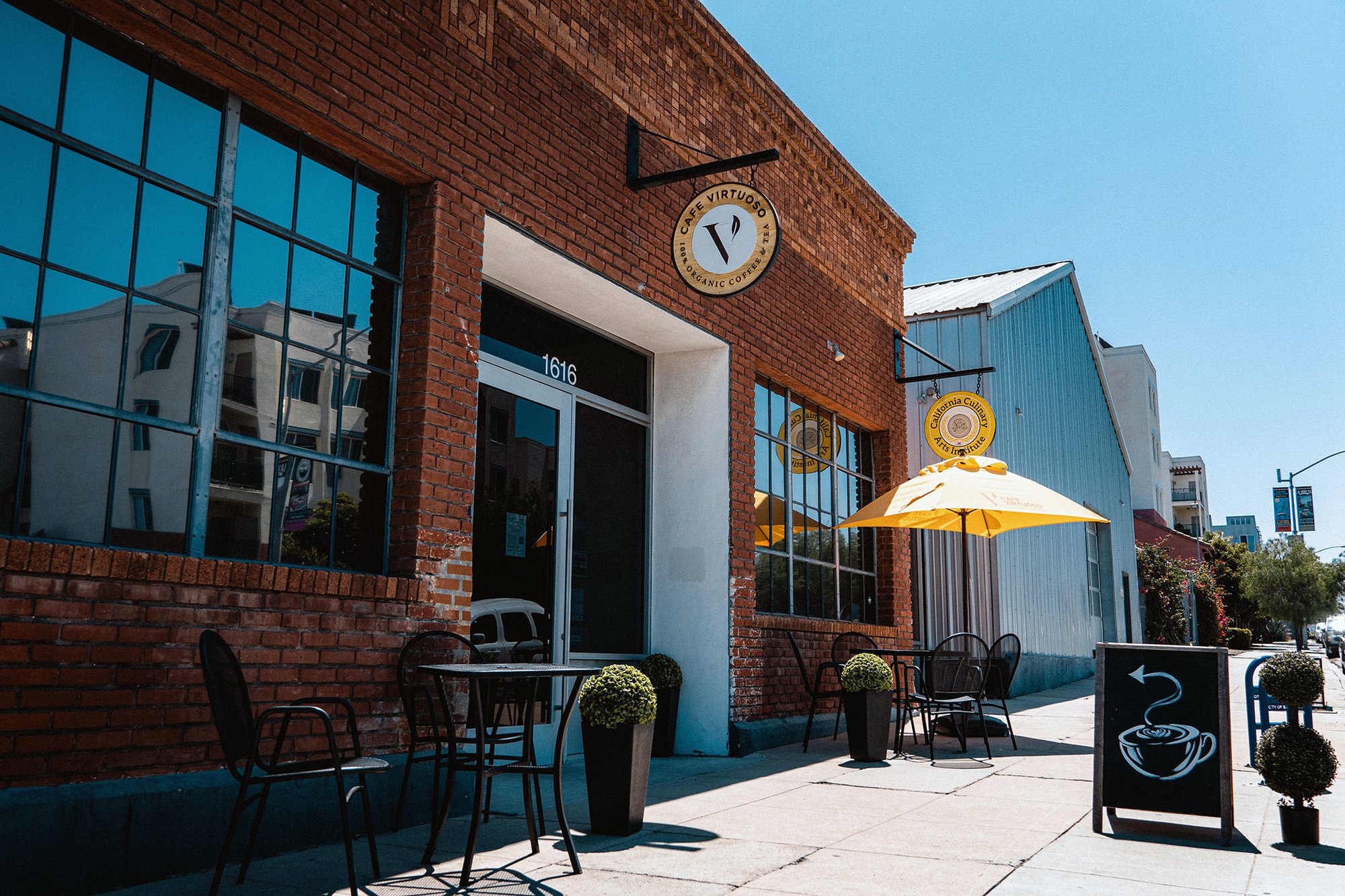 This may explain why the Japanese iced pour over is a popular method for brewing our favorite summer beverage. It eliminates the need for the extended steep times required to make a batch of cold-brew concentrate.
The Japanese-style iced pour over sounds simple enough to make — brew your favorite hot coffee directly into a vessel filled with ice. But as with many specialty drinks served at your favorite coffee shops, perfecting the single-serve, pour over brewing method often comes down to finding the proper coffee-to-water ratio.
We enlisted the help of Cafe Virtuoso in our quest to create the perfect Japanese iced pour over. A popular Southern California hangout, Cafe Virtuoso is a 100% certified organic specialty coffee roaster and cafe based in San Diego.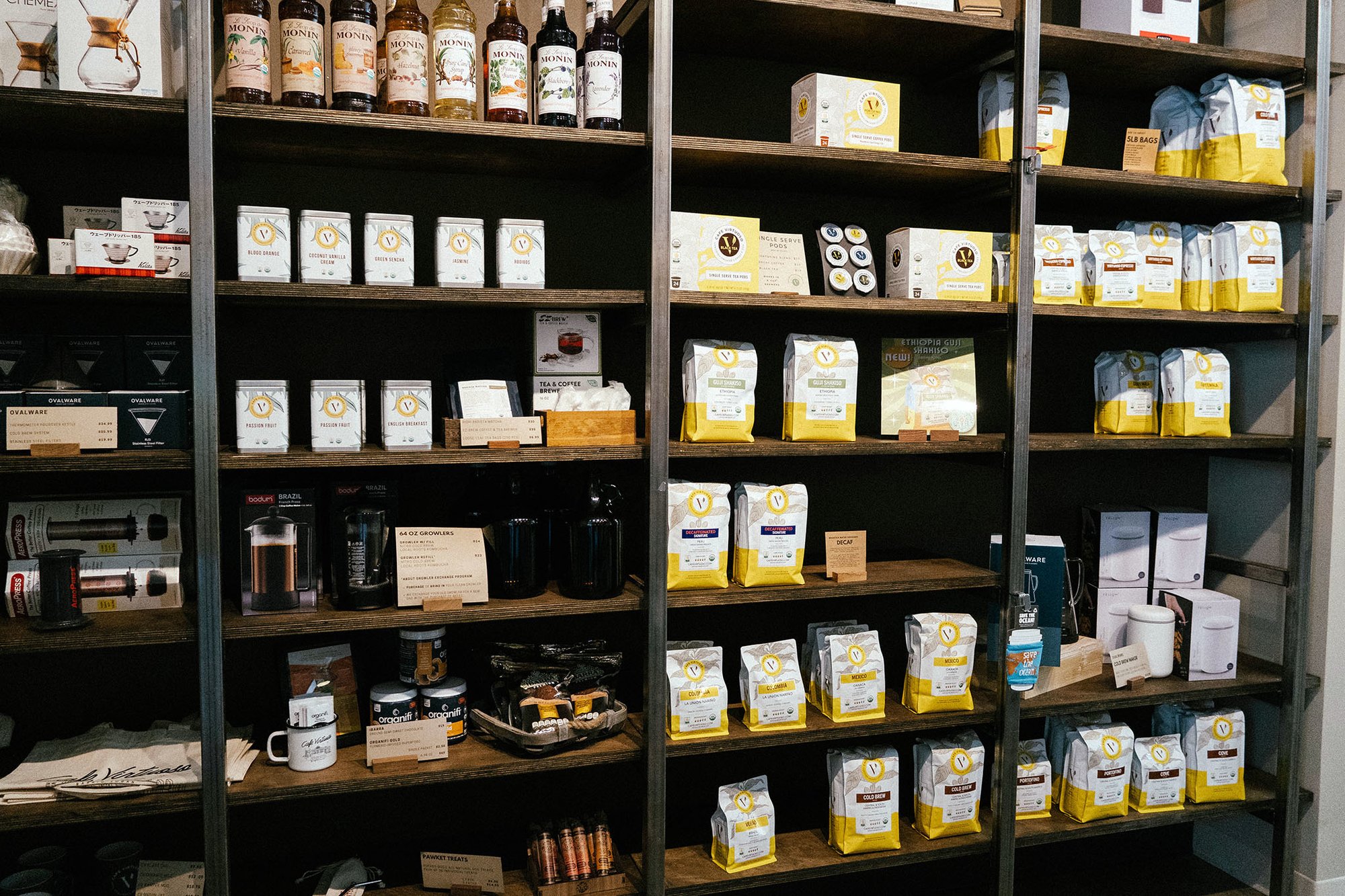 Laurie Britton founded the company in 2008, and its vision has remained the same since day one: to procure the highest-quality organic specialty coffee and tea while remaining ethically invested in sustainability and socially responsible practices.
This coffee roaster seeks to match and exceed the Specialty Coffee Association's standards in all aspects of its operation. The SCA is the world's largest coffee trade association, formed to establish benchmarks for the quality and consistency of the global specialty coffee industry.
Before setting up a pour over lesson, we looked at Cafe Virtuoso's website to choose a roast for the class and found a range of single-origin, blend, and espresso coffees.
We decided on a new, limited-reserve, single-origin offering from the cafe — the Ethiopia Guji Shakiso. Produced in Shakiso, in the Guji zone of the Oromia region, Ethiopia, the coffee is organic, refined, and naturally processed.
Cafe Virtuoso lightly roasts this coffee in-house, giving the beans a balanced sweet and smooth flavor with vibrant, fruity acidity. The team agreed that this would be an excellent choice for the pour over, as the brewing method would allow us to fully experience the coffee's delicate nuances.
Located near downtown San Diego, California, the two buildings that house the cafe and roaster were airy and immaculate, with large, tinted windows and ample square footage. Cafe Virtuoso's public relations representative Michael Ellis and quality assurance and education contributor Savannah Phillips greeted us. Ellis gave us a full tour, including the roasting area, where a new roast was being processed. Then it was time to meet Cafe Virtuoso's head barista, James Brusius.
"We are going to make a Japanese iced pour over using the Ethiopia Guji Shakiso, which is a natural-processed Ethiopian," Brusius said. "We are going to use 45 grams of whole-bean Shakiso. Typically, we use 32.5 grams for a regular glass, but because this is an iced pour over today, we wanted to make it more of a concentrate and a little stronger so it fights being diluted too much when poured over a full glass of ice."
Before we started grinding, our barista purged the coffee grinder with the same coffee beans we were using to remove any unwanted residue from a previous grind. The grind size was set to fine for this brewing method, and we proceeded to add the coffee beans.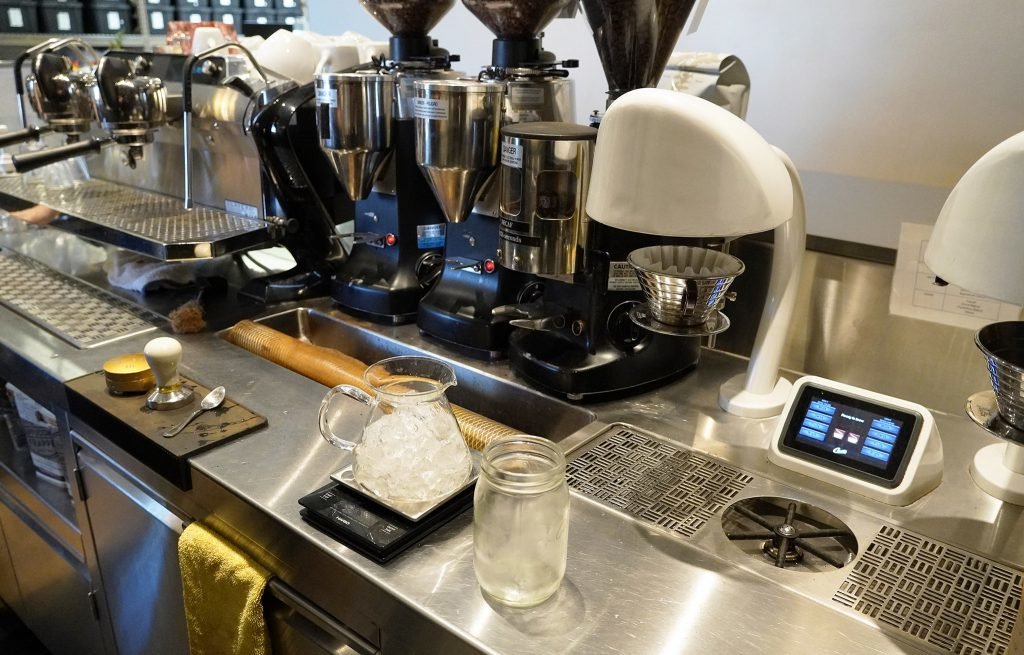 Once we had the desired amount of ground coffee, we saturated our paper coffee filter to remove any unwanted paper flavor. Then, we added the Shakiso coffee grounds.
Unlike cold brew, which is all about removing acidity, Japanese iced coffee offers a full range of flavors in the time it takes to brew a cup of hot coffee. The team at Cafe Virtuoso uses the state-of-the-art Curtis Seraphim brewing system to achieve this result.
"It's pretty much a preprogrammed, automatic pour over machine found in many busier coffee shops. But we do appreciate hand pour over coffees here," Brusius said.
[vimeo id="274589722″ /]
The next step was to add the ice to the serving vessel. "Even for the ice, we do exact measurement too," Brusius said. "We add 230 grams of ice to the glass. We found, for a Japanese iced pour over, 230 grams dilutes and cools the coffee down enough without taking away the complexity of the coffee itself."
While many coffee enthusiasts use the standard 1-to-16 coffee-to-water ratio for a pour over, when brewing over ice, it's common to decrease the hot water to around 1-to-11 and make up the difference with ice.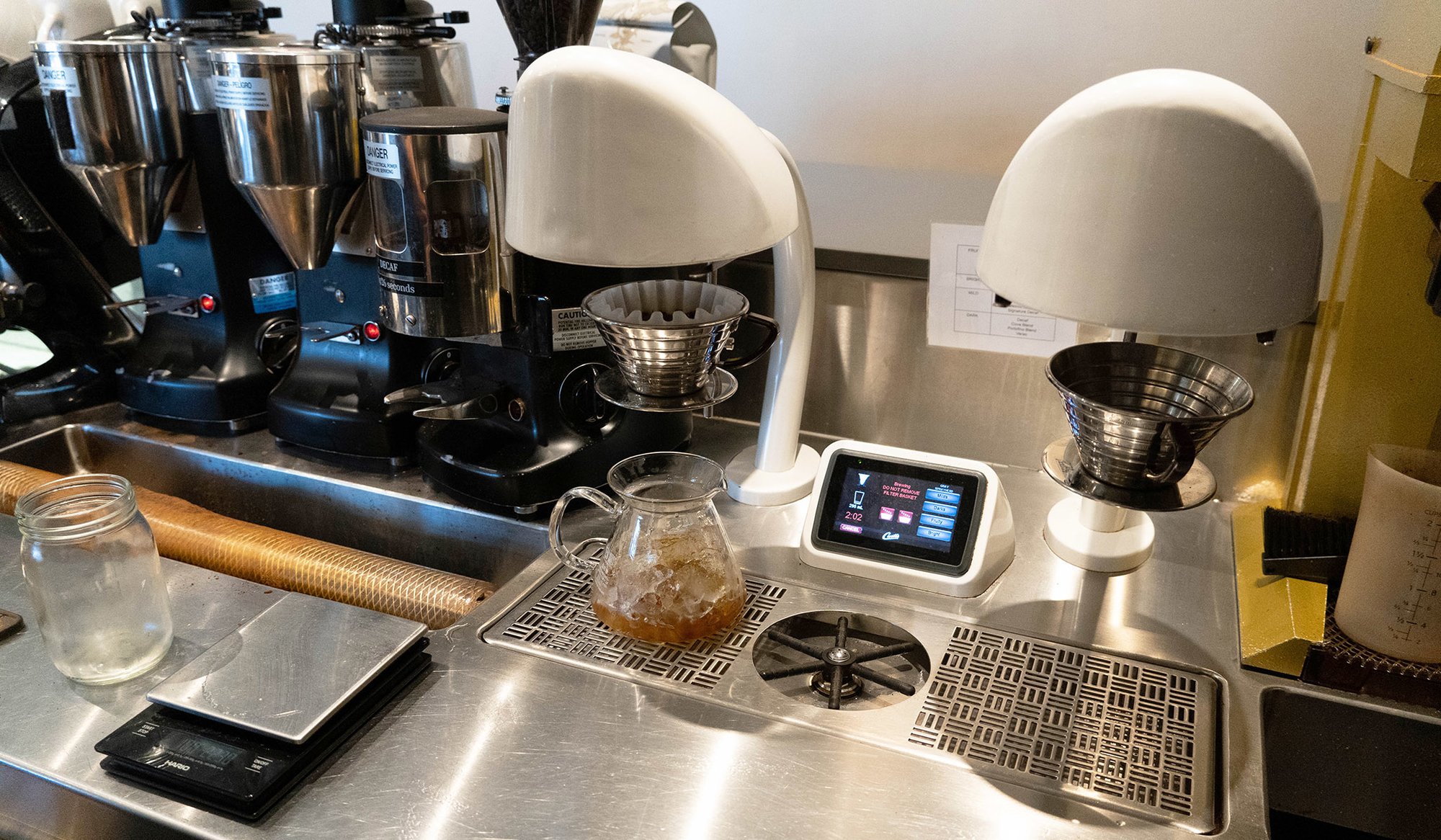 Our barista explained that the Cafe Virtuoso method was more of a Japanese flash brew — the results were instantaneous. Some iced coffee experts claim this method dilutes the coffee a little too much, but Brusius said this could be mitigated by using a slightly higher coffee-to-ice ratio.
Once we had our ideal ice-to-ground coffee ratio, it was time to start brewing our beverage. "We have particular brew profiles for our coffee," Brusius said. "For the Ethiopian, we typically showcase the fruity flavors of the coffee. We will use 295 milliliters of water, and it is typically about a two-and-a-half-minute brewing process."
Once the coffee brewing was complete, our barista transferred the iced coffee into a Mason jar. It was time to sample the limited-reserve, single-origin coffee.
The coffee had a very soft, amber look to it in the Mason jar, and we could smell the fruity notes that our barista had mentioned at the beginning of our class. So how did it taste?
The iced coffee was light and refreshing, with notes of strawberry and toffee, and a floral aroma. Because this was an Ethiopian coffee with a light roast profile, we expected a high acidity note upon the first sip, but that was not the case. As we continued to sample the single-origin coffee, both in iced-coffee and espresso form, it became clear why the Shakiso has become a popular roast with Cafe Virtuoso customers.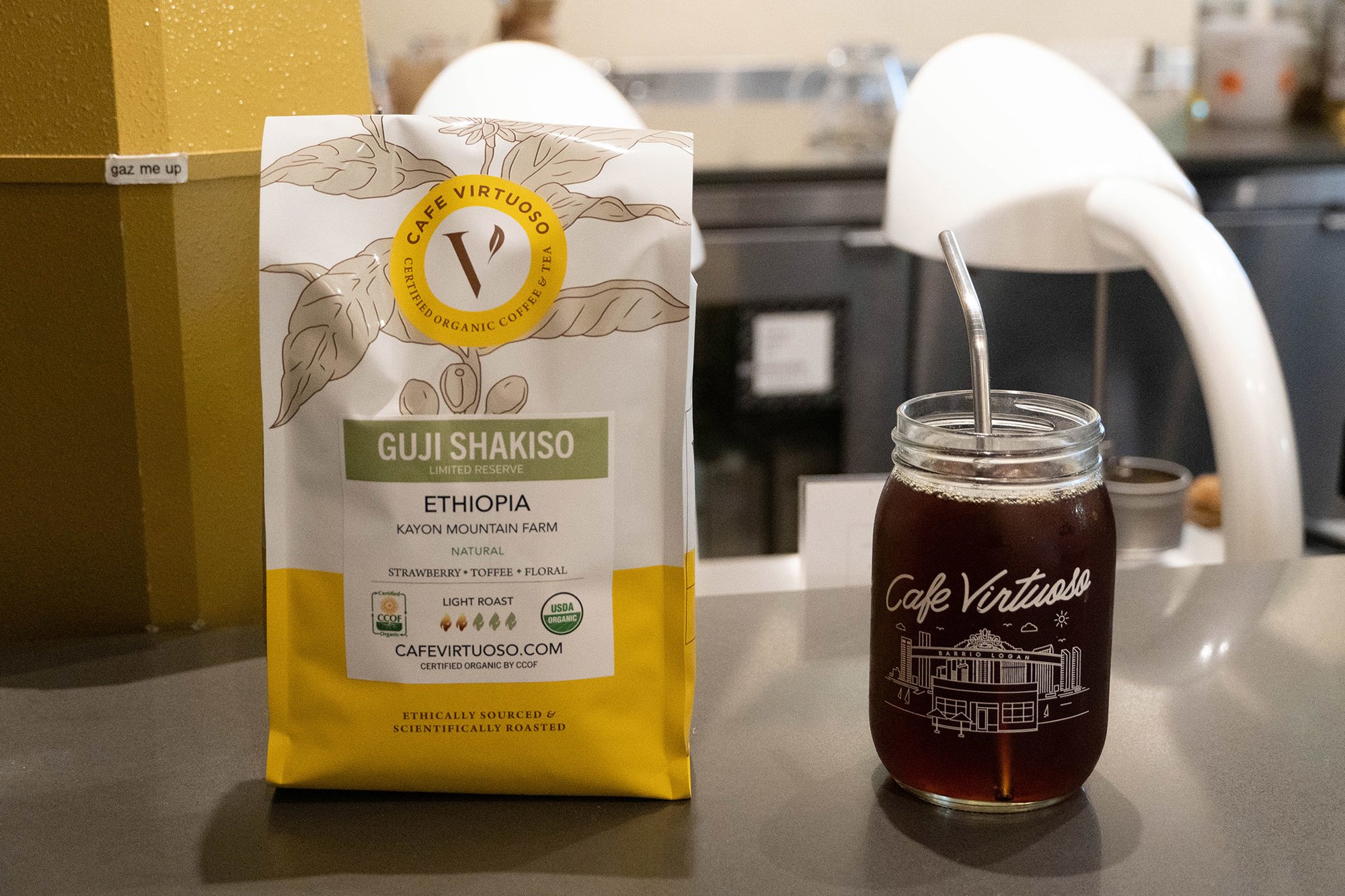 Japanese-Style Iced Pour Over


Bring 300 grams of water to just below a boil — about 209 degrees Fahrenheit.


Weigh out 45 grams of freshly roasted coffee beans and grind them on a fine to medium setting.


Place your Hario V60 — or any comparable dripper device — on top of the vessel and put it all on the scale.


Insert a V60 paper filter and rinse it with hot water. Empty the water from the vessel.


Add 230 grams of ice to your vessel. Zero out the scale.


Add the 45 grams of ground coffee to the V60 cone. Zero out the scale again.


Start the timer and begin pouring 90 grams of water (double the weight of the coffee grounds) directly onto the ground coffee.


Pause to let the coffee bloom for 30 seconds.


Slowly add the remaining water, pouring continuously for even saturation of the coffee grounds. The whole brewing process should take approximately 3 minutes.


Once the coffee coming from the filter slows to an occasional drip, the brew is finished.


Pour it into your favorite iced coffee glass, and enjoy.


For enthusiasts interested in brewing their own Japanese-style iced pour overs, a variety of pour over devices and coffee profiles will work. Just remember to position your brewing device over a vessel that's large enough to contain both your ice and the brewed coffee.
Read Next: