Former Navy SEAL and current Texas Republican US Congressman Dan Crenshaw is setting himself apart from the average politician with his latest campaign video. The video, which was brought to life by Black Rifle Coffee Company co-founder and US Air Force veteran Jarred Taylor, is stylized like an action movie trailer. Running just under four minutes, "Texas Reloaded — Greatest joint campaign ad in history" features five additional Texas Republicans running for Congress, three of whom are combat veterans.
The campaign ad is doing what its creators intended and receiving a lot of attention. It currently has more than 1 million views on YouTube and nearly 4 million views on Facebook. It's making the news rounds as well. Some of the headlines include: "Republicans as Avengers? Houston Rep. Dan Crenshaw goes all Captain America in new political ad," Houston Chronicle; "Dan Crenshaw's New Campaign Ad Is a Whole Thing," Texas Monthly; and "Dan Crenshaw's Texas campaign ad looks like a Hollywood action movie trailer," New York Post.
Crenshaw is running against Democrat Sima Ladjevardian in Texas' 2nd Congressional District. In response to the ad, Dan Gottlieb, the communications director for "Sima for Texas," said, "Dan Crenshaw is welcome to play super hero while Sima Ladjevardian focuses on representing the health care needs of TX-02. Over 100 Houston frontline medical heroes recently begged Dan to stop spreading disinformation about the COVID-19 virus, but instead he's doing this. We'll see what the voters think of his priorities on November 3rd."
Coffee or Die Magazine sat down with Taylor, the video's director and co-writer, to learn more about how the video came together.
This interview has been edited for length and clarity.
COD: How were you involved with this video?
JT: So, Mr. Representative Dan Crenshaw was out at my place to do the Free Range American podcast with me and Mat Best a few months ago, and he ended up staying the evening, and we did dinner and things like that. He started talking about how he really wanted to kind of transform political ads and make them into something that is really fun and crazy and cool. He cited Black Rifle's marketing, saying, "You guys know how to do this stuff. Well, the guys that I generally use, I've never seen them do this kind of filmmaking. So, I don't think they're the ones to go to when it comes to it."
So, I had a follow-up meeting with him a week later, he gave me his vision or concept of how he could come in and bring awareness toward a bunch of other candidates that are all running in the state of Texas. And obviously we're making a piece that we're attempting to go viral with. And he explained to me what was in his head. Then myself and Jake Watson from Corridor Digital spent a couple days writing a rough script, and we passed it back to Dan and his team.
Unfortunately, Jake got booked for other things, all while we were in the planning stages of this, so they had to back off and I took it from there. So, I got a call from his campaign managers a couple weeks later, after we sent the scripts, and they asked if we could move forward on this. And I said, "Yes, of course we can, but how much and when are Dan and all the other people available for us to do this?" This was about the 8th of August when she called. She said, "Well, we can shoot the 24th and 25th," and I was like, "Oh god, this is very, very prop and set intensive. And we have to do a skydive. This is going to be hard to pull off."
So, I got on the phone and I called one of my old roommates and really good friends. His name is Joey Vasatka, and he's one of the co-owners of a production company called Dreamseeker Productions out of New Orleans. He and Khader Alherimi, which is one of his business partners, have been working in the film industry for about four or five years over there. Joey is one of the main electric crew for the show NCIS: New Orleans.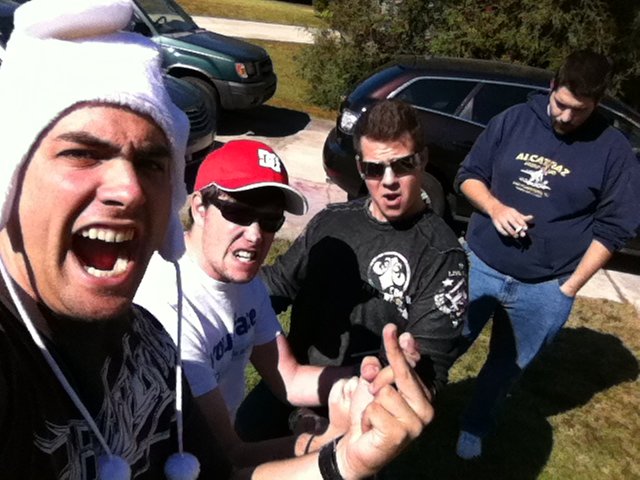 So, Joey took lead as the producer and line producer, and he hired a location supervisor and sent him out almost immediately. They found us the locations where we were able to do this. We kind of war-gamed a couple times. He got me on the phone with the DP that he had hired, who was also a prior Navy SEAL, and we talked through how we envisioned things. You know, having done this from start to finish by myself, it was really easy for me to get them to visualize what the edit looked like in the end.
And then I went out there to direct what I had written for it, and that was kind of a really cool experience because the first time it was just me as the director. You know, in our productions with Black Rifle Coffee Company, we're surrounded by five directors at all times. Now I'm working on a set with a big budget and it's me. That is very different. I got a lot of good feedback because I was able to move us along very quickly because I knew exactly how we were going to edit. I'm editing in my head as we're shooting, so I know we don't need all this extra stuff. I'm thinking, Here's my cut to this cut. I got that. Okay, we can move on. Oftentimes I saw some of the crew like, "Wait, what really? Oh, wow. All right, we're moving on."
COD: How many days did you have leading up to filming, once they set the date?
JT: The original dates got pushed because of the hurricanes. So we had to scramble and push to the following Sunday and Monday. The original shoot days were the 24th and 25th of August. So that was a scary thing because I was like, Okay, if this schedule is getting pushed, and we're dealing with five different politicians that are all running right now — like, you want to talk about herding cats.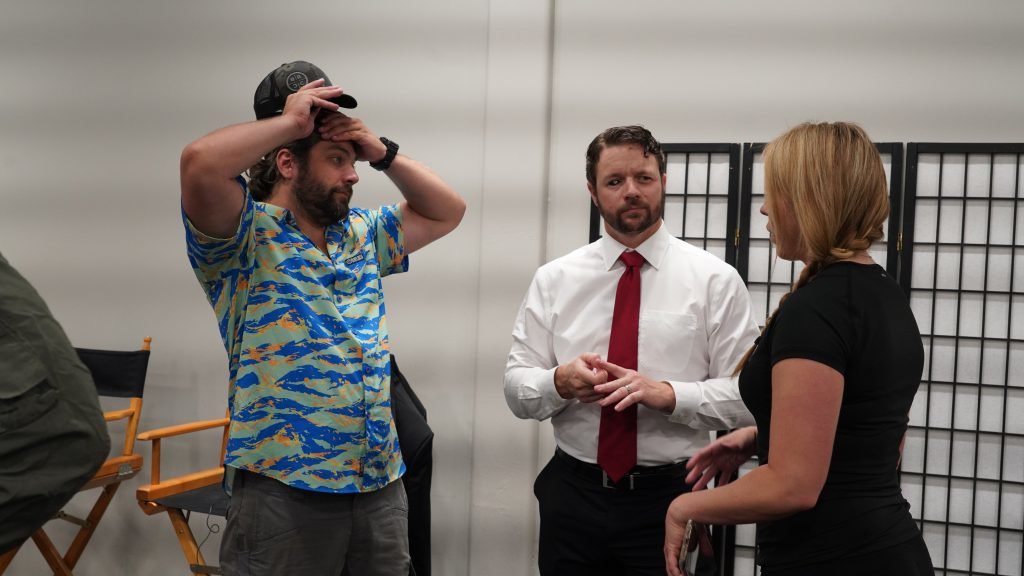 COD: When most politicians create an ad campaign, it's either all about them as a person or it's about their opponent and trying to bring them down. So, what was the thought behind bringing in these other politicians to Dan's campaign ad?
JT: We met the exact goal that we set out to do. This was not necessarily about taking a position, but it was about showing the public of Texas who is running and giving them an introduction. We have used a scene in each one of these that comes from all of their backgrounds. So, we have an F-22 pilot (August Pfluger) and an Apache pilot (Wesley Hunt). We've got Beth, who was the mayor of Irving, just outside of Dallas. So, her scene is her giving a police officer an award. And then we go to Genevieve who is rising in the ranks of jiujitsu and just an athlete. And then Tony, who retired out of the Navy as a master chief in the cyberwarfare division.
So, we were just finding a way to introduce the public to who these people are on the ballot or offer that entry point to where you may have seen their opponent's commercials and now you've just remembered their name from this commercial, to now actually go look up and see what these people are about. It's really funny because not only did I use two of my best friends that I've lived in a house with before to produce this video, but Tony is running against a girl (Gina Ortiz Jones) that I served with in the Air Force and deployed with in 2005 to Iraq.
COD: Do you have any guilt or bad feelings about that?
JT: No, not at all. I mean, if she asked me to make her a video for help, of course I would. But Dan asked me.
COD: What was it like for you directing these politicians? I would think it's different than working with the people at Black Rifle Coffee Company that are maybe a little more used to hamming it up or just being on camera in general.
JT: That was definitely a thing. But guys like Wesley, I wanted to stay on his scene all day because he just did so well on camera. I was super excited. I caught myself like, "Oh Wesley, what if we did this next?" But it's not Wesley's commercial. But yeah, all of them did very well. We did not have to spend any extra time on anybody's scenes. Also, in the writing, we kept this as simple as we could because I knew we had such a limited amount of time. And coming from the film world, we know what the reality is once you get on set. You'll get from the producer something like, "Okay, we have this scheduled for this shot so we're going to take 40 minutes," and I look at him I'm like, "An hour and 40 minutes? Right. We know how this goes."
I think what really helped me on that set was knowing that edit in my head going into it, and knowing where my safety nets were to cut away to in what scenes, and then making sure when the editor sat down with it, he had everything that he needed to kind of make this fast because this turnaround was insane. We shot this, the last week of August, and it's already out and been running for a couple weeks now.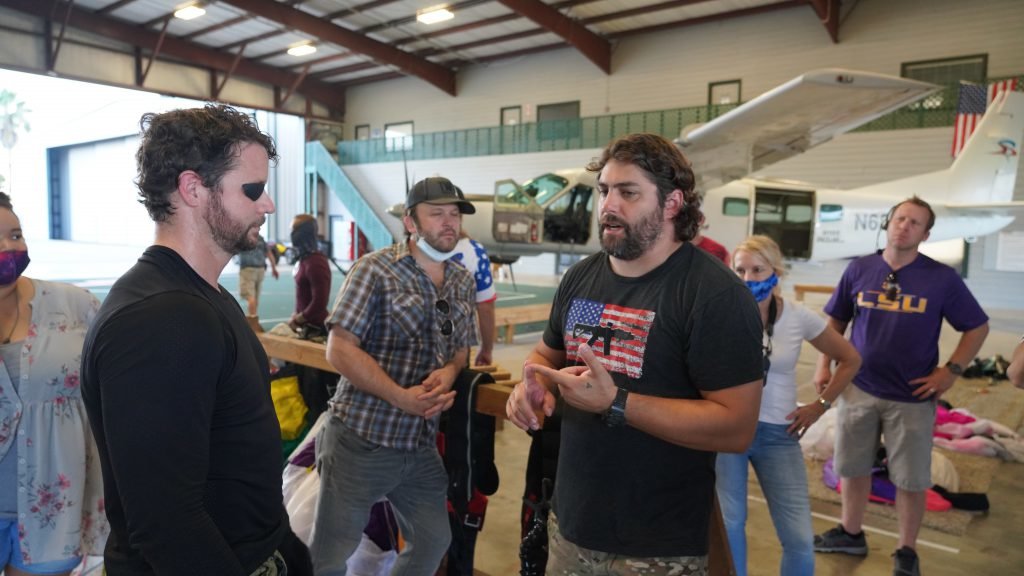 COD: What has the response been like?
JT: That's another funny piece. As we were getting toward the end of the edit, I said on the phone with Dan, "Hey, you know, I wouldn't expect this to go very viral because I mean, it's really interesting and informative and it's going to meet our objectives that we had for this, but you know, it kind of lacks the shareability that general pieces of content have to take legs and get shares." And then I wake up the first morning that he posted, and it has 26,000 shares. And then from there it just snowballed. And then he did a whole special on Fox and Friends about just, "Holy cow, you made a movie trailer as your campaign ad."
COD: Do you think there's ever been a campaign video that's been made quite like this?
JT: Uh, no, because I will say, and you never know for all 50 states for local stuff like that, but I think this is definitely the first campaign ad that involves a HALO jump where it's not a stunt double. Dan himself had to go back and re-cert and jump for those guys to show that he's still proficient before doing this, and that's actually Dan jumping.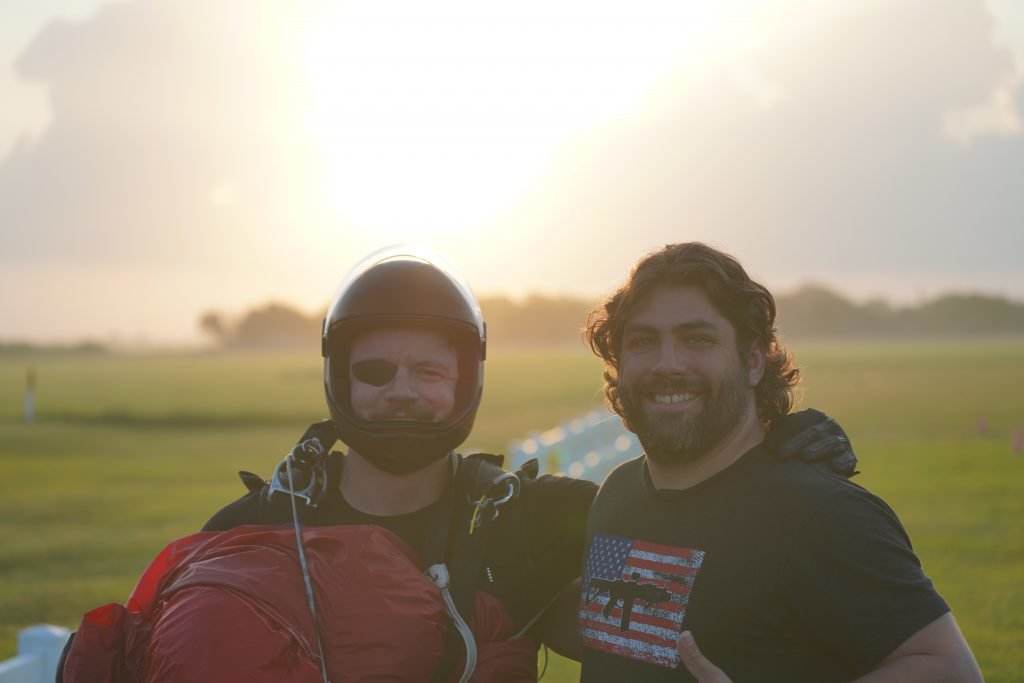 COD: What's the message of this video?
JT: So, I'm really appreciative of it because Dan didn't have to do this, but what he did is he said, "As an acting congressman in the state of Texas, I'm going to help out these new people that are running. And let's get some awareness using my platform and audience to jump-start some conversations about these other candidates." So, I really appreciate it. I think it was a very nice thing for him to do for those guys.
COD: What about the message, save Texas? What are we saving Texas from?
JT: I think the big message right now is Texas has a huge influx of outsiders coming in, and those outsiders that are coming in are leaving where they lived because politics got bad. So if you're coming into the state and repeating the same political mistakes that you fled from, that's not very productive for all of us over here.
COD: Where did you guys film all of it?
JT: It was a two-day shoot. We filmed the first day out at the Lone Star Flight Museum. Then day two was at Spaceland, the drop zone in South Houston.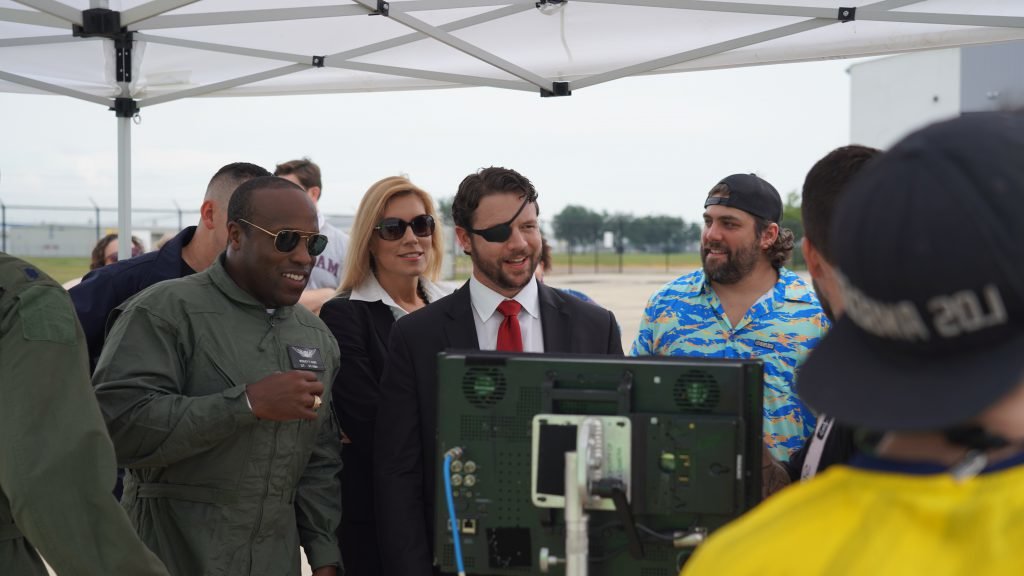 COD: Apart from scheduling, did you run into any other hiccups or craziness?
JT: Surprisingly, I've never been on a set that just went that smooth. I really was nervous because I'm working with five politicians, not actors, and you know, actors understand that production takes time. And that, in a normal person's head, if they just think, Oh yeah. We're just shooting this simple scene, and she's only at a podium, that shouldn't take long at all. It's like no — we have 12 crew members who are setting up lighting and a podium, and we have extras that were there for that playing press, and two police officers there that were playing the police officers. There are so many moving parts. This stuff doesn't happen quickly. But all of them are really awesome, respectful, easy to work with, and it was a very smooth set. And the people at Spaceland let us come in super early to get that sunrise shot, and we can't thank them enough because they just made things very, very easy.
COD: Have you guys talked about any plans to do anything else in the future?
JT: Yes. I am in regular conversations with Dan Crenshaw right now about some follow-up pieces. If we can't get squeeze them in before the election, then we're looking to start shooting some stuff next summer. He wants to go bigger, you know, just as I do. I told him that if we have more time, we can make this cooler and cooler, and eventually get into some nuances. And if we're stepping the bar way up for political ads to where they no longer are just, "This person doesn't like this, and this person voted through this. Do you want your children to be unsafe?"
COD: Is there anything else you want to add?
JT: Just a huge thanks to Joey Vasatka for really running point on the production of this, and he was helping me during the edit. He ran the show when it came to making sure that this thing went off, and we were able to have a place and all the necessary equipment to do this. And Khader Alherimi, I have known these guys for almost 12 years now, and it was really fun coming full circle, having lived with them back in Florida, years ago, and all of us coming together as professionals and doing a project together.