Staff Sgt. Joe Ronnie Hooper knelt down near the bank of a 20-foot-wide stream just outside the perimeter of a heavily defended Vietcong bunker complex. For the past month, the US Marines had engaged in vicious firefights against a determined enemy in an effort to capture Huế, the ancient city in central Vietnam, during the Tet Offensive of 1968. The 29-year-old red-haired squad leader of the Delta Raiders, formally known as Company D, 2nd Battalion, 101st Airborne Division, waited in silence as their element maneuvered to commence the assault.
The Viet Cong, however, were alert and immediately opened fire on the first sighting of an American soldier. A barrage of small arms fire, automatic weapons, and rockets rained down on their positions.
Despite bullets violently skipping across the stream, pinning down the rest of his element, Hooper pushed forward, which inspired five paratroopers to follow behind in the face of danger. Hooper took off at a sprint to overtake five enemy bunkers on the opposite shore armed with his rifle, a pistol, and a pocket full of hand grenades.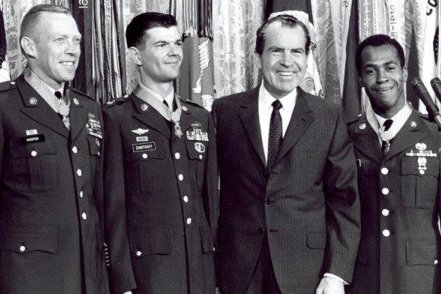 He single-handedly surprised the Viet Cong — now focusing their attention entirely on his one-man-army effort — freeing up the rest of his element to reinforce his efforts. During the fighting, he courageously moved across open ground and into the kill zone to recover the wounded. As he returned to his men providing suppressing fire from behind cover, his company's medics warned he had been hit and had a life-threatening wound. He refused to be medically evacuated, and the seven-hour battle raged on.
Hooper assaulted three more enemy bunkers and killed the occupants. Nearby he witnessed an Army chaplain fall to the ground as he was providing the last rites to those who lay dying. Hooper shot and killed the two Viet Cong soldiers who had wounded the chaplain and brought him through a hail of gunfire to safety.
Blood trickled down his red-soaked uniform as he painfully pushed onward to approach three occupied buildings. Inside were Viet Cong riflemen who were inflicting casualties at his position. Although their fire temporarily halted his element, Hooper sprung forward, single-handedly destroying each of the three buildings. Then he met face-to-face with a North Vietnamese officer whom he engaged in hand-to-hand combat.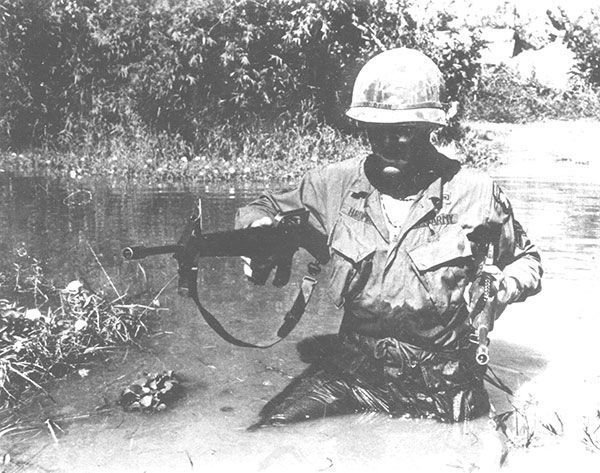 "The officer's rifle jammed and Sgt. Hooper was out of ammo as the enemy tried to escape," recalled Lonnie Thomas, another soldier who watched from afar. "But Sgt. Hooper chased him down and stabbed him with his bayonet."
Hooper stumbled to his feet and raced toward another enemy-held building as explosions peppered his side. He picked up a rifle lying on the ground and silenced the gunfire coming from the enemy's position.
With seven wounds to his body and nauseated from the loss of blood, Hooper led a final assault against a series of four bunkers that sat side by side on his left flank. He slung a satchel full of hand grenades around his shoulder, dashed down a trench parallel with the bunkers, pulled the pins as he was running, and hurled them inside as he passed them by. Three additional bunkers were active just beyond his position, and he hurled an incendiary grenade into one and killed the enemy soldiers inside the other two with his rifle.
Expecting the fight was nearing an end, he heard a faint but familiar voice, calling for help. Thomas handed him a .45-caliber pistol and Hooper ran across an open field to the wounded soldier's aid. A North Vietnamese fighter had his rifle pointed at Hooper's head as he arrived. Hooper drew his pistol as if he were in a Wild Wild West duel and killed the officer before he could pull his trigger.
The next morning, after the fighting had ceased, Hooper received much-needed medical attention after single-handedly knocking out several bunker positions, killing 22 to 24 enemy combatants, and weathering life-threatening wounds.
Staff Sgt. Hooper was presented the Medal of Honor on March 7, 1969, by President Richard Nixon for his actions on Feb. 21, 1968.
"Sgt. Hooper in one day accomplished more than I previously believed could have been done in a month by one man," Sgt. George Parker said, who witnessed his heroism. "And he did it all while wounded. It wasn't just the actual count of positions overrun and enemy killed which was important. But far more so was the fantastic inspiration he gave every man in the company."
Hooper went back to Vietnam for a second tour of duty after receiving special permission from President Nixon. He returned home a hero and was even dubbed "The Vietnam War's Audie Murphy." He walked around with a $12,000 retirement check in his shoe and hidden wounds from the war that affected his mental health. The most decorated soldier of the Vietnam War with the Medal of Honor, two Silver Star medals, six Bronze Stars, eight Purple Hearts, and 115 enemy killed in action, was a hero to his brothers and sisters-in-arms, but a victim of the public perception of Vietnam.
When asked if it was worth it and if he'd do it all again, he replied, "I would, the reason being I thought my abilities helped save lives. But I would tell my children, if [we] were to do this over, 'Go to Canada. Don't fight a war you can't win.'"