The top brass of America's armed forces, including an officer responsible for handling a satchel that allows the president to order a nuclear strike on a moment's notice, have gone into quarantine after a Coast Guard admiral tested positive for the novel coronavirus Monday.
Coast Guard Adm. Charles Ray, the service's vice commandant, reportedly experienced symptoms of COVID-19, the disease caused by the novel coronavirus, over the weekend. Ray had recently attended meetings including members of the Joint Chiefs of Staff, the body of the most senior uniformed leaders within the Department of Defense, representing all service branches.
According to the Pentagon, most of the Joint Chiefs have since tested negative for coronavirus but will remain in quarantine at their homes "out of an abundance of caution."
"There is no change to the operational readiness or mission capability of the US armed forces," Assistant to the Secretary of Defense for Public Affairs Jonathan Hoffman said in a statement.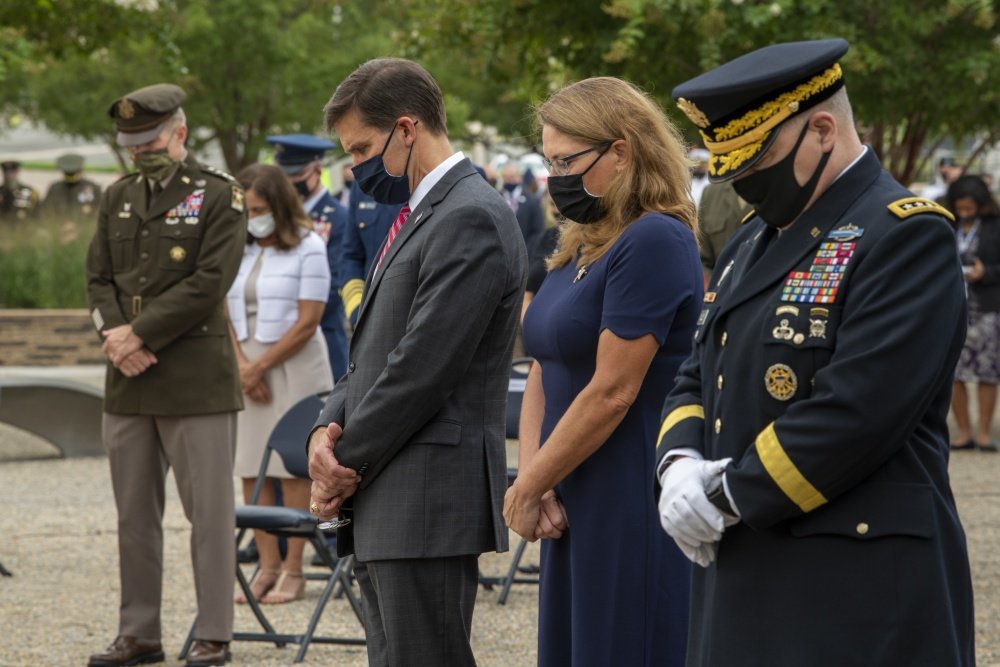 Last week, President Donald Trump announced he had tested positive for coronavirus. After showing worrying symptoms of COVID-19, Trump spent three days at Walter Reed National Military Medical Center and returned to the White House on Monday.
Many officials in Trump's orbit have recently tested positive for coronavirus, including Coast Guard Lt. Cmdr. Jayna McCarron, a White House Military Office aide who often carries the president's nuclear "football."
The Presidential Emergency Satchel — the so-called nuclear football — is an approximately 45-pound briefcase that accompanies the president at all times and contains the documents and codes he needs to immediately authorize a nuclear strike. In the event of a missile launch from an adversary such as Russia, the president may only have some 15 minutes to order a retaliatory attack — an action for which the president does not need Congressional approval.
Once launched, America's nuclear-armed intercontinental ballistic missiles cannot be recalled.
At least five active duty military aides, one from each military service, are responsible for carrying the Presidential Emergency Satchel. McCarron, who has reportedly gone into quarantine, last traveled with Trump to Bedminster, New Jersey, for a campaign fundraising event on Oct. 1. The Joint Chiefs attended a Sept. 27 event at the White House to honor "Gold Star" families of fallen troops.
According to multiple reports, Gen. Mark Milley, 62, the chairman of the Joint Chiefs of Staff, is among the defense officials currently in quarantine.
Apart from Milley, the Joint Chiefs of Staff comprise Vice Chairman Air Force Gen. John Hyten, Army Chief of Staff Gen. James McConville, Chief of Naval Operations Adm. Mike Gilday, Air Force Chief of Staff Gen. Charles Brown, Marine Corps Commandant Gen. David Berger, National Guard Bureau Chief Gen. Daniel Hokanson, and Chief of Space Operations Gen. John Raymond.
Other top defense officials are also reportedly in quarantine, including the head of US Cyber Command, Army Gen. Paul Nakasone.
"Senior military leaders are able to remain fully mission capable and perform their duties from an alternative work location," said Hoffman, the Pentagon public affairs official.
However, the chiefs' ability to access and discuss classified information outside of the Pentagon's secured environment might prove to be a headache, experts say.
Defense Secretary Mark Esper, who was traveling earlier this week through the Middle East and North Africa, met with the Bulgarian minister of defense at the Pentagon on Thursday, according to a readout posted on the Department of Defense's website.