Josh Smith held a long blade in his hand. Maybe 18 inches long, it was still black and ragged from the forge, but he had a point he wanted to make.
He held it up, so that the group of close to 20 in his shop could get a good look. All were veterans who had taken Smith up on his offer to host them in Montana for a weekend to learn the secrets of creating perfect blades.
"If your hardness goes down, your toughness goes up," Smith said.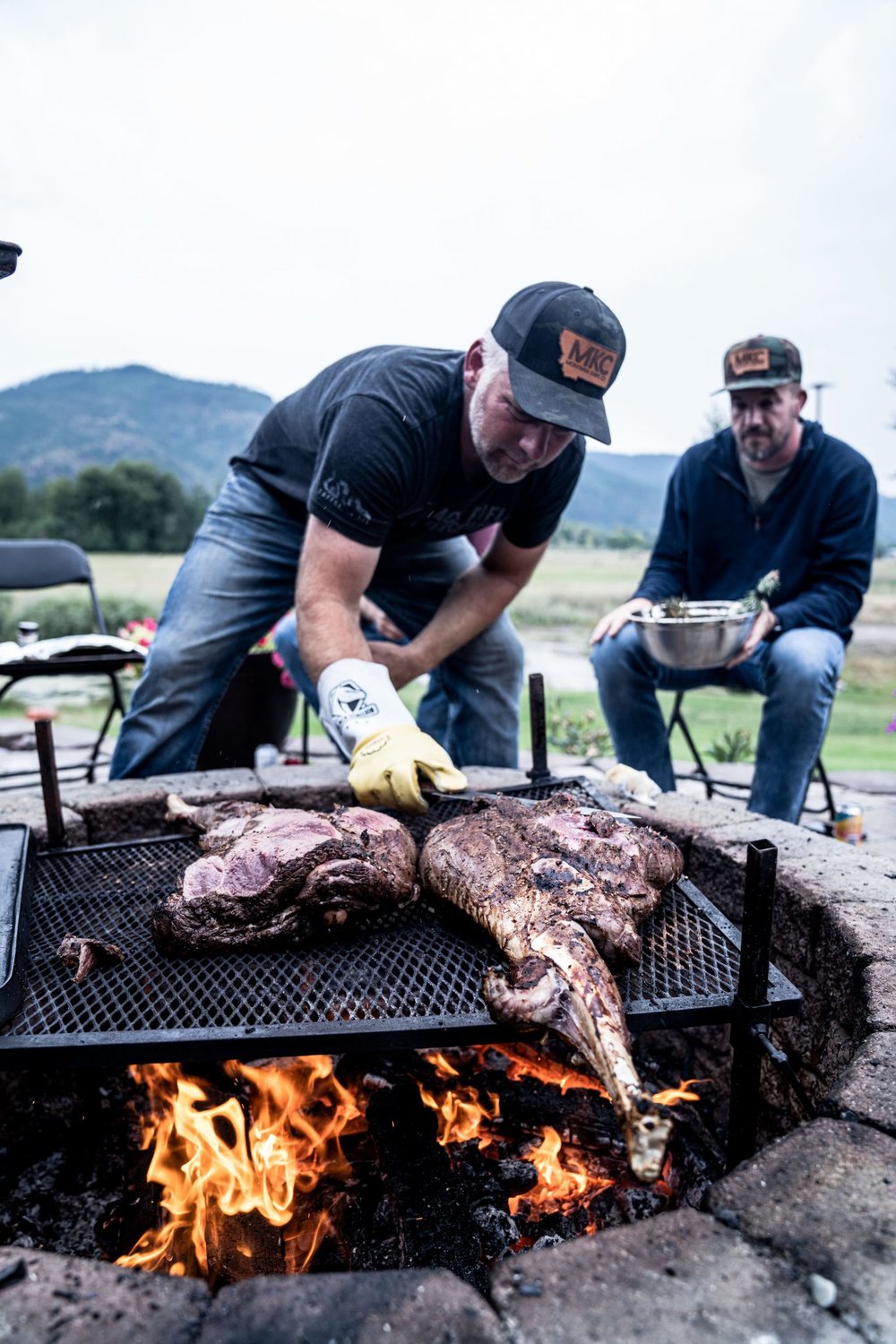 He was talking about the heat treating process of the 5160 spring steel, but a quick look around the concrete-floored shop at the men and women who'd come to Missoula made clear that Smith was talking about more than forging knives.
Smith is a master bladesmith in the American Bladesmith Society, which he joined when he was 12, and he runs Montana Knife Co. with co-founder and vice president Brandon Horoho in the mountains of Frenchtown, Montana.
Smith also forges custom blades under his own Josh Smith Knives label. His blades sell in many shapes and sizes, and for a wide range of prices — some listed as high as $2,500 on the website — but mostly how they sell is fast.
"Every time I try to buy them, they're sold out," said Stevan Lacroix, a Marine and Army National Guard veteran who listened closely as Smith spoke.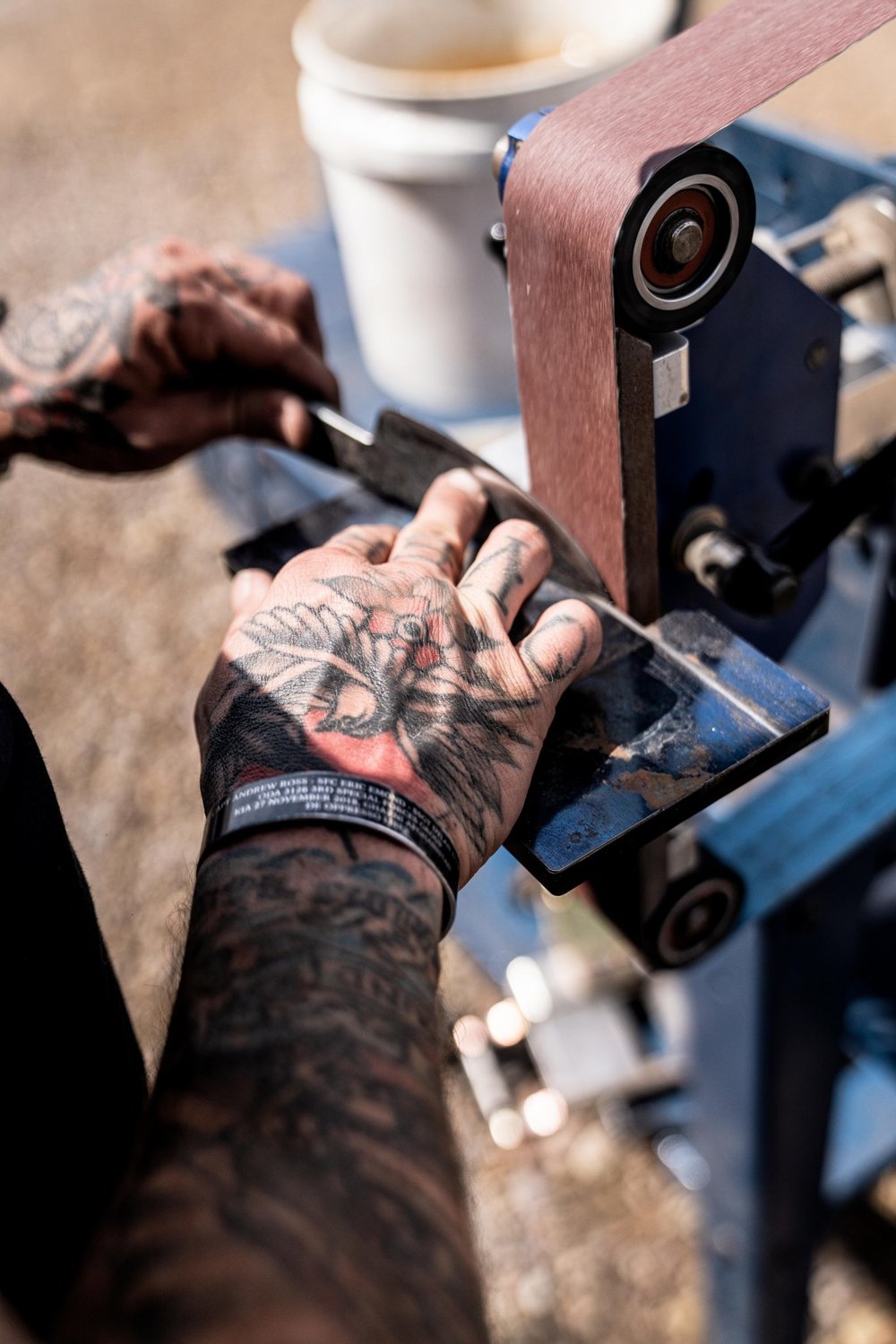 Though his business is making bladed tools and weapons, Smith also runs "Hammer In" weekends, where he brings in as wide a swath of knife enthusiasts as he can in hopes of inspiring others to jump into the art of forging.
But this year, Smith decided to scratch an itch he's been unable to shake as his business has boomed. Many of his customers are in the military or are military veterans, and they routinely reach out to thank him for producing tools they can count on in tough spots all over the world.
Smith figures that's backward.
Guys like him, he figures, should be thanking the vets. And so he did, launching a weekend he dubbed Forge Your Way Veterans Hammer In.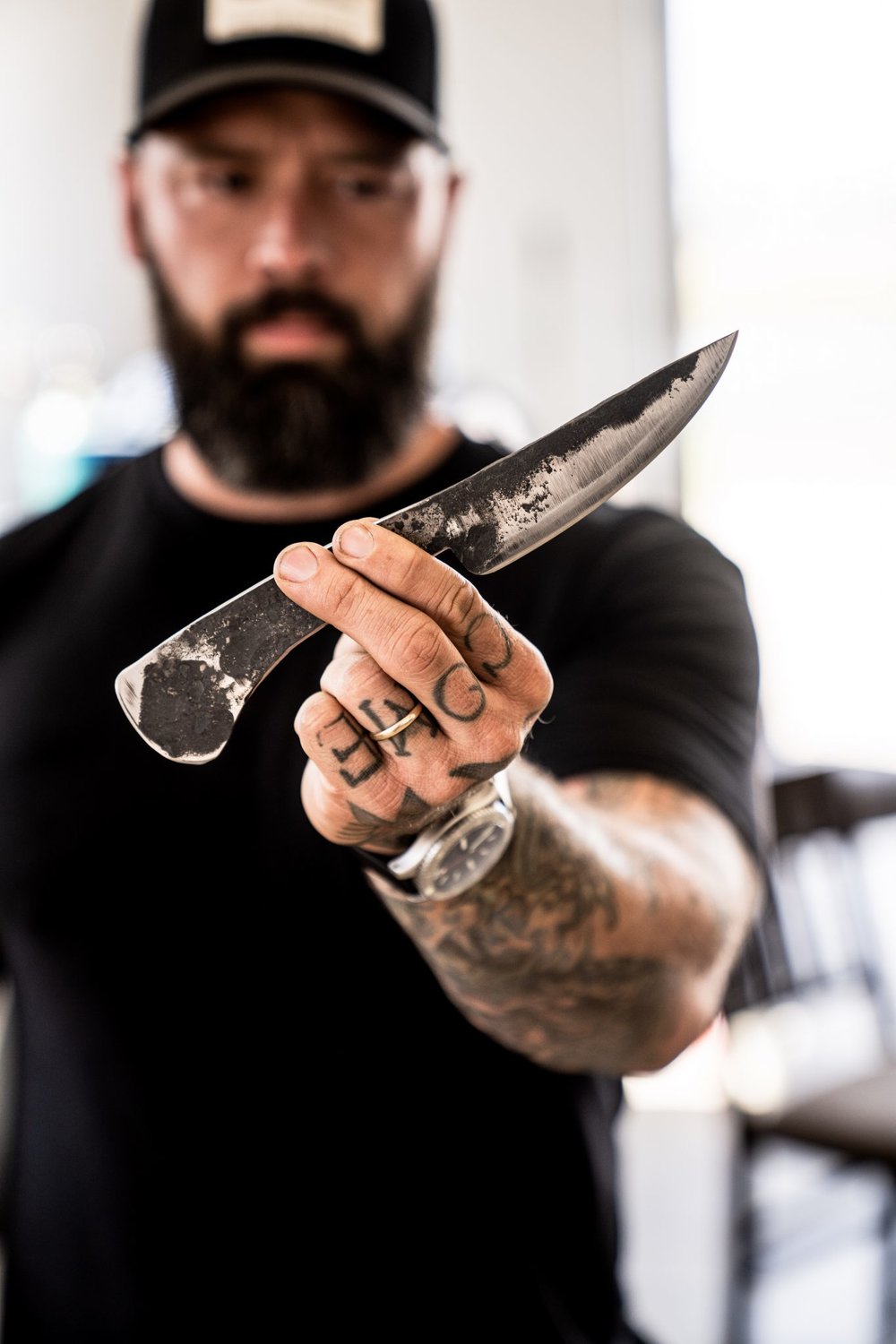 After a call out on social media, responses poured in. He heard from a range of military people — an Army Green Beret, a Navy nuclear power plant mechanic, a Black Hawk helicopter pilot, an Air Force personnel specialist, and more.
The last two spots went to local vets he'd met: former Navy corpsman Andy Chase, who'd just moved to the state, and Smith's mailman, Cody Welch, also a veteran.
In all, Smith arranged to bring 17 veterans to Montana for a mid-August weekend of forging and eating local delicacies like mountain lion sausage and meat from a mule deer his daughter had killed. At least some in the group, he hoped, would find an outlet in his lifelong art.
"If it's just a fun weekend in Montana in August and that's all it ever ends up being, that's great, that's awesome," he told the group. "If it resonates with somebody and you decide to get a little forge and an anvil and take a round on it once a month, that's great. If one of you decides this is for you, then, I'll help you."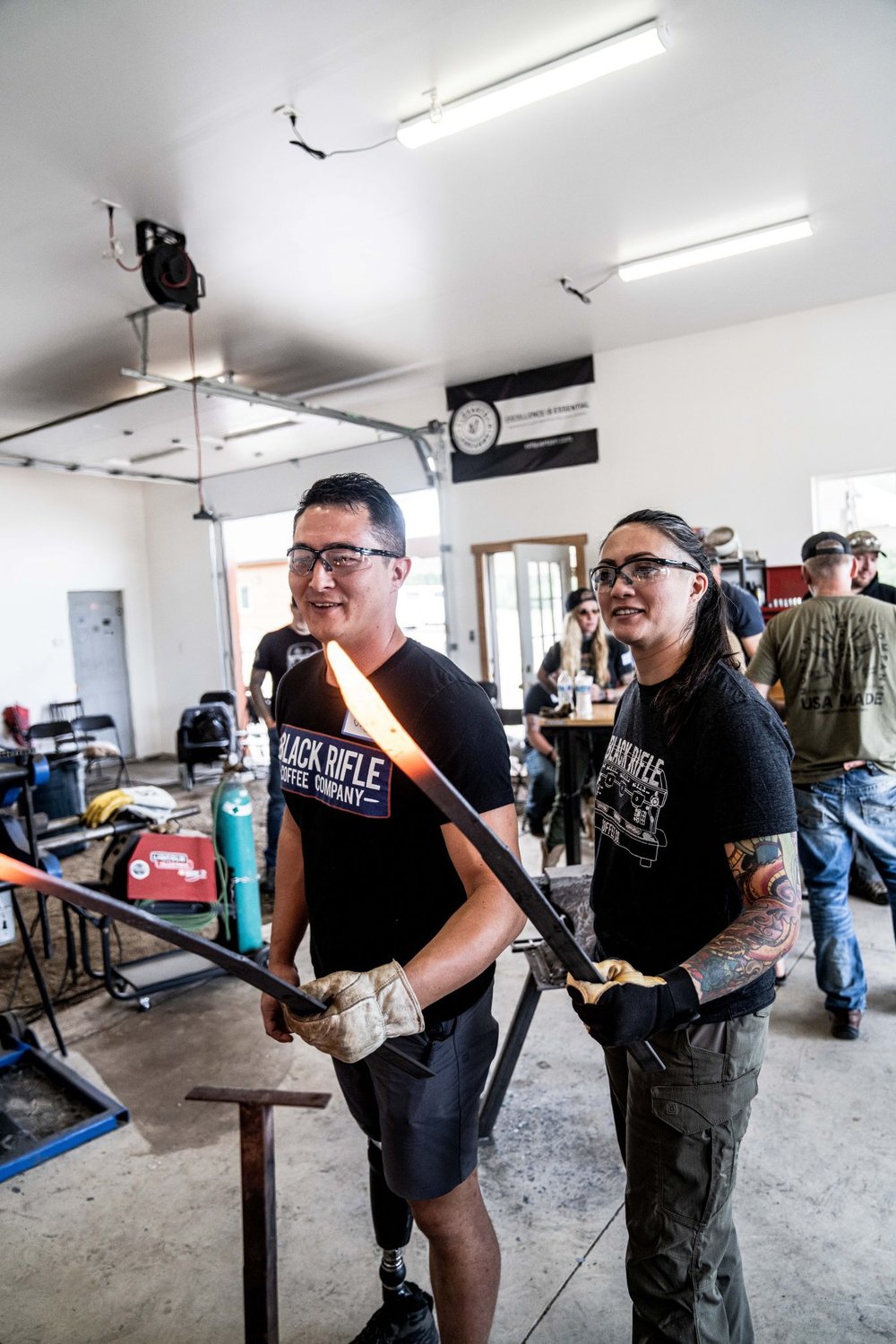 The only thing that Lacroix — the Marine veteran who'd never had luck getting one of Smith's knives — knew about forging was what he'd learned from TV shows like Forged in Fire, where bladesmiths re-create historical edged weapons in competition. Smith competed on the program.
Lacroix reached out when he heard Smith's call for veterans, though he said he wasn't generally a social person. The trip to Smith's shop was the first time he'd ever participated in an event aimed directly at connecting veterans.
Lacroix has mixed feelings about his time in the service, he said. Although he was "always a GI Joe" as a kid, he didn't get what he'd wanted out of four years in the Marine Corps. He was infantry and deployed to Iraq in 2005 with the 13th Marine Expeditionary Unit, then ended up in Okinawa.
"I think that was what ruined it for me was that year in Japan," he said. "Everybody else was fighting wars and we were stuck in Japan."
When he got out of the Marine Corps, Lacroix thought he was done serving, but about 10 months later he joined the Army, where he served eight years as Active Guard Reserve.
"I miss the camaraderie, the excitement," he said. "As miserable as training and deploying and going out to the field is, it's something you miss all the time."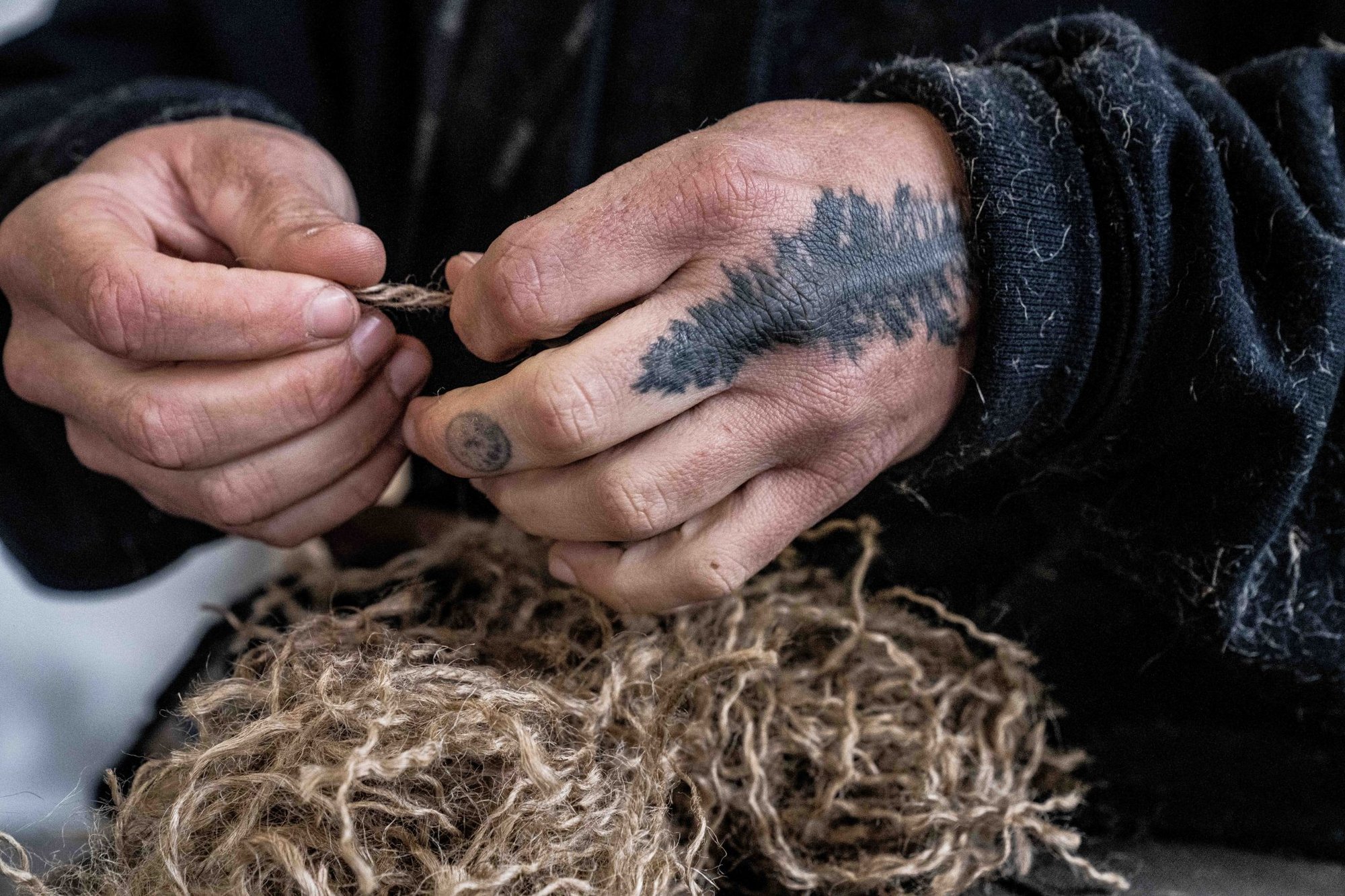 As the group spread out to the various stations, Smith moved between them, checking in with each veteran, giving tips and pep talks as sparks began to fly.
"It's the whole sharing of ideas," Smith said. "This provides excitement. You can sit at home and watch YouTube videos all you want — it's not going to be anywhere near as much fun as we're going to have in the next 48 hours."
Vets took turns pounding rods of glowing steel on an anvil until, one by one, the blades began to take shape. Blisters formed on their hands as they hammered away. At the grinder, they smoothed their blades back and forth, looking for the perfect curve and a flawless edge. Others worked on heat treating, turning the blades blue or purple from the flames.
Perhaps the hours of watching forgers on TV had taught Lacroix something. He wowed the others with his clean, smooth hammer technique. Unlike most of the beginners, he quickly was able to strike the steel three or four times, then — in a single motion — bounce the hammer on the anvil as he readjusted his grip, all while the steel stayed bright orange and pliable. As others asked for tips, he said he'd just paid close attention to Smith.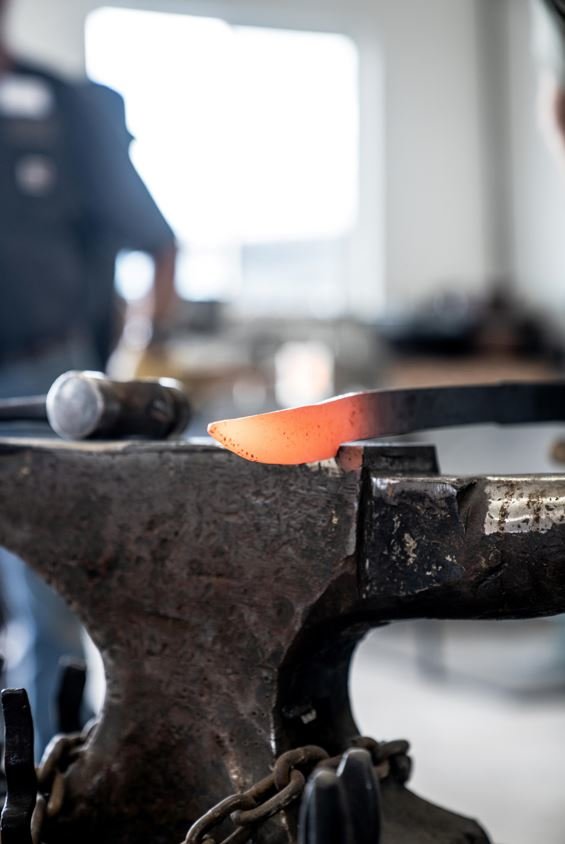 Smith's own journey to knifemaker began when he was just a kid. His Little League baseball coach was Rick Dunkerley, a master bladesmith and custom knife maker in Lincoln, Montana. He spent his free time learning from Dunkerley and others, attending knife shows and spending his lawn-cutting money and pay from his parents' excavation business on forging tools.
At 15, he became the youngest journeyman bladesmith in the American Bladesmith Society by crafting a knife that passed a grueling test: to chop a 1-inch rope in half and next a pair of two-by-fours, and then to still be capable of shaving a hair. Once it survived that, the test knife had to be bent 90 degrees in a vise without breaking.
By 19, Smith passed the master bladesmith test. In 2002 he moved to Frenchtown and set up his shop, just off the Clark Fork River. He had the name for Montana Knife Co. because his mom had bought him the trademark rights to it.
"In life, you either give something a shot and say 'Okay, I did that and that was dumb, but at least I did it,' or you never do it and you sit there thinking about it and regretting it the rest of your life, wondering what could have been," Smith said.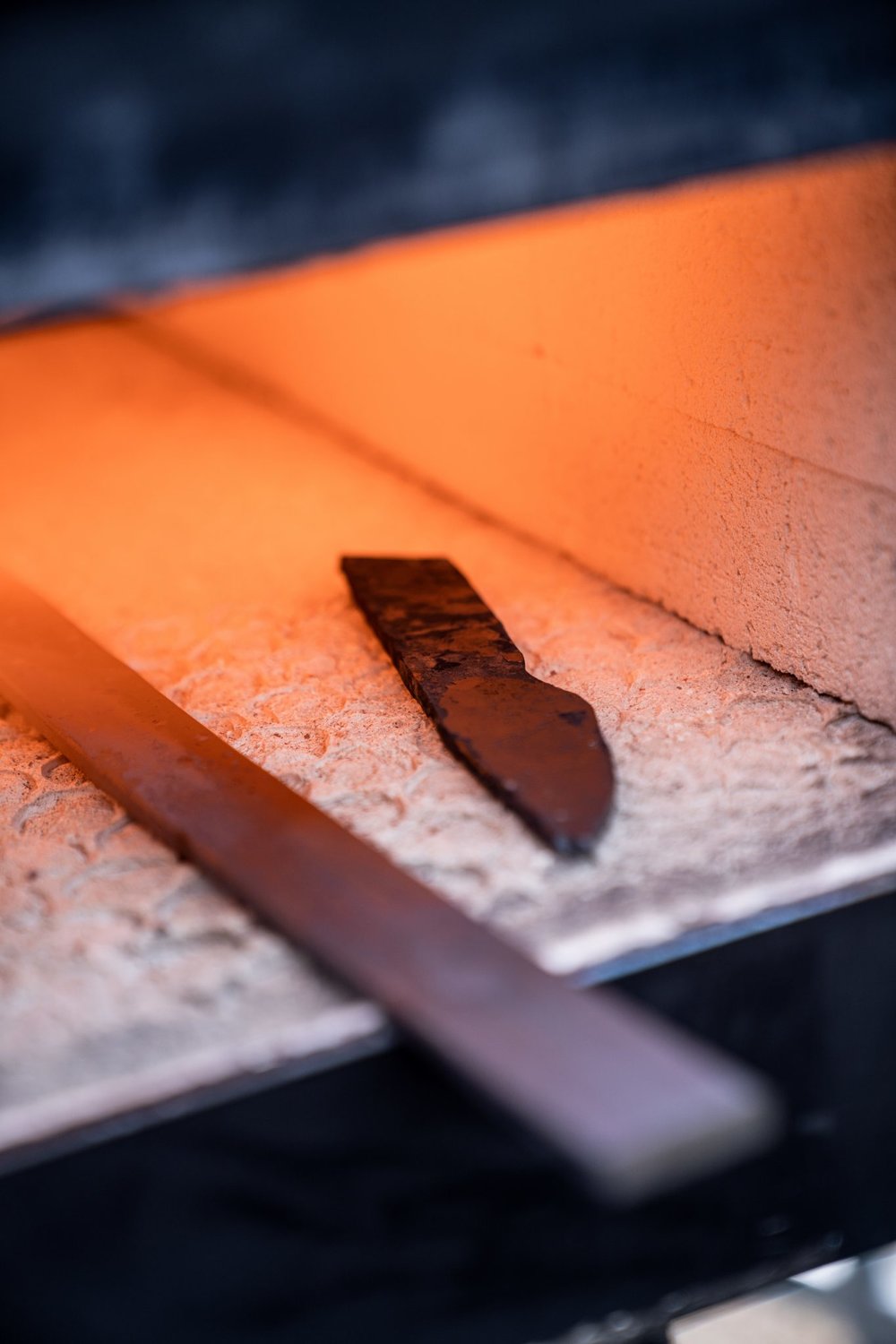 One of the stations the forgers rotated through was Joe Maynard's trailer. Few in the crowd gathered at Smith's shop understood the healing power of forging as deeply as Maynard, perhaps not even Smith himself.
A Black Hawk pilot during his 20-year Army career, Maynard retired as a chief warrant officer four. When he got out of the high-octane world of Army aviation, he said, he became a version of himself he didn't recognize and definitely didn't like.
"I wanted to get back in the air and fly as soon as I could," he said. "First, I had to have a few surgeries to fix the stuff I had been putting off."
After one round of surgeries, he did some contracting but eventually came home with two broken vertebrae, needing a second round of back surgery. He was done flying, which he soon realized meant the loss of more than a job.
"I went from being on top of the world and someone who was doing important work, to a nobody," he said. "That's hard to deal with. Suddenly, the phone doesn't ring, no one needs me, and I feel like I don't belong anywhere. I felt like I went from […] doing things that mattered to being nothing."
Forging, though, was a hobby that offered an escape. After his first time — pounding, heating, refining a blade over and over — he found that he had spent eight hours in a day not thinking about anything but creating something.
That gave him a goal: He would make a trailer and travel to forge knives with different organizations all over the country. For six months, he told his friends and family he was going to start, and then, day after day, he didn't.
"So, my dad basically was like, 'Look, quit being a bitch, just do it. We'll figure it out,'" Maynard said. "So, I did. I figured if I've done 20 years of public service, why not continue it?"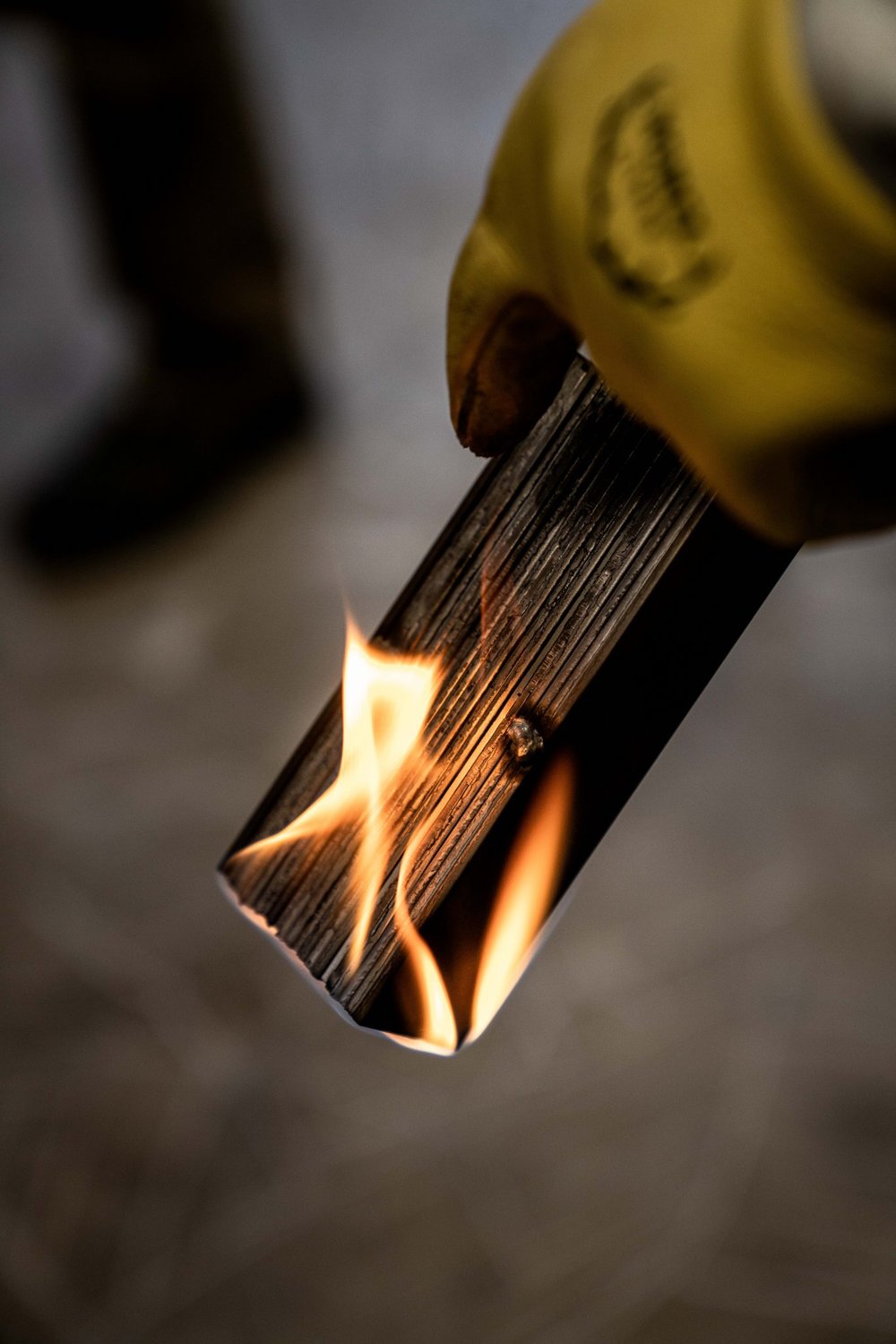 After long hours at the shop, the vets found their tents.
At first, they kept to themselves, strangers on someone else's land. But just as fire is a key element of forging, they were drawn together at the campfire, where they began to share stories that many hadn't spoken of in years.
Small moments resonated. One of the vets swept a foot across the ground as though he were clearing for improvised explosive devices ahead of his troops, and another guy jumped up to do the same, saying he knew exactly what he meant. He'd been there too.
"It's pretty incredible to have people like you in my shop," Smith told the group, pointing out that he's not a veteran himself. "Right now, it kind of feels like a family, and you can tell that by just hearing people laughing and BSing with each other as if they're old friends."
Lacroix, participating in his first veterans-focused event, found himself laughing and joking and telling stories with Trey Lachicotte, a Special Forces veteran, and Coleman Horton, a Marine veteran. No one had poured more of himself into the forging than Horton, who brought his dog, Josey Wales, with him.
Over the course of the two days, he'd nearly never stopped working, and he ended up as one of the only vets to make two knives. His dog, Josey, remained calm nearby as Horton forged, perhaps sensing that her owner's mind was at ease.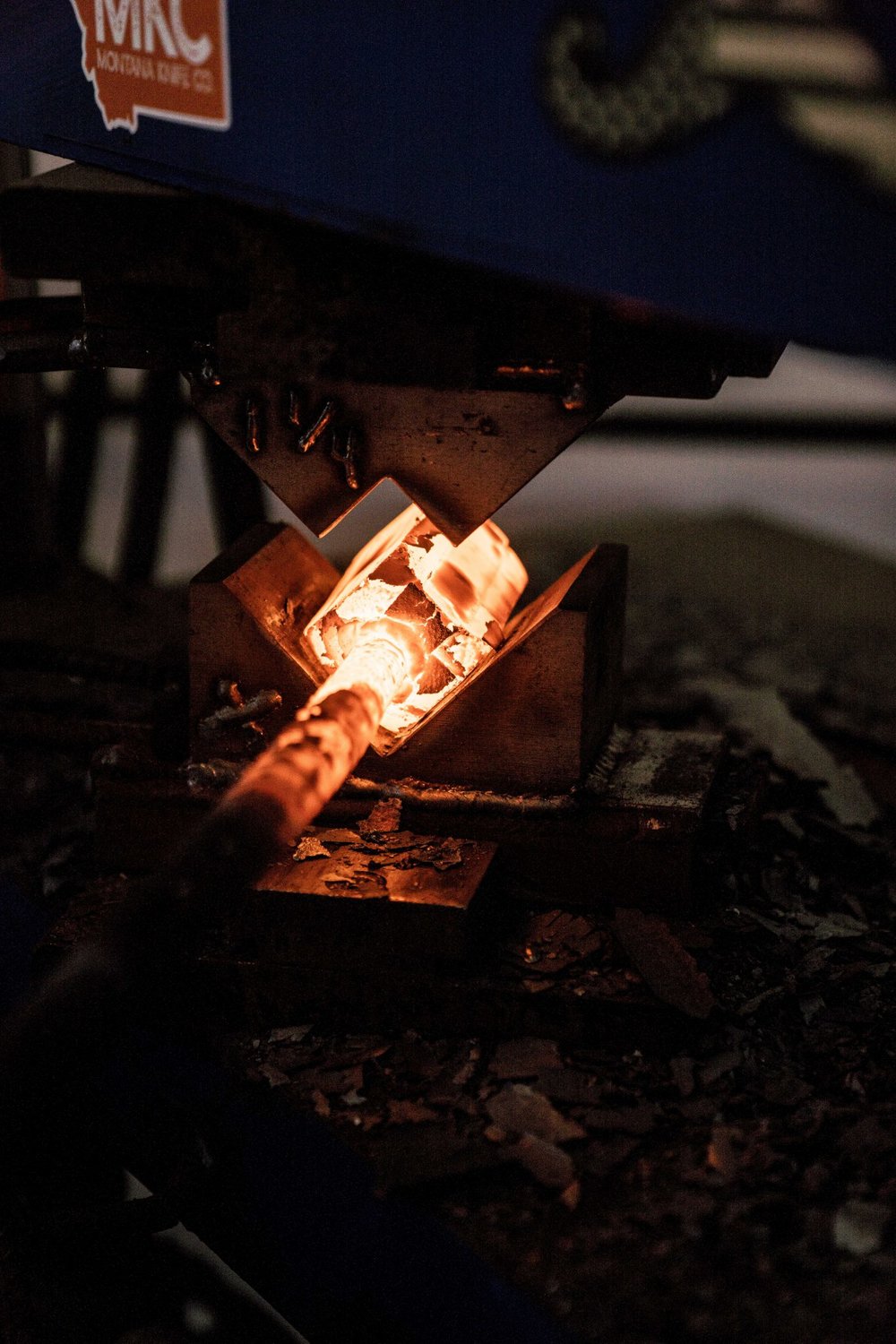 And Maynard, the retired pilot turned knifesmith, shared a story with the circle that stripped his identity naked — almost literally. The group laughed as he told them about his short experience as a contestant on the TV show Naked and Afraid.
But then he also spoke about a darker time, one that he said he'd never told anyone about before. After he'd left the Army, and the buzz of flying was gone, he'd gone into his barn alone, after telling his wife she was going to hear a gunshot. Don't come out there, he told her, just call the police.
Maynard told the group he'd sat on his old tractor holding his 9 mm Beretta to his chest and pulled the trigger.
"It was the first time my weapon had ever misfired," he said. "I immediately started shaking and broke down crying."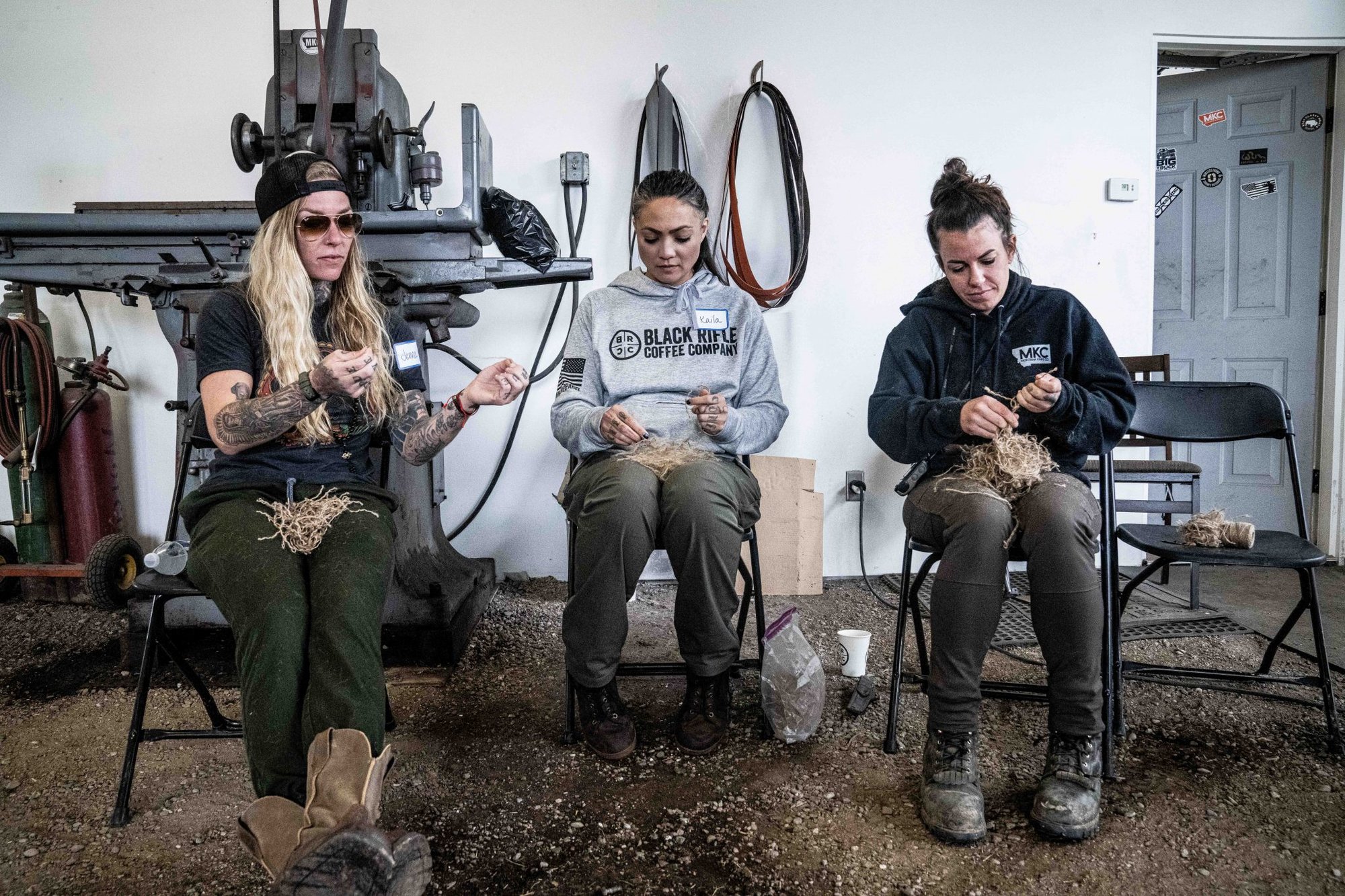 Soon after, he said, he'd met up with survivalist Laura Zerra, whom he knew through Naked and Afraid. She gave him her book on how to begin making knives. That led, eventually, to his trailer and to the campfire outside Smith's shop.
Hardness goes down, toughness goes up.
Erik Soto, an Air Force vet, said the weekend was one of the most meaningful he'd had. "Words can't express how thankful I am for the opportunity to be able to do this," he told Smith the next day. "It was just something that I'm going to cherish for the rest of my life, and if this sets me on a path that is what it needs to be, then this was the catalyst."
"That was kind of the point of the weekend," Smith said. "I wanted the focus to be more on camaraderie than on the forging part, and what kind of therapeutic value the forging might be able to have for people. And as it turns out, it was absolutely incredible."
"It's a lot better than sitting in the recliner with a glass of whiskey and just thinking."
---
This article first appeared in the Fall 2021 edition of Coffee or Die's print magazine as "Hardness Goes Down, Toughness Goes Up."
Read Next: $30K Bounty on Killer Who Dognapped and Decapitated Cop's Puppy