Joint Task Force-Bravo (JTF-B) personnel have been saving lives and providing transport of rescue personnel as well as vital supplies throughout Honduras, Guatemala, and Panama since Hurricane Eta brought its destructive forces to Central America.
"As partners and neighbors to Honduras and Panama, we are assisting our friends in their time of need," said US Army Col. John D. Litchfield, JTF-B commander. "Our hearts go out to everyone who has lost loved ones, homes and livelihoods in this disaster. We are determined to save as many lives as we can."
Hurricane Eta developed over the Caribbean Sea while heading toward Central America early on Nov. 3, and it made landfall as a Category 4 hurricane along the northeastern coast of Nicaragua later that day. It slowly progressed through Honduras as a large tropical storm dumping heavy amounts of rain, leading to flooding and mudslides throughout Central America.
According to The Associated Press, as of Nov. 5, there are at least 57 people confirmed dead in Central America with several more still missing. In addition to Eta's damage, the COVID-19 pandemic complicates rescue and humanitarian efforts. The Economist reported there is fear rising that the virus will rapidly spread, saying, "Thousands of people are crammed into shelters, where the virus can easily spread. In some places that are still habitable water supplies have been cut, so people cannot wash their hands."
The storm made landfall in the Florida Keys before circling back to the Gulf and then to Florida's Gulf Coast. It is currently making its way up the United States' southeastern coast to Georgia, North Carolina, and South Carolina.
JTF-B, along with Central American military and government personnel, started rescue missions early upon the storm's entrance into Central America. As of 12 p.m. local time Wednesday, JTF-B had rescued 118 citizens throughout Honduras, Panama, and Guatemala, according to US Air Force Capt. Rachel Salpietra, JTF-B director of public affairs. She added that JTF-B has transported at least 32 rescue workers to different communities that were isolated by the storm. In addition, JTF-B has delivered 179,000 pounds of lifesaving supplies.
"We don't maintain a record of injuries, but we've seen broken bones, dehydration, medication shortages, and even a cancer patient. In the beginning, many were stranded on rooftops or higher ground surrounded by floodwaters, so we were conducting primarily rescue operations," said Salpietra. She explained that as floodwaters recede, they are seeing a larger demand for essential supplies, like food and water, because of communities becoming isolated by mudslides and landslides.
Despite Eta's power and the danger following in its path, no US military personnel have been injured during the storm or after. US and allied nations' bases sustained little to no damage during the storm, enabling them to perform their duties at 100%.
Approximately 125 JTF-B personnel, six HH-60 Black Hawks, and four CH-47 Chinooks have been hard at work with rescues and delivery of supplies throughout Honduras, Panama, and Guatemala. Coffee or Die Magazine spoke with several of the men and women from JTF-B working to save lives and asked what it means to them to be participating in these operations.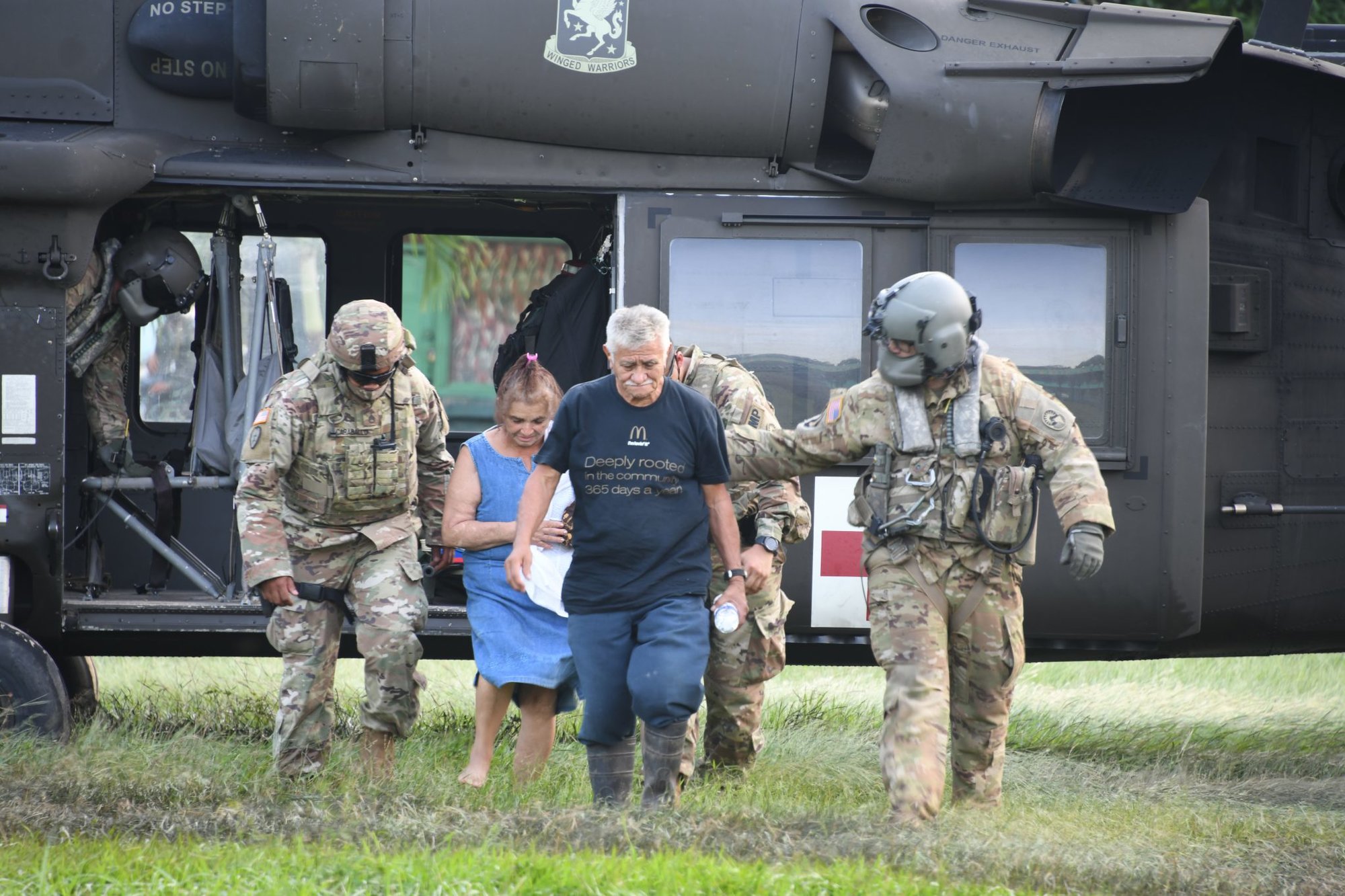 "It was an honor to provide aid and support to Central America. To see the relieved faces of the members we've saved and the glimpse of hope in those receiving food and supplies is a life-changing experience," US Air Force Technical Sgt. Benjamin J. Paxson said. "It doesn't matter where you go, or what language you speak, we all come together to help those in need, and I'm proud to be part of this team."
"Our heart goes out to everyone who's lost their home and livelihoods. Joint Task Force-Bravo is honored to assist our partners in Guatemala. It's been great working with […] the embassy and the Guatemalan military as we conduct these operations — and they really have done an outstanding job coordinating efforts," said US Army 1st Lt. Paige M. Ziegler. "During these missions, we see women and children, and people who haven't seen these helicopters before. We're landing in these incredibly remote areas, and being able to provide assistance to them and seeing how gracious they are for our help has been the most rewarding mission I have done to date."
"I'm extremely proud of the tireless efforts the men and women of the Winged Warriors have demonstrated to save lives and bring comfort to those affected by this devastating storm," said Lt. Col. Adam R. Bock, US Army, 1st Battalion, 228th Aviation Regiment commander. "What we do here matters, and it's inspiring to see everyone working together towards a common goal."