A federal jury has convicted a retired New York cop who pummeled a Metropolitan Police officer with a US Marine Corps flag during the Capitol Hill riot on June 6, 2021.
Convicted on Monday, May 2, Thomas Webster, 56, of the village of Florida, New York, is slated to be sentenced Sept. 2 for five felony counts — assaulting, resisting, or impeding officers with a dangerous weapon; obstructing officers during a civil disorder; entering and remaining in a restricted building or grounds, while carrying a dangerous weapon; engaging in disorderly or disruptive conduct in a restricted building or grounds, while carrying a dangerous weapon; and engaging in physical violence in a restricted building or grounds, while carrying a dangerous weapon.
The jury also convicted him of one misdemeanor, engaging in an act of physical violence in the Capitol building or grounds.
Webster became the fourth defendant tied to the Jan. 6 riot to take a case to a jury, and jurors have convicted all four of them. Authorities say Webster and the others sought to stop the US Senate from certifying the Electoral College vote that made Joe Biden president.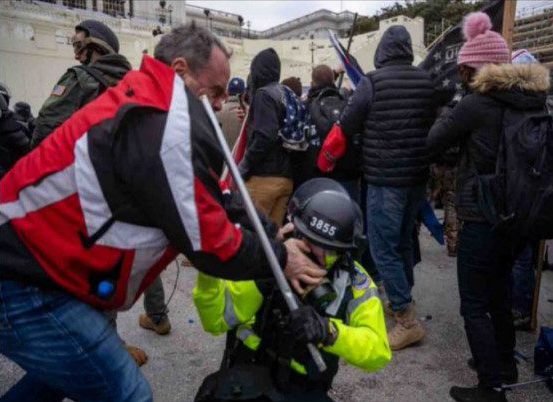 The assault conviction could put the Marine veteran behind bars for up to 20 years. The other felony charges carry maximum prison sentences ranging from five to 10 years. The lone misdemeanor rap could add another six months to his incarceration, if it's served consecutively.
Webster also faces a maximum fine between $100,000 and $250,000 per count, according to court filings.
"You fucking piece of shit. You fucking commie motherfuckers, man," Webster shouted at Metropolitan Police Officer Noah Rathbun on Jan. 6 while jousting with him across a metal gate. "Come on, take your shit off. Take your shit off."
Webster struck the officer multiple times with the metal flagpole. Although Rathbun wrested it away from him, Webster broke through the metal barricade and charged the cop with clenched fists, tackling him to the ground, and then spent the next 10 seconds straddling him while trying to rip off the officer's face shield and helmet.
Rathbun later told the FBI that Webster choked him by the chin strap and he was unable to breathe.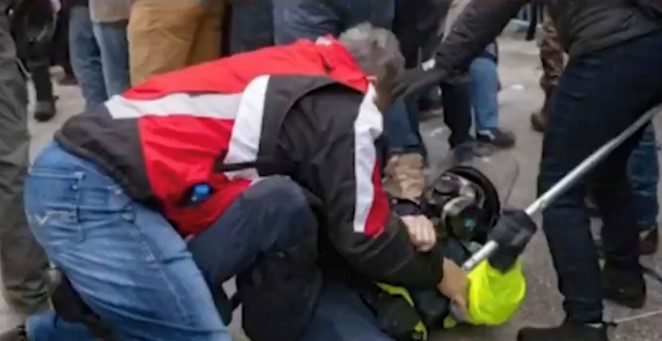 The jury rejected Webster's allegation that he struck the officer in self-defense. He claimed Rathbun antagonized him.
Webster served in the US Marine Corps from 1985 to 1989. He joined the New York City Police Department in April 1991 and served until his retirement in 2011, according to officials. They declined further comment on Monday.
Following his conviction, Webster left the Washington courtroom on his own recognizance. On Aug. 31, 2021, US District Judge Amit P. Mehta placed Webster in a high-supervision pretrial release program. He was required to surrender his passport and firearms and wasn't allowed to use encrypted software on any personal computer or mobile telephone.
Coffee or Die Magazine's attempts to reach Webster's legal team were unsuccessful. Webster also did not answer email or phone messages seeking comment Monday evening.
Read Next: New York City Fire Department Mourns Canarsie Hero Killed in Collapse