It's not every day that a cop gets a call to investigate the possible assassination of Canadian pop star Justin Bieber, but there was Tybee Island Police Officer Sam Stuber driving north along the shore of the Georgia barrier island to interview a couple of suspicious sixth graders.
It was about 7:30 a.m. on Oct. 22, two hours into the two-year police veteran's shift, and he'd just started sipping the "usual" he ordered from the Tybean Art and Coffee Bar — black, four creams, four sugars.
At Tybee Island Maritime Academy, a public charter elementary school about a 20-minute drive east from Savannah, Stuber met Principal Peter Ulrich, who told him a boy and girl were scribbling what he called "death notes."
Death Note is the name of two TV series from Japan, and a Netflix film adaptation, featuring a magical notebook that can kill anyone whose name is written inside. The Tybee Island kids' list included Ulrich, a bus driver, other students, President Joe Biden, and Bieber, a former teen idol who's sold 150 million records worldwide.
It's not that Stuber, 30, thought he could make a case against a pair of sixth graders and their homicidal notebook, but he wrote up a report because he knows a small island community values a local police presence.
It's the same attitude the US Coast Guard veteran took that day while crawling his cruiser along the Back River Fishing Pier shortly after dawn. It's why he surveys the hamlet's businesses after hours, especially in the fall, when calls drop off as fewer tourists visit the island.
"The dreaded word is quiet, we never utter the word quiet," Stuber said. "If we say that, like, 'Let's hope for a quiet day,' then we're bound to get something. But we don't say that. That's a bad word, quiet."
Tybee Island is home to about 3,000 permanent residents, but in the peak summer months more than 45,000 visitors per day jam the town and its beaches.
Sgt. Bryant Sims has spent three summers on the island, and he told Coffee or Die Magazine that more than 14,000 vehicles will ride US Highway 80 daily into town, the easternmost point in Georgia. Although fellow cop Stuber is from nearby Savannah, he was surprised by the summer surge of tourists.
In March, Tybee Island's officers responded to 3,017 calls. That jumped to 3,617 in May, and the summer months averaged more than 4,000 each.
"Even though I grew up out here, it's like, when you're a kid and you're not into the bar scene, you're like, 'What could possibly go on?' But, when you actually do it and you see the amount of traffic we get, it's no wonder we're so busy," he said.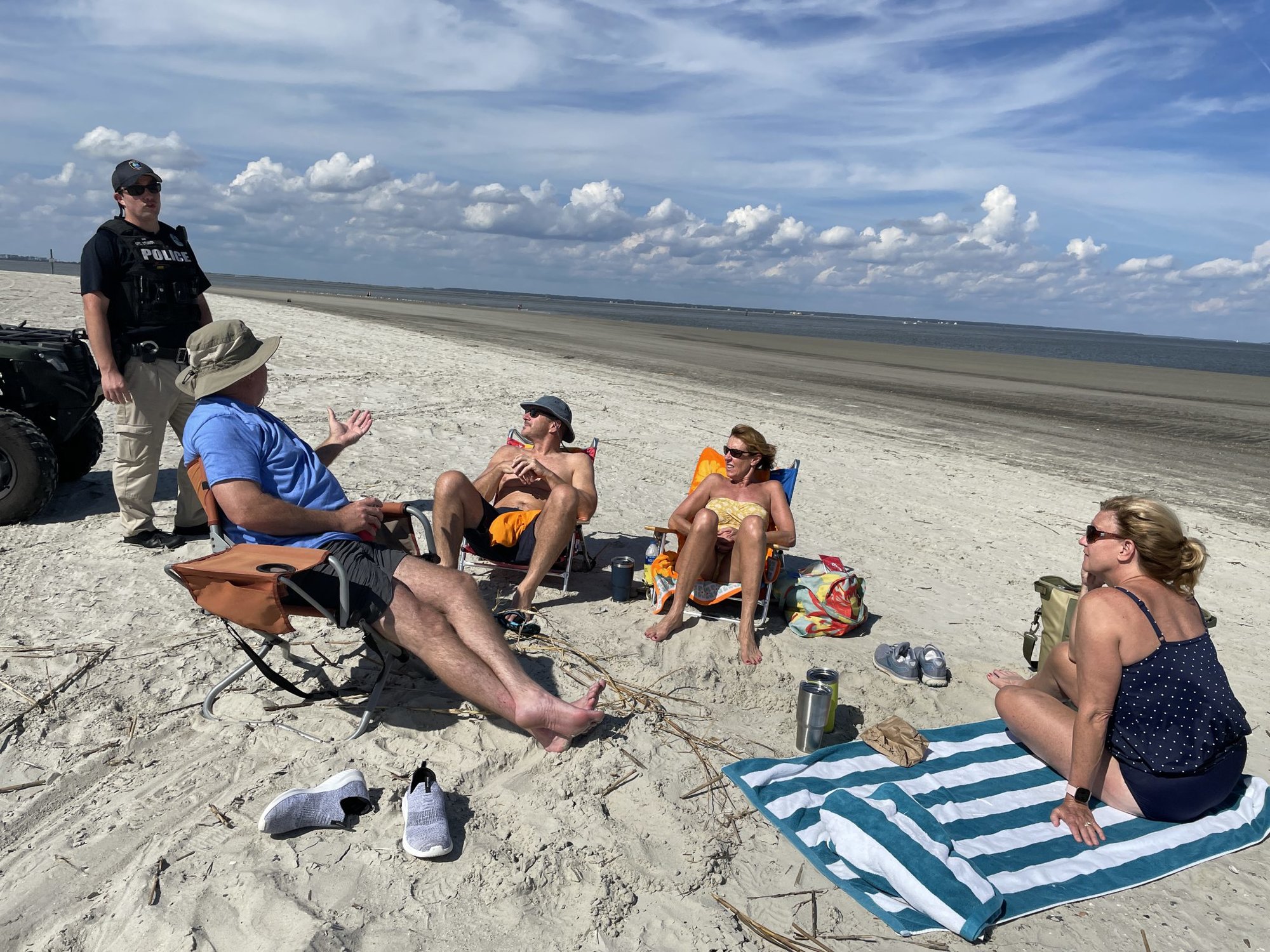 A complicating factor for Stuber and the other 23 sworn officers on the island is that many of the tourists who call to report crimes can't tell dispatchers exactly where they are.
Although the officers issued 2,550 driving citations last year on an island where the max speed limit is 35 miles per hour, those aren't the only crimes cops investigate.
The department tallied 36 felony arrests in 2020, including aggravated assault, false imprisonment, burglary, credit card fraud, and forgery.
"It's guns, drugs, evidence from break-ins, suicides," said the head criminal investigator, Lt. Bertran Whittley, as he pointed to a property room that includes a human jawbone.
The bone is tied to a cold case that started in the early 1990s.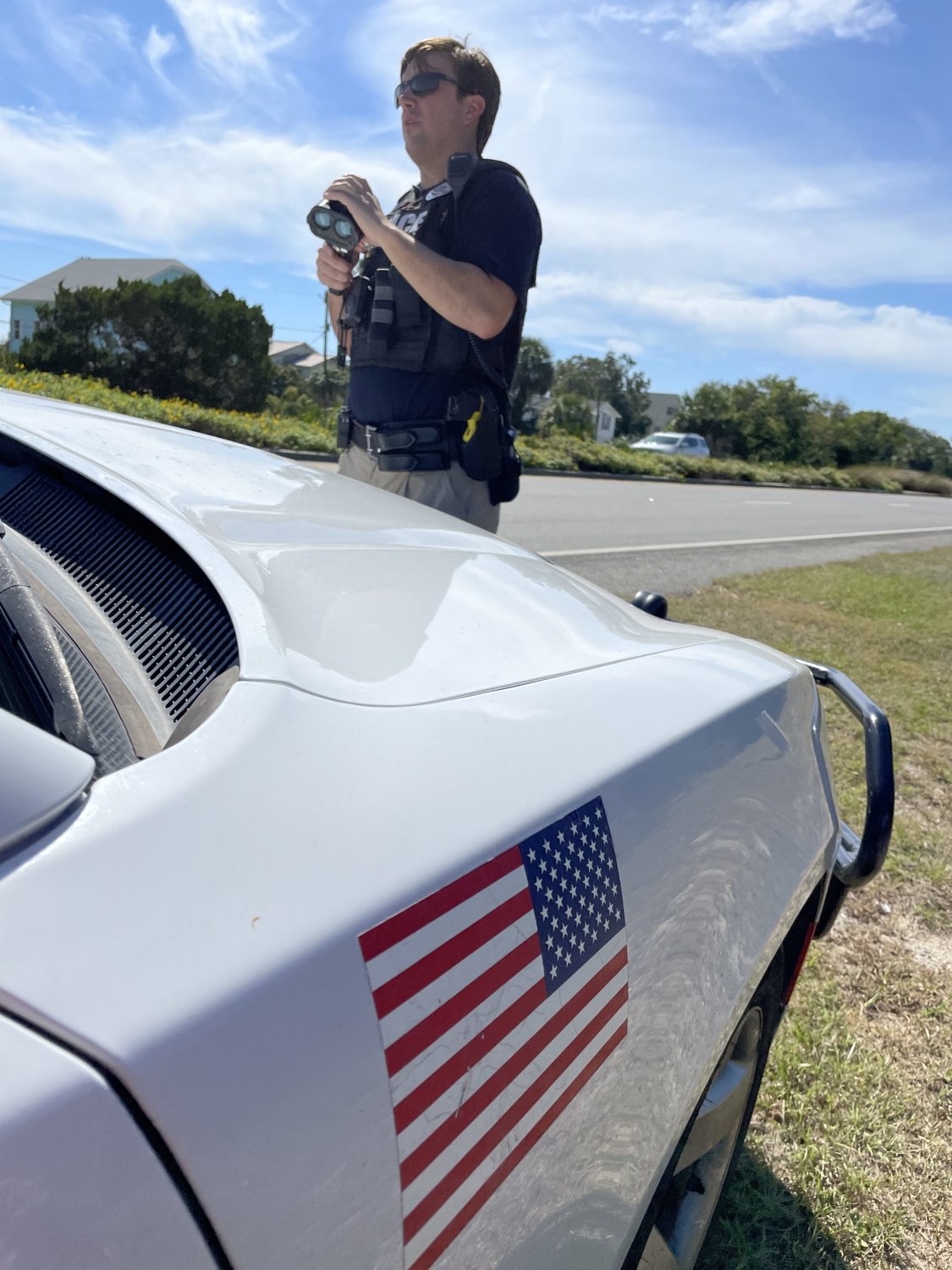 But that's not the strangest ongoing investigation. On Sept. 30, they began trying to figure out who left two decapitated roosters in the beach sand.
Lt. Emory Randolph, the department's public information officer, told Coffee or Die they find ritual sacrifices like those every few years.
Randolph loves animals. He points to the department's mascot, Rocky, a black German shepherd rumored to have flunked out of another force's K9 training. Rocky barks at every person who visits the department but usually lets up within seconds and returns to chewing his tennis ball.
He arrived at the station as a K9 for a Day. The idea is for a cop to walk the island with a dog the local Humane Society shelter wants to adopt out. They've found homes for 36 pets.

Rocky? Not so much.
"We liked him so much, we adopted him, and now he's our mascot and emotional support," said Randolph.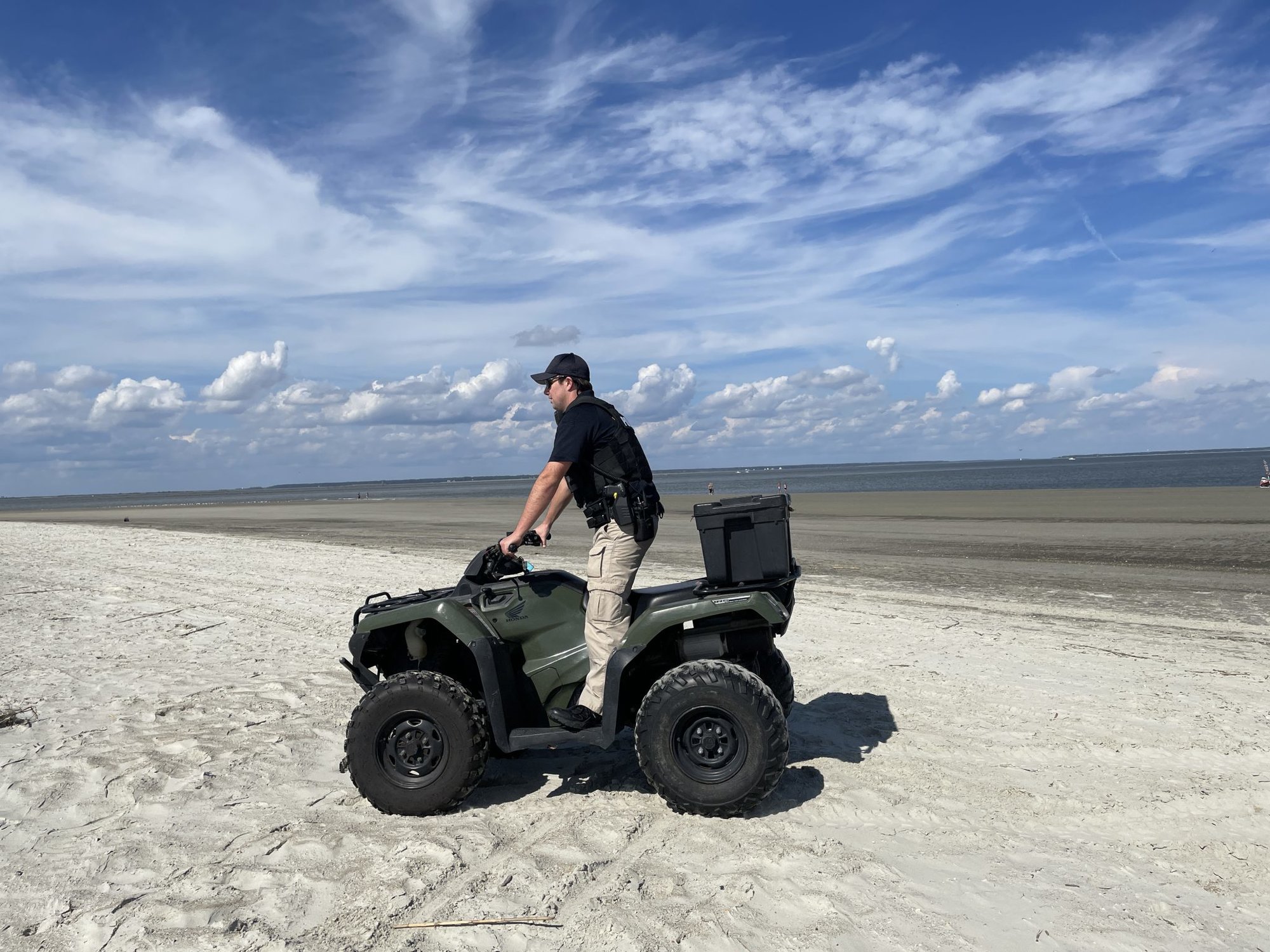 Because it's a resort community peppered with taverns, Tybee Island cops know they'll corral a few drunk drivers every year. In 2020, they nabbed 137 drivers suspected of operating vehicles while under the influence of drugs or alcohol.
"We don't really have problems this time of year when it's just locals out drinking," Stuber said. "It's when all the out-of-towners come in and it's a busy June, July, August, or September Friday or Saturday and you've already got crowded bars on top of all the tourism — it blows up sometimes."
Midway through his patrol, Officer Stuber noticed two tourists clutching Wet Willie's daiquiris. It's legal on the island to walk and drink booze, but the containers didn't have lids. Georgia law forbids driving with open containers in the car.
The couple got into a Dodge Journey Sport Utility Vehicle and began motoring west, toward Savannah. Stuber followed along Butler Avenue.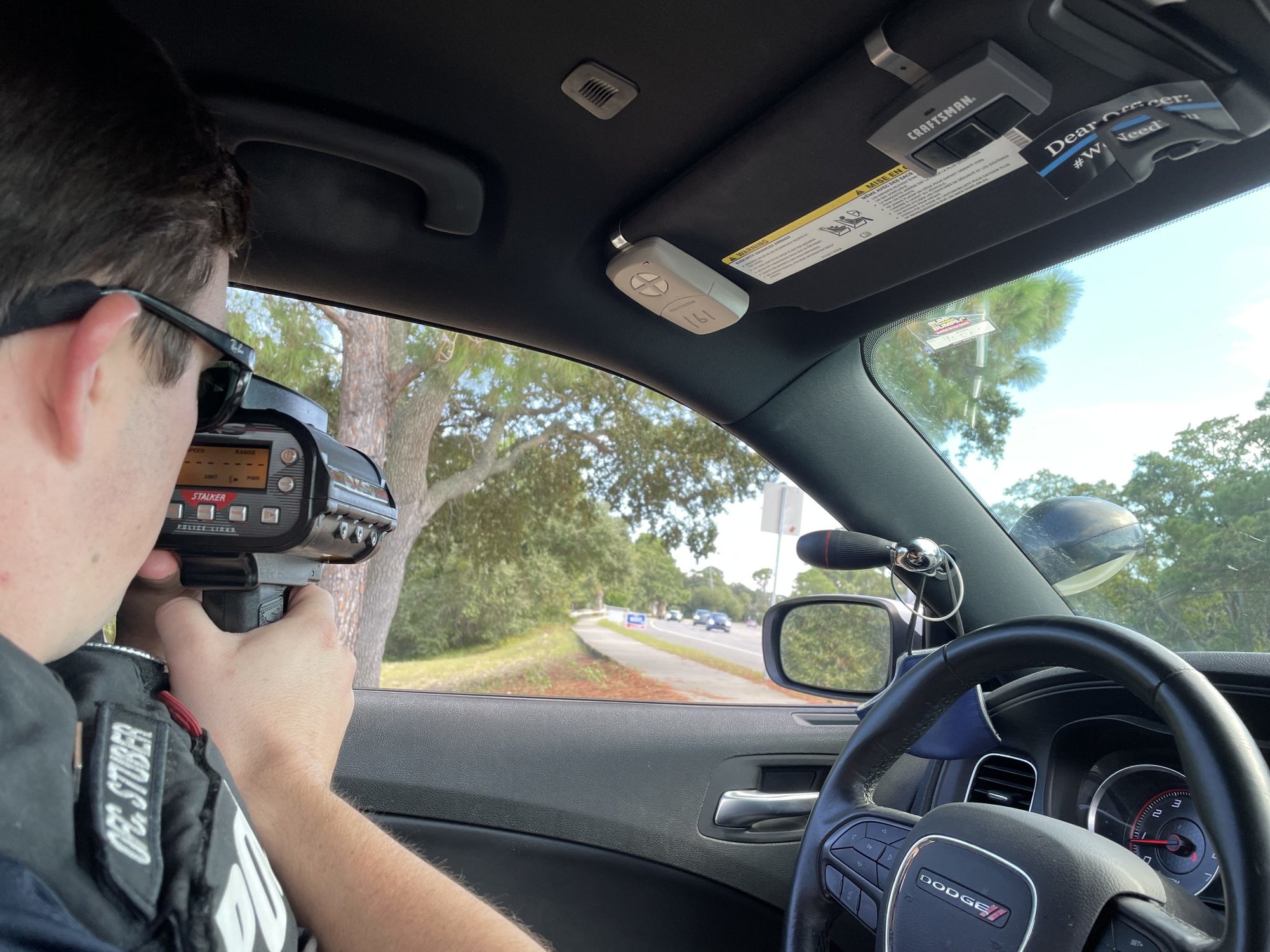 The Dodge pulled into a parking lot, and the driver and passenger switched seats. Stuber watched. When they pulled back onto the roadway, he flashed his lights.
Stuber could've cited them, but they were from Atlanta and didn't seem to know the law. The man poured his $11 boozy slushies onto the side of the road.
To Stuber, that's not an unusual outcome for a friendly force.
Although major cities nationwide exploded into riots in the wake of the murder of George Floyd by a Minneapolis police officer on May 25, 2020, the anti-cop sentiment largely bypassed Tybee Island.
Partly, that's because the police don't see themselves as pitted against the people they protect, whether they're tourists or residents. They just want to stop unsafe behavior.
"It's not the police versus Tybee. It's the police, Tybee, and everybody that cares about coming here versus those that don't care," Stuber told Coffee or Die. "They don't care about stealing from people. They don't care about hurting people, or drinking and driving and running somebody over. And that's what we're out here to stop."
---
This article first appeared in the Winter 2022 print edition of Coffee or Die Magazine as "Patrolling Tybee Island."
Read Next: Whipping Winds and Waves Taller Than Elephants: Go Inside the 'Race to Alaska' Rescues