Alani Bankhead was unsure of how this meeting would go. She had arrived at the Jordan Detection K9 kennel in Indianapolis to meet her new partner: her first K-9. She'd never had a dog growing up, or for the majority of her adult life, but that was about to change for the Hawaii Internet Crimes Against Children Task Force alternate commander and special agent.
Her new partner was about to step up the capabilities of the Internet Crimes Against Children Task Force (ICAC) to a level where they could catch child traffickers almost as fast as warrants could be obtained.
K-9 Lulu, a Labrador retriever, is one of 40 deployed electronic detection dogs, trained to find electronic storage devices as small as a micro SD card hidden inside a home's heating and ventilation piping. Bankhead and Lulu have now been partners for almost two years with approximately 40 missions under their collective belt — and leash — working search warrants for the ICAC as well as other local, state, and federal agencies.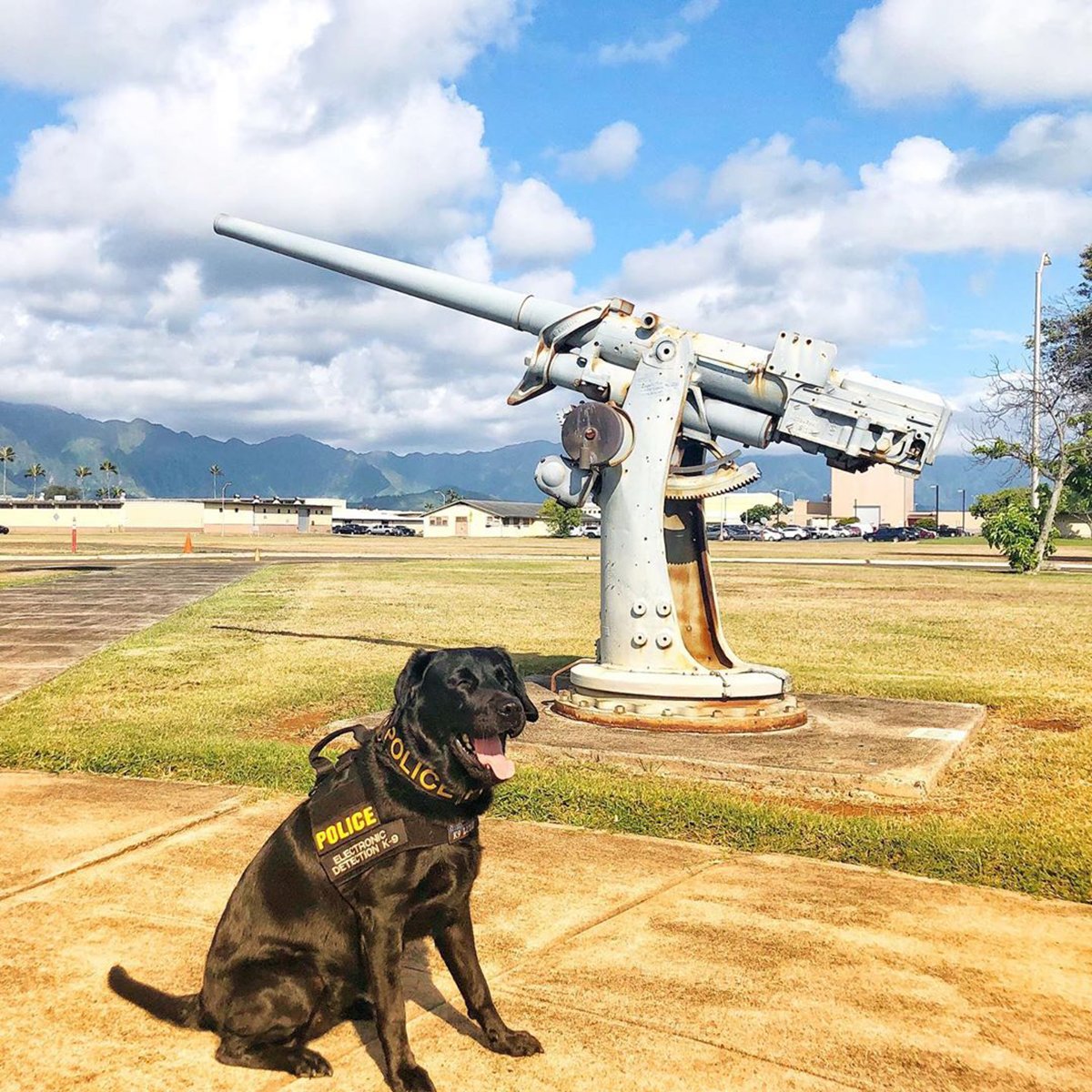 Their most recent mission was Operation Shine the Light, where they assisted the Hawaii Attorney General's Office and a combined local, state, and federal law enforcement task force to help locate missing children in Honolulu.
Bankhead served in the US Air Force as an Office of Special Investigations agent for 12 years on active duty and is now in the reserves while working as a special agent for the ICAC. She has worked on everything from counterterrorism to human intelligence to tracking spies. Building a team around a K-9 is the most difficult task that Bankhead has taken on, she told Coffee or Die Magazine, but it's also the most rewarding experience of her life.
The dynamic duo has yet to execute a search warrant in which Lulu has not found the evidence they were looking for. Lulu can find anything that stores digital photos or videos, no matter how meticulously it is hidden. Not only can Lulu find hidden electronic storage devices, but she is also a pro at comforting children.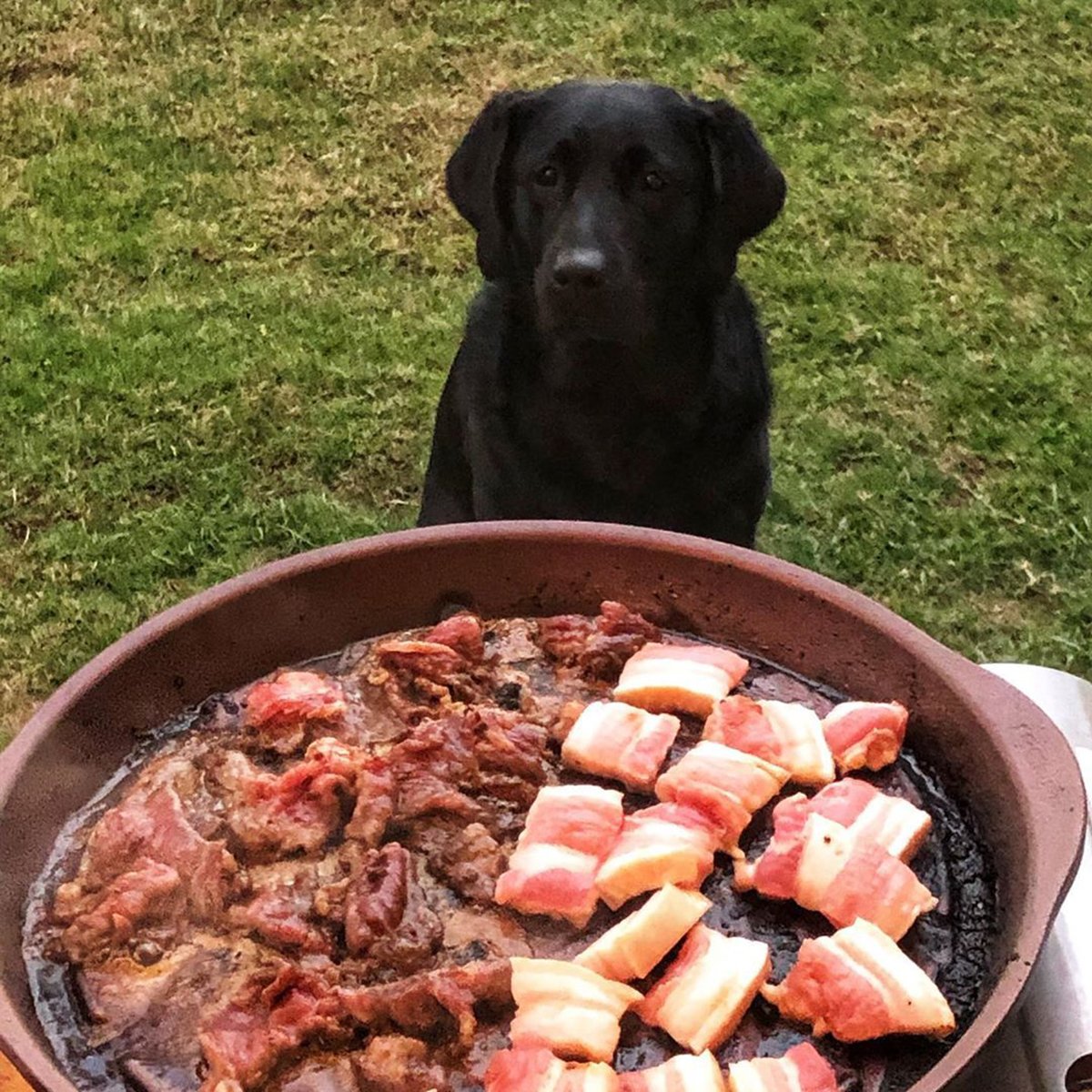 Lulu is a service-dog dropout and retains approximately 50 to 60 commands she learned that are designed to comfort people. For example, she will lay her head on someone's lap when instructed. Or told "knuckles," as in to bump fists, Lulu will bump the person's fist with her nose. When it comes to children, though, Bankhead said Lulu doesn't need commands. Once Lulu is done with her search, the K-9 continues her work by comforting the children as the investigative process goes on.
Working to find and arrest child traffickers can be a traumatic experience for law enforcement and everyone else involved. They see things that are hard to process. Bankhead said that Lulu, with her service-dog past and loyal, helpful Lab nature, is essentially the "morale patrol" during operations. While intel analysts are grinding away, Lulu will come up to them and nudge them or demand belly rubs. Lulu brings a whole new dynamic.
Lulu is an integral part of Bankhead's life as well as of the task force. The two are inseparable, together at work and at home. It wasn't always like this, though.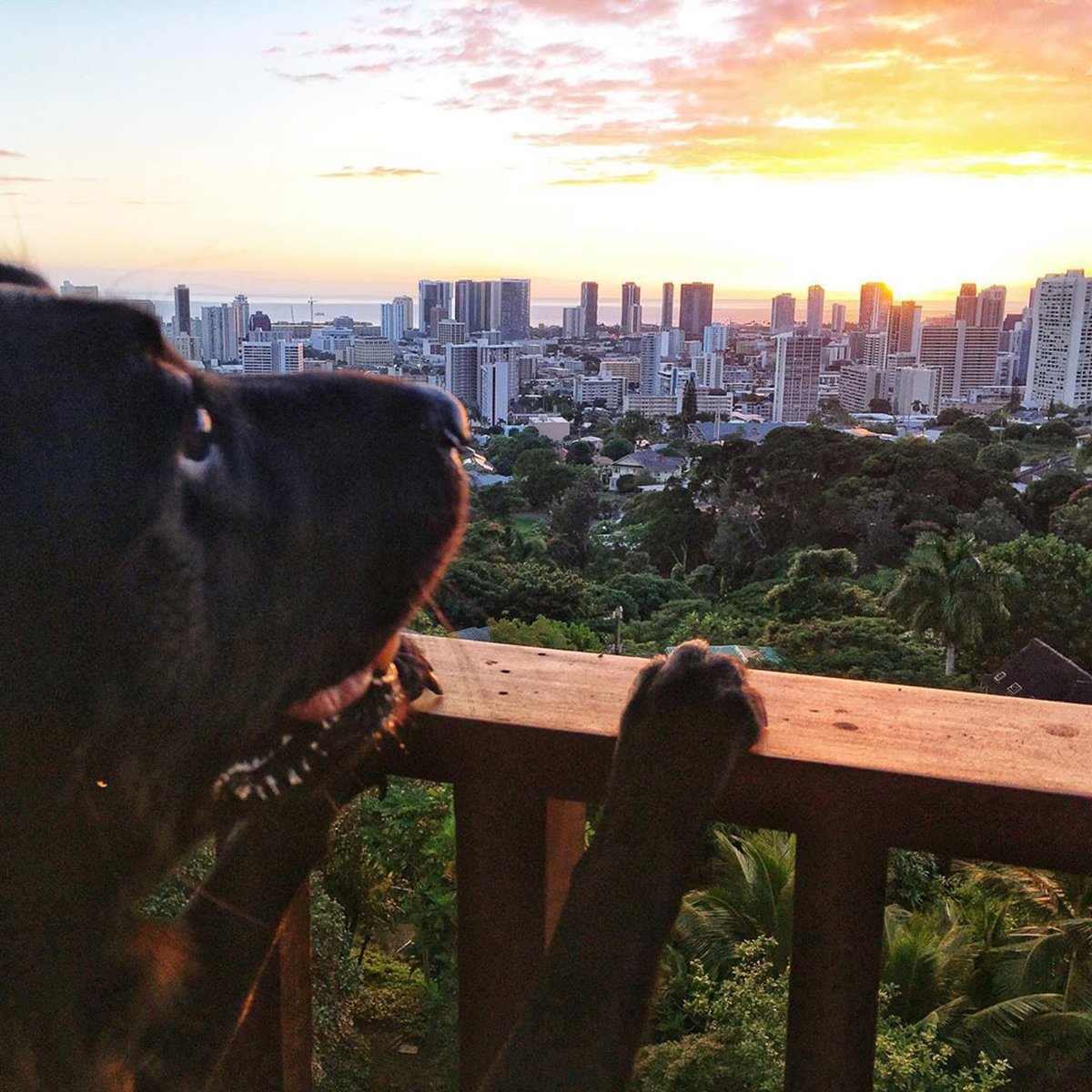 When Bankhead and Lulu were first introduced, the K-9 wanted nothing to do with her. Bankhead waited in the appointed room for Todd Jordan, the owner, program developer, and chief trainer at Jordan Detection K9, to bring Lulu in. Lulu walked around the room, sniffing around and paying no attention to Bankhead.
"She's just like, could not care less — like sniffing all around me, not even close to me. She was checking the room out and did not notice that I was there. It was so funny because obviously, the bond with the dog is really important, and there's a part of training that is called the shutdown," Bankhead said. "So the dog realizes that Todd is actually no longer there. There's a new parent in the picture and they go through this period where they just, like, hate you."
There were two weeks of mandatory training before Bankhead and Lulu could depart the facility to start the real work. The training is set up to ensure the handler and the K-9 are a good fit and that they can work together as partners. Early on, Bankhead was giving Lulu commands to search a piece of furniture, and the K-9 was indicating a bin. Bankhead searched but didn't find what Lulu was hitting on.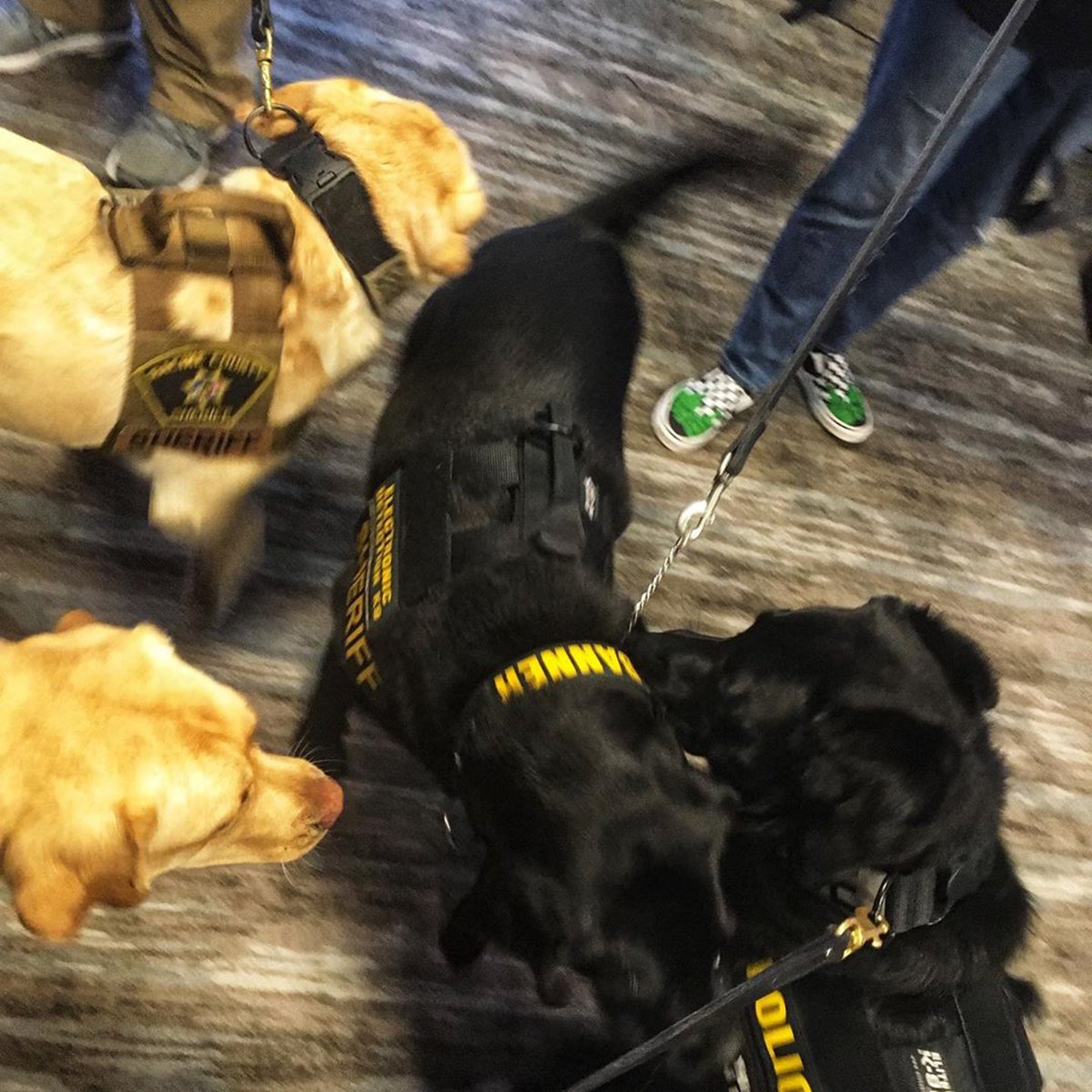 Rinse and repeat two more times, and Bankhead still couldn't find the object. Lulu, appearing irritated, reached into the furniture, pulled out an SD card, and dropped it at Bankhead's feet — and then stared at Bankhead, signaling that she wanted payment, which comes in the form of food. The incident made Bankhead realize just how intelligent her K-9 is and how important a part she would play in the ICAC's mission to thwart and stop evildoers that exploit children.
Toward the end of the two weeks, Lulu experienced her shutdown. "She was like, I hate you. I'm not doing anything you say anymore," said Bankhead. Corrective training ensued until the shutdown period of the introduction was resolved.
Now that they were familiar with each other, Lulu and Bankhead flew back to Hawaii to start their hunt for child traffickers. Since that shutdown moment of their introductory training, they have developed a strong bond.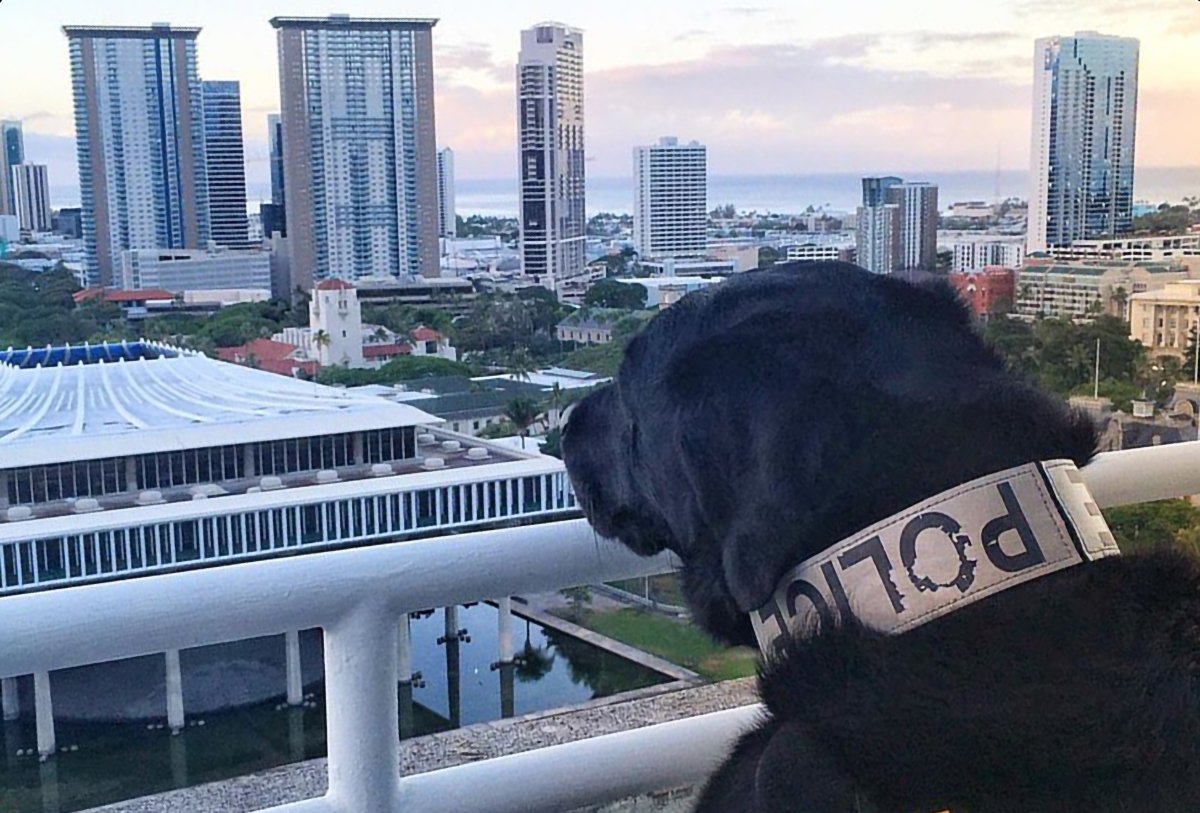 "It took a little bit of time, but it's just that constant training and trust — that she knows I'm going to protect her, feed her, and give her the love she needs. Now she's always with me," Bankhead said. "If I run upstairs to go to the bathroom, I'll open the door and she will be lying right by the door because she's like 'I just have to be next to you.'"
Bankhead and Lulu work on anything that employs technology to sexually exploit children, anything from child sex abuse material to child trafficking. Bankhead noted that it's common for people to refer to crimes involving videos or photos of children being sexually exploited as "child pornography." However, she explained, members of law enforcement are trying to inform the public that the correct term is "child sex abuse material" because the word "pornography" is socially accepted and can desensitize people to the crime and its child victims.
Lulu has become quite the star in Hawaii and abroad thanks to the Instagram page Bankhead set up to garner more awareness to the work they are doing to combat child trafficking and child sexual exploitation. Lulu's Instagram account is just shy of 2,000 followers, and people out in public commonly recognize Lulu now, whether Bankhead and her partner are out for a lunch break or hard at work. As the protectors of children, the recognition is well deserved.