No currency on earth had more value this week than a seat on an airplane — or simply a spot on the floor of a C-17 — as thousands tried to flee Afghanistan from Kabul airport using the last runway in the country not controlled by the Taliban. According to the Pentagon, the US had flown approximately 5,000 people out of Hamid Karzai International Airport by Tuesday, Aug. 17, in an operation that is expected to expand to nearly double that number every day before it ebbs.
Chairman of the Joint Chiefs of Staff Gen. Mark Milley said that the military's mission at the airport was now to maintain security and to evacuate from Afghanistan all American citizens who desired to leave the country, any third-party nationals, allies, and partners as designated by the secretary of state, and personnel designated by the state department with Special Immigrant Visas.
"Right now, our mission is to secure that airfield, defend that airfield, and evacuate all those who have been faithful to us," Milley said. "There will be many post-mortems on this topic, but right now is not that time. Right now there are troops at risk. We are the United States military, and we fully intend to successfully evacuate all American citizens who want to get out of Afghanistan."
US Central Command spokesman Maj. John Rigsby said that, despite the disarray depicted on social media and by news outlets, operations at the Kabul airport are constant.
"They are running 24/7 flight ops right now, with multiple numbers of pax going into and out of theater," Rigsby said. "We're looking at possibly ramping up operations to move 9,000 or so individuals out of the airport each day.
"This is likely to be the second-largest [noncombatant evacuation operation] conducted by the United States."
With only faint hopes of getting out, Afghans are taking big risks to get to Hamid Karzai International Airport.
Taliban checkpoints now ring the airport, according to multiple sources on the ground and social media reports. Many trying to reach the airport have come face-to-rifle as they attempt to scale the walls and are discouraged by US forces tasked with controlling the chaos.
[ig_post url="https://twitter.com/JaneFerguson5/status/1427965808370720769?s=20 " /]
All week, an international air traffic control note, or NOTAM, warned all international flights that airspace around Kabul would not have air traffic control coverage. This lack of coverage effectively closed the airspace, and airlines that typically cross over Afghanistan airspace have had to divert to alternate, and in most cases longer, routes. Diverted airlines include British Airways, Virgin Atlantic, Qatar Airways, Singapore Airlines, Taiwan's China Airlines, Air France, KLM Lufthansa, Terra Avia, Air India, and all US airlines.
Milley, however, said that Kabul airport was open to commercial flights, which many on the ground view as an expensive but necessary alternative to finding US military transportation. Flight tracking from flightradar24 shows up to 32 flights scheduled to depart per day by Kam Air, FlyDubai, Bakhtar Afghan Airlines, Air Arabia, Ariana Afghan Airlines, Pakistan International Airlines, Emirates, and Philippine Airlines.
Several media outlets have reported that Air Force Combat Controllers — specially trained commandos with full FAA and international air traffic control ratings to control airspace from airports in combat zones — are keeping Kabul's airport operating.
"Verified evacuees usually have documentation on them," Rigsby said.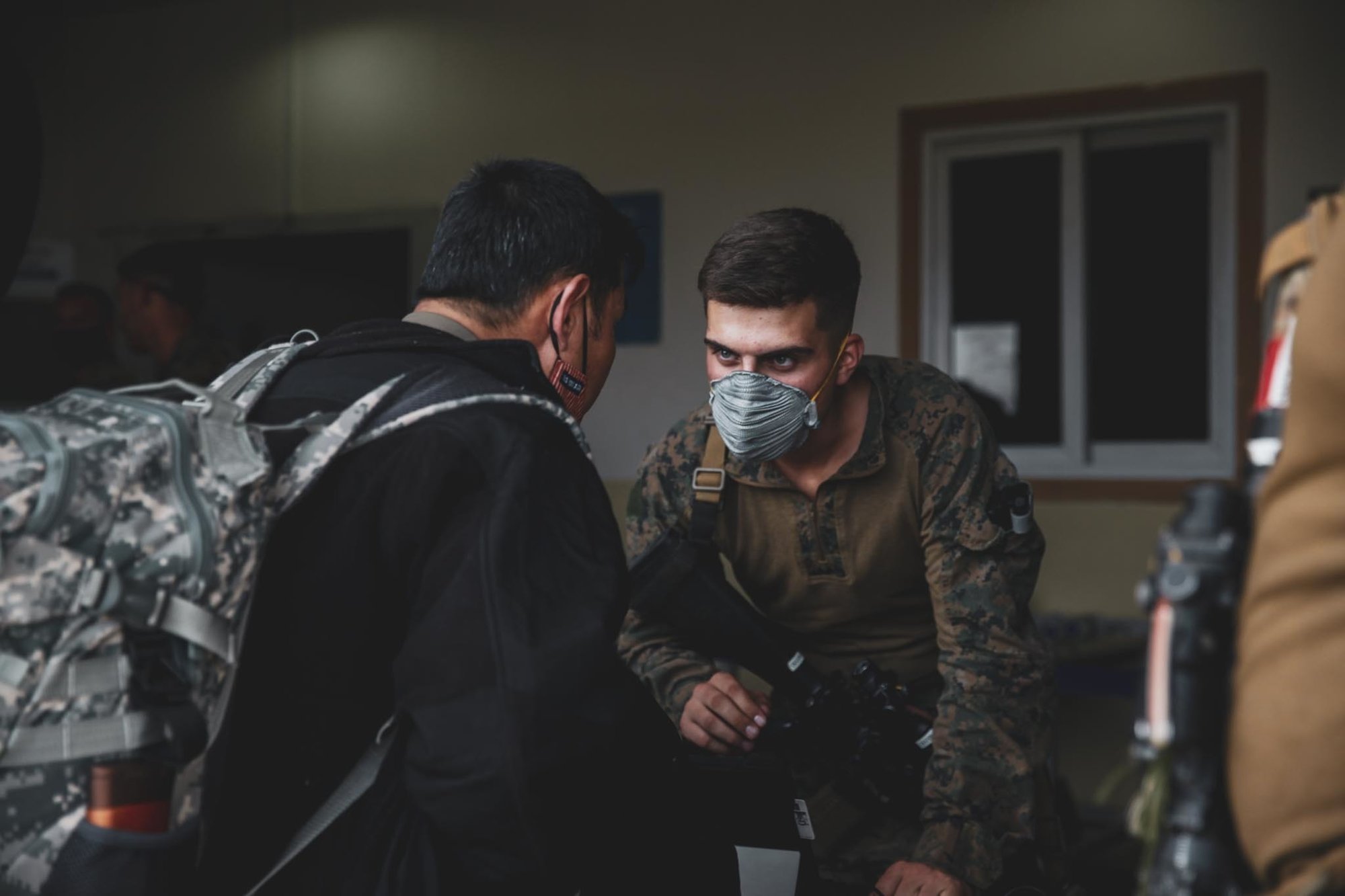 According to sources, the US forces on the ground have maintained positive control at the airport, allowing flights — commercial and military — into and out of the airport without further instances of Afghan civilians flooding the airfield.
Rigsby mentioned that no airstrikes had been carried out in the area since the evacuations began, reinforcing statements made by the deputy director of the Joint Staff for Regional Operations, Army Maj. Gen. William D. "Hank" Taylor, during a Pentagon briefing two days ago.
"There has been some concern where people are hearing air assets flying over Kabul," Rigsby said. "People are associating fighter jets — they're hearing it — and people are making the misguided assumption that assets are flying over to Bagram for us to retake it, and that's just not true. We are protecting our people over there. Air assets are flying over HKIA to protect the people there on the ground as they're conducting operations. … We are just further protecting our people and air assets flying nearby."
Read Next: