A Kentucky militia leader who pointed his rifle and attached tactical flashlight at police officers during a 2020 protest is going to prison.
After a weeklong trial, a federal jury in Louisville convicted Not Fucking Around Coalition founder John F. "Grand Master Jay" Johnson of aiming a weapon styled like an AR-15 at one federally deputized task force officer and beaming his light at the detective and another cop.
He's slated to be sentenced on Aug. 22 in Louisville and faces a minimum of seven years behind bars. His attorney did not respond to Coffee or Die Magazine's messages seeking comment. He also must forfeit weapons seized by law enforcement, including two Smith & Wesson M&P 15-22 rifles, a Radical Firearms RF-15, an Anderson Manufacturing AM-15, a Bushmaster Firearms XM15-E2S, and ammunition.
Usually shortened to "NFAC," Johnson's organization is a group of African American protestors who brandish weapons during civil rights demonstrations. Federal records place Johnson's residences in both Kentucky and Ohio.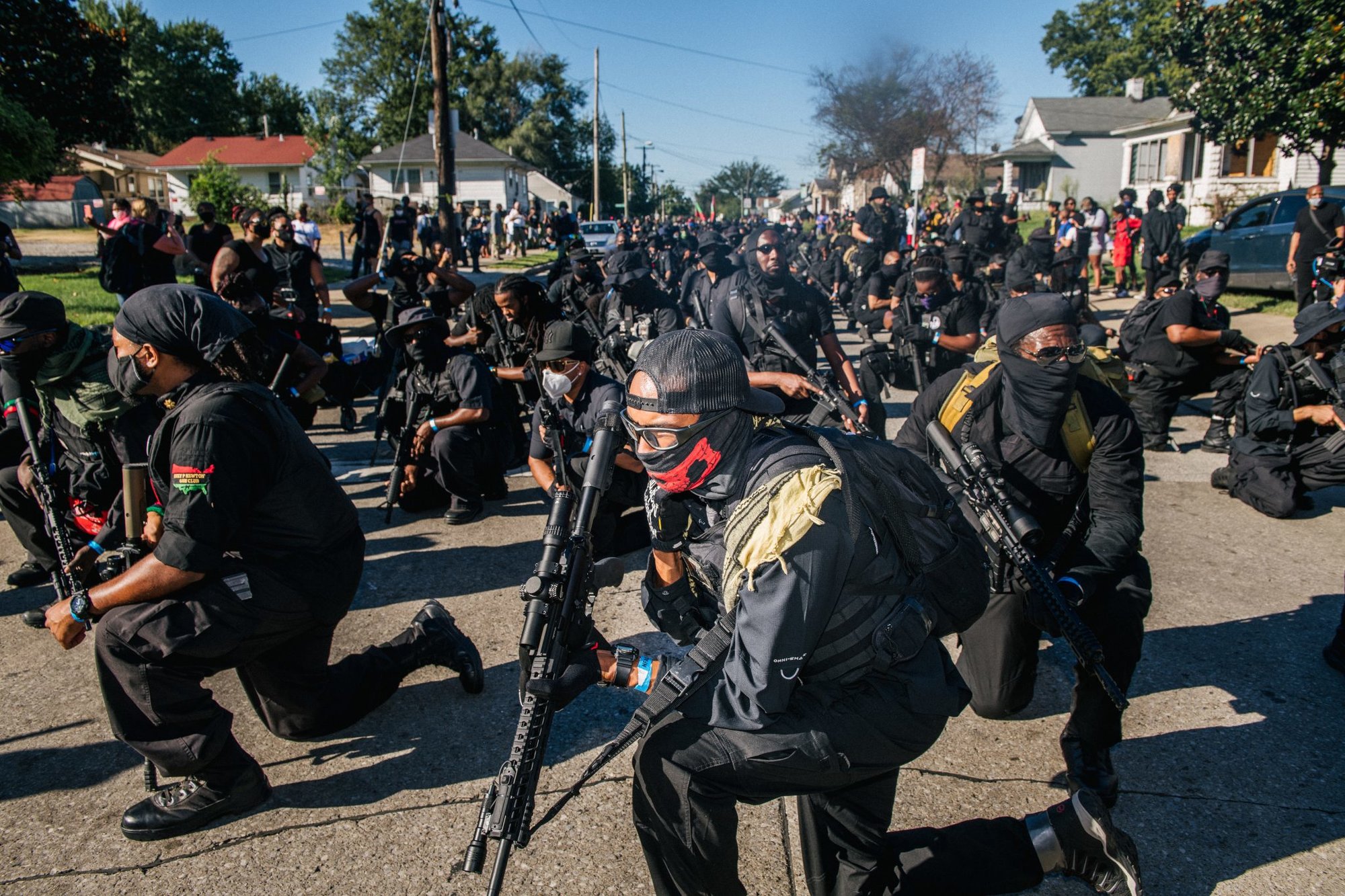 It wasn't Johnson's first brush with the law. He was detained in 2003 by military police officers in North Carolina for attempting to bring an AR-15 rifle and more than 50 rounds of ammunition into the US Army's Fort Bragg to shoot his wife and her platoon sergeant following their redeployment from Kuwait, according to a criminal complaint.
The case against Johnson began with an anonymous tip to the FBI that he'd appeared in a string of YouTube videos calling for attacks on Minnesota law enforcement personnel following the May 25, 2020, murder of George Floyd by Minneapolis Police Officer Derek Michael Chauvin.
Tensions were already simmering in Louisville following the March 13, 2020, slaying of Breonna Taylor, a 26-year-old emergency room nurse who died in a barrage of bullets during a Louisville Metro Police Department raid on her home.
In a June 5, 2020, video, Johnson said the only way to stop police violence against African Americans was to find where police officers live, burn down their homes, and kill the cops and their family members, according to federal filings.
During a Louisville protest a month later, Johnson was photographed pointing a loaded firearm at a police helicopter, with his finger in the trigger well. According to court records, Johnson had promised Louisville officials on July 24, 2020, that his militia would march through the city with rifles slung or in the low ready position, not aimed at police.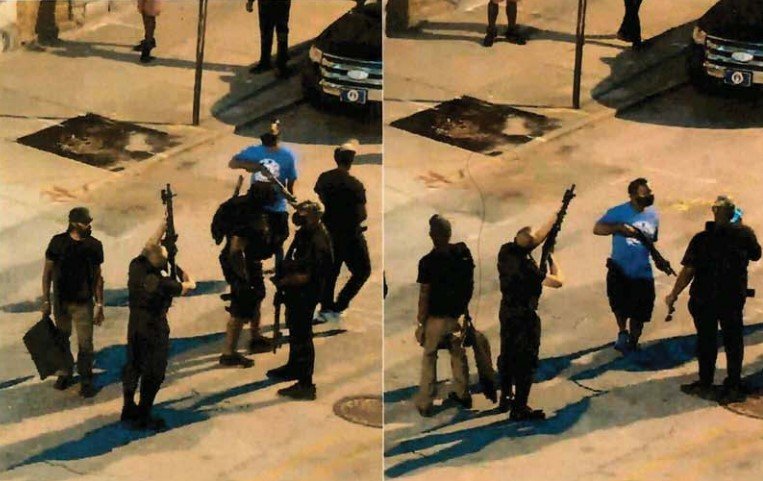 Senior law enforcement officers told Johnson that, if his militia pointed weapons at officers in overwatch positions, they risked being shot.
An NFAC militia member accidentally discharged her firearm during the demonstration, wounding three members of the armed organization.
On the evening of Sept. 4, 2020, Johnson's NFAC descended on Louisville's Jefferson Square Park. Louisville police officers and the federally deputized task force members took positions atop the nearby Jefferson County Grand Jury Building, looking down at a group of armed militia members on Armory Place.
The next thing they saw was Johnson's rifle flagging them, the beam from his tactical flashlight arcing toward their faces. They took cover.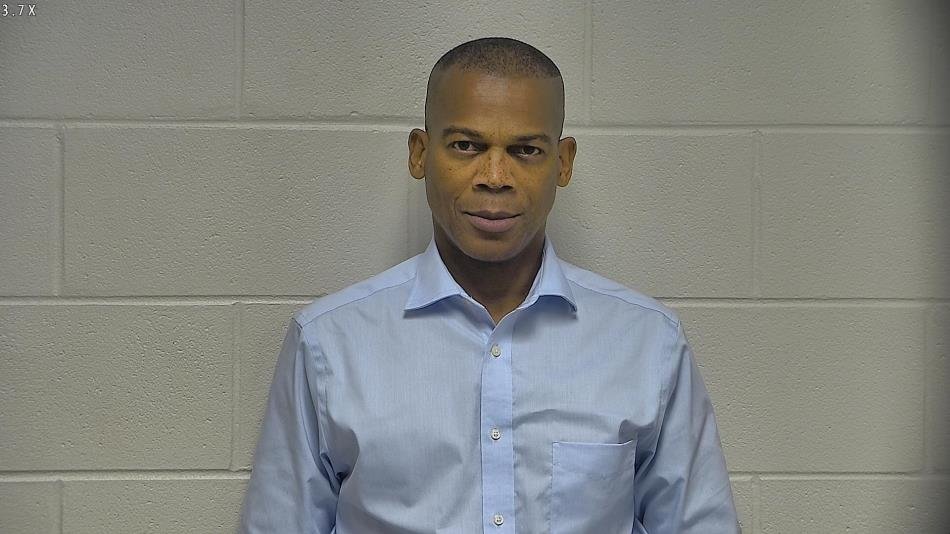 Johnson's military career was checkered.
According to federal records, he served in the Virginia Army National Guard as a single channel radio operator for 18 months in 1989 and 1990. He entered active duty in the US Army on July 23, 1998, and was discharged 14 months later as a private under other than honorable conditions in lieu of trial by court-martial.
Despite his administrative separation, he reentered active duty and rose to the rank of sergeant. On March 21, 2005, however, he was marked as a deserter. He was apprehended and returned to the military, which discharged him for a second time as a private under other than honorable conditions in lieu of trial by court-martial.
According to federal court records, the FBI began a probe into how he was recruited into military service after being booted out in 1999.
Johnson is incarcerated at the Oldham County Detention Center in La Grange without bond pending sentencing. Jail records indicate he's 58 years old, but a federal press release claims he's 59.
Read Next: