When Lt. Jared Rye and the rest of his Army squadron land at Bagram Air Force Base on Christmas Day, an Air Force master sergeant costumed — from the waist up — as Santa Claus greets them on the runway.
The "enormous man by military standards — which he no longer abided by" is unable to locate the driver of the bus that is supposed to pick up the troops. "The terminal will send him down as soon as they can find him," unless he is "too deep in the eggnog."
Breathless Santa also tells the soldiers to dig out their reflective belts, which are now a mandatory accessory at Bagram because "some private got hit by a shuttle bus" at the air base.
Welcome to Afghanistan, 2008.
"Nothing like neon yellow over camouflage," Rye says to the medic (and fledgling tattoo artist) seated next to him on the plane, "to make you feel like you're at war."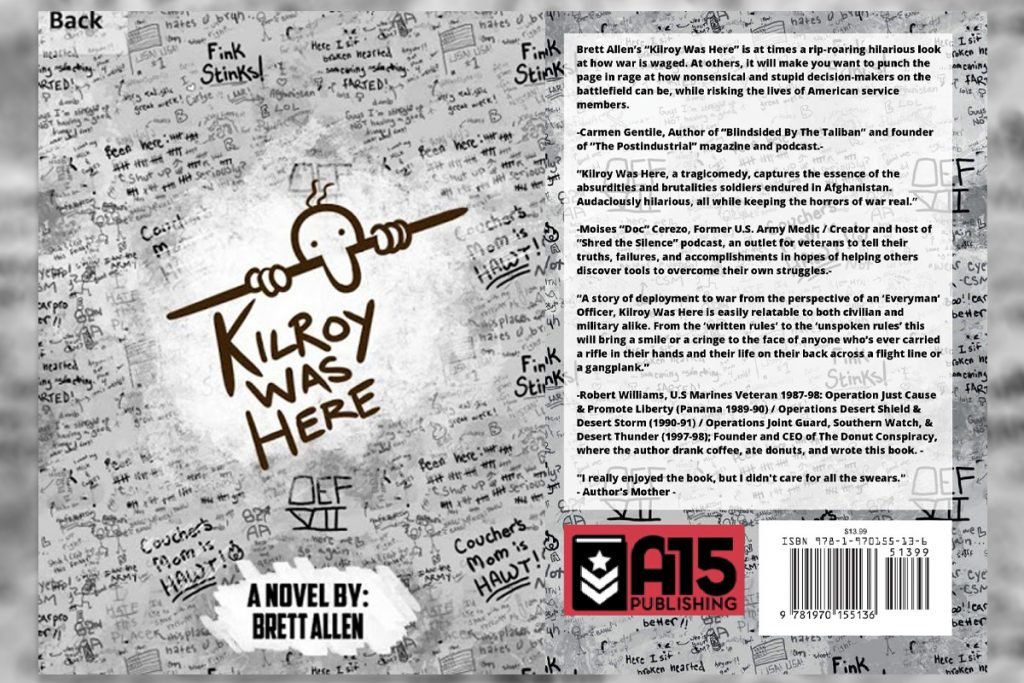 Rye, two "beautiful" women, and 139 other men (none get called "beautiful") will staff FOB Alternator, which is not named in memoriam for a soldier. Rather, on a platoon's way to farther reaches in Logar province, a HMMWV alternator broke. "They didn't have the parts to fix it, so they just set up shop where they were."
That's the setup for Kilroy Was Here, the first novel by Brett Allen, an Army veteran of the aforementioned country. Literature has a comedy-of-manners category, and this story qualifies as a comedy of the ill-mannered. The author's goal is to "dispel the notion that merely wearing a uniform makes you a hero," and his premise reaches fruition with the foibles he creates. For example:
Alternator's squadron commander's surname is Fink. The operations planner with no combat experience flutters in to "spew his mental refuse" and then shirks from responsibilities. Behind his back his subordinates call him GIF — the Good Idea Fairy.
The chaplain is a former drill sergeant but "a hiccup in the Army's personnel records" lands him in chaplaincy instead of infantry after Officer Candidate School, and his military occupational specialty prompts this unforgettable line:
"Can we all stop using the Lord's name in vain in front of the goddamn chaplain?"
The reticent Rye is often the butt of his superiors' poor jokes. Sometimes he's called Reuben. Or Ray. Or Bread. "Jared" becomes Jacob or Jeremy, and he feels like "the SCO's cabana boy on the world's least luxurious resort."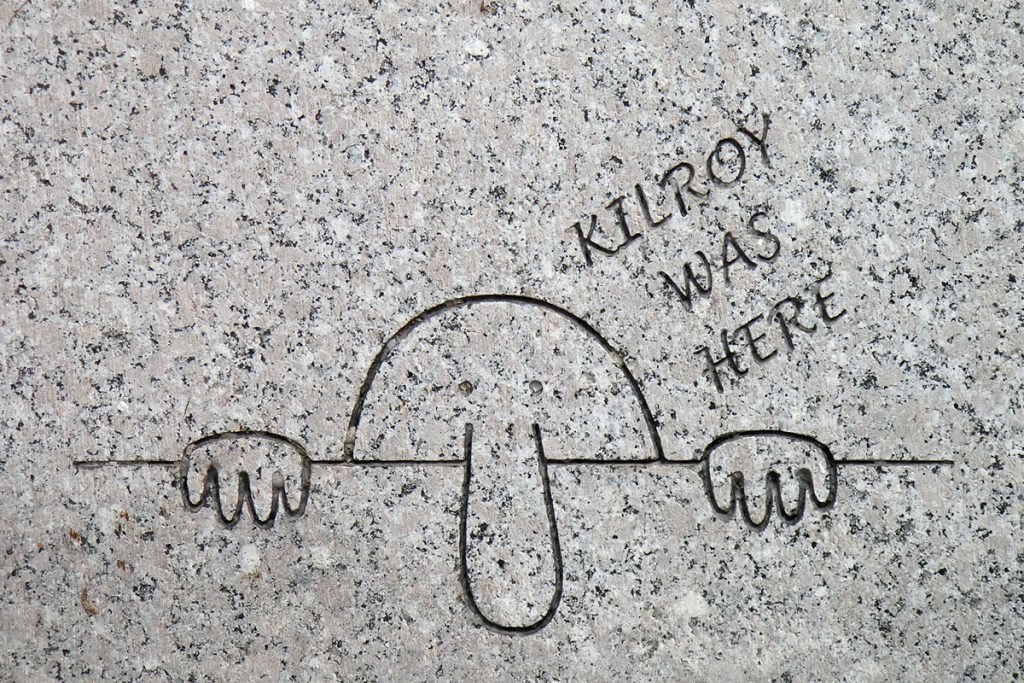 The wry sense of humor and the well-made plot carry the story, which is not all fumbles and games. This is definitely a war zone. There's the nefarious Nasir, who claims that "the most secure area in Kherwar is wherever I am standing." There's a blue truck that appears ominously and always unexpectedly.
Yet even the mysterious vehicle has an absurd side. Is the truck "sky blue" or "periwinkle"? And "what kind of combat officer knows what shade 'periwinkle' is, anyway?" Maybe an officer "who might be a little light in the loafers"?
There's also a possible threat from within. Have the FOB's specialists formed a cabal whose "sole purpose is the shirking of their soldierly duties"? If so, they are not the only characters in Kilroy who deflect from duty.
Author Allen performs his. In setting, his Kilroy brings to mind David Abrams' novel about life on FOB Triumph in Iraq, Fobbit (2012), which is on this reviewer's list of the last decade's best books.
Kilroy is a kick. Okay, you might question the recurring instances of "Kilroy was here" drawings. The crude art was a popular meme on hard surfaces during World War II, but they pop up in the novel a handful of times without obvious significance.
And without being a killjoy, you will hope future editions are refined by a designer and by a copy editor. Nobody needs an occasional punctuation and spelling glitch, especially not a first-time novelist with a knack for aptly describing (a) "a non-alcoholic substitute that tastes like pure concentrated disappointment" and (b) a precise flattop "as a haircut you could set your watch to."
Such verbal flair is a salute to Allen's potential. Think of Kilroy as sitcom TV in print. Relax and enjoy the series of chapters.
---
Kilroy Was Here by Brett Allen, A15 Publishing, 300 pages, $14