Directly in the center of Kinetic Ink Tattoo Co. is a wall decorated with small photographs of proud smiling faces. With a pang of sadness, I realized as I walked toward it that I recognized a few — Ranger buddies of a friend of mine, as well as a local El Dorado County, California, police officer killed in the line of duty last year. The wall is a memorial shrine to service members and first responders.
Danny O'Neel, one of the owners of the business, pointed to two pictures in the middle.
"This is Dale Brehm, and this is Ricardo Barraza," he said. "They signed up to go to war and went to war in 2006 and were killed. We know they didn't get to come home, have their first beer, barbecue, none of that stuff happened. So we started this rolling. It's growing, unfortunately, but it's our way of keeping their stories alive."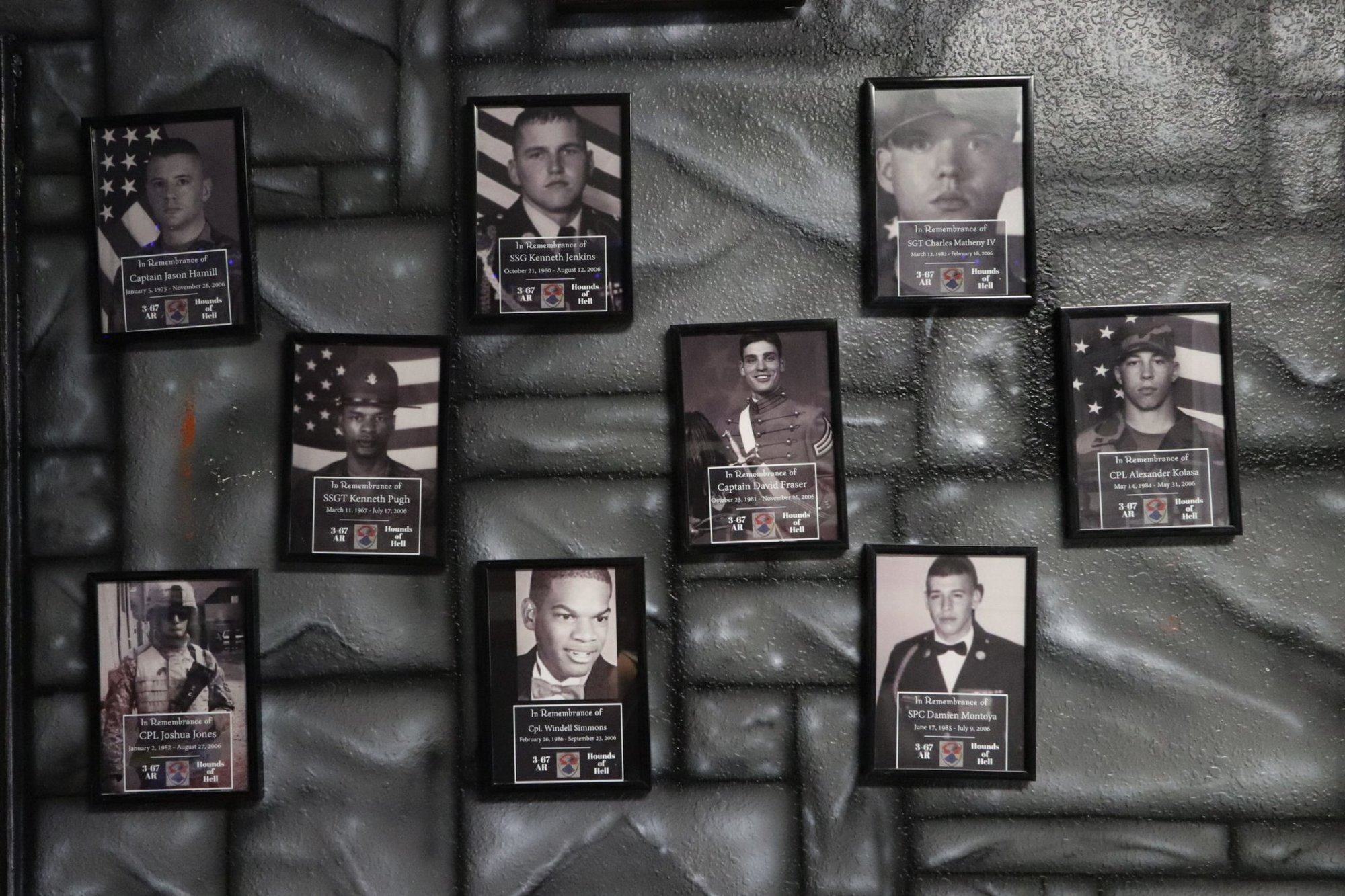 "This wall — it's not a gimmick," Sonny Batten, another co-owner and one of the tattoo artists at the shop, said. "We genuinely care. This truly is a safe space for military veterans and first responders."
But Kinetic Ink, located in the small town of Rocklin near Sacramento, is no ordinary tattoo shop, even beyond its mission statement to provide tattoos and community to veterans. Former Army Ranger Dave Kang founded the shop, and O'Neel, Batten, and their wives purchased the shop earlier this year and then linked it to a new veterans service organization, Warfighter Overwatch.
Warfighter Overwatch works to heal veterans struggling with post-traumatic stress by re-creating the sense of community they have lost since leaving the military. Its programming will largely involve providing reunions for combat veterans, from squad-size groups to larger companies. The organization is headquartered in a small office in the back of the tattoo shop, and a portion of the proceeds from Kinetic Ink will go toward funding charitable programs.
The impetus behind the organization comes from O'Neel's own time in the military and his resulting mental health struggles. As a forward observer in Sadr City, Iraq, he watched nine men from his unit die in combat; another 15 died from suicide after they returned home. His own struggles with post-traumatic stress culminated in an overdose attempt in 2010.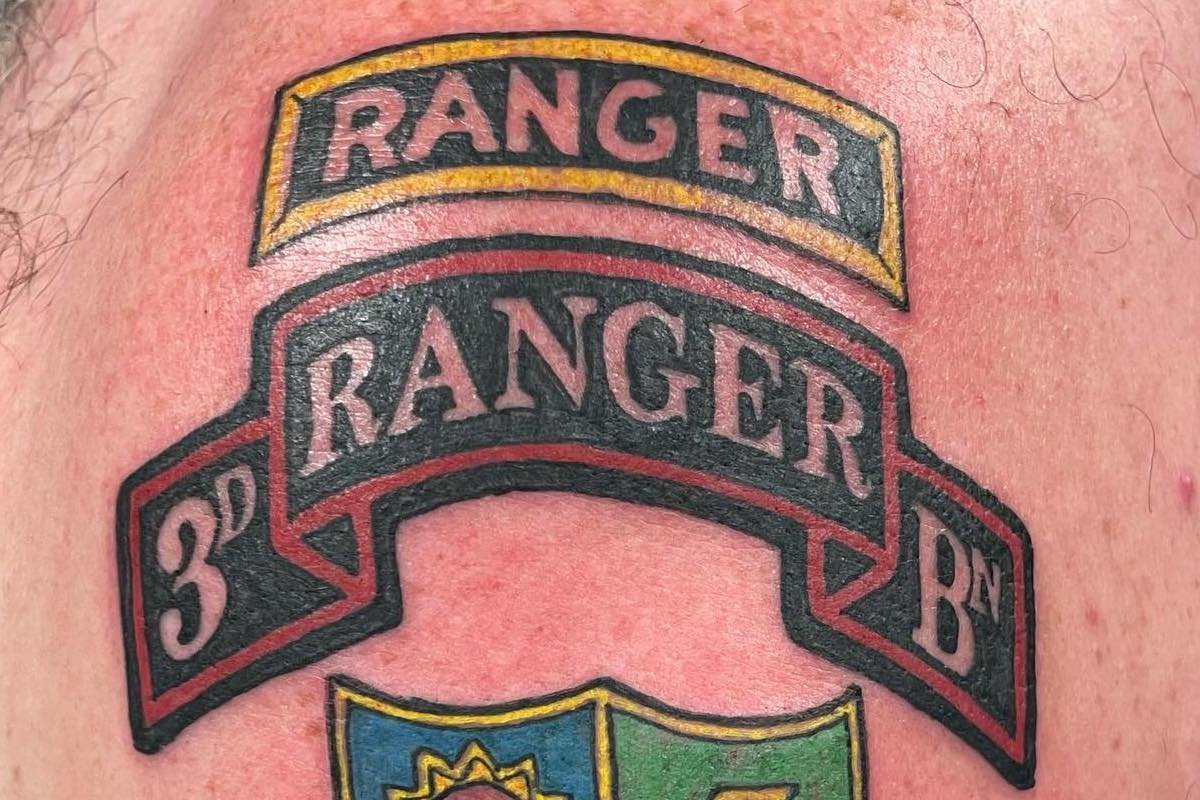 "Warfighters are never supposed to show weakness," O'Neel said of the mind-set he picked up in the Army. "We joke, where do we hide our feelings? In our muscles. It's a badge of honor to never hurt, to never have any problems." For many veterans, that leads to destructive behavior and even death. "People bury this shit. Or they think they do, but their behavior betrays that."
O'Neel credits his wife, Faun, with saving his life. "I thought I was worthless. She didn't." Through her relationship with Danny, Faun became involved in various veteran service organizations, including a fellowship with the Elizabeth Dole Foundation to support caregivers of veterans with PTS. Her drive to help veterans is a powerful force behind Warfighter Overwatch.
"You really need to get on the ground with these guys to lift them up," Faun said. "You get in that foxhole with them and help pull them out of it."
The O'Neels held their first reunion even before they founded Warfighter Overwatch. "We didn't have a nonprofit," Faun said. "We were just doing it on our own."
But when one of O'Neel's battle buddies committed suicide, O'Neel said, "I decided there was never going to be a better time or place, I was just going to invite the guys. And by the guys, I mean a battalion. To the house. And whoever's going to show up is going to show up. I don't know if we'll have to get hotels or what. And Faun said, 'We'll figure it out.'"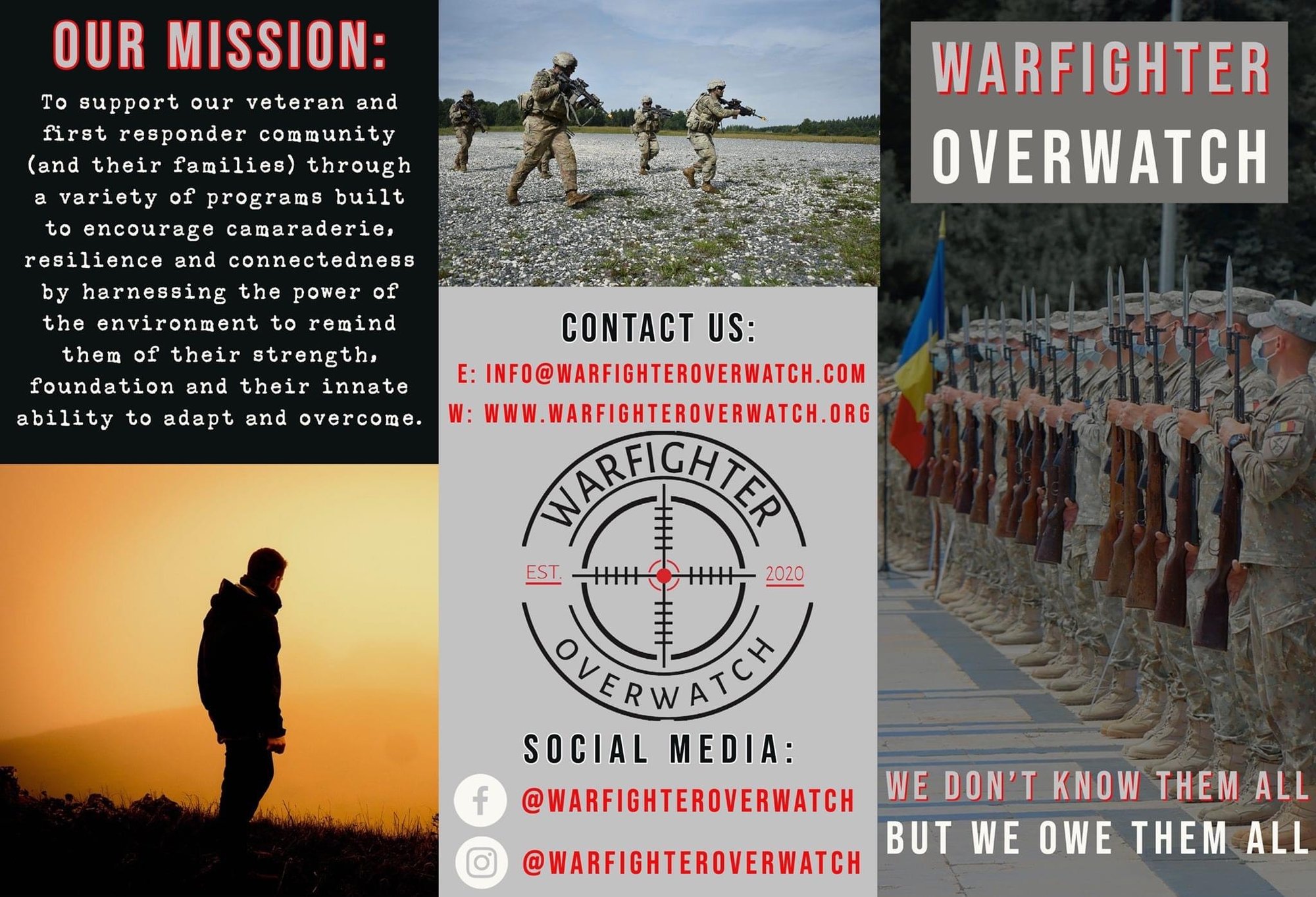 Everyone at Kinetic Ink sees the reunions and the tattoos as two sides of the same coin. Batten spoke at length about the intimacy of tattooing.
"Most of the time, you're helping them through some sort of hardship, or you're giving them some sort of closure, so that they can move forward," he said. "You are a conduit. The switch is off, and you get to help flip that switch back."
O'Neel is especially proud of the many memorial tattoos the shop designs. "We are able to provide the survivors with a source of solace, comfort, a daily reminder that they get to look at and say, 'You're still here with me.'"
One of the shop's clients, a former Marine named Chris, displayed a large back piece Batten had been working on in stages for months. The names of 13 of Chris' deceased fellow infantrymen surrounded an intricately detailed eagle between his shoulder blades. Some had died in Iraq. Many had not.
"The only time we see each other is the one or two funerals we go to every year," Chris said of his relationship with the surviving men from his unit. "That's the rate at which they go by."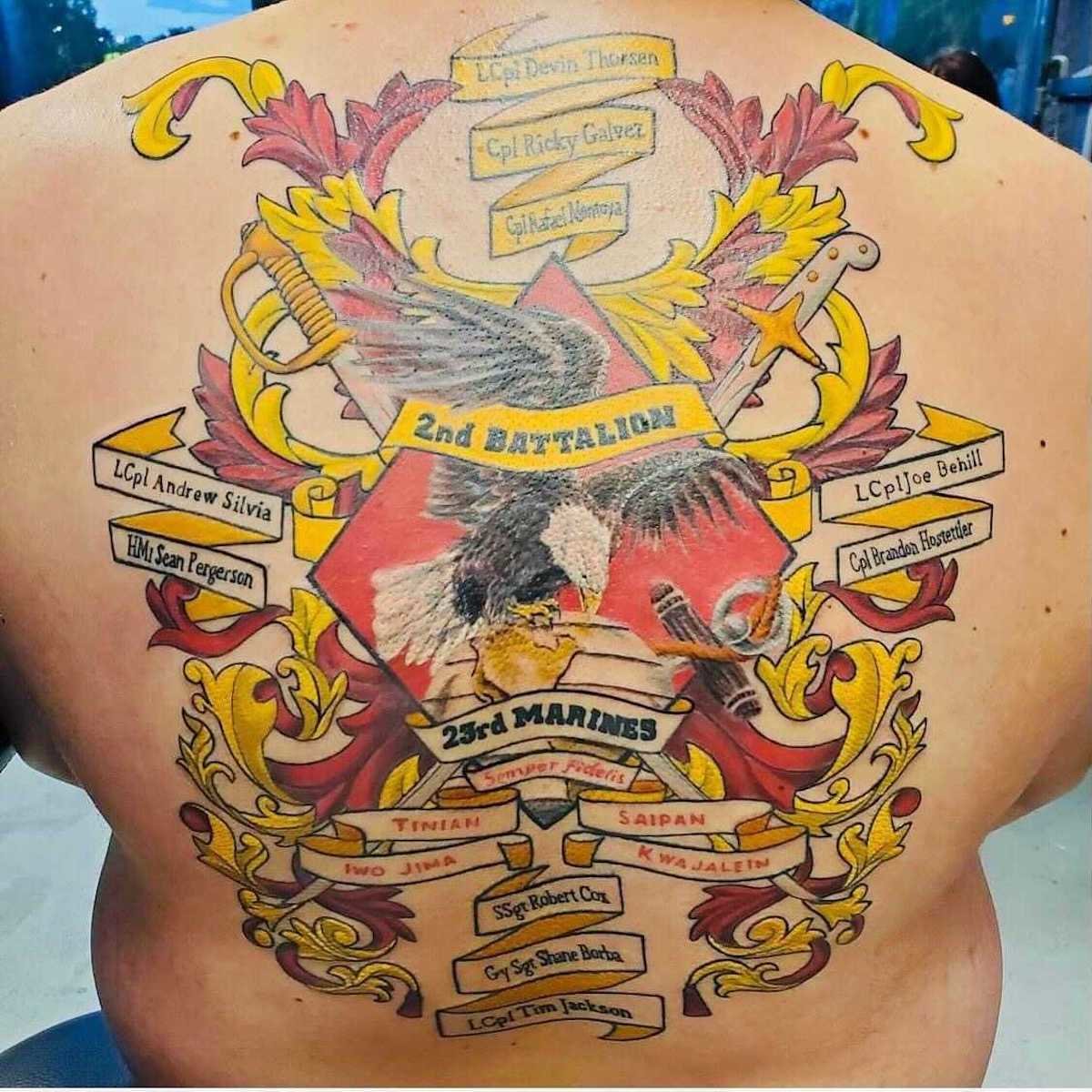 It's the sort of story O'Neel has heard many times before. He regrets having lost touch with his fellow soldiers for so long. "I know life gets in the way, but we stopped showing up for each other," said O'Neel. "We separated from each other and went to the four winds."
The seeds of Warfighter Overwatch were planted when O'Neel brought his unit back together, and now he and Faun are devoted to helping others the same way.
"It's about connecting them and helping them remember they didn't go to war alone, and they don't have to deal with this shit back here alone," O'Neel said. "It's building that groundwork and then them building their own support systems and taking the reins of their own life back."
O'Neel and Batten are glad that the community that has been built by Kinetic Ink since its inception can now reach even further through Warfighter Overwatch.
"Whenever someone comes in here, they come over to the wall, and I tell them a story about someone on the wall," O'Neel said. "I tell them about their life, and their death, and their legacy that lasts longer than they were here on this earth."
---
This article first appeared in the Fall 2021 edition of Coffee or Die's print magazine as "Tattoo Therapy."
READ NEXT: