The heat hits me like a solid hand, buffeting my entire body as I open the door of the cabin, stepping out of the air-conditioned interior of the ferry and onto the deck. It's hot enough to suck the air from my lungs. I start sweating almost immediately, but the view is worth the discomfort. Behind me, sketched onto the horizon and receding farther as the ferry chugs along on moderate surf, Koh Phangan diminishes like a fever dream and Koh Samui, farther behind, is just a memory.
Turning toward the bow of the ship, Koh Tao grows larger. With an area of just 21 square kilometers, it's much smaller than its cousins in the Gulf of Thailand but no less beautiful. At first glance, the island seems, like all of the other islands in Southeast Asia, paradisiacal to an almost exaggerated degree. Groves of serried coconut trees protrude from every available crag, stretches of bone-white beaches dotted with sunbathers and cafes line the coast, and expensive hotels cling to the sides of hills and bluffs, leaning perilously over the crystal waters below.
Pulling into the pier, fleets of dive boats lay anchor at various distances from the shore and air tanks gleam in the sun like a magazine of large, unchambered rounds.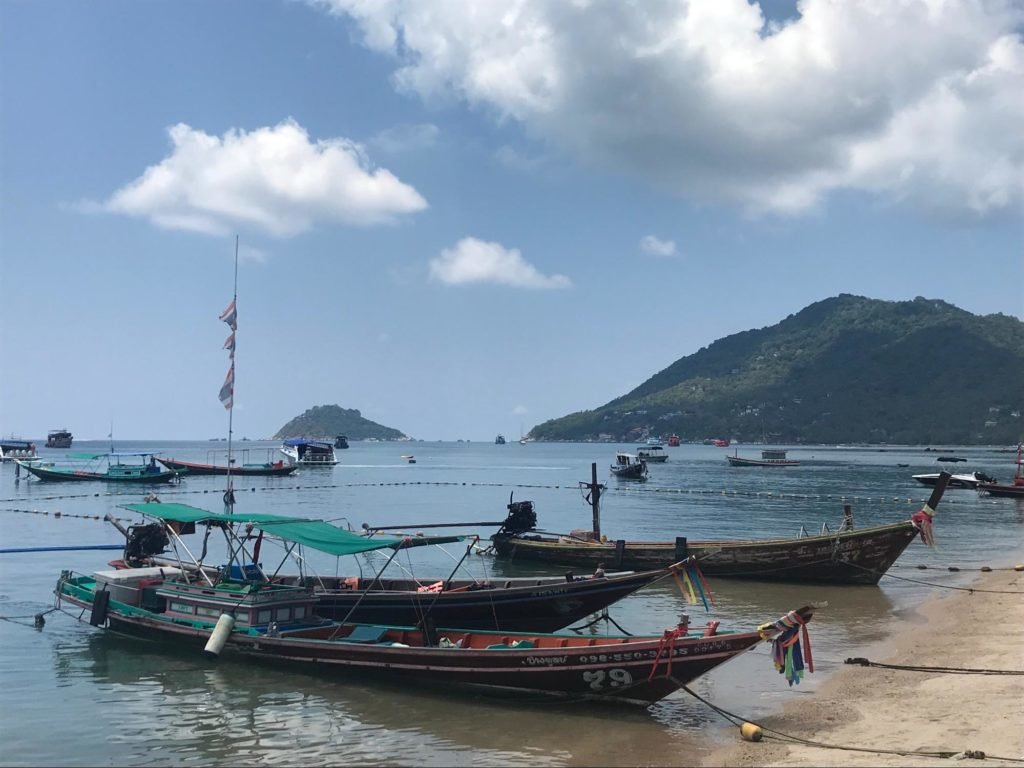 Unlike other islands in the region, however, Koh Tao has something that sets it apart from its bigger, more animated neighbors. It's the reason I'm taking this three-hour journey — the reason I suspect most of the other passengers are, too. Unlike Koh Phangan, which draws party travelers from all over the world to its infamous Half Moon, Dark Moon, and Full Moon Parties several times a month, or Koh Samui's swathes of luxury resorts and relentless tourists, Koh Tao's appeal is much less obvious to many of the visitors who pass through this well-trodden backpacker route.
Rather than just a party getaway or a quiet slice of a paradise to practice yoga and meditate (although those activities flourish during certain periods), Koh Tao's main draw is its thriving diving and snorkeling industry.
A Pilgrimage Site for Novice Divers
Since the 1980s the island has become more popular with international travelers, but it wasn't until the 1990s that Koh Tao began to foster and then nurture its reputation as a diving mecca. Before then, the island remained largely uninhabited (unlike Koh Phangan and Koh Samui, which were both established holiday destinations by this point), populated only by a handful of Thai families.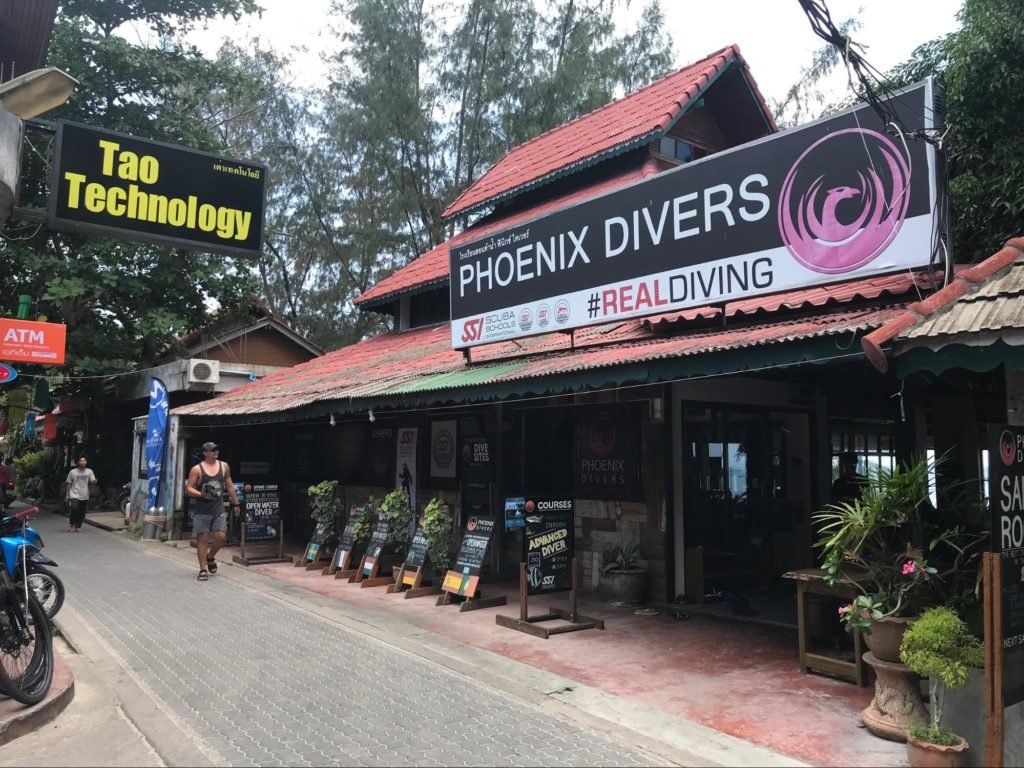 But word, as it always seems to do, got out.
Whispers of shallows teeming with fish and colorful coral spread westward, and travelers, lured by the promise of untouched paradise and pristine diving, flew east. Bigger, safer, and faster ferry routes were established from the mainland of Surat Thani and the surrounding islands, and Koh Tao's reputation as a diving paradise swelled like a rising tide.
But what sets this island apart from the others? The hint lies in the name. Koh Tao translates to Turtle Island, named thus for the abundance of hawksbill and green turtles that live in the temperate waters and utilize the shores for laying eggs. Steve Sutherland, a dive instructor for the Big Blue Diving Resort, told me that on a clear day with a competent guide and enough patience, many divers get the opportunity to swim right alongside them.
"It's the main draw of the island," he said.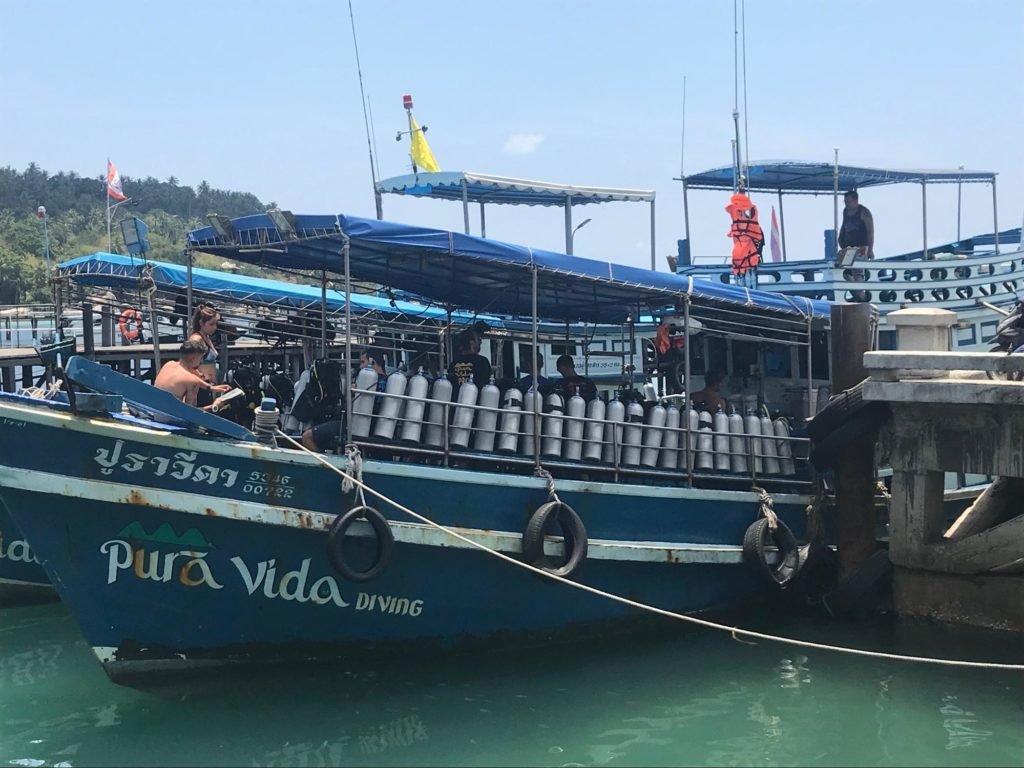 But it's not the only one. Koh Tao and surrounding waters also host an abundance of other aquatic flora and fauna. With more than 130 species of hard corals and over 220 species of reef fish, Koh Tao supports an incredibly diverse spectrum of marine wildlife. Not for the faint of heart, numerous popular dive sites such as Sali Rock and Sattakut Wreck give both novice and advanced divers the chance to swim among blacktip sharks, whale sharks, and bull sharks.
In for a Penny, Not a Pound
Stunning sea creatures and tranquil island life aside, there's something else that keeps inexperienced divers coming in droves. While travelers could easily cut their teeth diving in other exceptional spots such as the Yongala in Australia or the Shark and Yolanda Reef in the Egyptian Red Sea, what distinguishes diving on Koh Tao from the rest is the price.
Speak to any seasoned traveller and they'll likely tell you that Thailand was less expensive before Leonardo di Caprio brought it to the world's attention with "The Beach." But that doesn't change the fact that it is still incredibly affordable, especially for visitors from industrialized nations like the United States, Germany, or Norway. Expect to pay a dollar for a plate of Pad Thai — a stir-fried noodle dish and one of the most popular in Thailand — five bucks for a ferry, or $1.50 for a moderate journey courtesy of a tuk-tuk.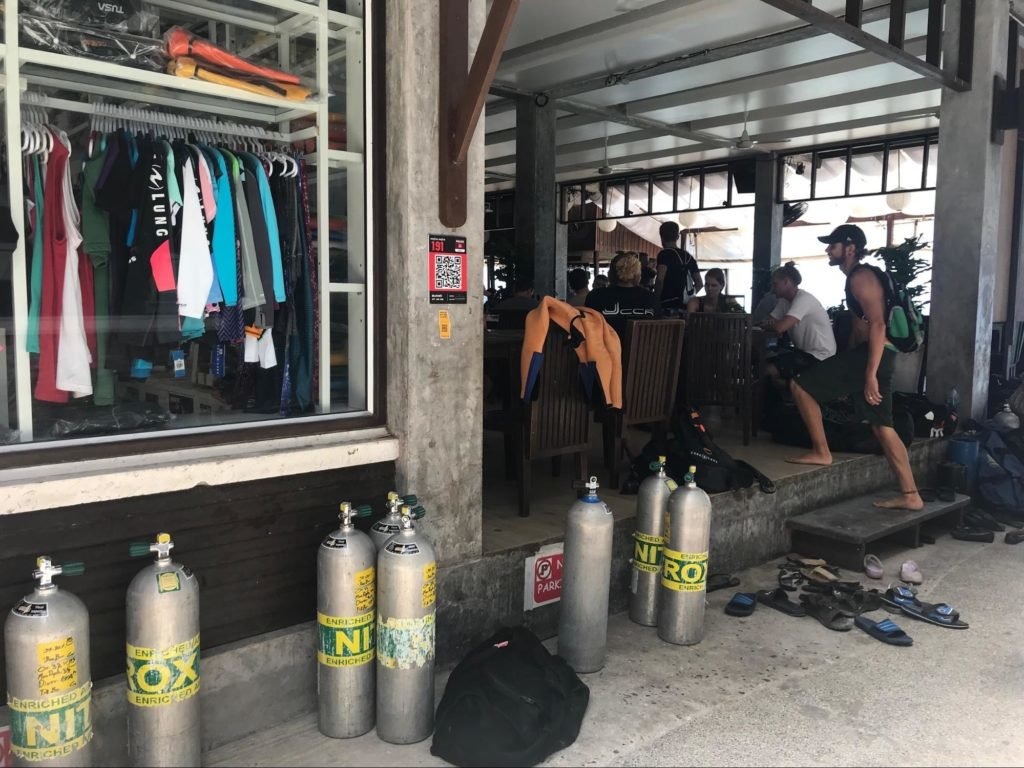 As for diving, Sutherland confirmed that it remains a good deal.
"An open-water PADI course will set you back about $250," he said. "An open-water is your basic course, and one which most of the people coming here normally choose. At most other spots, you're looking at paying around $400 — and that's in cheaper countries like Mexico and Egypt."
While you can argue that flying to Thailand adds a hefty line item to your diving bill, many travelers simply add it to their itinerary while passing through the Land of Smiles. And while the Koh Tao of today is different from the untouched beaches of the '80s, it's still worth seeing. In fact, it's a must-see now — before it changes further.